This is the face of someone who has spent two solid months burning the candle at both ends.
"You look destroyed," my old flatmate observed the morning of my last day in Singapore. I certainly felt it — physically, mentally, emotionally.
"I'm not okay," I admitted, and the bear hug that followed was greatly appreciated.
In any other situation, I'd agree: I took on a lot. Over five weeks in Rio, followed immediately by 18 days filming around Southeast Asia: if a friend had emailed me that travel schedule, I would have told her to slow her roll and calm the itinerary down.
But I wasn't doing it for funsies — these were two dream jobs that just happened to be back-to-back. I would do it all over again in a heartbeat.
However, now that I have the clarity of a few hours of sleep and a few thousand miles of distance, I can see where I overreached.
For one, I never had my Olympics Crash. The day after London, I slept for 18 hours. The day after Rio, I spent 48 hours in transit and dove headfirst into another job. Lesson learned: I shouldn't have relied on my ability to bounce back so quickly and scheduled a day in between to catch up on sleep.
Secondly — and this was the huge invisible weight on my shoulder — behind-the-scenes I was dealing with some heavy personal matters. I refused to let it distract me from doing my job, but ironically, the act of Ignoring Stress also became stressful.
Just like being hangry or tired amplifies negative emotions, by repressing feelings and not allowing myself to be upset, I only exacerbated it so that by the last day, I felt broken. It wasn't healthy.
The greatest mistake I made, though, was not finding the occasional moment to be myself.
For sixty days I threw myself into work, thinking that doing what I loved would be enough to keep unhappiness at bay. After all, how can you be sad when you're at your dream job, right?
But work isn't enough (and it shouldn't be enough). Being surrounded by only colleagues meant I was constantly trying to present the best version of myself, to be clever and charming; occasionally biting my tongue for the sake of being diplomatic or for fear of appearing 'too quirky'.
For two months I didn't drop the poker face. Sure, some of those colleagues became friends, but there was no one with whom I could grab a quick coffee and spend an hour getting back to baseline. The kind of friends who knew me, my backstory, and to whom I didn't have to say much for them to understand all. I had a couple of Skype dates, but they were temporary salves to a deeper burn.
I'm still not sure how I could have solved this one logistically, but I'm glad to recognize it for the future.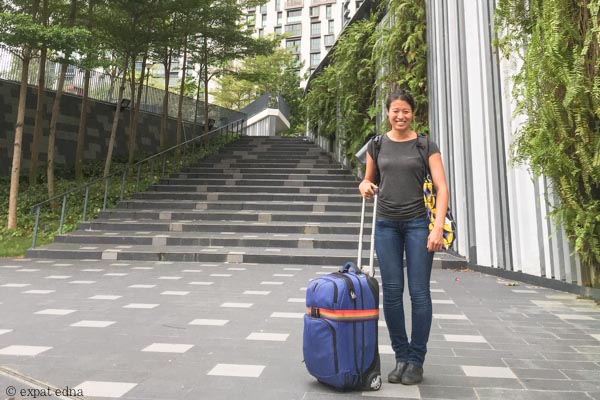 Last day, leaving Singapore (yes, that's everything I own, and yes it is very heavy)
In our final days of filming, I felt conflicted. I was looking forward to the luxury of sleeping in again, sure, but also: these jobs had consumed my identity and focus for weeks. They were welcome distractions from personal matters; plus I'd been preparing for months (in the case of Rio, years) and now it was — over. What would I do when it was just me, myself, and I?
Since leaving Asia two days ago, I'm happy to say that time and distance has helped immensely, as it always does. I slept more on the flights to Europe than I had in days (only 32 hours in transit this time), and layovers in Venice and London airports provided little jolts of happiness (is that weird? I just love those cities so much).
Being welcomed upon arrival in Vienna by Becki and a bottle of prosecco to make Hugos was the final touch. I had worried that spending the next two weeks flitting around Venice, London, Dublin, Belfast, and Paris would be too much, but it's quite the opposite. It's exactly what I needed: I feel in control and relaxed again, and can't wait to see all of my friends in those cities.
They are home, and I'm back in safe harbor.