I'm attempting to write more from the road: quick thoughts I've jotted down, with photos taken from my phone instead of DSLR. Less polished, but more real-time. 
I'd been in Rio for all of *one hour* when I got into an accident. My taxi was hit on both sides; a little front-end/rear-end sandwich between a Ford and a VW. I'd been napping in the backseat and I think the fact that I was lying down, instead of upright, helped me avoid injury — other than some pain in my side, I'm totally fine. (My suitcase, however, got a little jaws of life action so that it could be freed from the smashed trunk.)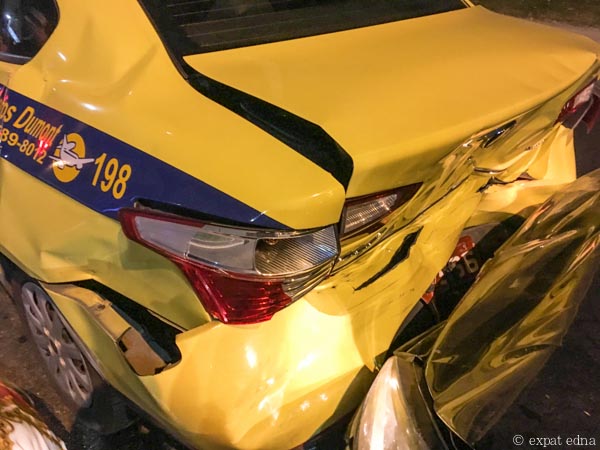 I'd flown to Brazil straight from Paris. The day before, July 14th, I'd stayed up all day picnicking on the Champ de Mars for Bastille Day, and then all night hanging out with close friends and my sister — a last Parisian summer hurrah, since I won't be back until October.
So I arrived at the airport on zero hours of sleep, bleu/blanc/rouge flag makeup still faintly on my cheeks. (By the way, packing while tipsy and sleep-deprived has led to some surprises while unpacking: "Ooh, I put that there?!") I also had to respond as many people as possible before I went offline for a day, reassuring them no I was not in Nice, yes I was safe, no I don't know why the world is on fire.
24 hours later, I arrived in Rio. My first time in South America.
The plus side to getting in a car crash on Day 0: things can only go up from here, right?
***
Being a full-time traveler, it takes me very little time to unpack. Because I have very little to unpack.
I'm in the media village, sharing an apartment with two other lovely media ladies. Although it looks and functions like an apartment (like a large bachelor pad, if I'm being honest), we get housekeeping like a hotel, so it's the best of both worlds.
Unfortunately I drew the short straw and have the smallest room — but I don't have that much stuff, so it's alright. What I do have are these quirky little things I set up on my bedside table to make me feel at home:
Candle from Maven: I fell in love with this candle while visiting the Maven sisters last month in Belfast. While I recognized how ridiculous it was to want or possess a candle when I live out of a backpack, this little blue jar of wax now gives me a certain comfort I can't explain.
Eye cream: Again, this sounds weird. But I got into (like, really into) Korean skincare after my trip to Seoul in May, and now have a whole 'regimen', which ends with eye cream before bed. Taking a few minutes at the end of every day to take care of myself: surprisingly relaxing.
Gudetama: Ok this one makes the least sense of all. But my Taipei BFF Lauren gifted me this before she left, and it's the perfect travel-sized companion to remind me that I have friends who love me, and that the world can be so silly and fun. (Gudetama is a Japanese character that is basically an anthropomorphized lazy egg yolk.)
Hemingway: I received these books in Paris and have carried them across the world…and never cracked them open. I doubt I'll have the time to read them here, either, but I like having a Paris connection close by.
600 words! This may be a record short post for me. I begin work on Monday, so am using the weekend to take care of logistics before diving head-first into my fourth Olympics. Hopefully I can continue these little dispatches from the road.
Meanwhile, it's Rio Day 1 and I'm off to find the media village pool and food truck!
More real-time adventures on Snapchat, Instagram, Twitter, and Facebook.
Fellow digital nomads/minimalists: what are your tricks to feeling at home on the road?