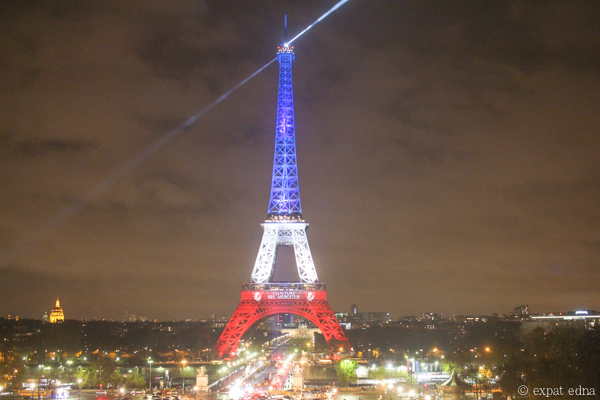 Fluctuat Nec Mergitur: She is tossed by the waves, but does not sink.
This has been the city motto of Paris for over 650 years.
The day after the Paris attacks, a Saturday, the Eiffel Tower went dark. On Monday, it shone brightly in the blue, white, and red, with Fluctuat nec Mergitur blazing against the Tricolore.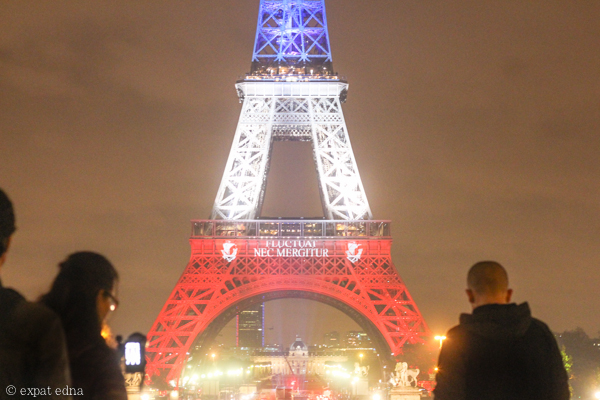 "How are things over there?" 
It took me two full days to venture outside again — and to face my fears I went directly to the 11eme, and to Red House, the same bar where I waited out the events of Friday night.
I wrote down my feelings in an unusually long post on Instagram that night, after a false alarm of shots being fired at Bastille and Republique:
Today I went outside for the first time since Friday's attacks in Paris.
As I passed through Trocadero, there was a beautiful sunset, and the tourists were out again taking photos, as were the hawkers with their toys, and the couples in the park making out — and I thought, "It seems like life is returning to normal".
But then I got to the 11eme, and passed La Belle Equipe, where people died on Friday night, and there were so many people gathered around, laying flowers and lighting candles, and I felt so much pain all around.
After a few minutes I left to continue walking — and that's when a woman biked by, yelling about shots fired at Bastille. By the time we reached our destination one block away, two more strangers had warned us about something up near Bastille and Republique.
We soon learned it was a false alarm – firecrackers, supposedly – but saw reports of how the crowd here had panicked and started running, trampling the flowers, a sign of how tense things still are in the city.
On my way back to the metro at the end of the night, I once again passed this spot. The crowd was much smaller, but candles were still being placed.
One man walked up behind me, holding a rose, trying so hard not to cry but crying nonetheless, quietly murmuring in anguish in French. It seemed the pain was personal for him, and it was overwhelming, and several of us in the crowd were crying with and for him.
We are trying and acting and believing as hard as we can that life in Paris is getting back to normal, but there is so much healing yet to be done.
That man made me cry, and thinking about him still makes me tear up. Everyone in Paris is at most two steps removed from the attacks. "I didn't know anyone who was killed, but my friend/colleague/neighbor lost friends" is a common refrain.
In the 11eme, which is an even tighter community, that number seems to shrink to one degree of separation. The almosts of that night are plentiful — the dinner that was canceled, the delay at work, the staying for a third drink instead of just leaving after one that might have been the saving grace.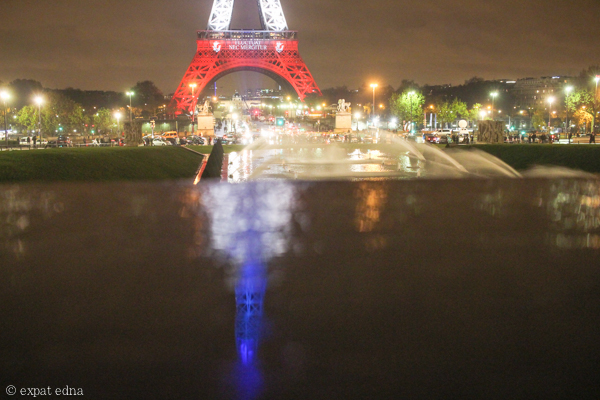 Of course, life goes on — but here in Paris it is in a manner that is stubborn, defiant, and beautiful.
The French, a culture known for joie de vivre and bons vivants — phrases literally about the beauty and joy in living! — have reacted by being even more French.
On Tuesday, three days after the attacks, people took to Twitter to proclaim #JeSuisEnTerrasse and #TousAuBistrot (basically, "I am on the terrace" and "everyone to the bar"). That night, and every night since, people have been kicking fear in the ass and going out to restaurants, sitting en terrasse.
The terrorists attacked daily life in Paris — we're fighting back by living the hell out of ours. 
As one expat observed, it's "the radical act of Enjoying Beauty in the face of oppression … Sitting in a cafe with a bottle of wine and laughter is no longer a passive act, it is an active agent of peace."
Even on Snapchat, they've introduced Local Stories for Paris — basically, daily stories only those in the city can see.
Every day since, among the videos of teens eating breakfast and tourists at Paris Disney, it's shown locals celebrating birthdays, singing rousing renditions of La Marseillaise, giving out hugs and lighting candles around the memorials — and of course, drinking wine en terrasse.
Many are overlaid with French text: "Paris continues to live", "Paris will always remain Paris", "We are not afraid".
***
Four days after the attacks, we had dinner with French friends at a restaurant that solely serves duck (because France). They gave us crap for our culture, our food, our weird habits.
"What you Americans call 'history' makes me laugh. You have a whole section in the Smithsonian devoted to Julia Child's kitchen! That's not history, that's pop culture."
"You shouldn't be allowed to steam bread! It looks like a sponge — and not a clean one!!"
"Mrs. Winners? Bojangles? These [chicken restaurants in the US] sound like stripper names!"
Our cheeks were sore from laughing so hard. Life was getting back to normal.
***
Last week I met up with Emily — the very first friend I made when I moved to Paris — and learned of her engagement to her French guy of many years.
The next day I saw Daisy — another close friend, who's like a big sister to me — and we caught up over hot milk, since she's now a month away from giving birth to her second child.
The following day, I drank Champagne with Sion — another writer friend from when I first moved to Paris — as she celebrated becoming a French citizen.
I was thrilled for my friends, especially so after recent events, because I was so happy that they're moving forward in the best way: they're getting married, bringing new life into the city — and through all three milestones, adding to the cultural mosaic of Paris.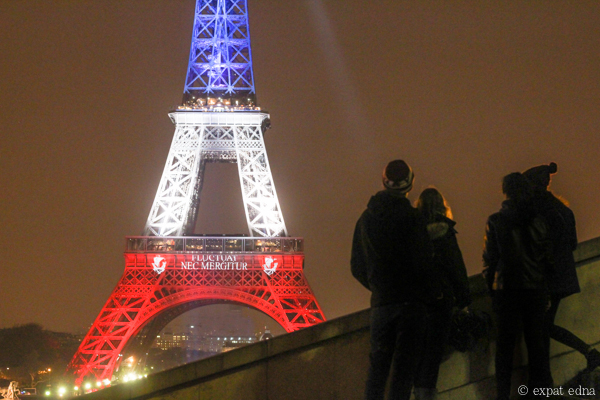 A week and a half later, Paris is quieter. It could be the winter snap that's finally set in, or just the lull in tourist seasons. But that's probably me being optimistic.
Is Paris safe to travel right now? Absolutely. But not everyone thinks so.
I've heard numerous stories about how people are canceling trips to France, or Europe in general, which I find incredibly frustrating. There are risks everywhere, including your own home (read this if you're American) so don't let fear hold you back from travel.
If you've been planning a trip, carry on and don't give into the fearmongering: I assure you, Paris is safe and as beautiful as ever.
I'll leave you with the wise words of Mick, who recently commented on my Facebook page that he was still going ahead with his travel plans for Paris:
"We are coming. I am not brave, but Paris is life and fear is worse than death."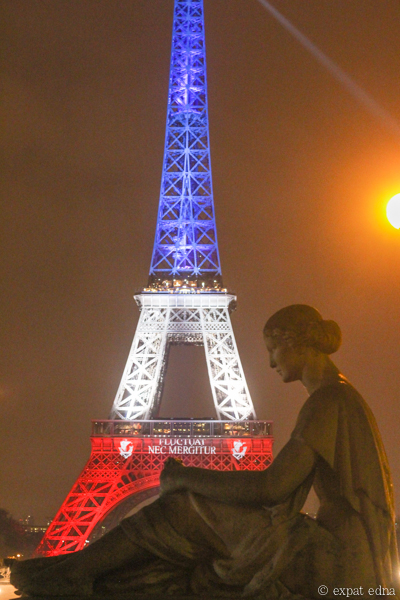 If interested, please watch & read:
* "I will not give you the gift of hating you" — a powerful, tear-jerking video from a husband who lost his wife
* Hemingway's Ode to Paris Sells Out — my friend Howard did this BBC piece with Parisians reading lines from A Moveable Feast
* #2120: How Parisians honored those who died exactly one week later
* This piece, by a writer who lives above Shakespeare & Co
* This video of a father and son that makes me cry every damn time (and check out the poem in the comment section)
* And finally, the Paris Victims, Remembered.