In this series, I ask expats to share the joys of local life they've found in their corner of the world. If you're just joining in now, check out other cities that have been covered so far here.
Today's post comes from Cynthia — originally from Seattle, now living in the Czech Republic. I've been following her blog for years now and she has one of the most adorable blogs in my Feedly reader. For instance, she and her husband just got married in a cute outdoor wedding in the Pacific Northwest and I loved her self-DJed wedding playlist! I'm so happy to feature her here today, talking about her home away from home in České Budějovice.
Cynthia: Why I love Centrum
About two years ago, my now-husband and I blindly moved to České Budějovice (pronounced chess­kay bood­yay­yo­vit­zuh, or you can easily call it its "international name", Budweis) from Prague. Fortunately, his boss hooked us up with a wonderful family that had a huge flat available just on the edges of the city center. She told us "it's so big, you can rollerskate in it", so once we moved into the neighborhood and got used to our beautiful early 20th century flat, there was no way we could consider moving anywhere else! (Although I never got to rollerskate in it yet….)
The neighborhood just north of the center is where most of the young people and expats live, however over fifty years ago, it used to be heavily populated by Roma people instead of ethnic Czechs, and I can see a famous military barracks from my living room window that was mentioned in the famous Czech novel, The Good Soldier Švjek. Nowadays, the barracks is being turned into apartment complexes (what isn't?) and the neighborhood is now home to lots of young people, young families, and all the expats we know in the city.
Bright colors: Living in the colorful city center is why I got to like ČB so much…. I love the brightly­ colored building facades as I walk down my street…. and I'm a big fan of the Czech covered arcades so even in the pouring rain, you won't really get wet! And what can beat the seven-minute walk from my house to the town square? The attention to detail with those little architectural details make just a stroll around the neighborhood a pleasure… a far cry from one of the industrial areas of Seattle where I used to live!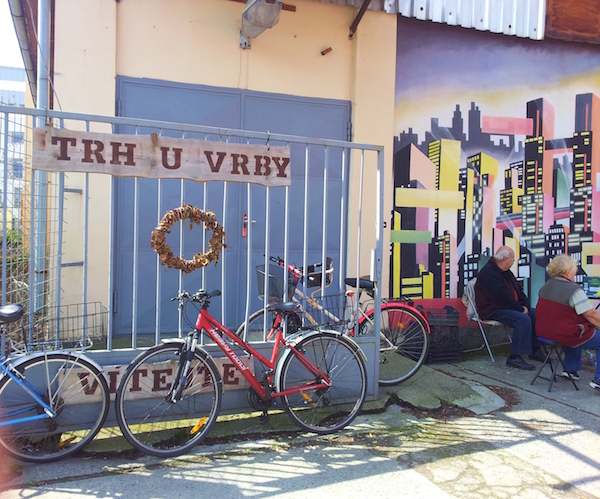 Farmer's market: Only mere blocks from my flat is a cultural center that hosts a bi­monthly farmer's market just like the ones I've loved in Seattle. On a Saturday morning you can expect to see all of the young hip couples and families strolling around, purchasing fresh beet apple juice from the friendly juicer, some fresh bryndza (sheep's cheese) from a local farm shop, or perhaps a beautifully made cappuccino from the stoic barista brewing up local Czech brand La Boheme. You can always spot a big group of locals enjoying a beer at the picnic table, even if you go at 9:00am. Because Czech Republic.
Overwhelming possibility: Although Budějovice may not be quite as hip as Prague or have as much to offer to young people, I feel a sense of overwhelming possibility here. Like it's the perfect place to perfect your art or open that cafe you've always thought about, and in that way, the town's truly a Bohemian paradise. Over the past two years, I've seen my neighborhood grow, so far, I really like what I see. About a ten minute walk away, our favorite hip new cafe/bar, Široko, is located at Široká 19.
Beer: Another thing unique to my neighborhood is the general permeating aroma of beer. They don't call this town Budweis for nothing­­ it is the original home of Budweiser beer until a lawsuit forced the authentic Czech Budweiser to change the name to Budvar… therefore, one of the world's true capital of beers next to cities like Plzeň and Munich. You can often smell the tell­tale brewing smell when walking by one of the local breweries, like Minipivovarska 27 on Krajinska street, the largest street near my house that leads directly to the square.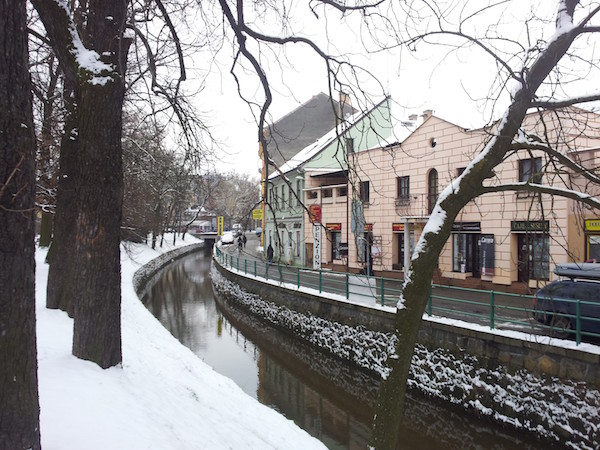 Canals: One more thing to gush about: I love the canals here. The very heart of the city center is surrounded by a canal and although the town is far from the sea, everywhere I go I feel like there's water near me. A really important thing for this land­locked lady!
***
About the author: Cynthia is a Seattleite turned "accidental expat" and English teacher, currently living in Southwestern Czech Republic with her husband. Although this way of life is never what she expected, living in Europe has been dream come true and she wouldn't have it any other way!
Follow her next moves on her blog, Adventurings or on Twitter, Facebook, and Instagram.