I wasn't surprised that I loved my trip to Japan.
You hear it all the time: Japanese people are so polite, the food is incredible, the internet is lightning fast, etc.
So I won't tell you everything I loved about visiting Japan — you'll have heard all the reasons before (efficiency, cleanliness, vending machines: all +1). Instead, I'll share my favorite memories, to illustrate just how wonderful it all was.
The absolute top experience, however, deserves its own post. This is the story of a little hole-in-the-wall called Shinobu, and what happened when we stumbled upon it.
"HOW DID YOU FIND THIS PLACE? ONLY LOCALS COME HERE."
(or: how an 80-year old chef serenaded me on my birthday)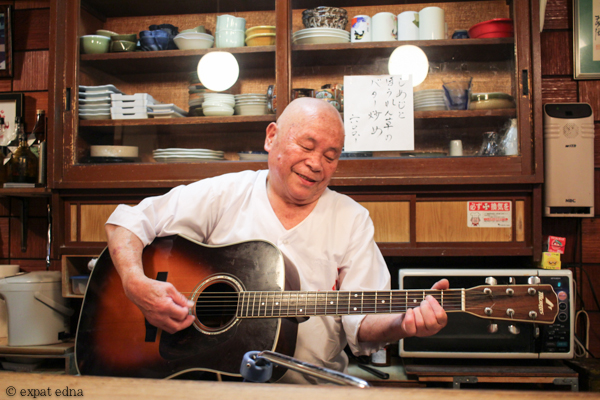 We flew to Japan on my birthday, which meant I only had one real birthday meal to enjoy in Tokyo — and I wanted just one thing: sushi.
I found a fancy restaurant near our place using Foursquare, but we arrived only to find it was reservation-only. Duh. Confused, tired, and unsure of how to procure dinner before I got too hangry, we started wandering down the street.
Just one block over, we noticed a small fish lantern next to a sliding door.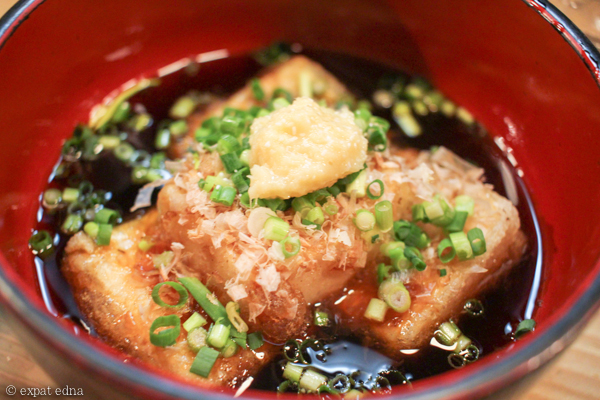 We paused and stood outside, debating for a solid five minutes: "Do you think it's open? Will there be sushi? Should we go in?"
I peeked inside. There was a lone man sitting inside, solving a crossword puzzle. Did we dare bother him? Did he want to be bothered?
We tentatively slid the door open.
Immediately the man jumped off his stool, welcomed us inside, and went around the counter, awaiting our order.
There were six seats in total, in what appeared to be this man's living room (I would later discover he did indeed live here, as his bedroom was on the opposite side of the wall). Between the counter and a fish tank was the menu, handwritten in Japanese on colorful strips of paper.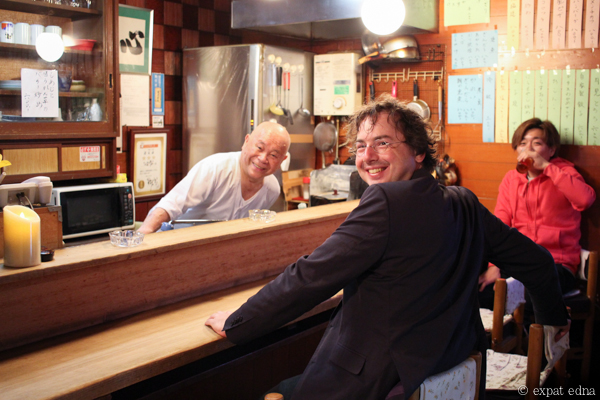 We couldn't read any of it. We spoke no Japanese. He spoke no English. We stared at him, trying to mime some food-related words; he stared back, responding to all our questions in rapid Japanese. Google Translate proved to be no help at all.
We were at a stalemate. I had no idea what to do, and started wondering if we should just end the awkwardness and try another place down the street.
Finally, I urged Joe, "Just pick something off the wall. Anything."
We knew the character for 'bean', so we pointed at a dish with that in it. The chef, relieved there was finally something he could do for us, took a plastic-wrapped tuber and began to furiously grate it into a bowl.
He added miso, some spices, some herbs — and what resulted was the best taro dish I've ever had in my life. It was fresh, sticky, perfect.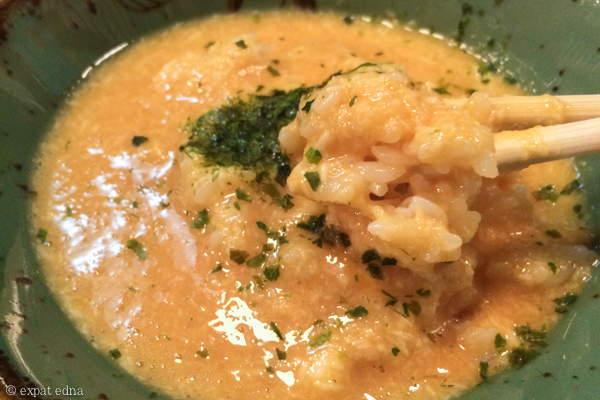 Seeing how much we enjoyed the taro, he suggested a second dish. I barely understood the words "butter" and "sauté", but I was in.
The second dish was a butter-sauteed squid that made me see angels and haunts my taste buds to this day.
The floodgates had been opened.
From there he just kept cooking — sometimes he would pull out two ingredients from his fridge, look at us, we'd nod enthusiastically, and he'd throw them into a pan. A couple times we ordered blindly off the wall menu.
Chives and bean sprouts, baked mackerel, Japanese salad, homemade fried tofu.
Every dish he placed in front of us was magnificent. (This may be the first and only place I'll ever enjoy natto.)
All night the place had been empty except for us, and it was getting late, so we thought we'd order one last dish and then head home.
That's when the sliding door opened and in walked a Japanese pair of friends, arriving for dinner after work. They exchanged very warm greetings with the owner and sat down next to us. We saw the chef immediately start telling them about Joe and me, these two mute tourists — clearly relieved to be able to speak Japanese again and tell someone about the night he'd been having.
The woman turned to me and asked on behalf of inquiring minds, "How did you find this place?"
"We just walked past it and decided to come in…?" we shyly responded.
"Oh, you're so brave!" she said, and I wondered if we'd stumbled into some mafioso's den. She continued: "Only locals come here."
As she and her dining companion began to share their food and bottle of shochu with us, she remained in awe that we had found the place at all: "This place is truly local. You won't find this anywhere else in Tokyo."
She then told us more about the chef: "He's 80 years old, you know."
Ie Tsugu was his name, and he'd been running this little place for 40 years — much of that with his late wife, whose photo hung on the wall behind him. He kept his restaurant open seven days a week (whereas many places close on Sundays), because "he wouldn't know what to do with himself" and would be bored. "He'd rather just spend time with his customers."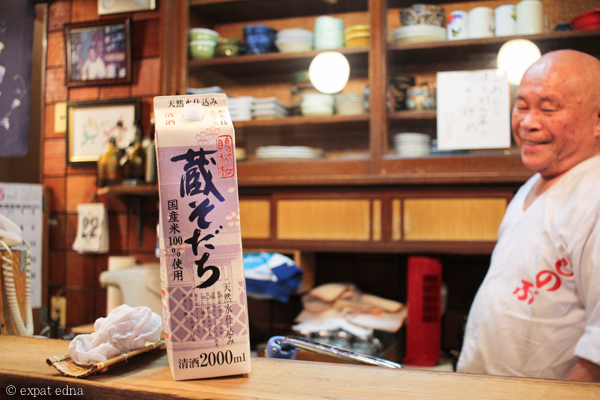 The woman explained to Ie that we had just arrived hours ago, it was our first time in Japan, and it was my birthday. To celebrate the latter, he poured us glasses of coffee-infused shochu, and prepared a bowl of cold soba noodles (it's an Asian tradition to eat noodles on your birthday).
Then, we were in for another treat: suddenly Ie disappeared around a corner — and came back with a guitar.
"We may have used your birthday as an excuse to convince him to play," the woman whispered to me, grinning. She explained that back in the day, Ie played the bar circuit as a well-known musician. He even had a CD of his own songs!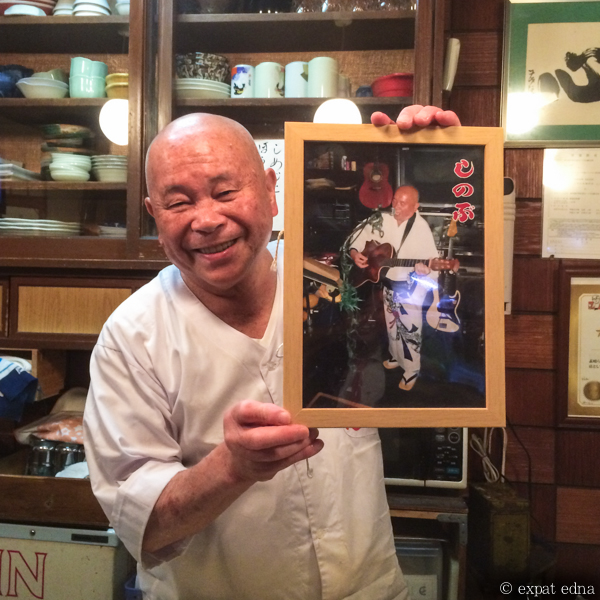 As I sat there at the six-seat countertop, enjoying some of the best food in Tokyo, sharing shochu with strangers, and listening to the man behind the food serenade us on guitar with traditional Japanese songs — I couldn't help but keep grinning from ear to ear with pure happiness.
This was so much better than sushi at a restaurant. This was the best meal and most memorable birthday evening I could have asked for.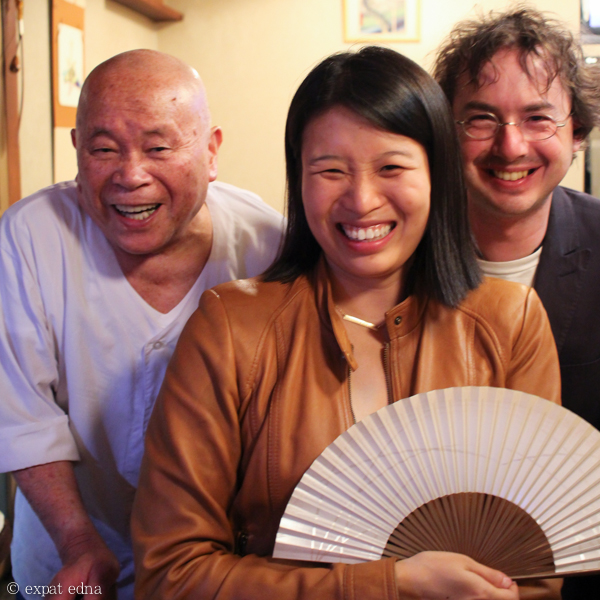 That was our first day in Tokyo. We returned five days later on our second-to-last night in Japan, with an old friend from Shanghai in tow.
Stepping into the place, we felt like regulars already — Ie recognized us with a back-so-soon? chuckle, and shortly after we sat down, the woman from the week before came in for dinner as well. (She really wasn't kidding about being a regular.) She gave us the same excited greeting as Ie: if we had been on Cheers and they had known my name, I'm sure they would have exclaimed, Ednaaaaa!
And then, towards the end of another fabulous dinner, we discovered that the woman works for the same tech company that my friend does in Tokyo — they sit two floors apart — which is also the same company where Joe worked in Paris before quitting to travel. What a small world.
Even then, we never exchanged names. I'm sure I'll run into her again someday, in the kitchen and home of Ie Tsugu.
The rest of my favorite Japanese experiences will be featured in the next post.
What are the best surprises you've encountered while traveling?