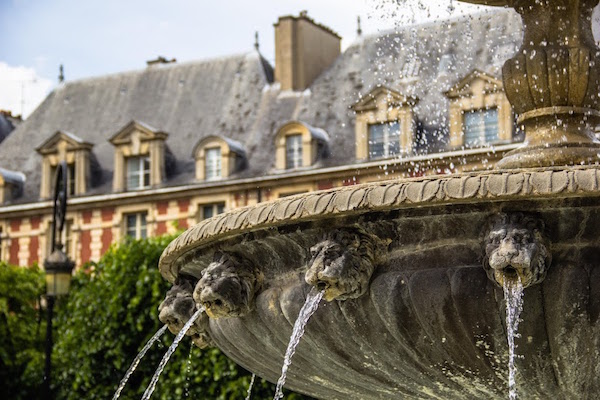 In this series, I ask expats to share the joys of local life they've found in their corner of the world. If you're just joining in now, check out other cities that have been covered so far here.
Today I'm so happy to introduce you to Sara — one of my favorite friends from my time in Paris! As longtime readers know, I was at odds with Paris the whole first year I lived there. It took a certain core group of friends — which included Sara and her husband Michael — to help me fall in love with the city and make my second year in Paris so unforgettable.
In addition to being one of the kindest, most supportive people I know, Sara is also a hostess extraordinaire! Through numerous house parties, Thanksgiving dinners, pizza and movie nights, their apartment became a second home to me: my Paris experience would have been totally different if not for Sara, Michael, and the Marais.
Sara: Why I Love The Marais 
It all started with a vacation to Paris. My husband and I were planning to spend just under a week in Paris and were looking into short-­term apartment rentals for the trip. I had no idea where to stay in the city but a co­worker who loves Paris excitedly advised that I simply must stay in the Marais. I trusted his advice, and despite having no idea how to pronounce it or any French for the matter (it's muh­-ray), we booked an apartment.
Perhaps this should come as a word of warning. Sometimes when you rent an apartment and live like a resident in a special city, you start to want to become an actual local. That's my theory at least.
All I know is not even a week after our trip, we missed everything about this beautiful city. And a week later, completely out of the blue, Michael was applying for a job transfer to Paris. Just under six months later we moved to Paris.
In our first week living in a new country, we walked around every arrondissement of Paris looking for the neighborhood the conduct our apartment hunt in. Where do you think we landed? The neighborhood that we fell in love with enough to embark on the craziest adventure of our lives: spontaneously moving abroad.
So after living in the Marais for three years, what do I love about my neighborhood? Here are a few things: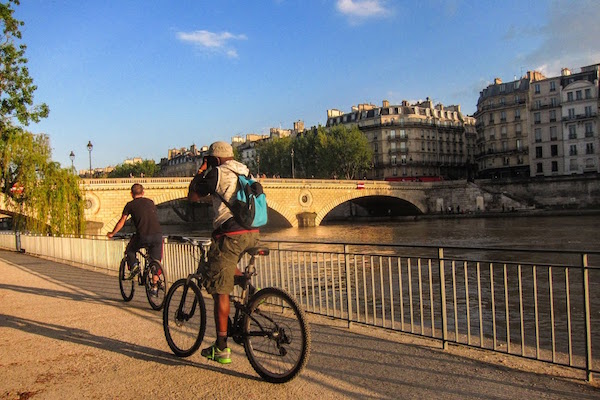 Central location: One thing that attracted us to live in the Marais is its central location. One of my favorite things to do in Paris is just walk around, and from our apartment we are walking distance to so much in the heart of Paris. In twenty minutes we can be at the Louvre and in under half an hour on the Left Bank by the Saint Michel fountain.
We're also close by to my favorite arrondissement for food, the 11th. Perhaps the most important metric though is the Seine-­to-­apartment walking distance. Come summer time, I can get down to the Seine for a picnic in 15 minutes flat, which is my unofficial backyard in nice weather.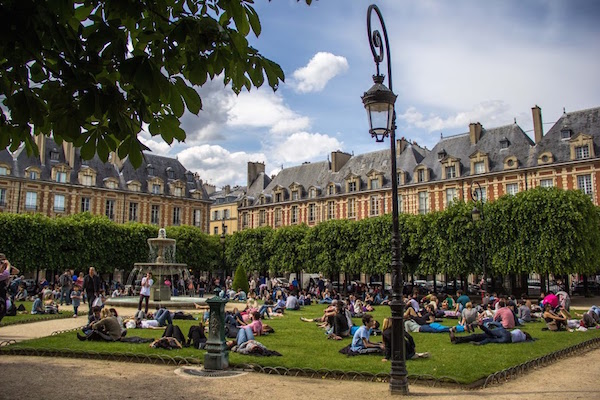 Place des Vosges: Speaking of backyard, the other spot I love to frequent nearby is the beautiful Place des Vosges. It holds the historic significance of being the first residential square in Europe, and its apartments are some of the most expensive per square meter in Paris. The classiest I can dream to be in Place des Vosges is getting a fabulously fancy pastry at Carette or Café Pouchkine and enjoying it in the park. It's the perfect park to stroll in at any time of year, and come summer it is full of picnickers and sunbathers covering the lawn.
Hôtel de Ville: One thing I wished I knew about earlier in my time in Paris (but am nonetheless happy I eventually learned about) is the expositions open to the public at Hôtel de Ville (the town hall for the city of Paris). I've seen various topics covered, such as fashion, photography, and historical expositions, all for the perfect price: free!
I should also mention that the square in front of Hôtel de Ville is constantly changing with activities. In the winter there is an ice rink, summer a volleyball court, and special events are held there throughout the year. During sporting events like the Olympics or World Cup, there are big projectors up for everyone to watch together, concerts in the summer, and the list goes on and on. It's always worth passing by to see what's going on!
Rue des Rosiers: One thing the Marais is known for is being home to the Jewish district of Paris. One of my favorite streets is rue des Rosiers. This is my go-­to for a falafel that makes for a quick, inexpensive, and delicious meal. (Where else in Paris can you get a hot meal for under 6 euros?!) I've tried every falafel joint on the street by now. Most people go to the famous L'As du Falafel because it gets all the press about being the best, but I usually head to Mi­Va­Mi for mine. The staff is friendly, the lines almost undoubtedly shorter, and the falafel is just as good.
Good Coffee: Many are surprised to find out that France is not known for its coffee. If you go to a standard café for coffee, it often tastes a bit bitter and acidic. Like other cities around the world, the craft coffee culture is taking off in Paris. And I'm fortunate to be right in the midst of some great cafés that care deeply about brewing an excellent cup of joe. During the week, you can often find me at two of my neighborhood haunts, Strada and Loustic, doing some work with the help of some well-­crafted caffeinated beverages.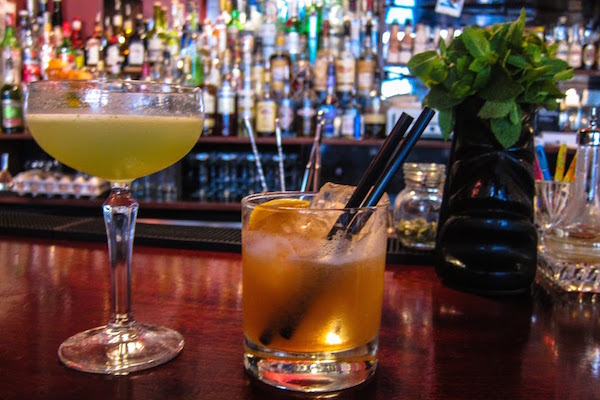 Cocktail bars: When it's time to switch over from daytime to evening beverages, the Marais is a perfect spot to be in. France is known for wine of course, but not so much for beer and cocktails. Things are changing in Paris, and even within the three years I've been here I've seen lots of new bars specializing in cocktails emerge on the scene. My favorite in the Marais right now is Little Red Door, with Red House, Pas de Loup and other favorites within walking distance (in the 11th).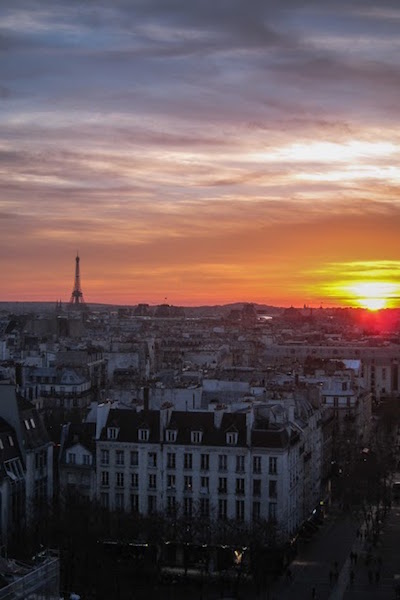 Centre Pompidou: The Centre Pompidou is one of my favorite museums in Paris. It is the best museum membership I have in the city. The artwork is constantly changing, so every visit I feel like I can see new pieces that weren't on display last time. It's become a go­-to place to bring friends and family visiting me ­– no matter how one feels about modern art, there's always something to talk about during a trip to the Pompidou.
And another bonus? It's my favorite sunset spot in my area. At any time of day, pop up to the sixth (top) floor for a view including Notre Dame, the Eiffel Tower, and Sacre­ Coeur.
***
About the author: Sara traded her New Jersey bagels for French baguettes when she moved to Paris three years ago. Since the big move she's learned a bit of French, has eaten more cheese in three years than the previous 25, and can now tie a scarf in 10 different ways. Follow her experiences in Paris, adventures in France, and travels throughout Europe on her blog, Simply Sara Travel, and on Instagram, Facebook, Google+, and Pinterest.
All photos courtesy of Sara.