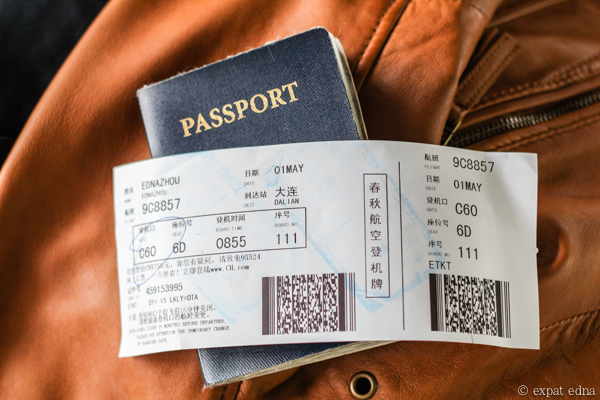 My monthly wrap-ups are for me to share personal tidbits — the little things that make up my life abroad; stories and photos which may not otherwise see the light of blogging day. See previous months here. 
Well it's safe to say, this might have been one of my biggest months yet. Huge turning points all around: I quit my job, I finally went to Japan, I turned 26…meaning I can now rent a car, but I can no longer get discounts on Eurostar fares. Boooo.
Perhaps this is all me having a quarter-life crisis a year late.
Anyway, here's everything I got up to in May:
Dalian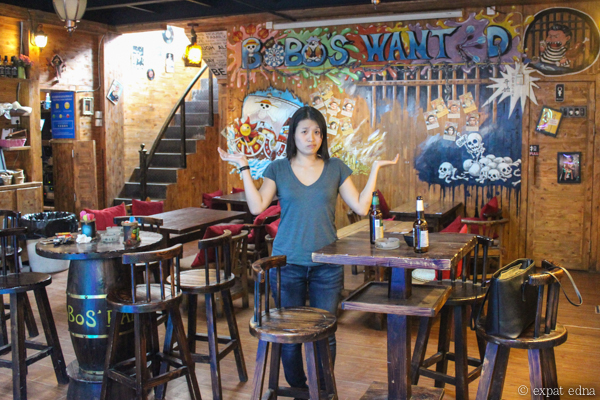 With May 1 being a public holiday, I spent the long weekend in Dalian, a seaside town in northern China.
I wrote about my hesitation to revisit Dalian seven years after I'd lived there and had sworn to never return. As expected, I was grossly over-worried and had a lovely trip. I ate well, drank well, and was glad to be able to show Joe this city that meant so much to me, and shaped who I am today.
Sure, some things had changed. My study-abroad university had relocated and the old campus was now a shiny new housing development; one of my favorite dive bars had turned themselves into a country-music-blasting darts bar and expanded over their beautiful outdoor courtyard (see above).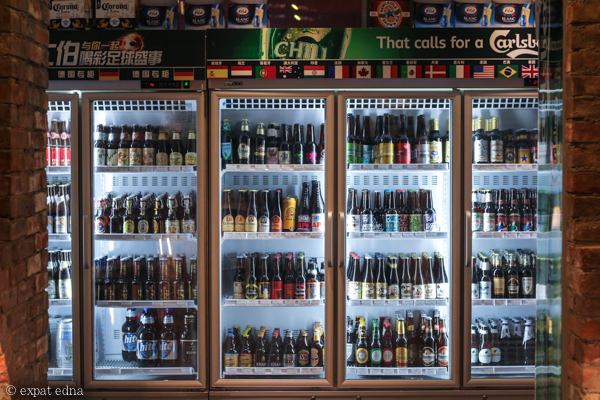 But the beer scene had also greatly improved: in Dalian, I stumbled across a beer bar with the largest, greatest selection of beers I've seen outside Belgium.
Better than Shanghai, better than anywhere else I've been in Europe. Dalian! Who would've thought? And the clientele was all locals, too.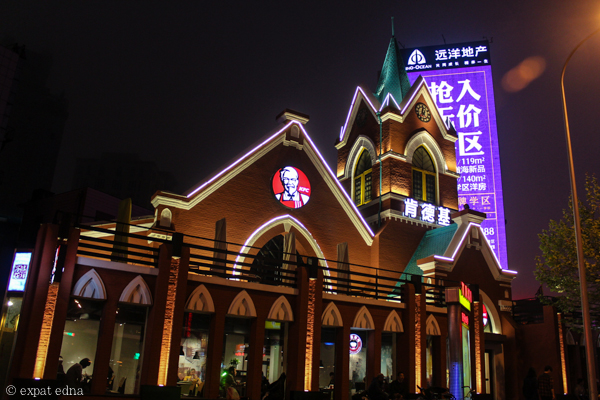 Of course, I was comforted to see that some things don't change: the KFC Church was still standing!
And the best-ever pumpkin chocolate chip bread — one I'd yearned for as a student but rarely bought on my budget — was still around, and the restaurant had expanded to the seaside: meaning I could now enjoy a loaf with a waterfront view and a pint of stout!
(Back in the day, apparently the place was run by nuns and therefore held a strict no-alcohol policy.)
That photo above is me discovering the loaf still exists. That is the face of Pure Joy.
Shanghai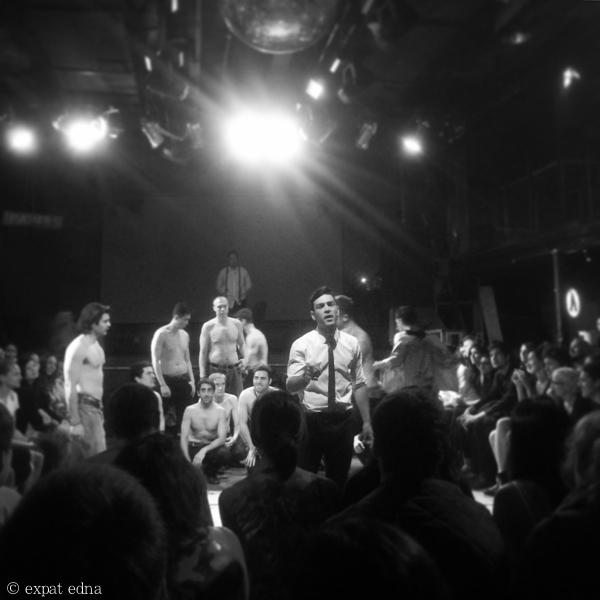 Back in Shanghai, life was busy as ever. One of the local theater companies put on a production of Fight Club in one of Shanghai's popular underground clubs, with plenty of choreographed fighting and shirtless men.
It kept a little too closely to the book/movie for my liking, but I was happy to support my friend Charlie (who played the role of Big Bob) and the interactive elements were certainly…unique.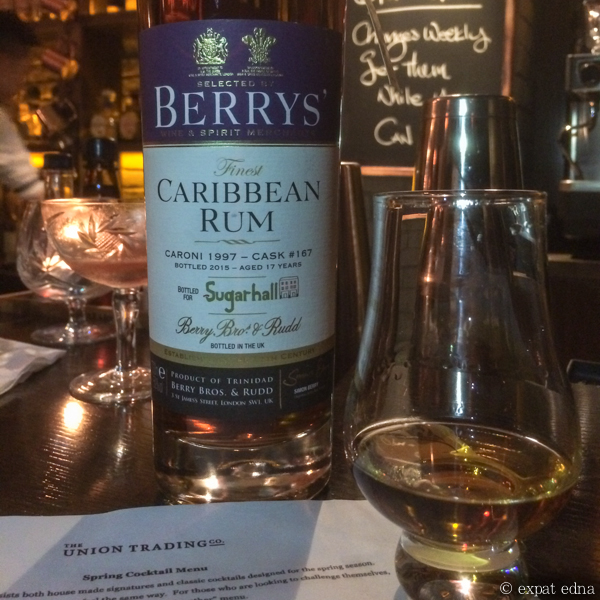 Meanwhile, at Union, I tasted the best rum of my life: Caroni 1997, a gorgeous 17-year old single cask rum bottled exclusively for Sugarhall (a cocktail bar in Singapore) with only 240 bottles in the world — the Caroni Estate distillery in Trinidad closed down in 2002.
Yao brought one back from his guest bartending gig at Sugarhall and let us have a tipple; I was swooning all into that glass. I'm really going to miss this place.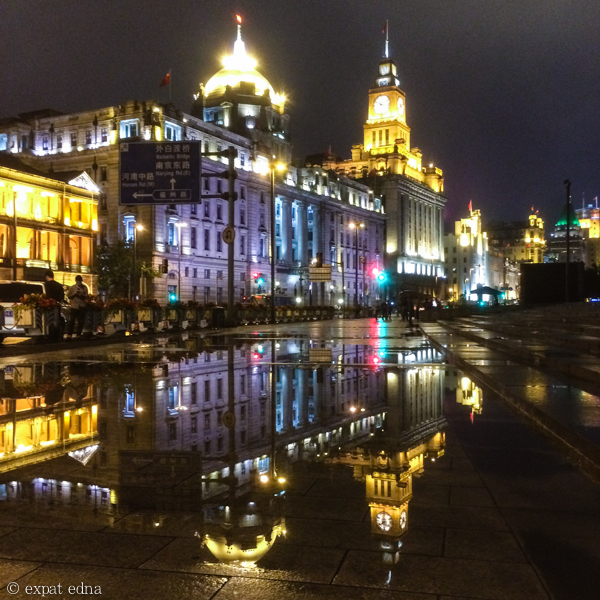 Somehow, I was invited to a gallery opening on the Bund by an art collective called Island 6. It was actually not boring — the art had interactive elements that were triggered when you stood in front of it, and the captions were dry and witty.
After we'd exhausted our white wine options, we went for a walk along the Bund in the rain. Living in the French Concession, I don't make it out to the Bund very often, but every time I do, I'm reminded how beautiful this city is and how fond I am of it.
Beer Fest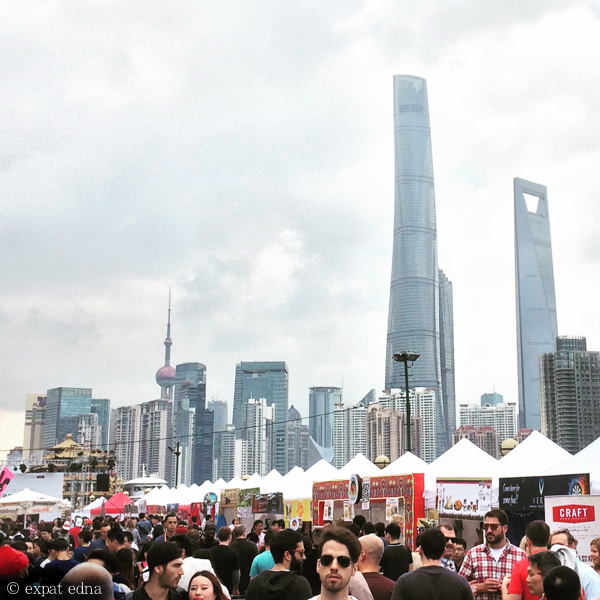 I swear Shanghai has a Beer Fest season, there's about a dozen between May and October (case in point: I'm heading to another one this weekend), but this was the big one that kicked everything off.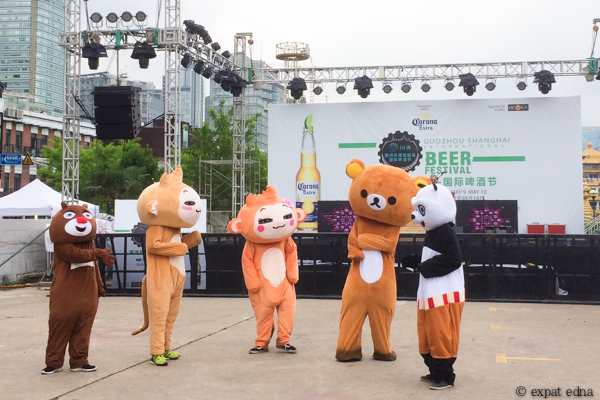 It wouldn't be China without some questionable displays of anthropomorphic puppetry — who can forget the German Christmas market? — and in this case we had these five characters, who provided entertainment by rocking the dance floor (keep an eye on Rilakkuma on the end, that bear's got some moves).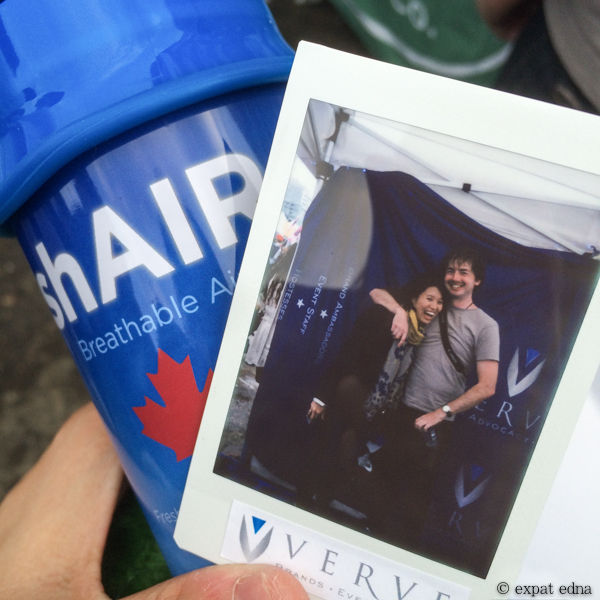 Another Only in China moment: Joe won this can of "breathable air" as a prize. Canned. Air.
Later in the afternoon a Chinese girl came up to us, squealing about the spray can of air and asked if she could please have it. We said sure.
And the most amazing thing about Beer Fest: just one week after returning from Dalian, I ran into my old Dalian BFF Matt, whom I hadn't seen in over six years! I didn't even know he was still in China! He just happened to be in Shanghai that one day, helping out at the booth for a craft brewery from Nanjing.
What a small freaking world.
Birthday week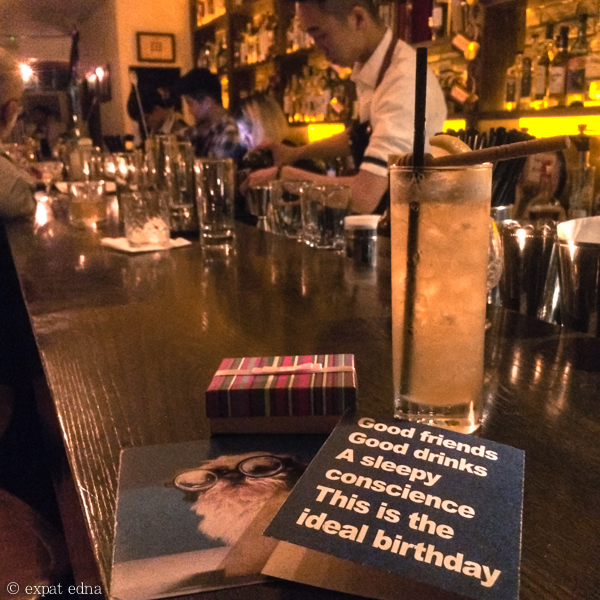 Yep, I'm one of those people who love their birthday so much it lasts a week…or two. The weekend before my birthday I had a few quiet drinks at my favorite bar, Union — which was also the first time I received a birthday card from an entire bar staff (above).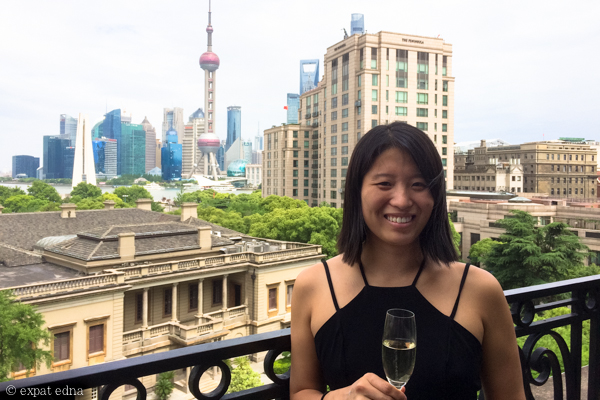 We also indulged in a Tuscan brunch at 8 1/2 Otto e Mezzo Bombana (an outlet of the Michelin-starred Hong Kong original), with beautiful views from north of the Bund. I've never been to the area and it was chock full of heritage architecture that at times made me feel like I was back in Europe. Excellent way to spend a Sunday in Shanghai.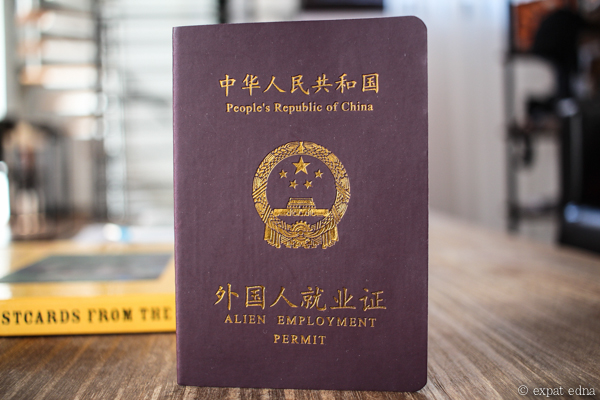 And then, the day before I turned 26, I handed in my alien employment permit, my office badge, and my laptop…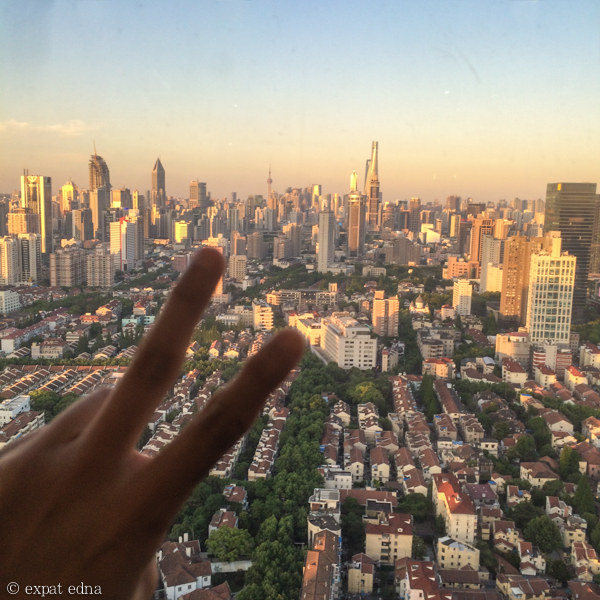 Said Peace Out to the view I'd been staring at for the past 13 months…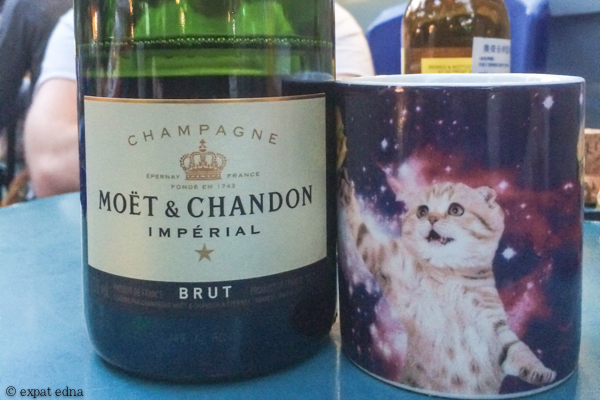 And I quit the corporate life. Bam. After which I immediately celebrated with a bottle of champagne and my office 'kitten reaching for a cheeseburger in space' mug — because I leave no kitten mug behind.
Japan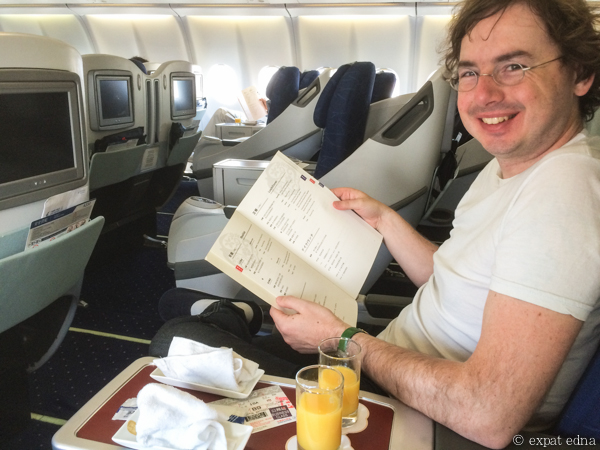 The next day, I rang in 26 with one of the nicest presents: business class flights to Japan! If only Shanghai and Tokyo were more than three hours apart; I could have stayed in that reclining seat-bed all day.
But also: Japan! Japan! I've wanted to see Japan for years, but never had the right opportunity. Checking this off the bucket list was the best birthday present I could have received (thaaanks Joe!).
We spent a week total in Japan, with four days in Tokyo and three days in Kyoto/Osaka. I'll be writing more about Japan in the coming days, but above are a preview of the highlights: namely beer, food, cat cafes, serenading chefs, and running into geishas just after we arrived in Kyoto.
BBQ Cook-off
The day after we returned from Japan, even with our body composition now 99% sake and sushi, we headed off to the 5th annual Shanghai BBQ Cook-off — because we have a hard time saying no to free barbecue and beer.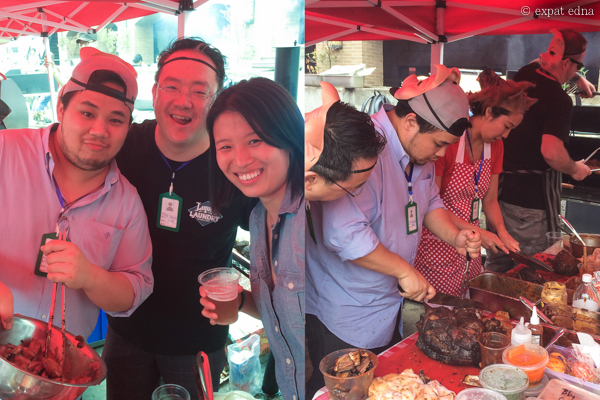 We went to support our friends from Ruijin Cajun, but of course, also ran into these fun guys — the Shanghai legends behind some of the city's most popular restaurants: Austin Hu of Madison, Simon Sunwoo of Liquid Laundry, and Kelley Lee of pretty much everything in Shanghai.
Polaroids are clearly making a huge comeback in Shanghai.
The Ruijin Cajun guys ultimately won Best Chicken — although they're really better known for their homemade andouille sausages, jambalaya, shrimp cheesecake, and mock turtle soup.
After years of pop-ups they've finally moved to a brick and mortar shop on Maoming Lu; I'd check them out if you're in town and craving some authentic N'awlins grub.
Around the Internets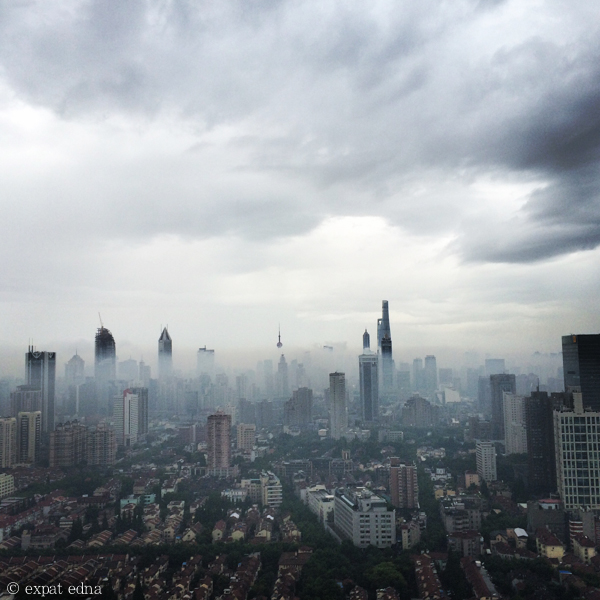 City in the clouds: My most popular photo last month on Instagram was this shot, taken from my old office on the 35th floor. I actually reached out underneath an open window and stuck my phone out 35 floors above ground to get this shot, but the near-heart attack was worth it.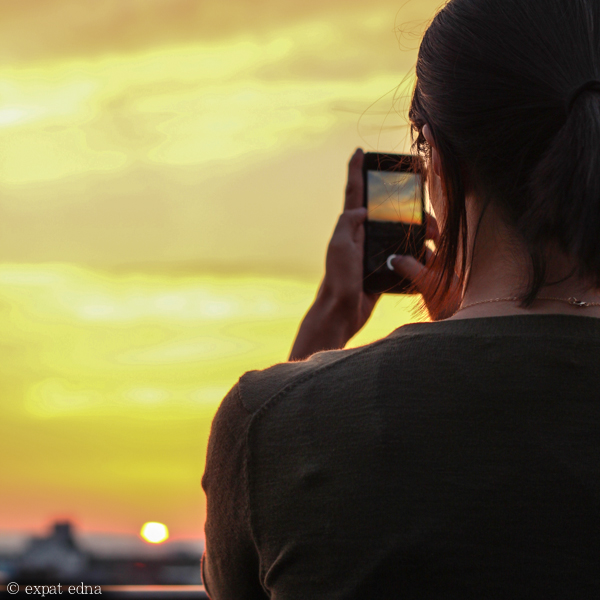 Featured on Thought Catalog: I resisted Snapchat for the longest time, swearing up and down I was too old for it, but a couple bloggers (and my 18-year-old sister) convinced me to try it out — and I've really been enjoying it! It feels more immersive and real than Instagram or Facebook. Recently,
Recently, Thought Catalog featured me as a travel blogger to follow, which is encouraging as a Snapchat newbie — and I really can't wait to start using it once I embark on my travels in Europe next month.
June will be all about packing up and making the most of my last month in Shanghai — I fly back to Paris on July 1, eek! How was your May?