In this biweekly series, I round up the five best things I ate in a particular city or country. Click here to read previous 5BTIAs from Paris, Australia, and more.
I've come up with a new slogan for Xi'an after my recent trip out west: Xi'an: Come for the Warriors, Stay for the Pork Buns. (Catchy, right? I'm clearly in the wrong industry.) This city is a food lover's dream.
Backing up: do you guys remember Brian? One of my best friends from my time in Singapore, he's a fellow American and food enthusiast, author of this guest post and my nemesis that time we raced to eat xiaolongbao.
Last year he moved to Xi'an, a city famous for some warriors made of terra cotta — and only a two-hour flight from Shanghai! Obviously I had to visit his new digs, but I'd seen the warriors before, and didn't have a huge desire to see them again. So I asked Brian: what else is there to do in a weekend in Xi'an?
And he responded with the following:
Rou Jia Mo (Meat Sandwich)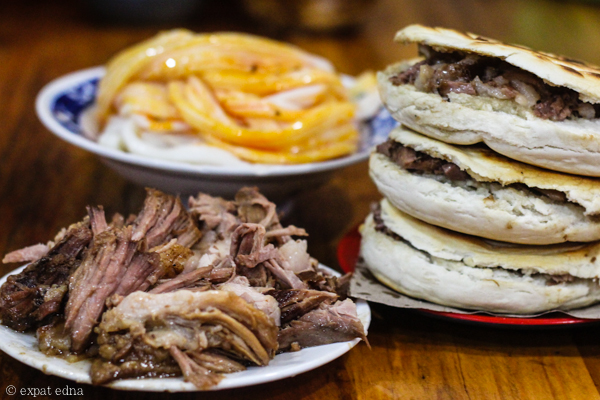 Turns out Xi'an is an unappreciated foodie heaven, and first in line for some love is rou jia mo.
The internet seems intent on calling this a 'Chinese hamburger' — but that's lazy generalizing, people of the web: meat between carbs does not a hamburger make (otherwise, I know some bagel people who'd like to talk to you).
Give this a bit more credit: rou jia mo is made with juicy, flavorful meat (usually pork) stewed for hours with dozens of spices and seasonings, while the flatbread neighbors are tough and hardy, baked in a clay oven.
Unlike some street food, these are made to order: your man will slice a few chunks of meat, season it a bit more for good measure, and then pull a firm bun from the clay pit and serve the warm fresh rou jia mo to you — all for about a dollar.
If a comparison had to be made, I'd say this isn't a burger: it's a fabulous Chinese pulled pork sandwich.
(*That bundle of orange spice in the back there is called liang pi or cold noodles. It's a solid dish in Chinese cuisine, but because it's found all over China and not just a specialty of Shaanxi province, I left it out of this list. But I'd definitely recommend ordering some along with your roujiamo.)
Biang Biang Mian (Belt Noodles)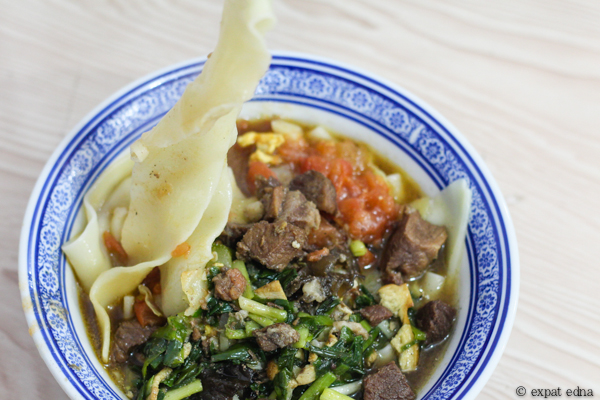 'Biang' is the most complicated character in Chinese — 
(look at that monster!) — and all over Xi'an you'll see shops boasting this mad character, selling biang biang noodles.
These broad, hand-made noodles are sometimes referred to as 'belt noodles' due to their thickness, and names aside, this is your classic Chinese noodle soup: it's got veg, it's got dough, it's a hearty lunch or dinner.
(Funny thing is, biang isn't used in modern Chinese! Apparently there are a few origin stories, but generally people say the name comes from the sound of the noodle dough as it's stretched and slapped against a table.)
Hu La Tang (Numb & Spicy Soup)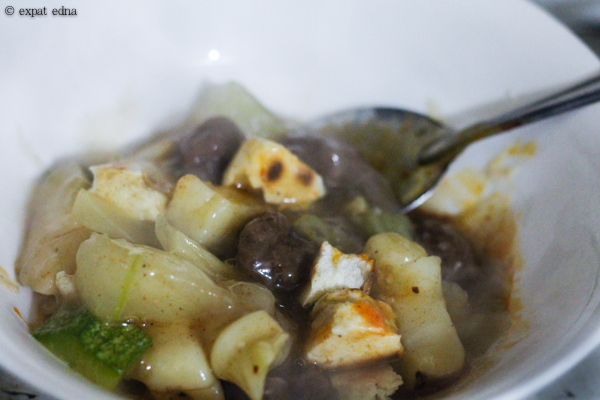 This soup looks terrible. I'll be the first to admit it. It looks like slop, is impossible to photograph well, and I would not have ordered it if not for Brian's girlfriend's insistence we try a bowl.
But underneath that ugly exterior lies a beautiful, thick stew that screams winter comfort. The doughy bits really stick to your insides and there's a kick of ma la, the famous Chinese numbing spice that comes from Sichuan peppercorns. If you're in Xi'an in the winter, this is your ugly duckling. Embrace it.
Ba Bao Zhou (8 Treasures Porridge)
Ba bao, or 8 treasures, is more commonly known in tea form (and is a tea of which I'm quite fond). This is the porridge version. The eight 'treasures' vary from vendor to vendor, but can be a combination of nuts, beans, seeds, berries, dates, and sometimes even white fungus or dried flowers. It can get pretty creatively tasty.
(Oh, and that's rice porridge. I've had enough misunderstandings to realize in the US/UK 'porridge' means oatmeal, right?)
Liang Gao (Cold Cake)

Speaking of rice, here's a dessert straight from one of Xi'an's many street cart. Liang gao literally translates to the plain-sounding 'cold cake', but it's more than that: it features a thin layer of sweet dates or red mung bean in glutinous rice (imagine the texture of Japanese mochi), with sesame sprinkles on top, cut up to order and served with a dollop of rose jam. It's sweeter than it sounds — I could only finish half this portion.
Bonus: Near Wall Bar and Brewery
Xi'an is still a small city when it comes to foreigner population, so I was surprised to find one of the best microbrews I've had in China here, at Near Wall Bar and Brewery. I could not put down the milk stout (at microbreweries I usually try to sample every beer on tap; at Near Wall I had one stout and never looked back) and there's also live music and a spacious, cozy-but-not-dingy interior.
While I loved our time tasting historical, traditional Xi'an dishes, a pint here was a great way to unwind and end the evening.
PSA: Brian and his girlfriend are so good with this stuff they've set up a food tour! I'd totally pay to eat all of this again. Check them (and their beautiful food blog) out here.
Have you been to Xi'an? What did you think of the city?