For someone who loves New Year's Eve as much as I do, being invited to a private party, in Sydney, right next to Harbour Bridge — that's equivalent to, say, giving a teenage boy front-row seats to the Victoria's Secret Fashion Show.
I was pretty pumped.
Apocalyptic downtown Sydney, four hours before midnight
Originally, I'd planned to go to Sydney and do the whole 'cross your fingers and hope to magically find a space' trick, like the last time I attempted this.
(And honestly it worked well, was a pretty epic night, and I was secretly concerned I wasn't going to be able to top it — and I really wanted to top it, partly because it was Joe's first time ever in the country.)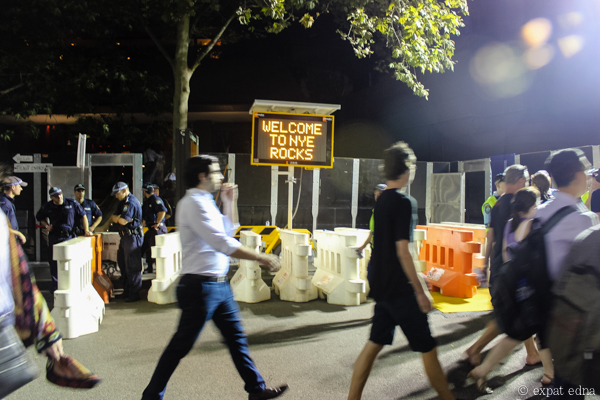 But then wouldn't you know it: just before leaving on the trip, I learned my company was one of Sydney NYE's sponsors this year; and the Australia team had a couple extra tickets to the [corporate brand] party at Dawes Point Park; and would I possibly want to get on the guest list?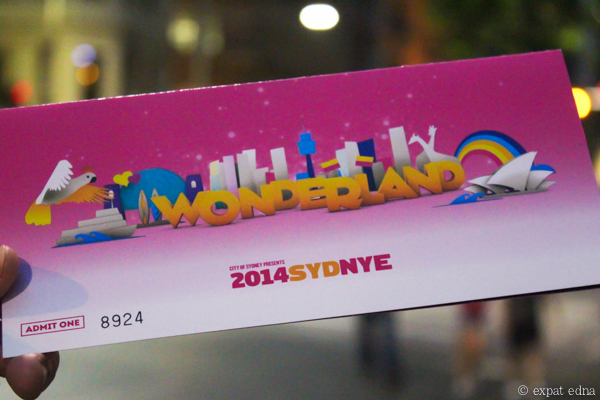 Tickets thanks to this one (and I don't mean Joe)
And that's how I found myself in New Year's Eve heaven: waiting for midnight standing pretty much as close as I could get to Harbour Bridge without actually being on top of Harbour Bridge.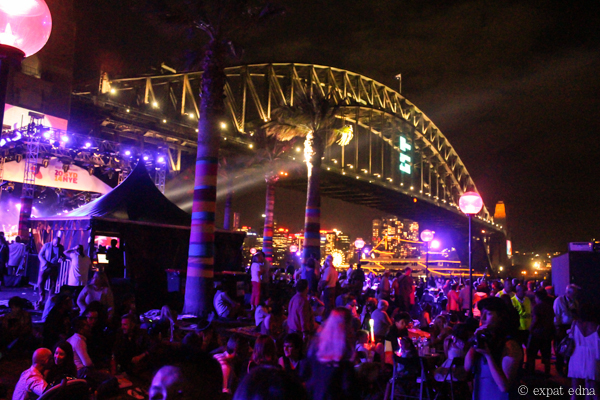 First, there were the 9 PM fireworks (also called the Family Fireworks, so kids can catch the show but still be put to bed at a reasonable hour):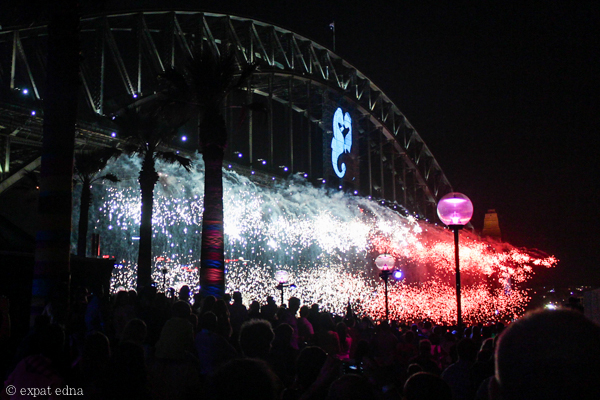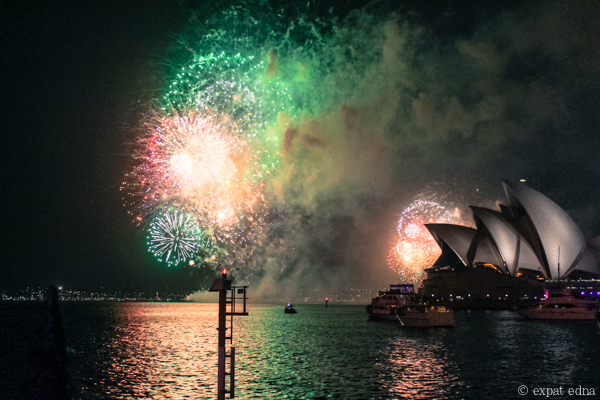 And then we had three hours to go. Which is when the really sweet perks of being here, besides the location, became obvious.
We weren't fighting against crowds, because there were none — meaning we didn't have to hoard our spots like Gollum and could actually walk around, change locations, get food and drink, use the bathroom (which were the most efficiently manned portapotties I've ever seen — manned portapotties!) — all without worrying about losing our spot and view.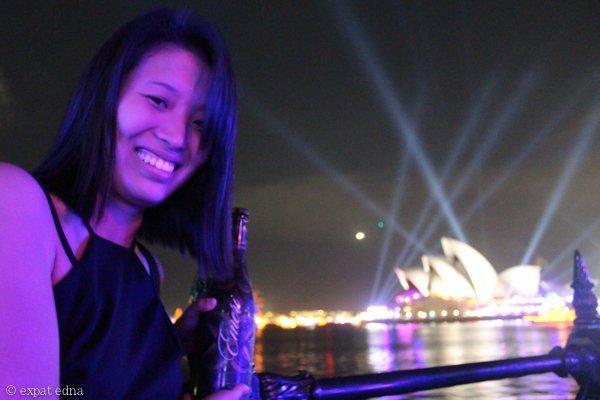 There was alcohol for sale, meaning: champagne all around! (Many viewing areas in Sydney don't allow glass and alcohol on New Year's Eve for safety reasons.)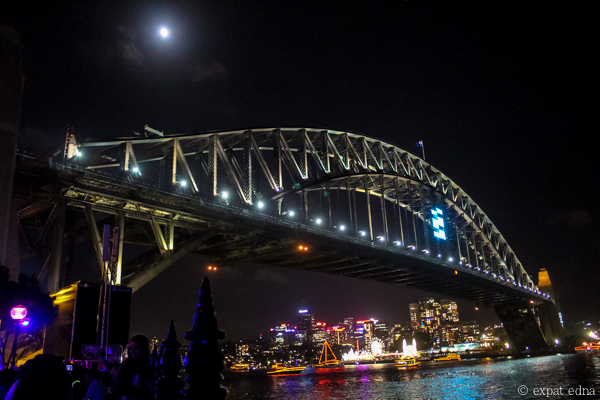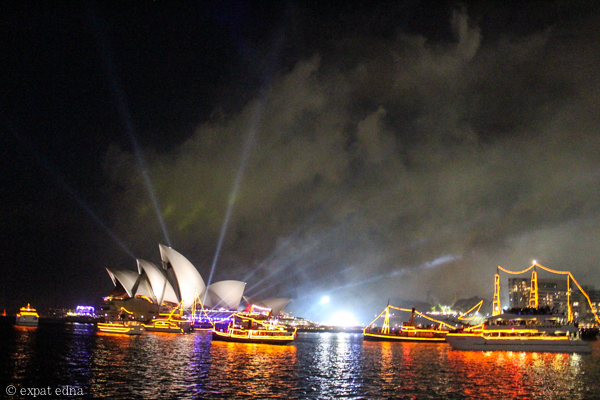 There were spectacular views of the city.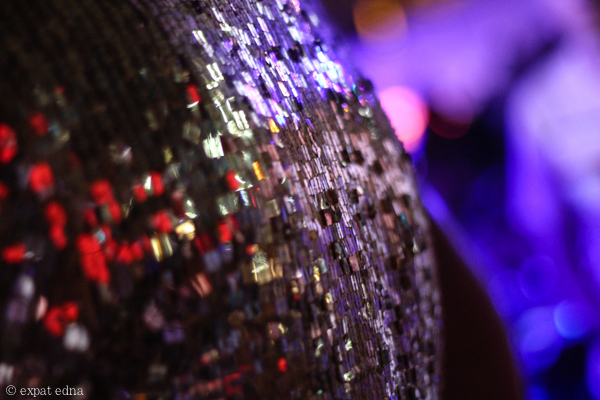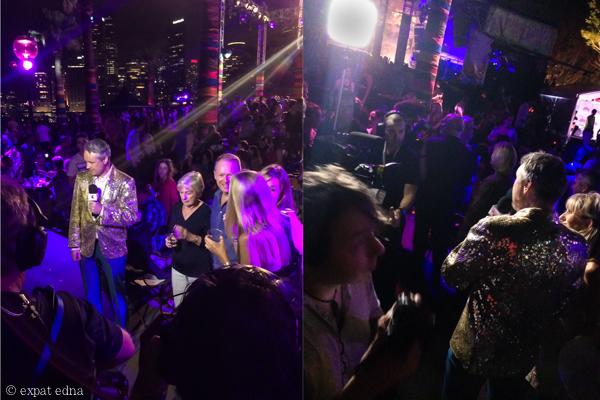 Plus some entertainment in the form of watching two guys I assumed to be Australian Dick Clark and Australian Seacrest mulling about, searching for giggly groups of women to put on camera. (That's Australian Dick Clark above, he was distractingly sparkly.)
Finally, it was time for the countdown: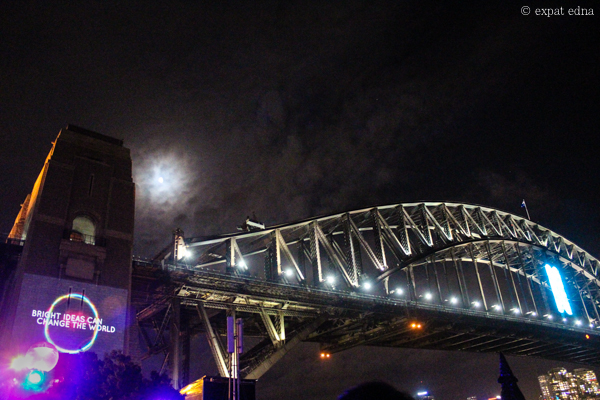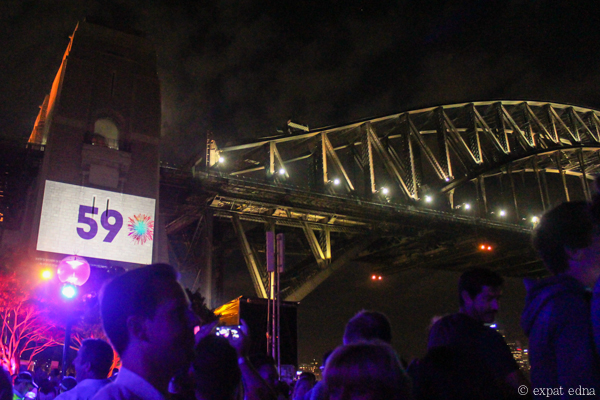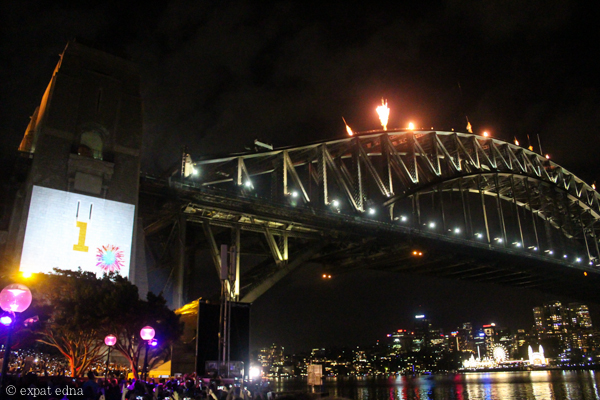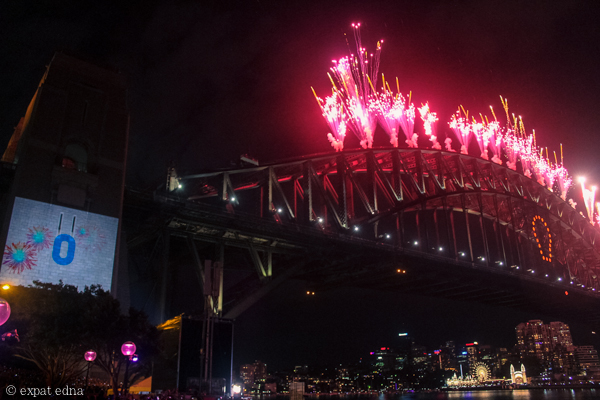 [At :59, I realized the countdown was starting and I had drifted from my spot on the iron-wrought fence! So I wiggled my way back up and reclaimed my prime spot, standing right on the fence, just in time to count the final ten seconds.]
Happy New Year!!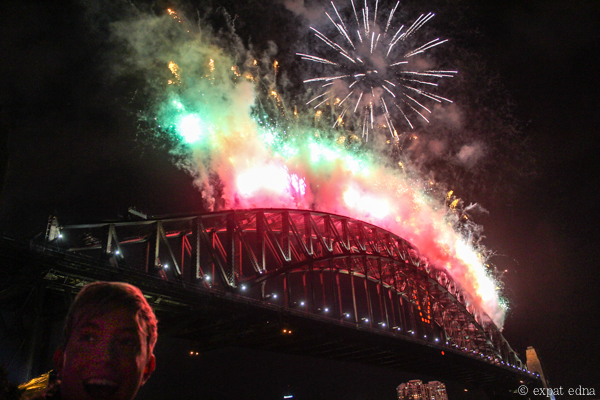 Immediately after midnight struck. This guy's face says it all.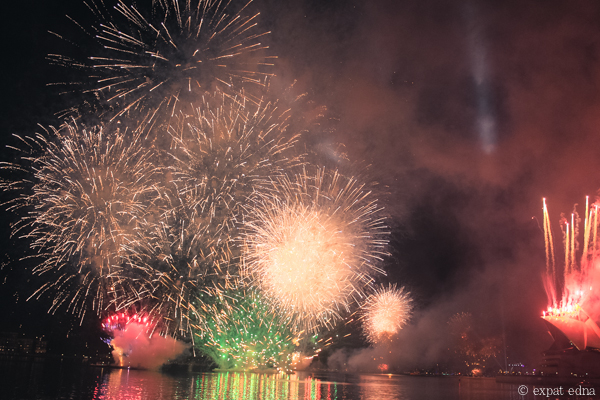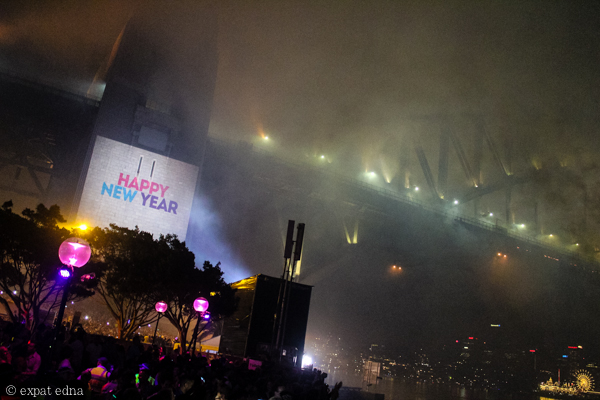 When the fireworks were over, most people cleared out and started trekking home.
Not us. I knew from experience that the streets would be unpleasantly packed for quite a while — and accordingly, the party (and therefore its DJs) were scheduled to keep rocking till 1 am.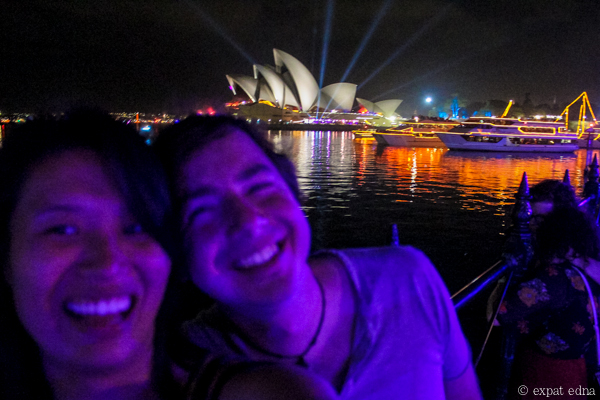 So we snapped some goofy photos without the crowds around, then moved onto the dance floor to party.
Best part: as soon as we got to the stage, Whitney Houston's I Wanna Dance With Somebody came on, which is one of my favorite songs and I absolutely LOVE IT, and Joe [likes to pretend he] absolutely hates it because of how much I absolutely love it, and it was just the perfect first dance of the new year.
It was the cherry on top and I was all smiles and pure joy.
Pretty brilliant start to the new year, I'd say (SEE WHAT I DID THERE?)
I won't name my work but should anyone there stumble across my blog, eternal gratitude goes to my Australian colleagues for inviting me — this was the best New Year's Eve I could have never even imagined.
For more:
Sydney 2015 fireworks (YouTube): A short video clip I took of the fireworks (probably best to start around :35)
Hotmanay!! | JK Roaming: My friend John posted some sweet photos/videos of his view from the Botanical Gardens.
A little belated but I believe in better late than never!: How did you ring in the new year?