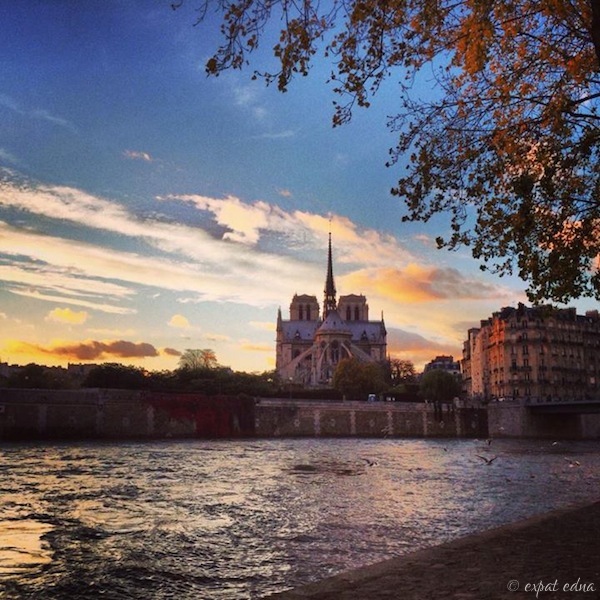 Yesterday morning I received this text from EasyJet:
Your flight tomorrow has been cancelled, because you live in a country with scheduled airport strikes. You may transfer your flight at no additional cost, but good luck finding one because in ten minutes all our Paris flights for the next three days will sell out, ha ha ha. 
(Not a direct quote.)
As I watched the flights indeed sell out in a matter of minutes, I started to panic — I had to be back in Paris; this was the weekend my friends chose to do Thanksgiving and there was no way I was missing turkey and stuffing and reunion time.
Long story short, after a frantic two hours of endless plane-train-bus searches, my old roomie came through to save the day and got me a flight via Zurich using his miles (bidness, too!).
The catch was that the flight was leaving in a few short hours, and I live allll the way out in the 'burbs — it takes me nearly three hours to get to the airport, and the local train into the city only runs once an hour.
So I booked it home, threw some clothes into a backpack, ran to the train station, got on a train GOING THE WRONG DIRECTION, freaked out, luckily caught another train going to Milan, rushed to the airport express, and by the time I made it to Malpensa it finally hit me: I'll be in Paris tonight! I get an extra day in Paris!
The strike actually worked out in my favor, in the end.
And as crazy and frenetic as it all was, it perfectly represents how things have been going for me recently — and will continue to go.
Because lately, nothing has been going according to plan.
But then…everything turns out even better than expected.
For instance:
I've been struggling to adjust to life in Italy. 
I mean, seriously struggling. To the point where I hardly eat anymore. (ME. Not eating. The insanity.)
So exactly one week ago, my boss sat me down for a talk. We discussed the situation.
And just like that, WHAM, out of the blue, sweeping me off my feet, came the permission to move whenever I wanted. In fact, the sooner the better.
So, I'm leaving Italy next week.
I'm going to go back to working remotely for a couple months, before relocating after the New Year.
So here are my shiny new upcoming winter travel plans:
NEXT WEEK: PARIS
I head back to Italy on Monday, have four days to pack up my apartment and life there. I'll spend Thanksgiving in Milan, then the next day head back to Paris to see my friends one last time.
DECEMBER: UK, IRELAND, ICELAND
After the weekend I'll take the train to London, where I'll be based for three weeks. I've always wanted to live in London — and while I was given the option, I can't quite afford the cost of living there right now, but at least I'll be able to get a taste. Plus, London at Christmastime! It's going to be magical!
I'm also hoping to spend a week in Scotland, and possibly get to Wales and Liverpool or Manchester on one of the weekends as well.
From there I'll hop on the ferry to Dublin, where I'll be spending Christmas and St Stephen's Day — my original thinking being that if I was going to spend Christmas alone, I may as well be alone in my favorite country.
But then I picked up a travel partner — who has never been to Ireland! — which makes it even better because now I get to introduce someone else to this ridiculously gorgeous favorite country of mine.
From Dublin I fly to Reykjavik (with an overnight layover in Copenhagen) where I'll be based for almost a week. A friend sold me on Iceland for New Year's — and those who know me, know I LOVE celebrating NYE with a big bash. I'm also hoping to roadtrip a bit and catch a glimpse of the Northern Lights.
JANUARY: MOVING TO….
Asia.
I'm moving back to Asia.
I won't say where specifically yet, because I'm still wrapping my head around the idea — I'm half expecting to wake up from this dream any minute now — and still need to confirm flights with work.
But yes. I'm finally going back.
FEBRUARY: RUSSIA
I'll have just enough time to get over the jet lag from the move when I fly to Russia for the XXII Olympic Winter Games. No, I don't know what events I'll be covering yet, but I am all too ecstatic about my second Olympics and first Winter Olympics.
***
So, there's my news.
Very little of it has fully sunk in yet — all the changes came rushing in so fast, I haven't had time to comprehend this is really happening. It doesn't feel real. One week ago I was struggling to stay afloat in small town Italy — now I'm moving out in a week, living in some of my favorite European cities for a month, and I get to move back to the continent I consider my second home, and a new city which I'd always hoped to one day live in and explore.
Everything worked out in the end.
Sooo travel tips — I need them! What's good to see/eat/drink/stay in London, Scotland, Wales, Dublin, Copenhagen, and Reykjavik?