In this series, I ask expats to share the joys of local life they've found in their corner of the world. If you're just joining in now, check out other cities that have been covered so far here.
Today's guest post comes from Sam, a British expat in Qatar — but she used to live in China, which is where we met, waaay back in 2008. There were few expats in Dalian back then, so we quickly bonded over many ladies' nights and Korean BBQs. I have so many photos from those days, I really should dig them out sometime…
Anyway, Sam is an old friend and I'm so pleased that we're still in touch five years later — and that she's agreed to write about her new home, a place that I've heard much about but know so little: Doha, Qatar.
Sam: Why I Love West Bay
Doha is a city many people find difficult to love.
It's a city under construction.
With its dusty sand encrusted streets, menacing traffic, non-stop building work, and blazing hot temperatures, Doha can give newly arrived expats quite a culture shock.
Doha doesn't lend itself well to exploration on foot. In fact, we barely even have mailing addresses, let alone 'neighbourhoods' with all the communal sense that word implies. Every place of real interest is out of reach on foot, especially in the height of Doha's vicious summer months. Doha is a city of drivers, not cyclists, definitely not pedestrians.
The closest thing Doha has to a traditional neighbourhood is the Pearl, a luxury apartment and shopping complex built on reclaimed land outside the main city limits. The Pearl is pretentious, cliquey and overpriced…and I don't live there.
If you've ever been to Doha, or seen it in pictures, you probably recall the cluster of shiny, futuristic buildings clustered together along the bay. It's Doha's attempt at creating a memorable skyline, New York or Hong Kong style.
This is West Bay, and it's my neighbourhood.
Burj Qatar
Among the tall shiny buildings in West Bay is the award-winning Burj Qatar. It's my favourite — not only because of its unique and eye-catching shape (Doha expats call it the 'condom building'). The Burj Qatar also projects cool orange and white light shows on its side during the nighttime hours, which look stunning from the Corniche. It reminds me of Gotham City in the Batman movies.
Doha Corniche
For me, the Corniche is Doha's ultimate highlight. It's what keeps me sane, keeps me in shape, gives me my vitamin C, and gives me room to breathe. The Corniche is a waterfront promenade running for several kilometres along Doha Bay. It's perfect for running, has a wonderful view of the bay (great photo ops!) and offers fresh sea breezes in an otherwise stifling city. After a sweaty run, I always drink loads of freshly squeezed fruit juice at the conveniently located coffee shop.
Sheraton Park
At the West Bay end of the Corniche there is Sheraton Park, a neat little spot of greenery that comes complete with its own Wi-Fi access. It's nice to sit there in the evenings with a book or iPad and relax with some fruit juice or karak (Arabic style tea with milk, sugar and cardamom), watching the world go by.
Souq Waqif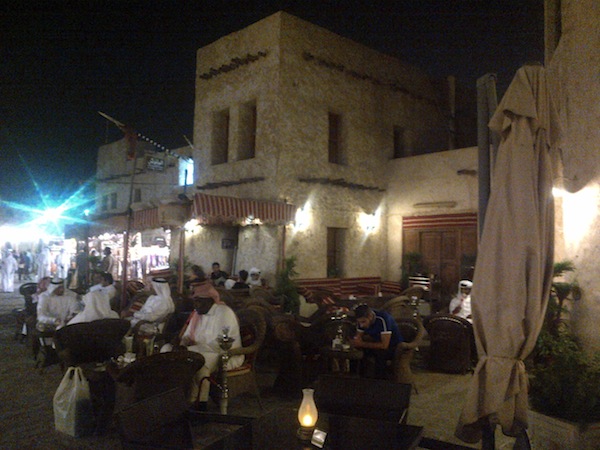 For those times when I want to get closer to Qatari culture, I head up the Corniche to Souq Waqif. In the winding labyrinths you can find a medley of things to buy, from falcons and kittens to abayas and artwork. It's a real hub of traditional local culture and has some of Doha's best places to eat. If you like smoking shisha there are plenty of cafés where you can buy it in heaps of different flavours. I'm not a shisha fan, but it certainly makes the souq smell amazing. Souq Waqif is a perfect place to hang out with locals and practice Arabic over a mint tea, karak or shisha pipe.
Camels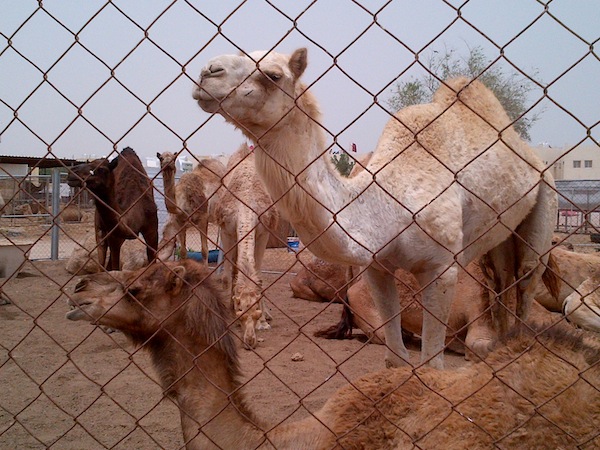 These cute camels live on a nearby farm. They pop up in other unexpected spots too, like running across the highway! You've got to be alert for this when driving fast at night. There's a camel racetrack in town, and places in the desert where tourists can ride them. I rode on the two-hump variety during a trip to Inner Mongolia, but haven't tried it in Qatar — yet.
Doha may have its challenges, but it certainly has its charms too.
About the author: Samantha North, known as Sam, moved from the English countryside to China in 2005 and has been living the expat life ever since. She's lived in three Chinese cities, in the heart of Europe (Brussels), and ended up in Doha, Qatar — working in PR & communications. Sam blogs at Places | Brands about how countries can improve their reputations. Yes, even North Korea. Follow Sam on Twitter @halfpatbxl.
All photos courtesy of the author.