Welcome to another edition of "I Love My Neighborhood", where I ask expats from across the globe to share the joys of local life they've found in their corner of the world.
If you're just joining in now, check out the other cities that have been covered so far here.
Today's guest post comes from one of my good friends here in Paris, affectionately known in the blogging circles as Milsters, the Canadian expat behind Little Pieces of Light. Milsters is a fellow serial expat as passionate about food and travel as I am — we had only just become friends when she was relocated to South America for work last year, so I was happily surprised when she moved back to Paris this month!
Milsters' love for this city is equaled only by her love for Buenos Aires; her beautiful photos and posts have absolutely convinced me I need to spend a few months in Argentina.
Milsters: Why I Love Palermo Soho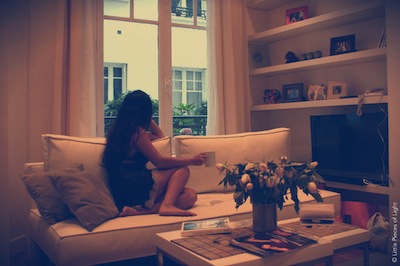 My love affair with Buenos Aires began as most love affairs with cities do: long before I ever visited it. The steaks, the tango, the midnight dinners, the Spanish with the Italian lilt — for me, the city spelled passion and a hunger for adventure that were balanced only by South America's easygoing culture. I had the opportunity to visit Buenos Aires for the first time in 2007, and my love affair became official.
I moved to BsAs earlier in 2012 — partly due to a project, partly to fulfill a lifelong dream. The neighbourhood I now live in is called Palermo Soho — which, for New Yorkers, is very much like the Soho of Buenos Aires. It's part of the larger district of Palermo, which is located in the northeast of BsAs, bordering middle-class Belgrano to the north, upscale Recoleta to the south and up-and-coming Villa Crespo to the west. The name of the district comes from the Franciscan abbey of Saint Benedict, who was the patron saint of Palermo — the town in Sicily where many immigrants came from during the 19th century.
Palermo itself is the largest barrio in all of BsAs (spanning over 174 sqm!), so Porteños (Argentinians living in BsAs, a "port" city) have divided it into smaller areas. Therefore, Palermo is split into Palermo Viejo ("Old Palermo") and Palermo Chico ("Small Palermo".) To complicate matters more, Porteños further subdivided what they've already subdivided — and within Palermo Viejo are Palermo Hollywood to the west and Palermo Soho to the east.
Are you still following? Ok, good.
Basically, the one thing you need to know if you've never visited Buenos Aires is this: bohemian Palermo Viejo is where you will likely spend most of your time. It is the hippest area of the city, with the widest selections of great restaurants, cafés, bars, and shops. Palermo Soho itself is the trendiest neighbourhood in town, dotted with boutique stores that display some of the city's coolest fashion. It's also the place where Porteños come to grab drinks with friends, meet families for dinner, visit the weekend markets, and walk the dog.
In short, it's a neighbourhood that breathes everyday life — and that life is full of fantastic things. If you need any more convincing, here are just a few of my favourite things about life in Palermo Soho:
The Lovely Leafy Streets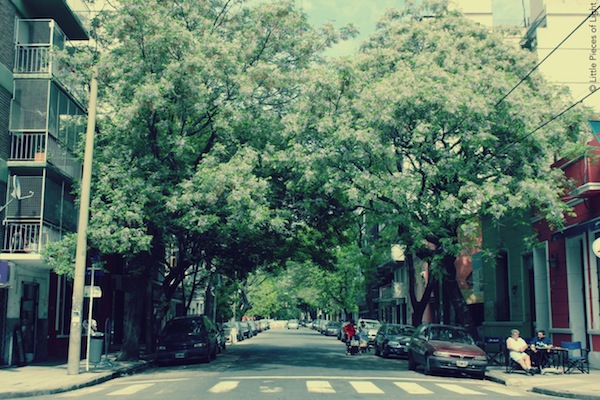 Whilst Palermo Chico, otherwise named "green Palermo", is known to be the leafier part of the district, Palermo Soho itself has many leafy residential streets that are lovely to take a stroll in on a warm spring day. Originally a working class neighbourhood, Palermo Soho also has other charms that wealthier Palermo Chico doesn't: cobblestone streets, small & humble houses, warehouses and factories that have since been converted into cafés and art spaces. It's wonderful to take in the bohemian eccentricity of this quarter under the shade of majestic plane trees, purple jacarandas, and fuzzy red bottlebrushes.
A Gourmande's Paradise
As a self-professed foodie, one of the top reasons I love Palermo Soho is its selection of amazing restaurants. From exquisite modern Argentinian fare at Social Paraíso and mouthwatering meats at the La Cabrera parrilla, to some of the best fusion food I've ever eaten in my life at the Peruvian-Japanese joint, Sipan — there is absolutely something for everyone. Palermo Soho is also home to a few puertas cerradas ("closed doors") where the chefs invite you inside their homes for intimate dinners (Nola, for example, is currently ranked as the city's top restaurant in TripAdvisor). It's a neighbourhood I am always more than happy to eat my way through.
The Crop of Cool Cafés
Palermo Soho is teeming with the hippest & coolest cafés and lecherías (milkshops). The culture of entrepreneurship and the ubiquity of wifi mean that you will see Porteños spending time at cafés not only to catch up with friends, but also to get some work done on their laptops. From the brilliant baristas at Mark's Deli & Coffeehouse to the yummy milkshakes at Muu's, Palermo Soho has got you covered.
Boutique Heaven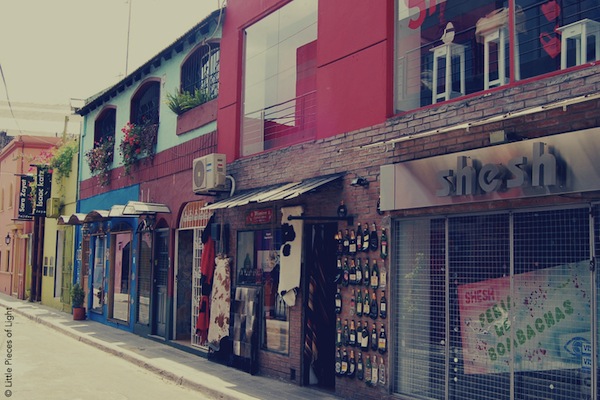 It's well-known that Palermo Soho is a shopping paradise, equivalent to New York's Soho and Paris's Marais. The city's best boutiques are here — from clothing stores to leather specialists, from bookshops to wine cellars. Sometimes I walk out of the apartment with only a limited amount of cash on hand to make sure that I'm not tempted to buy anything!
The Hippy Weekend Market
During the weekends, Plaza Serrano, the main plaza in the neighbourhood, plays host to a fun and funky arts & crafts fair. The unique aspect about this fair is this: whilst artisans set up shop in the square itself, many of the restaurants, bars, and cafés which line the plaza lend their spaces to young designers selling everything from clothing and accessories to stationery and home décor. It's definitely worth a stop on a shopping day.
True Puppy Love
As an avid dog lover with my own puppy at home, I really love the fact that you can see dogs everywhere in Palermo Soho. Owners take them for strolls on the sidewalks, keep them by their side at outdoor cafés, and play with them in the parks. Professional dog walkers parading with a dozen perros is quite a common sight. Of course, the wide avenues and the 400-hectare Parque Tres de Febrero within this neighbourhood mean plenty of space for man's best friend to roam in. (Now if only all Porteños would always pick up after their dogs!)
The Mezcla of Locals and Expats
Last but not least — I love the mezcla (or mélange) of locals and expats that you see everywhere in Palermo Soho. The neighbourhood exudes that perfect blend of local village feel and international culture that I love to find in every city that I live in. You can sense it simply by listening: whilst Spanish is clearly the dominating melody, you'll also hear notes of Portuguese, French, English, and Mandarin around you. People sometimes even talk in Spanglish or Frespañol! No matter what language you speak, no matter what your background is — Palermo Soho will welcome you with open arms. After all, it began as an immigrants' neighbourhood, and this sense of identity continues today.
———
About the author: Milsters Mac is a part Mediterranean, part tropical island girl who has grown up in 13 different countries on four continents. Ever the global nomad, she currently lives in the three cities of Paris, Buenos Aires, and Vancouver. She's the author and photographer behind the blog Little Pieces of Light, which provides glimpses of life in all of the three cities, gives great insider tips on where to eat and what to do, and sometimes simply offers a bit of food for the soul. When she's not writing, taking photos, or on a plane, Milsters can be found counselling companies on different projects in Paris and Buenos Aires. And no, Milsters is not her real name. Despite an online footprint, she's still quite a private person — but that doesn't stop her from sharing her little pieces of light with the world!
All photos courtesy of the author.