In this series, I feature expats who started their own business abroad. From food to fashion, art to tourism — these women had the guts and confidence to pursue their passions and turn it into something bigger. Check out previous interviews here.
Today I'm featuring Daisy de Plume, who long-time readers may recognize as I mention her often when talking about my Paris social life (she also wrote about her Paris neighborhood here).
Daisy is the big sister I never had, my Paris confidante and BFF; I love hearing her stories about working at Vanity Fair in New York City or reminiscing about our respective family histories in Shanghai together. She's the most passionate person I know and I can't imagine what life would be like without her — not least because of her treasure trove of knowledge, which she has channeled into her company, THATLou, and has taught me more about art and museums than I ever thought I'd care to know.
So I'm incredibly proud to see that for 2013, Daisy has moved across the Seine to create THATd'Or, her first treasure hunt at the Musee d'Orsay, hosted by AFMO's Young Patrons on the evening of January 31. To shed more light on THATLou and to inspire those who may also want to pursue an artistic passion, Daisy's kindly answered some questions on the story behind her business.
1.Tell us a little about yourself and your life before Paris.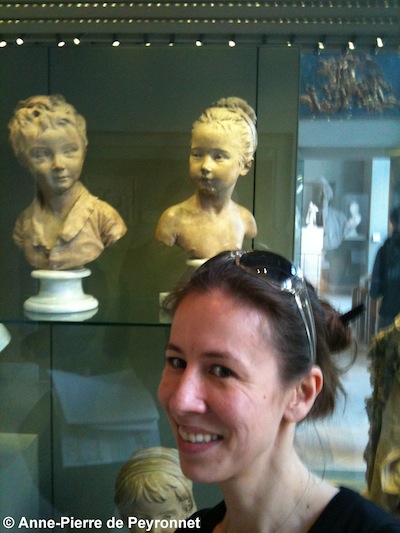 I was born and raised in NY and though I had lived a handful of places before I started working (Rome, Florence, London, New Orleans), my professional life had always been in New York and in publishing. First in books at a literary agency on Union Sq, then over to magazines at Conde Nast.
By the time I left NY when I was 30 I was the culture list editor at Vanity Fair, working for David Friend, the director of creative development. I grew up on Bank Street a few houses down from Graydon Carter, and babysat for Gully Wells and Anna Wintour when I was in high school so the media world was pretty much ingrained and a natural place for me to be.
2. Why did you move to Paris?
My grandmother died a few years before I left NY; being the executrix to her will, the only one left in our line and handling her enormous flat on Christopher Street took a major toll on me. When the estate finally cleared after a few years, I decided to take a short sabbatical from NY and my life and rented a flat in the Marais for four months. Though I'd been to Paris numerous times, it was never really my cup of tea: too cold in character and grey in weather. If I was going to dislike it I may as well know why.
After four months here, I had my ticket to go home to help with the Kerry campaign, which I'd done prior to leaving as well. Before even boarding the plane to NY, though, I realized that no matter who won, no matter how grey the sky, no matter how irresponsible it was to walk away from my life and 'career', and chiefly — or because! — no matter how hard it would be to make Paris mine (visa, language, unemployment level, $ – € exchange rate being horrid, etc.), I would be returning.
In a very short time Paris had gotten under my skin. When Bush won, of course, the choice was all the easier.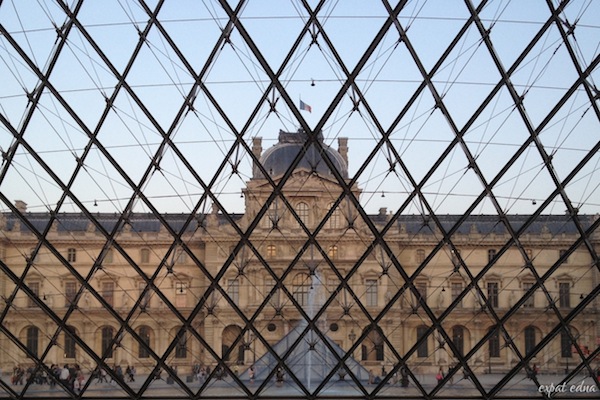 3. What was the hardest part about moving to Paris?
Though I was glad to leave Vanity Fair when I did, as I was desperate for a change, I never really appreciated how much 'cultural nourishment' the job provided. A large part of my monthly task was to scout out international upcoming exhibitions, ballet and theater premieres, orchestras and operas, etc. It was an IV drip of culture and my school studies (art history and history) were pulled on naturally.
When I moved to Paris, though there was a lot of beauty about and enriching history in the buildings I walked past — or lived in, for that matter — culture didn't play a structured or formalized role in my life the same way. I missed that.
4. Tell us a little bit about THATLou. 
THATLou stands for Treasure Hunt At The Louvre, and it's my company that does just that, themed treasure hunts. I started it last March (you were on the first official THATLou, which is how we met!) with the theme of Angels + Wings. I am proud to say that there are now twelve themes of different hunts from which to choose.
I think my favourite one is Wealth + Power (so much history in those busts of Roman Emperors [with scandalous sex lives], portraits of menacing monarchs and their back-stabbing statesmen such as Colbert and Richelieu), although at the moment I'm working on a "Love Hunt". It's filled with an Eros and his arrow here, a few of the 3 Graces there, of course we have Venus emerging from the sea and plenty of delicious wedding feasts such as Veronese's Wedding at Cana. I can't decide if I should go full throttle cheese and call it the Louvre Hunt. Do you have an opinion?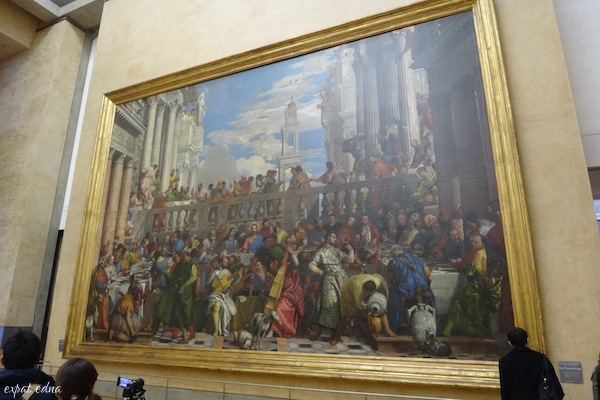 5. What was your biggest fear in starting your company, and how did you overcome that?
Myself and I haven't.
I'm tempted to leave it at just that – but to extrapolate: I have a hundred and one ideas. That's useful for starting a business, but running a business also requires being disciplined in implementing those 101 ideas, prioritizing which idea's best to focus on, working out short-term, medium-term and a long-term strategies.
Not to mention the horrendously boring nitty-gritty such as figuring out what on earth a "widget" is, how Facebook, Twitter, Pinterest work and, of course, how to handle URSSAF and the monster known as the French State. (For those two categories I am lucky to have had both your help as well as my husband's, respectively!)
6. What surprises, either positive or negative, have you encountered in running THATLou?
I'm surprised at the range of people who it suits. When I first started I thought I'd try it out on the general public for a few months, but that there were really only two markets to focus on in the long run — kids birthday parties and corporate team-building events.
Instead, much to my surprise, it's been sought after by tourists. We're ranked number 21 out of 181 tours of Paris on Trip Advisor — TA being how the tourists seem to find THATLou. So that's been a great surprise.
On the flip side I'm surprised how hard it is to reach the kid's market, that it's not a shoo-in for birthday parties. I've hosted a few, but it's not as automatic as I naively expected and is proving a real struggle to break into that market.
7. What's the best part about the business?
I really love creating the hunts — researching the pieces, considering their location at the Louvre and placing them apart (ha ha! You must strategise!), embedding the bonus questions craftily in the text. It all just makes me happy to think of the treasures people will see as they go looking for the treasure in the hunt. And for some reason my ideal participant isn't necessarily interested in art beforehand, but is a competitive soul who wants to beat the other teams, so they do their homework, they read the blog posts that might apply to their hunt and they come away 1) winning and 2) actually wanting to go back to the museum to see the what they missed!
I feel like THATLou is one big con-game on trying to get people into feeling some sort of ownership of the Louvre, and into the art. As I was growing up my mother brought me to the Met for a few hours each Sunday afternoon and created games with the paintings to keep my interest (and I suppose to give her some precious moments of quiet, I realize now that I'm a parent). But her methods were clearly successful in catching my interest as I ended up studying Art History in school. If I can get just 30% of the people who play THATLou to want to go back to the museum then I'll have accomplished my mission.
8. What's the worst/hardest part about the business?
French taxes and social charges. They're VENAL. (although, as an American, especially, I really mustn't complain as the price of my toddler's daycare is next to nil, and our medical coverage is top-notch, etc.)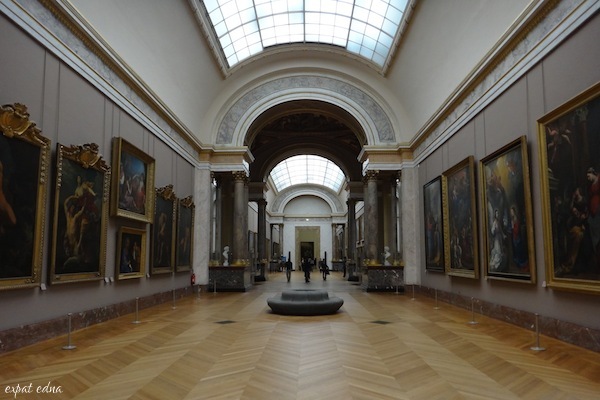 9. How has THATLou improved or impacted your expat experience?
Good question, E. You've shed light on a truly humbling side that is invaluable. It's both apart from the business, and thanks to the business.
Though I'd lived in Paris for nearly seven years prior to starting THATLou, I never really identified with the expat community. In fact for the first few years I was allergic to my compatriots and would only befriend French people (poor, patient souls — falling victim to my shoddy, earnest version of French). Then I relaxed a bit about the whole identity thing, got a job at a British consultancy where half the office were fellow "expats", married an Argentine who I guess if either of us weren't so disdainful of labels and boxes would be considered "expats". But in this phase I think I just ignored the horrible term "expat". We were all just people who happened to live our lives in Paris, so what?
Then upon starting THATLou, at the generous introduction of Kasia Dietz, I actually courted the expat community (the aforementioned Angels + Wings THATLou). I really didn't know what to expect, but the warmth and the energy and the encouragement and the straight-out generous camaraderie with which the blogging expat community embraced me puts me to great shame. All the years of snootiness that I exercised were completely unwarranted.
Had I not started THATLou I don't know whether I would have encountered this — so for that I am truly grateful. And I take it as a huge priority to try to feed back that warmth to the community.
10. What advice would you give for future entrepreneurs in Paris or abroad?
DO what you love! Go through a period of trying everything. And then of course, give yourself a deadline of focusing on what works.
But throughout it, make sure you're enjoying yourself and your project/company and the rest will fall into place. You'll make sure it does, because you're doing what you love, right?
For more on Daisy or THATLou, check out her blog, facebook, and twitter. And If you're in Paris, you should definitely participate in the Avant Garde THATd'Or Treasure Hunt on January 31! Sign up prior to 23 January and you get free access to the museum.