In this series, I feature expats who started their own business abroad. From food to fashion, art to tourism — these women had the guts and confidence to pursue their passions and turn it into something bigger. Check out previous interviews here.
Today's interview comes from Cat, founder of Sugar Daze. Since 2008 this New Yorker has been satisfying expat cravings and introducing Parisians to that simple pleasure that is the American cupcake. This year she expanded her business from the web and opened her first shop just south of Pigalle. Read on to find out more about what brought her to Paris, why she went into the cupcake business, and the greatest highlights of her career so far.
1. Hi Cat — tell us a little about yourself. What was your life before Paris?
I'm a native New Yorker who always dreamed of living in Paris! I have been here for 9 years. In my life before Paris, I was a single gal trying to make a decent living in the Big Apple. In my former lives, I worked in retail, restaurants, publishing, real estate and advertising. I am a mom of 2 and a "chef d'entreprise" — I just love saying that! :)
2. Why did you move to Paris?
Like they say in French, "J'ai suivi un homme!" I met my French husband about 15 years ago in New York. It was love at first sight. He had always told me that as soon as our child could speak, we would have to move back to France — I think he couldn't bear having a child with an American accent! — and so, about 9 months after our son was born, I found myself on a plane moving abroad.
3. What was the hardest part about moving to Paris? 
Leaving New York — it's my city and it's inherently part of who I am. It's funny but I didn't think of it as a permanent move when we left. It all happened so quickly. We had put our apartment up for sale as a fluke and about a month later, we were signing the contract with the new owner and on our way. The hardest part was leaving behind friends, family and my way of life, and that obviously has been a constant. I miss the vibe and speed of New York City; it has taken me a while to get used to Paris and its relative calm in comparison.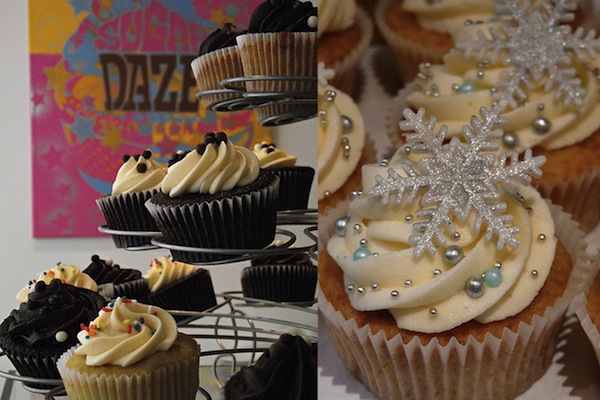 4. Tell us about Sugar Daze. Why cupcakes?
Sugar Daze was started as a small custom cupcake business about four years ago (formerly known as Little Miss Cupcake). It began with some cupcakes I took to a friend's house for a play-date, which I used to do on a regular basis. A friend of hers happened to see and taste them and then asked for my contact details for a party she was having. That became my first paid order and that client is now a close friend. I still have the 20 euro bill she paid with! It just took off after that via word of mouth. Strangely enough, cupcakes were just starting to make a name in Paris and as one of the few people who was making them, I gained some notoriety. Over the years, business has grown in leaps and bounds and I was fortunate enough to open my Bake Shop a couple of months ago based on demand.
Why cupcakes? Because I love them! For me they are symbolic of where I come from and my childhood. They also give me a creative outlet — I love to bake and I love to come up with new ways to dress them up.
5. What was your biggest fear in starting your company, and how did you overcome that? 
I've always been the type of person who puts the cart before the horse. I didn't really think too much when I started the business way back when — it didn't require a huge financial investment and I could coordinate my schedule around the orders that came in. For me it was kind of like translating a hobby into a way to make some extra money while having fun. Now that I have the Bake Shop however, I obviously have a lot more financial concerns and responsibilities which create some stress.
I have to say though that my biggest fear was losing my family life in the process. This actually kept me from opening a brick and mortar shop for a couple of years. But as the business outgrew my limited space and manpower, I finally decided to take a leap of faith. You only live once, right? Making time for my family — spending quality time with my kids and my husband — while running this business continues to be a juggling act.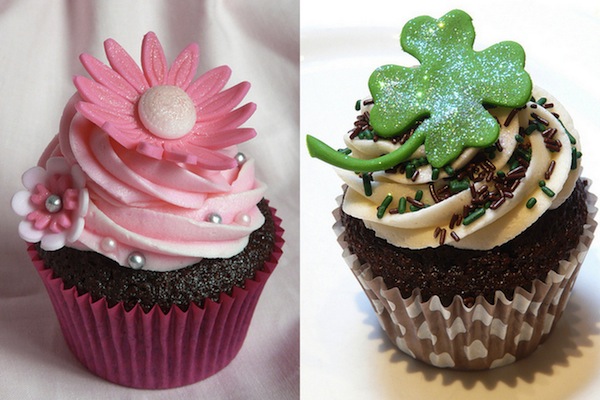 6. What surprises, either positive or negative, have you encountered in running Sugar Daze?
Ugh, I hate to say this but I find a lot of my job is educating the public about cupcakes. In the beginning, a lot of people had no idea what it was they were looking at. Is it a candle? Is it a decoration for your table? You can really eat it? Etc. More frequently now I have people in the shop who dismiss cupcakes outright, and when they try one of mine they are surprised by how light and moist the cake is, how the frosting is airy, not overly sweet. I always tell them, "Well, that's how a cupcake is meant to be!" I don't know where they have previously bought their cupcakes but clearly there is a lot of education to be done here!
The other day I had a new client in the shop — a local buying some cookies who told me he didn't like cupcakes. He said they were pretty to look at but the taste left little to be desired. I invited him to select a cupcake out of my case, take it home and tell me what he thought. Not 30 minutes later, he was back to buy a box of six, thanking me for proving him wrong. That was one of the greatest highlights of my career in this business!
7. What's the best part about the business?
The best part is that I LOVE my job! Cupcakes make people happy and making cupcakes makes me happy!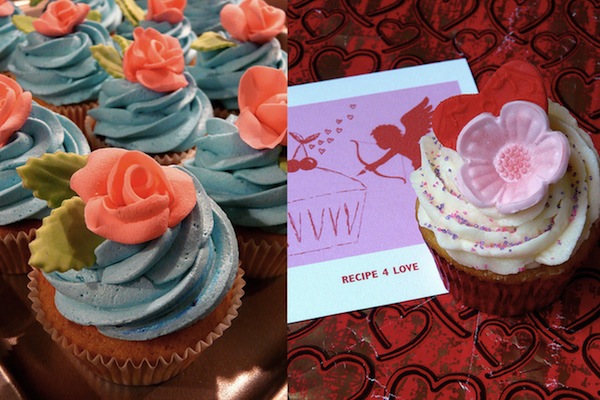 8. What's the worst/hardest part about the business?
French administration! It's been eye-opening, enlightening and sometimes downright shocking to see how things are done here. There are a lot of misconceptions I brought with me as an American with an American sensibility and entrepreneurial spirit. I think a lot of things are overly complicated here and it's no wonder so many people get discouraged from starting their own businesses.
9. How has Sugar Daze improved or impacted your expat experience?
One of the benefits of my business has been the opportunity to meet so many interesting people and to participate in some really unique events. I am guilty, like many expats, of nurturing a circle of fellow expat friends; I am so grateful for these friendships but obviously having that safety net has kept me from fully integrating into France. Through my business though, I have been delighted to make some new French friends and be exposed to things I normally wouldn't be as a stay-at-home mom.
Since opening the store I have felt this even more so — there's a real community feeling amongst the shopkeepers on my street and the locals have made me feel so welcome. A French girl, another entrepreneur who works in the neighborhood, just left my shop after a two-hour chat over tea and cupcakes. It was a lovely way to pass the time and I consider myself so fortunate to be able to make these types of connections. It certainly has brought another very positive dimension to my life here in France.
10. What advice would you give for future entrepreneurs in Paris or abroad?
Don't give up!  I found out I was pregnant with my second just as my dreams of opening a store took flight. I had to derail my project for a few years, and there have been some bumps in the road — most noticeably another cupcakery stealing my original brand name — but with a lot of perseverance and hard work, I finally have realized my goals.
You need to be persistent here in France (well, in life too!) if you really want to make things happen for yourself. And above all, be the best you can be — believe in your product or service, take the time to make it better than anyone else and you will succeed!
To learn more about Cat and her cupcakes, visit the Sugar Daze website, facebook, and twitter.
Sugar Daze
20 rue Henry Monnier
Paris 75009