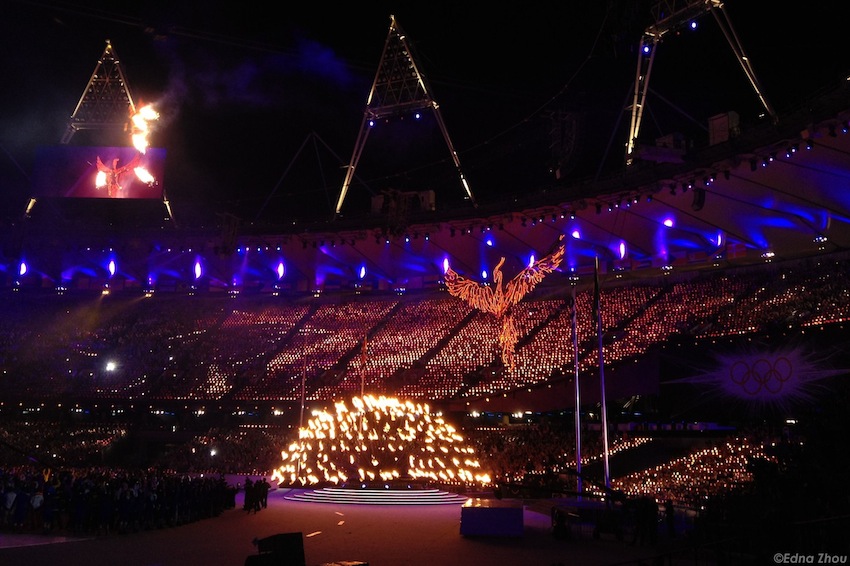 Tonight I bring a close to my posts on London 2012. There's much more I could say about the Olympics and my experience, but for a few reasons I'm going to stop here — besides, I want to get back to writing about travel and expat life. So here's my look at the Closing Ceremony, where again, I had the privilege of viewing it from the press tribunes.
Pre-Show
That Sunday felt like the last day of school — people packing up their offices, everyone saying goodbyes; the media center had an overwhelming sense of finality, even though there was still the Closing Ceremony to see through before it was well and truly over. Journalists were flying out that afternoon or evening, skipping the ceremony — which, prior to working the Olympics, I would NOT have understood. However, I get it now: after three weeks, especially for journalists who have seen this song and dance multiple times, the Closing Ceremony is just another event. And if someone else could cover it, then they were getting out of dodge.
So it was amidst this confusion and mass exodus that I hopped on the bus to the stadium — and ended up arriving with about three hours to spare. After walking around for a bit, I decided to just settle into the tribunes early. It ended up working out in my favor: I found a seat just four rows up from the stadium floor, and I got to watch dusk fall upon the set as I did some preliminary writing.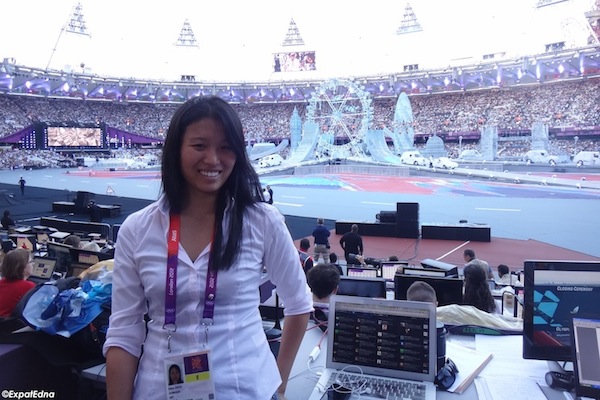 "A Symphony of British Music"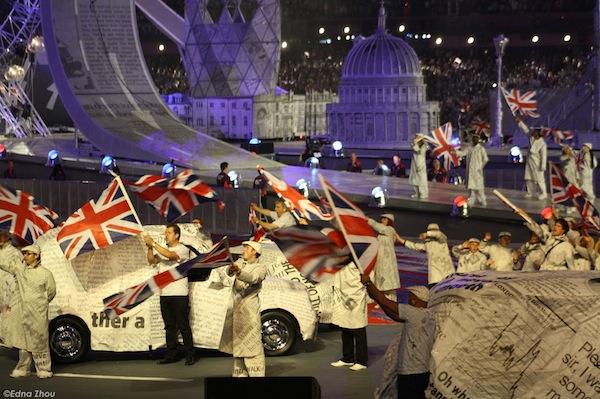 The show began with a scene of daily life in London, with cars and trucks honking while circling a newspaper-covered cityscape. Suddenly the chaos was stopped by Winston Churchill, played by Timothy Spall, popping out of Big Ben (really, imagine it. He pops out of Big Ben like it's just a giant birthday cake). At that point IOC president Rogge and Prince Harry were presented, God Save the Queen was played, and then the gray newsprint was pulled away to reveal a giant Damien Hirst artwork on the stadium floor — and the stage exploded in color.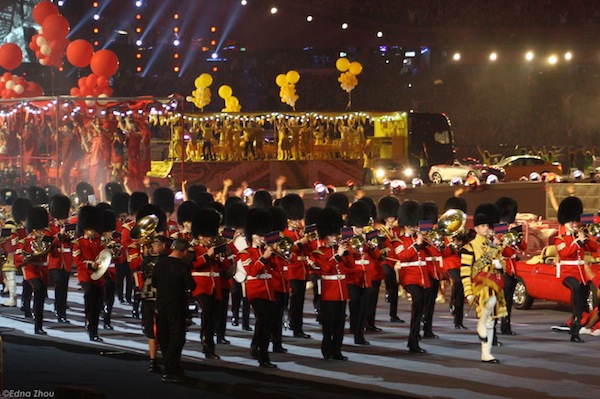 The brightly-colored performers danced to numbers by Madness (whose saxophonist, Lee Thompson, is pictured below rocking out while being suspended in mid-air), Pet Shop Boys, and One Direction. Ray Davies sang 'Waterloo Sunset', which the veteran journos informed me was a hit from the 1960s that they all remembered well. I felt my age as I had never heard of Waterloo Sunset or Ray Davies.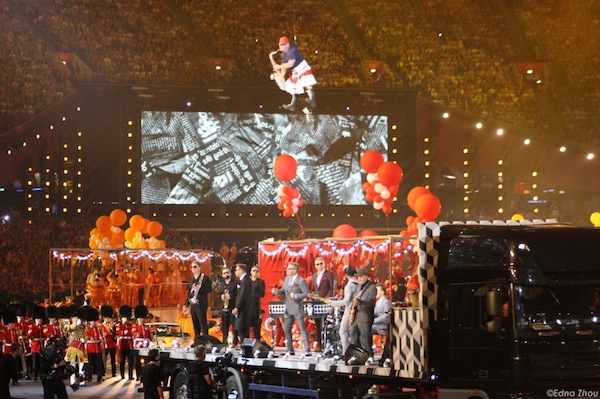 The Parade of Athletes followed. My favorites were the Ethiopians, who, when told to rush like everyone else to keep up with the speed of the show, formed a conga line as they ran. It was great to see all the athletes running with smiles on their faces; they could have been annoyed at the pace but they seemed to all think it was funny — though if I had just competed at the Olympics, I'd be pretty happy too, regardless of some brisk walking.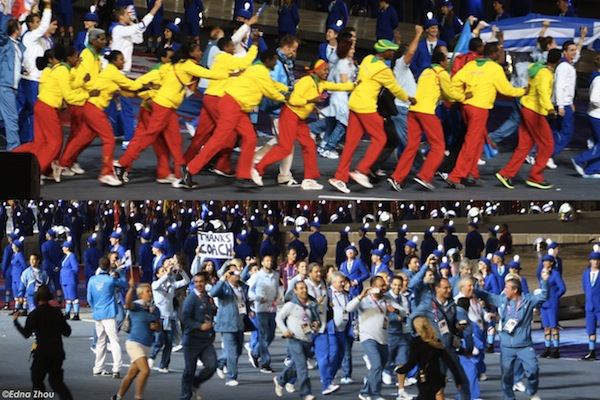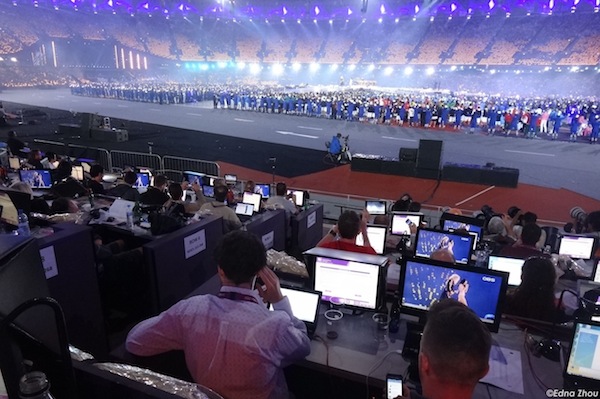 After they presented the victory ceremony for the men's marathon, which concluded earlier that day, and a recognition of the 70,000 Games Maker volunteers, the show continued with performances (some simulated) of Freddie Mercury, John Lennon, George Michael, Kaiser Chiefs, David Bowie, and Annie Lennox.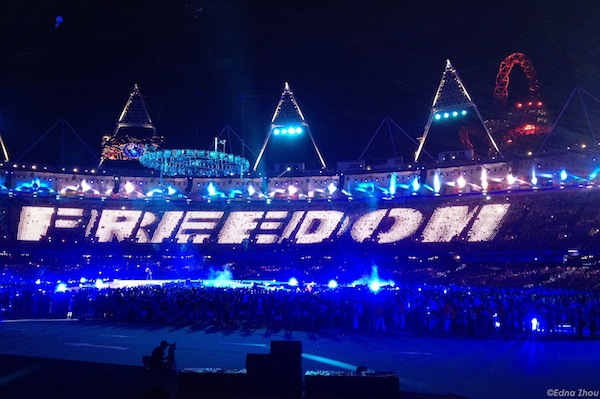 Then the music took a psychedelic spin, with Russell Brand singing from a 60s-style bus and DJ Fatboy Slim performing from the head of a giant inflatable octopus. An OCTOPUS. I laughed so hard; it was at this point I realized just how much I loved the show. It was ridiculous, but in a way that you couldn't help but enjoy yourself.
And then of course, my memory card ran out of space just as the Spice Girls came out. So I was too busy frantically clearing out the card to really pay attention to their reunion on black cabs. (It was at this point a Canadian journalist I know said, "One thing's crystal clear from this show. The Brits love their vehicles.")
After more music and performances by ELO, Monty Python's Eric Idle, and Muse — who sang the 2012 Olympics theme song, 'Survival' — it was finally time for the Handover.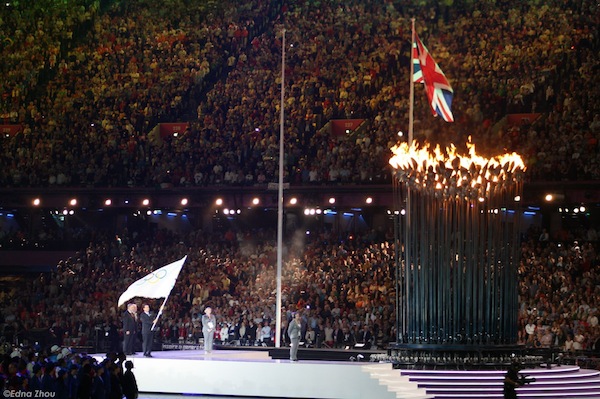 The Greek flag was raised; the Olympic flag was lowered. Boris Johnson, Mayor of London, passed the flag to IOC president Jacques Rogge, who then handed it to Rio de Janeiro mayor Eduardo Paes. Each man waved the flag four times, as per tradition. Then the Brazilian anthem was played as their flag was raised, and the Road to Rio began.
Road to Rio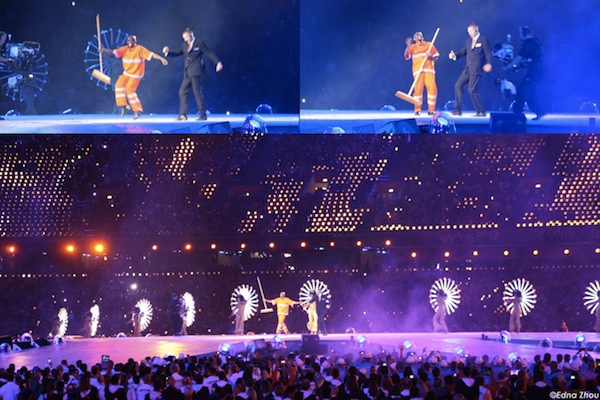 The performance started off with a street cleaner, Renato Sorriso, being shooed off the stage; instead he stays put and teaches the suit how to dance, and they lead off the Rio portion of the show. Sorriso was a real-life street cleaner who became famous for his samba skills while sweeping.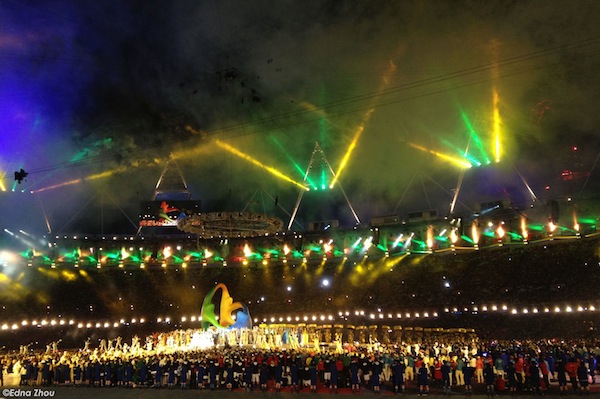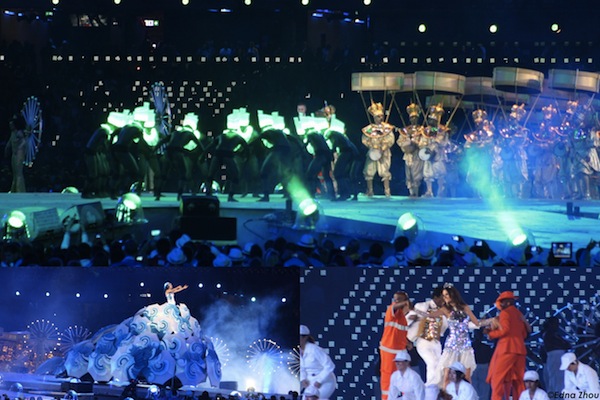 The music, the dancers, the atmosphere — it was all wonderfully loud and vibrant, and made one thing very clear: Rio is going to be something completely different. (Total sidenote: that's Alessandra Ambrosio in the sparkly dress above, and can I just say, she is stunning.)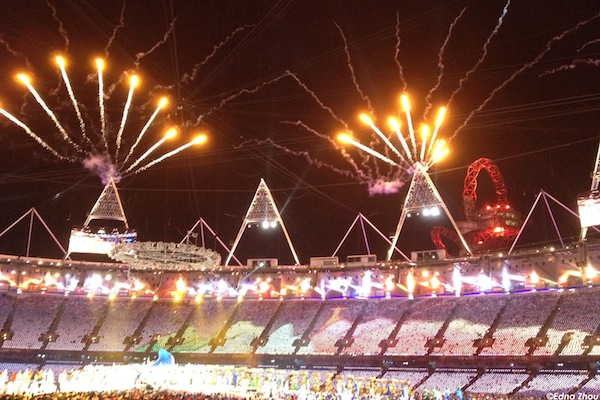 Extinguishing the Flame
Seb Coe and Jacques Rogge gave their speeches; both praised the Games for being highly successful, a conclusion I think few would disagree with. The Olympic flame, which had burned for 16 days in the stadium, was slowly lowered then extinguished, while Take That and The Royal Ballet performed before and after. A single copper 'petal' from the flame will be returned to each participating nation.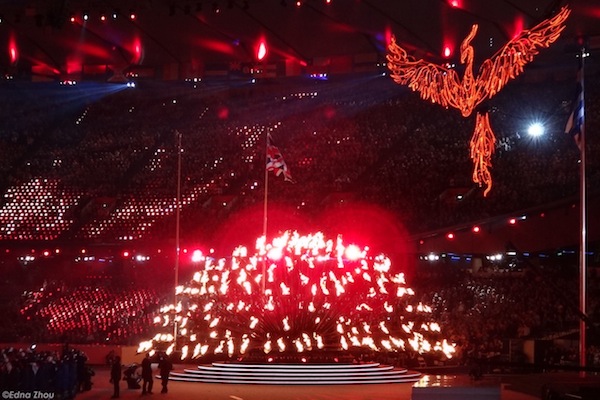 Finale
The Who performed a few of their hits (again, I felt musically ignorant as the only song I recognized was 'My Generation') as the stadium exploded in fireworks and confetti. I mean, a ton of confetti. It was EVERYWHERE. I was still finding pieces of it in my hair hours later.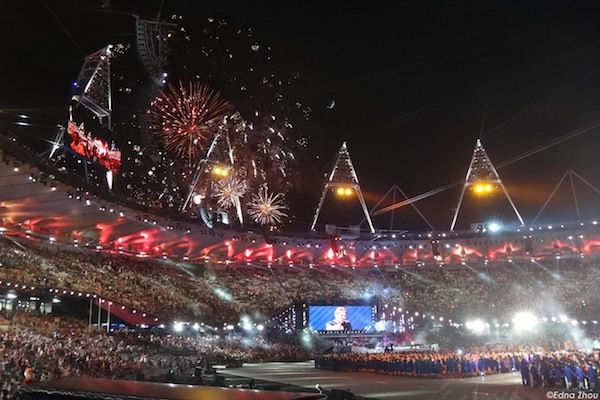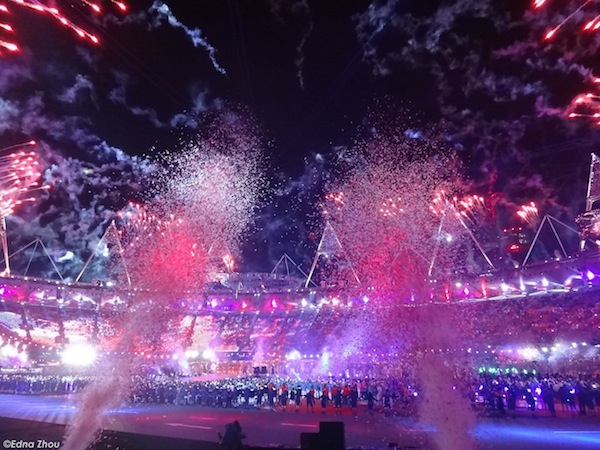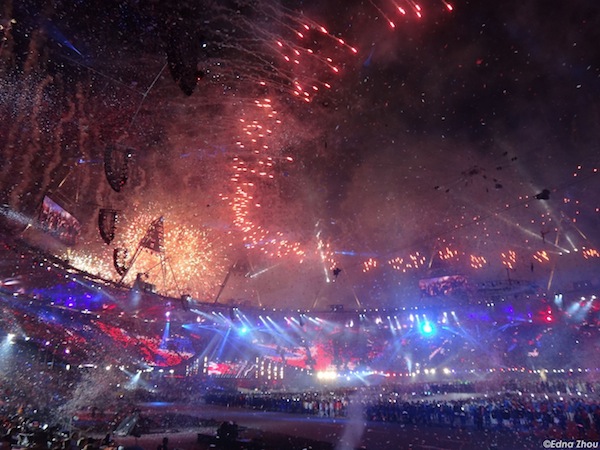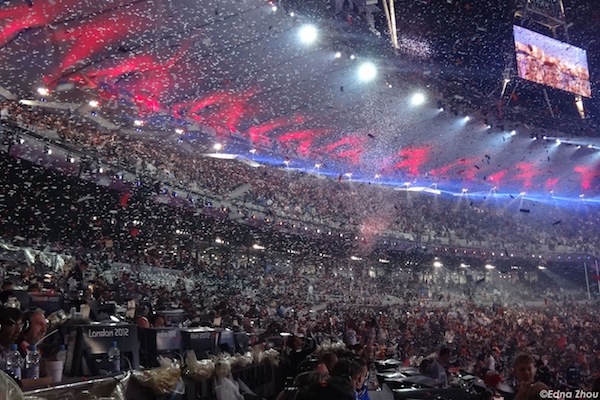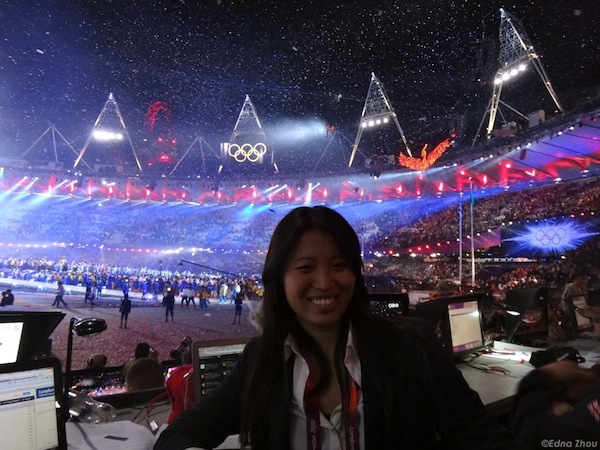 I lingered in the stadium long after most journalists left for the workroom; I tried to write amidst the confetti and debris. I watched as performers and volunteers, and even some media, went onto the stadium floor and took their parting shots; others raced each other on the track, pretending for a moment to channel Usain Bolt.
There was magic in London for those three weeks. I'm looking forward to seeing it continue at the Paralympics — though I'll be watching those from the comforts of my flat in Paris.