*Update, in response to disgruntled commenters: I was in Vietnam for a total of four days in Saigon and four days in Hanoi, way back in 2011. Therefore it — like all my posts in this series — is by NO means a definitive list of food to eat in Vietnam.
This is simply: I ate some food on a trip, it was delicious, here's what it's called. If you disagree, by all means, throw some suggestions into the comments! But I have little patience for unproductive negativity on this blog.
I loved Vietnam. Plain and simple. We won't be having a long, fancy introduction today; let's just say that on the great travelers' debate of Vietnam is awesome vs. I'm never visiting again, I am firmly on the side of the former.
And food has a lot to do with it.
I mean, I even got fleeced out of a ridiculous amount of money by two wily cyclo drivers — and I still harbor no ill will towards the country, and can't wait to one day return to explore more of its coastline and highlands.
Such is the power of Vietnamese food: a cuisine that's fresh, light, and easily enjoyed on stools or with a bottle of Bia (or both).
Behold, the 5 best things I ate in Vietnam:
1. Vietnamese Iced Coffee (Ca phe sua da)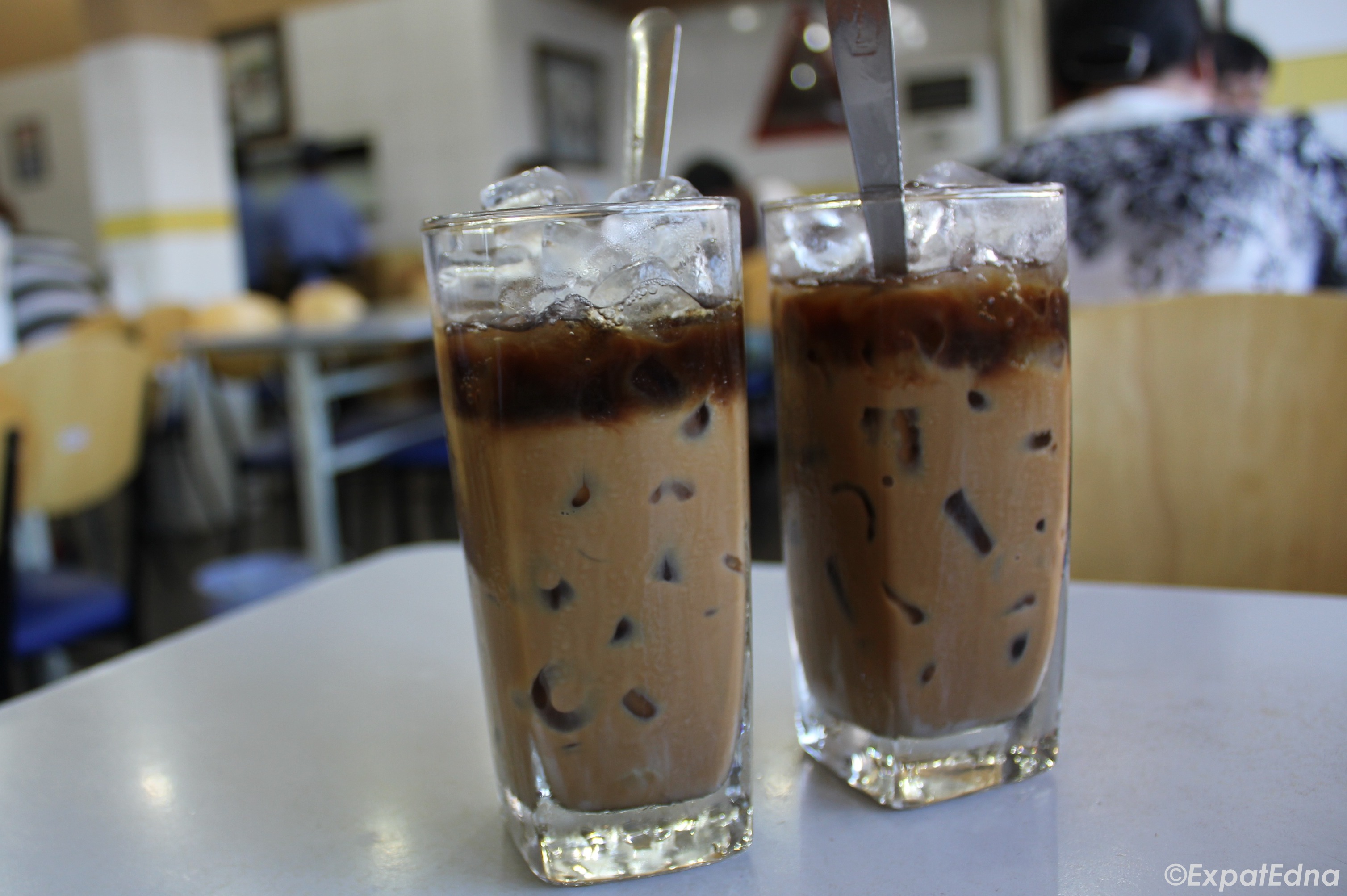 If Rumpelstiltskin ever came to me and asked for my firstborn child in return for the magical ability to make a glass of Vietnamese iced coffee appear whenever I want, I might actually take that deal. That's how much I love ca phe sua da. I don't know if it's the Vietnamese drip, or the sweet condensed milk; but whatever it is, they've got me hooked. This is my crack.
2. Breakfast Pho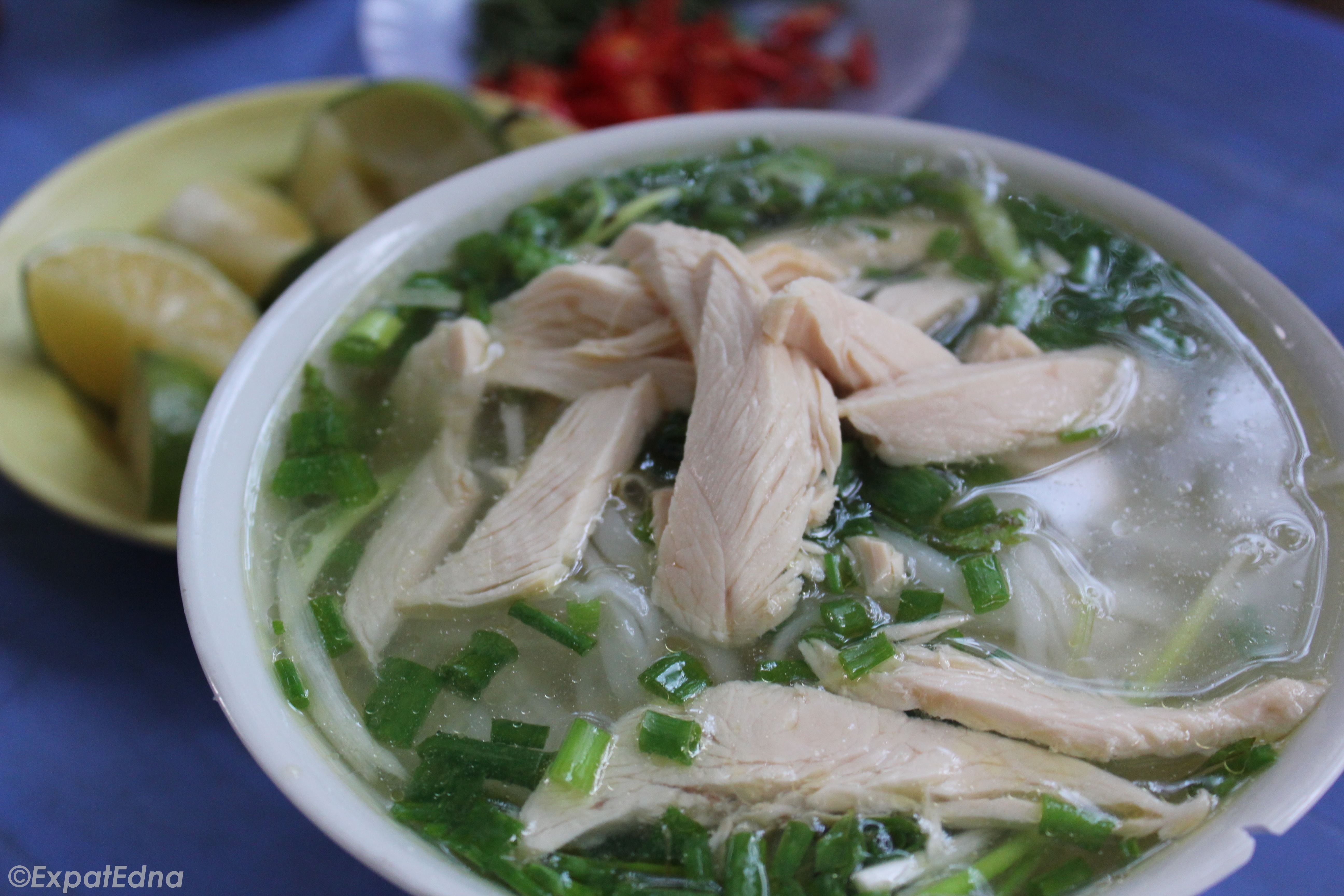 When I lived in Shanghai, a group of my friends would go out on these "pho-missions" to search for the best pho in the city, inevitably hitting up shops with names like "Pho Real" and "Pho Ever." I never understood the craze — until I got to Vietnam. The bowls at Pho 24 in Saigon was amazing enough, but then we go to Hanoi — and I fell in love with pho for breakfast. For the equivalent of a dollar, we got to sit on toddler-sized stools and eat the freshest noodles in a delicately spicy clear broth, with accoutrements of lime, chili, cilantro, and mint. Don't question me on this — pho for breakfast.
3. Bun Bo
Bun bo is a cold dish featuring rice vermicelli mixed with lettuce, herbs, beef and bean shoots, and sautéed with garlic. Crushed nuts, dried shallots, and thinly sliced pickled papaya and carrot go on top, and a sweet, warm sauce (fish sauce, perhaps) is added last. I've tried several variations of this in Paris, and while it's easy enough to season the beef and mix the other toppings, I think the key is getting the vermicelli right. I love this dish so much, I never got a proper photo of it in Vietnam because I was too eager to dig in. However, mixed together, it looks like this: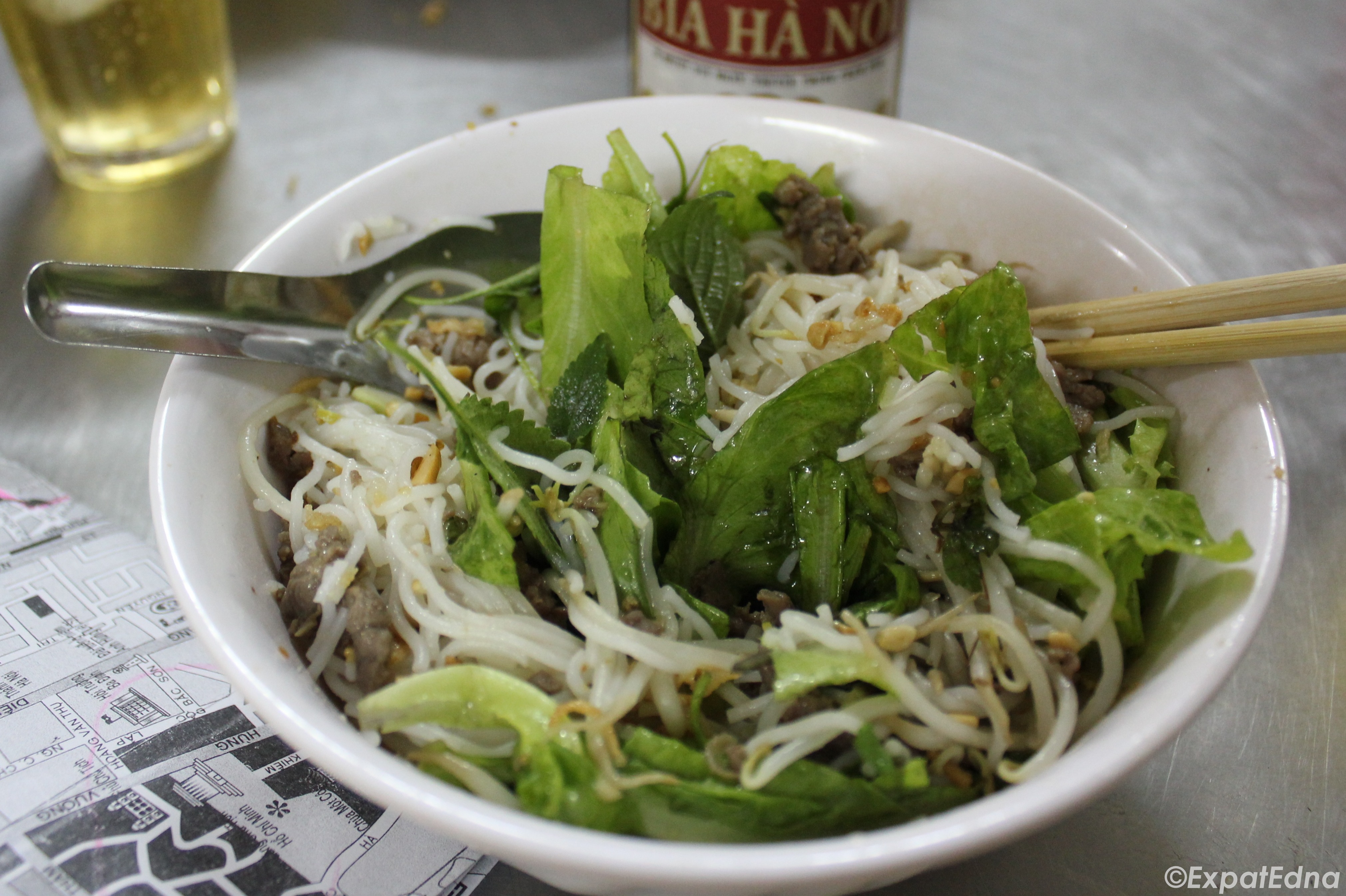 4. Spring Rolls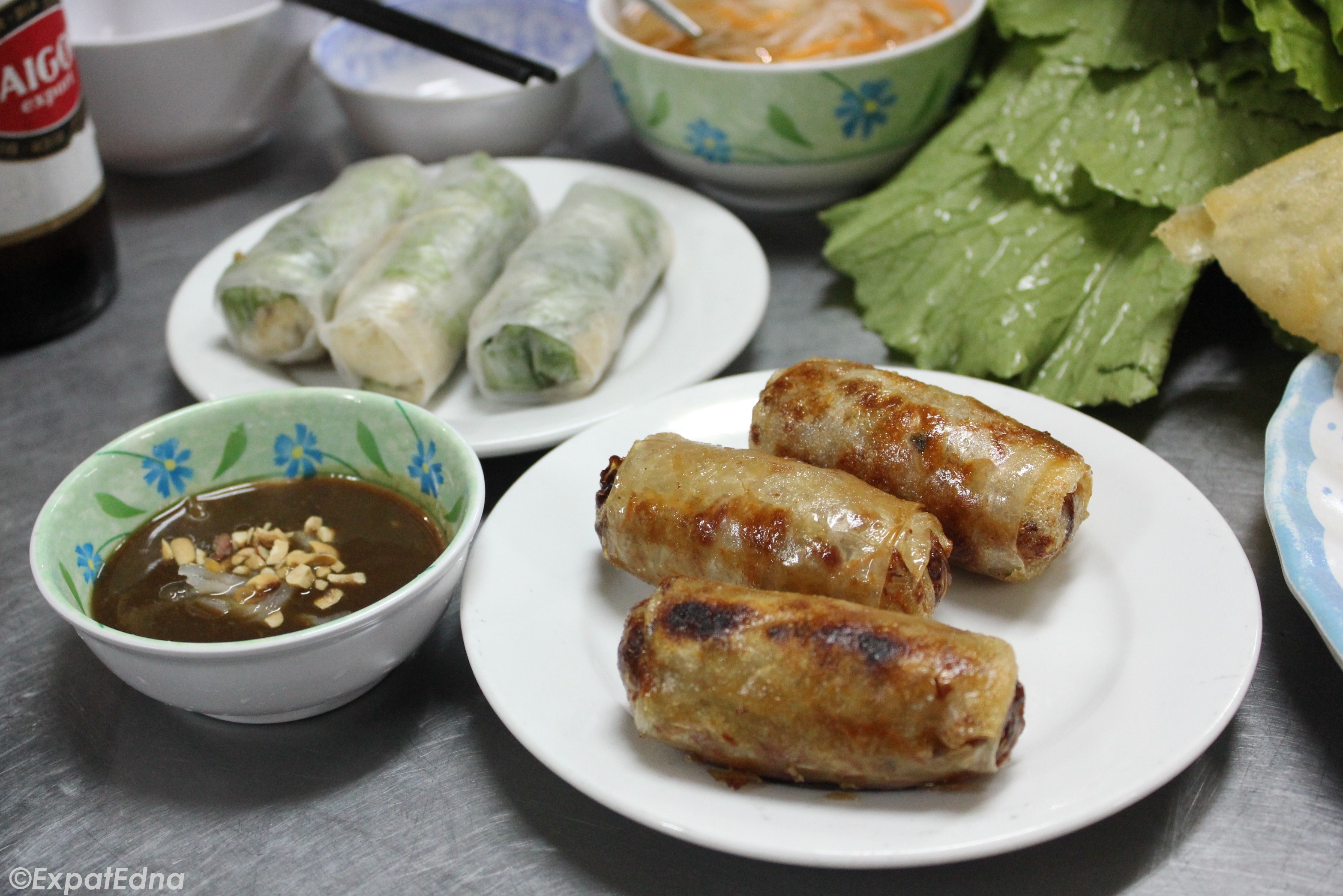 I can't tell you the difference between spring rolls and summer rolls and nem and banh cuon and all the other variations in Vietnamese cuisine. But I believe my favorites are the ones known as spring rolls, which are crispy and fried, and usually filled with light meats and vegetables like shrimp and wood ear mushrooms (shown in the foreground of the photo). Not that it's a big deal — regardless of texture or season name, you can't go wrong with a Vietnamese roll.
5. Seafood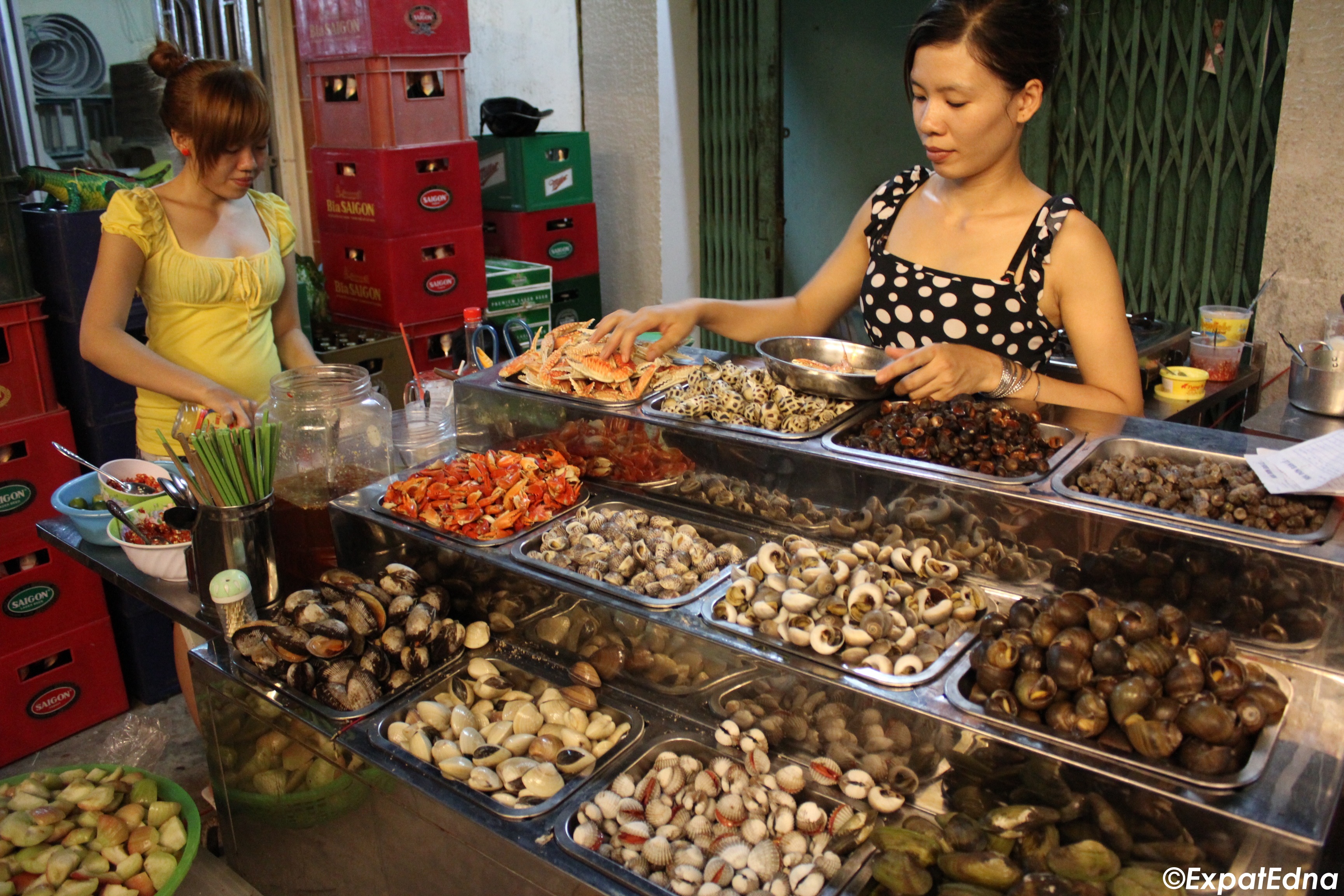 Once again, I cannot tell you the names of what we ate (I'll never make it in food writing. I'm like the anti-Bourdain). During a Vespa tour we took in Saigon, we rode up to this outdoor seafood restaurant and our guide ordered a few things from this lovely lady. Next thing you know we're sitting pretty with chilli-rubbed crab, a spicy lemongrass and clam stew, and barbecued clams on the half-shell with peanuts and cilantro. I never would have expected it, but some of the best seafood I've ever had, has been in Vietnam.
What's your favorite Vietnamese dish?