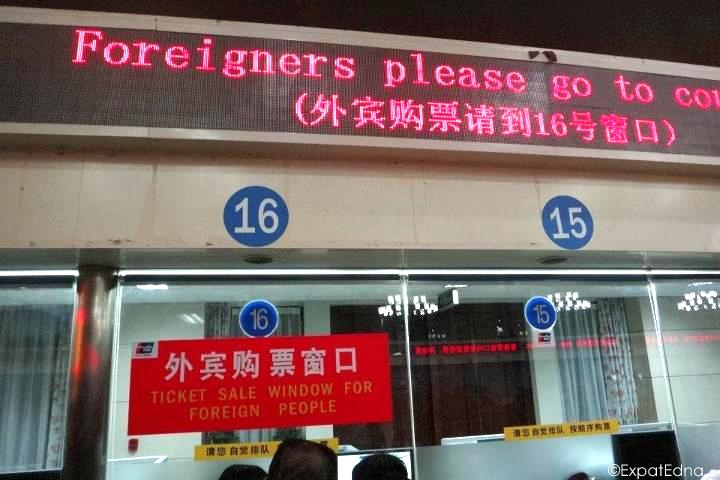 There are two phrases I absolutely detest hearing when I meet new people:
"Where are you from? [America.] No…where are you really from?"
and
"Wow, your English is really good!"
I always respond the same way: "I'm from America. Really, America." and, "Well it should be. I'm American."
I was born in Ohio. I grew up in Pennsylvania. I smile that classic wide American smile, I say "awesome" way too much, I measure in feet; I consider myself 100% American — and in my head, that label doesn't come with any associations of color.
Yet when I go abroad, hearing these two questions constantly reminds me that I'm different; and that all people can see is my Asian face. And it can be incredibly frustrating for the Asian-American traveler when people cannot separate ethnicity from nationality.
In the East
In China, I encounter a great deal of hostility because I don't speak fluent Chinese. Cabbies or waitresses or shop owners will start a conversation, and I can see each step of their thought process as they realize something's not right about me. Wait…you don't speak Chinese? Wait…aren't you Chinese? No, no, stop saying you're American. You look Chinese, you are Chinese. So…why don't you speak Chinese? 
In comparison, any Caucasian who can muster out a ni hao or xie xie gets a big smile and an enthusiastic, "Wow, your Chinese is so good!"
The racism I encounter in China is a sort of self-racism. Chinese adore Western culture, and often think anything foreign is better. The market is flooded with skin-whitening products* and streets are filled with Audis and Mercs. Caucasians are constantly sought out for gigs where all they have to do is speak a few lines of English in a commercial, or just sit with a product for an afternoon and look white.
In short, Caucasians get preferential treatment in China.
I'm almost never on the receiving end of these perks, simply because I don't look like a stereotypical American.
When I would sub in for classes at English schools, parents would look visibly concerned when they saw that someone who looked like them was teaching their children English; then they'd start looking around as if they thought I'd simply hidden the regular white teacher in a nearby closet.
I once had a voice-over job offer rescinded because when the director saw me in person, she suddenly claimed my speech had a Chinese accent — despite having heard my tape and claiming my American voice was exactly what she needed only a few minutes earlier.  
My Caucasian friends in China constantly complain about being stared at, singled out, and overcharged; they wish they could blend in like I do. It's a classic grass-is-greener argument. Maybe it's just my ego speaking, but I'd prefer being put on a pedestal than being looked down upon.
Slightly unrelated, but you know what else? It's heartbreaking to blend in. When I look in the mirror, I honestly do not see myself as Chinese (probably a psychological effect of growing up in a very Caucasian town and attending an even more Caucasian college). So to move to China and suddenly become invisible; to feel everyone's eyes just go straight through you, because you look the same as 1.3 billion other people — it's soul-crushing.
In the West
On my first trip to Ireland, and by association Europe, I was incredibly disappointed to find that locals were constantly complimenting me on my English and then pressuring me to reveal my "real" country of origin. I hoped things would be better in Paris, as it's a much more diverse and cosmopolitan city. But things only got more insulting.
If in China I was treated unkindly for looking Asian when people wanted me to fulfill their white American stereotype, at least I would still gain a few points for having grown up in America and being fluent in English. In Paris, I'm assumed to be Asian — and looked down upon simply for that fact.
I've had a lady come up to me on the subway, mutter "Chinois" at me sharply like it was a dirty word, then walk away. Then there was the jerk who delighted in scaring the crap out of me during a Chinese New Year parade.
I'm constantly getting drive-by shoutings: "Ni hao! NI HAO!" When I inform the shouter that I'm American, I never get a response even close to resembling an admission of error. Instead, the other party will usually mock the way I've said "I'm American", as if to say, "Of course you are. Hey everyone, look at this Asian — she thinks she's American." The 'greetings' always seem to have malicious intonations; it's not like Asia where people will say Hello just to genuinely be nice and attempt to speak your language.
I'm getting the impression that Westerners have a superiority complex to Asians. I don't know if it's because of how Sino-European history has gone down in the last couple centuries, or if it's because of the stereotypes of Asians being smaller and weaker. Or maybe it's just a "we're taller and we can process alcohol and cheese better than you" thing. It doesn't help that millions of Chinese travel to Paris to do their luxury shopping; on the Champs Élysées you'll see mobs of Chinese tour groups all carrying bags upon bags of Louis and Chanel and I'm sure the already tourist-weary Parisians haven't taken to the crowds too kindly.
It's not just Europe, either. In Australia, I had a drive-by shouting where a man on a bike started spouting off a rant in the middle of a crowded shopping area because he thought my (white) friend and I were a couple. He nastily spewed out insults like, "Oh so you can't get an Aussie girl, mate?" and the always classic, "Go back to where you came from!" I was furious and shouted in front of all the families enjoying their Sunday brunches, "I'm AMERICAN!" — to which he simply sneered as he rode away, "Wasn't talkin' to you." I don't know if he even heard what I'd said.
And of course, when my partners and I travel together we're constantly being judged. People assume he's the colonial overlord who's gone and picked himself up an Asian trophy and/or I'm a gold digger just trying to get a green card.
I'm tired of the judging, the assumptions, the condescension, the racism. Days like today, where three Belgian teenage girls wouldn't stop yelling konnichiwa at me until I acknowledged them; after which they continued to mock me for saying I was American, make me want to quit Europe and go home.
It's funny: I've spent these past few years traveling around the world, trying to stay away from America — yet it's the only place where I feel truly accepted and like I belong.
Any other travelers (Asian or not) have similar stories, or am I being overly sensitive? I'd love to hear other perspectives.
———
* To clarify, the desire for pale skin has been around for centuries and isn't because it's western; however, the fact that white girls are much paler doesn't help but to increase the western adoration.
UPDATE, June 2014: A longer version of this essay has been published in the book, How Does One Dress to Buy Dragonfruit? True Stories of Expat Women in Asia
*Note: This post was originally titled "Encountering racism abroad — or why I sometimes wish I was white". It wasn't entirely accurate (and admittedly a little clickbait-y). It's not that I wish I was white, but I forget that I'm not — so the title has been changed to accurately reflect this.