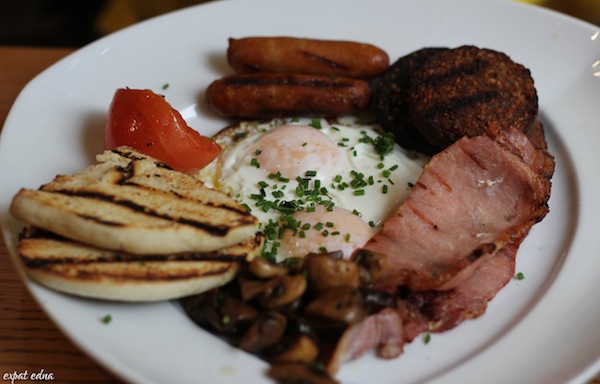 This month's "5 Best Things I Ate" skips over the Channel, leaving the home of escargot and champagne to the land of potatoes and Guinness. While perhaps not as gastronomically renowned as Paris, Ireland has quite the growing culinary scene — and boy did we discover some ridiculously good eats during our six-day trip across Ireland.
So unlike previous months, where I've written on solo dishes, this month's list focuses on the whole meal as well. Many of the restaurants we visited presented not just a blog-worthy main, but several other incredible, I-can't-NOT-write-about-it options (be it starter, dessert, or another dish altogether). I've also highlighted those alternatives for each restaurant listed below.
The 5 Best Things (and Meals) I Ate in Ireland
1. Spicy Chicken Wings — Elephant & Castle, Dublin
Elephant & Castle is one of those places that's SO good, you could easily visit three times in one day: first for breakfast, then again for lunch, and then a return around midnight for a post-bar snack (…we definitely got some looks from the staff who recognized us).
The dish that made us come back twice in one day? Spicy chicken wings. The sauce isn't spicy for spicy's sake (like so many American wings are), but more a savory, tangy mixture that probably has crack in it, considering how many people were waiting in line for these things. And although it's a "starter" the portion is generous; Mike and I shared one basket between the two of us and were more than satisfied for lunch. Yes, it may be sad that wings come in at number one on this list, but I still have dreams about them — they were worth the almost two-hour wait for a table on a Thursday night.
Also try: Their Full Irish [pictured at the top of this post] is delicious and only €9 — not bad considering it's a filling portion, comes with bottomless tea or coffee, and that E&C is located in the heart of Temple Bar, where you'll pay more than that for just two pints. Also good: their massive burgers, or homemade ginger ale. Homemade. So good.
2. Breakfast — Number 31, Dublin
Hands down, Number 31 is the best B&B in Dublin. And breakfast is no exception. They hold the distinction of "Best Breakfast in Ireland" (which I still can't believe is an award you can give out, just like "best croissant in Paris" — how do you choose from SO MANY candidates?) and their Cranberry Nut Loaf is so popular they've posted the recipe — "as a public service" — on their website.
I could go on about why breakfast is amazing; from the fresh, organic ingredients and homemade jams and breads to the fact that all the dishes are cooked to order — and don't even get me started on the presentation. But no, there was one thing that cemented this as one of the best meals I had in Ireland — poached pears in vanilla. I cannot describe how gorgeous they were — my mouth did a double-take. It was like eating an angel's wings.
3. Bailey's Cheesecake — The King's Head, Galway
It's certainly nothing too original — how could the combination of Bailey's and cheesecake NOT cause a party in your mouth? But The King's Head (which, at over 800 years old, is worth peeking your head inside just for a snippet of Irish history) does a mighty fine version of the dessert, even if the portion is dreadfully small for €6. I think Mike still has dreams about this one.
Also try: Clarenbridge Oysters (yes, they're local — I asked) with a pint of Guinness, or the Seafood Chowder. Actually, it was a tough call to decide which was better, the cheesecake or the chowder. I'm still not quite sure, so I'm going to be honest: I just had a better photo of the cheesecake.
4. Pork and Leek Sausages — The Sussex, Dublin
Located just a couple streets away from St. Stephen's Green, we wouldn't have even noticed this cafe-above-a-bar if it hadn't been strongly suggested to us. At first I was worried it was too fancy, but despite the classy upscale-pub interior, the food was surprisingly affordable. For €12 I had a giant plate of pork and leek sausages with herb mash and green beans in a grain mustard cream, finished off with chocolate and praline sponge cake with vanilla custard and cream. My dish tasted so fresh I'm convinced they mashed up the mustard, pork and leeks just that morning, and made the sausages in-house only minutes before serving.
Also try: Roasted red pepper and tomato soup. The pepper comes out quite strongly, but in such a fantastic balance with the tomato that I wanted another bowl — and I don't even like peppers.
5. Irish Soda Bread — Everywhere
It's nothing fancy, but soda bread is always one of the things I looking forward to most about going back to Ireland. Soda bread never lets me down. It's simple and unassuming, but hearty and reliable — and always makes me just that little bit happier. Just like Ireland.
Next month: I'm going to try to find this "best croissant in Paris".