Part 1 of New Year's Eve in Sydney. Part 2 can be found here.
I love New Year's Eve.
It's not about the parties — in fact, I prefer not to drink on NYE, so I can remember and savor every moment.
I love New Year's Eve because I love the promise of a clean slate, of starting anew.
I love the atmosphere on December 31st, when the entire world is excitedly sitting on the cusp of a new year. Knowing that seven billion people are collectively experiencing — and celebrating — the anticipation of midnight makes me feel like, for one day, the world is completely united.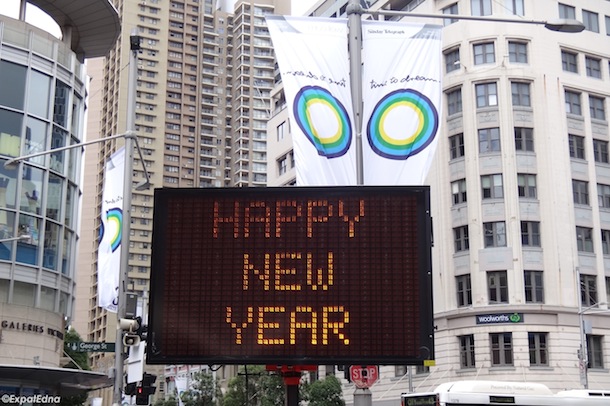 Since I met Mike, New Year's Eve has been even more special because December 31 is also Mike's birthday — and I love birthdays almost as much as New Year's.
This year, Mike flew down to meet me in Sydney. I had high hopes for the day, because watching the fireworks at the Sydney Opera House has always been at the top of my bucket list, and also of course because I wanted Mike to have a memorable birthday.
And memorable it was. Through a series of spontaneous decisions and quite a few lucky turns-of-events, the day was — there is no other word to describe it — perfect.
Morning
Sydney Airport: I picked up Mike at 8 AM, which was already a great start to the day — we had split to separate continents after our Shanghai trip, and after two months of only Skyping, I'd forgotten how tall and ginger my boyfriend was.
Breakfast at Aero Cafe: Nothing says birthday breakfast like champagne and eggs. Of course, given Australia's famous coffee culture, we also enjoyed some gorgeous cappuccinos to give us a boost for the day.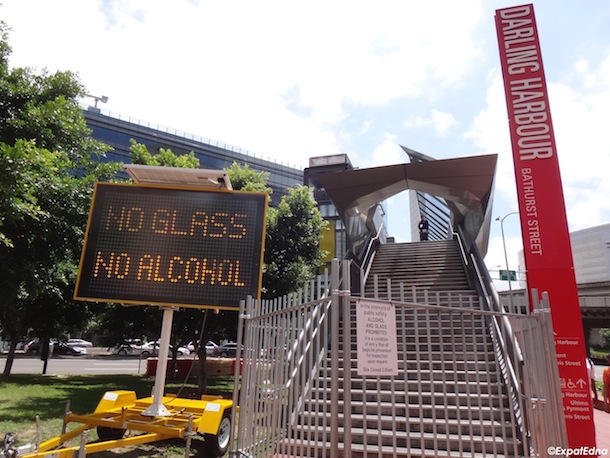 Darling Harbour: We spent the rest of the morning walking around Darling Harbour, home to the National Maritime Museum and the Sydney Aquarium. Eerily, Darling Harbour is very reminiscent of Baltimore's Inner Harbor — from the Aquarium and the old ships docked for tourist exploration, down to the placement of the Hard Rock Cafe and IMAX theatre.
Afternoon
From Darling Harbour we rode the surprisingly extensive Sydney subway system to the east coast, where we spent an afternoon in the sun at….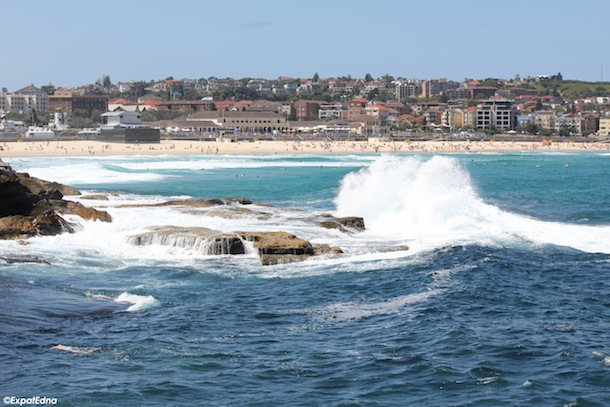 Bondi Beach: Famous worldwide, Bondi is one of Australia's most recognizable beaches. The waves are enormous and the sun shines brightly through the ozone, which means beach bums and surf enthusiasts alike were all out enjoying Bondi on the last day of the year.
Coastal Walk: While Bondi is undeniably pretty, what's even better is the Coastal Walk from Bondi to Coogee Beach. We didn't have time to walk all the way to Coogee, but during our one-hour walk still managed to see some incredible nature and wildlife, all while standing only a few feet away from the magnificently deep blue Pacific Ocean. My favorite were the rocks that had been eroded into caves and recessed areas with eggshell-like interiors (like the one the bird is perched upon in the photo above).
Evening
We took the metro back into town and stopped by the grocery and liquor stores — both of which were packed solid with last-minute picnickers and boozers. After buying meats, cheeses, and two bottles of New Zealand sauvignon blanc, we set off to find a picturesque park in which to have Mike's birthday dinner.
Observatory Hill Park: Most public areas in Sydney no longer allow glass or alcohol on site on New Year's Eve. Our hotel concierge told us the Observatory Hill Park was one of the few remaining areas where you were still allowed to bring both — but when we arrived, we found they had just instated a new anti-BYOB rule as well.
Undeterred, we laid our picnic out directly in front of the park gates. And I'm SO glad we did, instead of following the crowds inside — thanks to our chosen spot, our dinner was quiet and intimate, we got to watch as a sky writer scrawled hilarious religious threats in the sky, and we had a spectacular view of Sydney at sunset.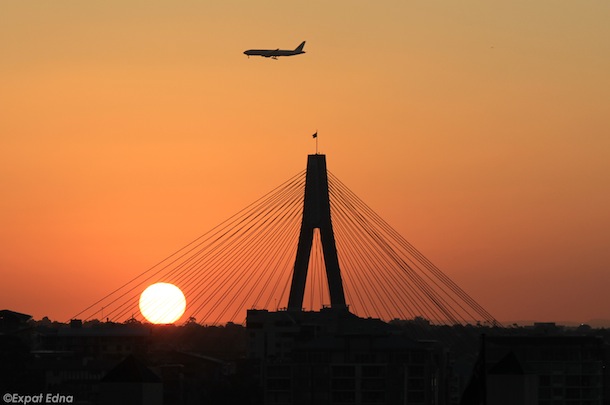 Following dinner, it was time to make our way to the Harbour for the main event: Fireworks!
Continue reading Part 2 of New Year's Eve –>