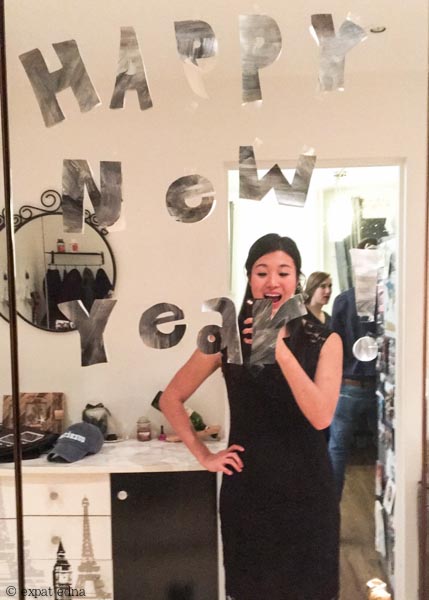 Seeing in 2017, Paris house-party style
What up, 2017? Another year, another round of resolutions.
2016 was straight-up insanity. I'm still working on a recap, but long story short — I took nearly 50 flights in 52 weeks, crossed continents nine times, and burned the hell out at least thrice.
So for this year, I'm doing a complete 180: I've moved to New Zealand.
I'm (gasp!) staying put.
And thus, this edition of Realistic Resolutions will be heavily focused on Wellington and nesting and such. Here we go.
***
CAREER: I'm taking a sabbatical from sport in 2017. My main focus for this year is to learn how to bartend — properly — and actually know my booze.
After years of drinking (and becoming good friends) with some of the best cocktail bartenders in Europe & Asia, I've always felt right on the periphery of the industry. Now it's time to jump in the deep end and see what life is actually like on the other side of the bar.
There's so much more to cocktail bartending than just throwing liquids in a tin — you have to know your history, chemistry, physics, botany, etc. There are so many books I have to read! This is basically a booze-related 'going back to school' year.
COMMUNITY: What I missed most from traveling full-time was having a sense of community. So instead of just flitting in and out of various friends' lives in scattered cities all the time, I'm looking forward to having a home base of my own again.
I want to rebuild my social circle in Wellington: throw house parties, attend weekly hospo nights, go to Gaelic football practice; to be able to make plans for next month or next spring and actually know exactly where I'll be then.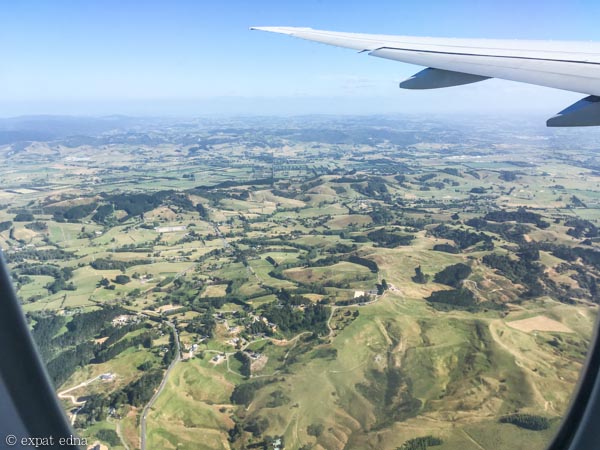 My first views of New Zealand. I get it now.
COMMITMENT: Commitment has never been my strong suit when it comes to settling down — so I'm forcing myself to put away the suitcase and not travel for the first 3-4 months. My body needs the time to rest and recover from last year, even if my wanderlusting brain says otherwise. (Also: hard to build community if you're always flying off somewhere else, right?)
Committing to New Zealand also means something that may prove difficult: not going back to Paris this year. If I keep returning to Paris, like I have been consistently for the past three years, Europe will always feel like home — and New Zealand will feel like just a blip in the Europe story, instead of its own chapter.
Oh also: not go nuts from doing long distance. Again. Remember when I thought Paris-Singapore was tough? If only 2012 me knew that five years later I'd be doing Paris-New Zealand. SO FUN YOU GUYS.
MUSIC: My awesome new flat in Wellington has a piano. I haven't practiced in years, because pianos are kind of a hard item to travel with. I'mma play the crap out of that beauty this year.
MONEY: Working hospitality means taking a huge pay cut from when I worked in Paris and at Ford…though incidentally, not a huge difference from when I worked as a journalist #surprisetonoone. (I even made more per hour as a freelancer than I do now as a full-time bartender.)
So this year will be an exercise in budgeting if I'm to have any savings left at the end of this year — my goal is to put aside 50% of my income every week, after rent and utilities.
I also plan to donate to charity every month, something I frankly should have started years ago. I began in December with UNHCR; January was the ACLU. Upcoming months will include the IRC, Planned Parenthood, ProPublica, and whoever else will need support in fighting against whatever daily fresh hell is going down in the US.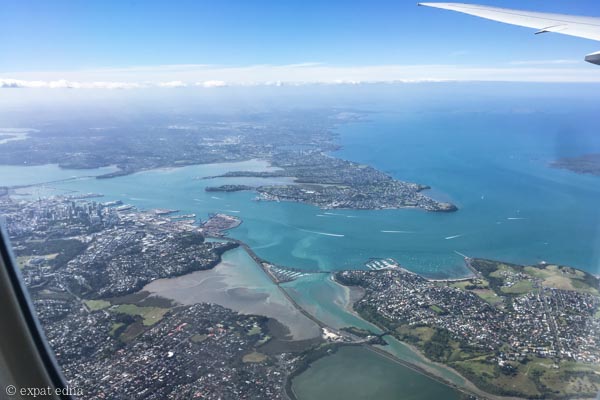 All I've seen of Auckland so far. Looks alright.
TRAVEL: I should go out and see more of New Zealand and the Pacific Islands (hello, Tahiti and Fiji), but travel isn't a huge priority for me this year (see: burnout). I'll definitely make it to Auckland at some point as I've friends there, and probably the South Island because obviously — but otherwise I'm actually quite content to stay in Windy Wellington all year.
RESPONSIBLE NESTING: Or, how not to collect more stuff. I do want to make a home here, but as a serial expat I've seen how random material possessions creep up on you after time. So I've unpacked and furnished my room in a way that is cozy and attractive, but hasn't broken the bank (every single item was bought on holiday clearance) and thus involves nothing I feel terribly attached to and will want to take with.
I arrived with all my belongings in just one suitcase and one backpack, and would like to leave with the same.
PREPARE FOR 2018: Ideally I'll leave New Zealand for a role at PyeongChang 2018 or Gold Coast 2018 (Olympics and Commonwealth Games, respectively). Fingers crossed for good news come New Year's Eve, hey?
How are you feeling about 2017?