In this series, I ask expats to share the joys of local life they've found in their corner of the world. If you're just joining in now, previously covered cities can be found here.
Today's post comes from Jessica, an American I met over the summer (via Snapchat!) and has since become a close friend. Her love for Amsterdam is so obvious and abundant, I just had to ask her to share why she loves her particular neighborhood so much. (She was kind enough to host me earlier this month when I was sick and needed a quiet city to recuperate, and I can confirm this is a great area in which to stay!)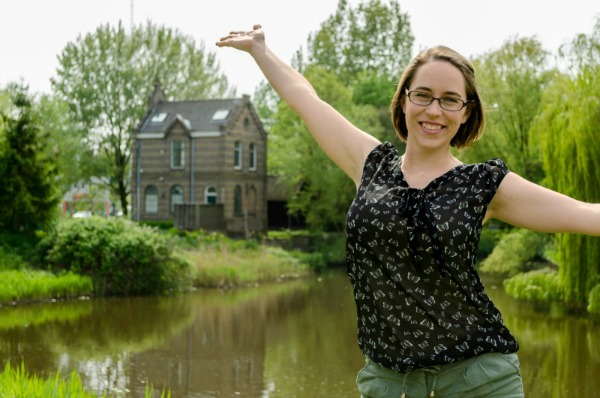 Jessica: Why I love Westerpark
The center of Amsterdam has so many amazing things to see, do, and eat. But I don't have any desire to live in the tourist-filled streets of the canal ring, so Westerpark is perfect for my husband and me. We don't have museums or famous structures, but what we do have is a quiet neighborhood with an amazing park, and quick access to everything. That's winning in my book!
Being right outside the famous Jordaan and so close to the roads that can take you directly to pretty much anywhere in the city quickly by bike or tram make getting around super simple! This is a very residential area. So much so, that unless people are going to the Westerpark itself, nobody seems to notice it…certainly not tourists! We are right on the edge of our neighborhood, Oud West (the Old West neighborhood), and the Jordaan, so we also hang out in those areas a lot too. We basically claim these three amazing places to live and explore.
Westerpark: This park is not overrun by visitors so it's a peaceful spot and perfect for picnics which we do in the summer with friends. Even when it's "full" of people, everyone can find their own spot. You'll see yoga sessions, major birthday parties taking up the grill area, couples canoodling on their blankets, and groups relaxing in the sun with some bites and wine. To be so close to a place that gives you all the green space you could need is pretty awesome!
Westergasfabriek: Westerpark fades into Westergasfabriek since now this former industrial area is a cultural park with markets, festivals, restaurants, bike paths, nature walks, and even a movie theater. It's a huge hit with not only people in the neighborhood, but residents from all over Amsterdam! Sunday Market and Neighborfoodmarkt are so much fun and have craft stalls as well as delicious food vendors.
Probably my favorite thing to happen in Westergasfabriek is Rollende Keukens. It's one of those things that's amazing and dangerous to be near. All our "going out" funds go to it. Rollende Keukens is a HUGE food truck festival. I've never seen so many food trucks separately…much less all in one spot. It's insane and the city goes mental for it. There is food from a ton of various cuisines, and even bugs are available to snack on if you're into that. (I'm not!)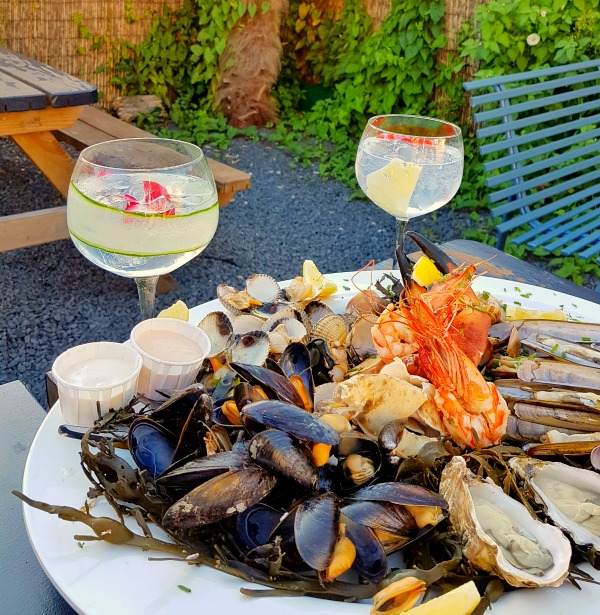 Mossel & Gin: Seafood and G&Ts are such a great combination! This place is amazing for a couple reasons. It's in Westergasfabriek, has an outdoor terrace, and is very cozy. Of course it has great food and G&Ts or I wouldn't even mention it. But because there's nothing else really around it, you have to want to go there to end up there. I love it for date night or a celebration; it just has a great vibe and is different from many other places we go that are very meat-oriented.
Gems like this you have to know about, so I'd say it's a pretty local spot — which I love. That's the whole thing about my neighborhood: people don't tend to wander, you have to know about the awesomeness.
Tea's Delight: Big restaurants aren't always my thing. If I want to meet up with someone, I don't always want to hang out over lunch or dinner. It's so lovely to catch up over a cup of well-made tea. These owners know tea, and they know their tea extremely well. They greet everyone with a smile and have a cozy couch downstairs, which is the perfect place to meet up and catch up on life. There's a wall of tea leaves you can smell and learn all about before you choose the one that fits your mood just right. Then they create your tea perfectly and serve it Chinese style. Seriously, it's like being in a friend's place — especially now that they know me. I love taking people here!
De Foodhallen: The first food hall in Amsterdam is amazing! It's only been open since 2014 but pretty much everyone in Amsterdam fell in love with it instantly. Basically, it's full of mini versions of some favorite eateries and the other stalls are like food trucks, just indoors. Walk in and you are immediately engulfed in food smells that draw you in and the stomach starts rumbling. Even though I know everything in there, I still do a lap around the building to see what I want in that moment. Some favorites you should check out if you visit are: The Butcher (burgers), Viet View (Chicken Fling), Taqueria (tacos), Renato's Pizzeria (anything)!
Noordermarkt: I'm cheating a little here because it's in the center of Amsterdam in the Jordaan, but still only a 15-minute walk from my place, so that counts, right? Well, I'm saying it does because it's the best market in the city! On Saturdays, this square in the shadow of the Noorderkerk by the famous Winkel 43 (best known for its appeltaarts) completely fills up with tourists and locals alike to buy fresh and mostly organic fruits, veggies, bread, cheese, eggs, meats, seafood and so much more. It's the place to buy groceries! I'm just sad it's only once a week. My favorite thing here is the honey cow's cheese — find it and you're in for a delicious treat!

***
About the author: Jessica is an American who decided it was time to live life to the fullest. For her, that meant moving abroad and traveling as much as possible. Her passions are festivals that showcase the local culture, food that is made with love, and wine because it's awesome. You can find her on Snapchat, Twitter, and A Wanderlust For Life.
All photos courtesy of the author.