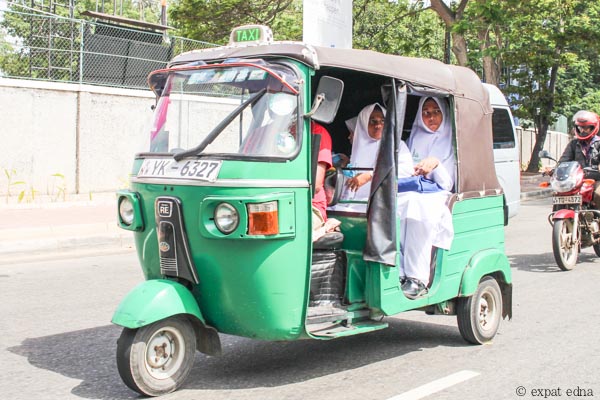 I had one task on our last day in Sri Lanka: find the DHL. Two hard drives had to make their way back to our editor in New York, tout de suite, and as producer it was my job to package them off.
However, Google Maps isn't as useful in Colombo as it is in most big cities, and written addresses can be unclear for those not used to the area (cough, hi).
Long story short, I went on a wild goose chase that took me across half of town and involved three separate tuk tuk rides, and the kindness of one perceptive stranger who finally helped set me in the right direction.
But as I was bouncing around my second tuk tuk of the afternoon, zooming along the waterfront and going on hour two of attempting to find DHL, I realized I felt happier than I had for some time.
Because I was alone.
And this baffled me for a hot second, because I've always identified strongly as an extrovert: being alone is usually torture to me; was it really possible I was evolving into an introvert?
(Of course I wasn't. After all, quick reminder: introversion/extroversion is all about where you get your energy. Introverts get overwhelmed with stimuli, and need solo time to recharge. Extroverts hate solo time and need external stimuli, like a busy bar or live music venue — for instance, I love being in a good crowd.)
In that tuk tuk I realized I hadn't had any external stimuli recently on my terms. For nearly two months now it's been #workworkwork, which has included heaps of new information to process, yes, and a thousand new people to meet (not kidding, because Olympics) — but all of which were part of the job, not by choice.
I haven't been taking of myself and my own priorities, and I didn't even know that joy had gone missing until it suddenly came rushing back.
Just as introverts choose their quiet corner in which to recharge, I realized I also need to choose where I feel energized. Simply being surrounded by any group of people isn't enough. And sometimes that means being alone, though still in a crowd — to feel the certain kind of rush that comes from walking with strangers on the streets of an unknown city; of hailing a tuk tuk or three and chatting to the driver while the Indian Ocean whips through my hair.
Ironically, I found I needed to get away and get lost in a city so I could feel like my extrovert self again. It's a good thing to know. Thanks, Colombo.