In this series, I round up the five best things I ate in a particular city or country. Click here to read previous 5BTIAs from Paris, London, and more.
This is one food post I'm both excited and nervous to share with you.
Excited because — it's New York City! I ate so well there, thanks to friends who were born-and-raised New Yorkers, or had lived there so long I knew I could trust them to steer me in the right direction.
Nervous because I can hear the foodies sharpening their claws over keyboards already. My 5BTIA posts always gets someone's cronuts in a twist — especially in large cities with equally large culinary scenes, like New York.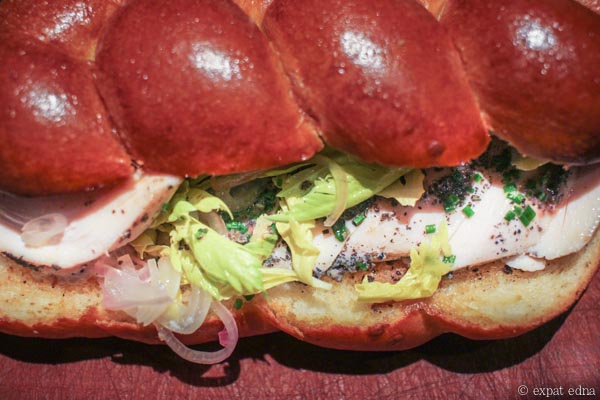 So, let me just preface with this:
I was only in NYC for eight days.
It was my first time in New York as an adult, so I claim zero expertise on the scene there.
And, as always (because I'm really tired of getting hate mail on this): these are by no means the five best things in the city. They are just the five best things I personally ate on an eight-day trip.
All clear? Cool. Onto the good stuff!
1. Mapo tofu chili cheese fries, King Noodle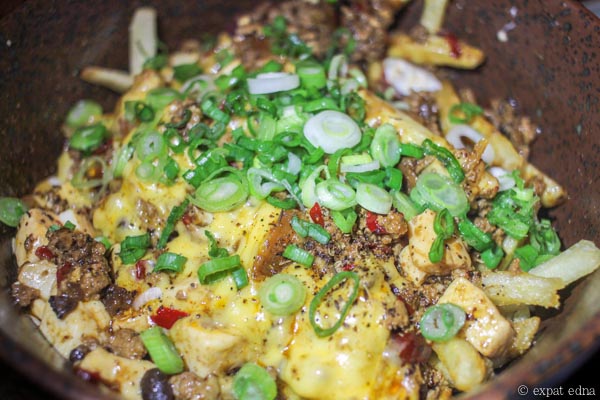 Think about everything you love about chili cheese fries. (I know, there's a lot to love.) Now add the spicy kick of mapo tofu, complete with pork, chunks of firm tofu, and that addictively mouth-numbing Sichuan peppercorn.
The result may look like just a greasy bar snack, but this union of American fries with a classic Chinese dish divides and conquers your taste buds with a flavor combo that makes it jump to number one on this list (even over the much fancier #2 and #3).
The rest of dinner at King Noodle in Brooklyn was just as satisfying — the dark, funky joint serves up Southeast Asian street food-style plates and tropical cocktails till midnight, which also makes it the perfect place for post-bar munchies if you live in the neighborhood.
2. Omakase (chef's choice), 1 or 8
This dinner ranks among the top five sushi experiences I've had. Not only is Kazuo Yoshida (pictured above) a skilled craftsman in the art of sushi, but the service at 1 or 8 is impeccable — one of those places where every motion is so smooth you never notice your plate being replaced or sake being topped up.
Speaking of which, that sake! The friend who brought us was known to the staff, so we got the last bottle of something that's no longer in production, and drinking it made me feel like my entire being was being caressed by sake fairies. Whatever the sake version of a sommelier is, the one at 1 or 8 nails it.
I'd also recommend ordering a few more pieces after the dinner set (which starts at 10 pieces; we ordered 20) — the chef's face lit up and he went on a roll (no pun intended) when we asked for more.
Tip: Call ahead if you want to be seated at the counter with Kazuo Yoshida.
(I only took iPhone photos because I didn't want to be that blogger with a DSLR, but more photos and info here.)
3. Brunch, NoMad
First, some background: The NoMad restaurant, part of the NoMad Hotel, is known for having this crazy decadent $89 roast chicken stuffed with black truffles and foie gras. Yeah, that exists.
If that's too rich for your blood — and I mean that both financially and calorifically — for brunch they have smaller variations in the form of a chicken sandwich (pictured at the top of this post) and chicken burger (pictured above).
Joe's brother-in-law works at the NoMad Bar, so on our last day in town we went for brunch and cocktails…and ended up staying four hours. That bar is really good, you guys.
For the food, if you have to choose just one, Joe and I both agreed the burger — with black-truffle pâté, truffle mayo, Gruyère, and foie gras on a brioche bun — is juicier and better than the sandwich. NoMad also has a custom Brooklyn Brewery beer called Le Poulet, a brown ale specifically made for pairing with the NoMad chicken. It wasn't our style, but again: yeah, that exists.
Finally, for dessert Joe's brother surprised us with the Milk & Honey (lead photo of this post), which isn't something I would've ordered normally but it wasn't cloyingly sweet, and had a light texture that was refreshing to finish.
4. Bagel, Ess-a-Bagel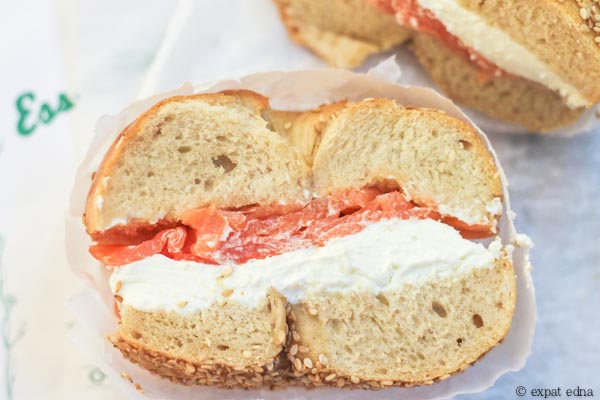 I can't write a food post about NYC without mentioning bagels: they're a staple and I didn't meet a single one I didn't like (though I have to admit I only tried one in Manhattan and the rest were in *don't hit me* Jersey).
I went to Ess-a-Bagel, which the New Yorkers I've spoken to seem to find respectable (or at the very least don't give me crap about). Their deli on 3rd Ave was also exactly as I imagined a New York bagel shop to be — no fuss, unapologetically impatient — which was fun, if you're into cultural experiences that live up to stereotype.
The bagels were as good as expected, with a soft, not-too-chewy texture (in Paris and Shanghai they always end up far too chewy, so your jaw hurts at the end of a meal) and slathered with so much cream cheese I wanted to cry. Just looking at that photo makes me want another one.
5. Pizza, Roberta's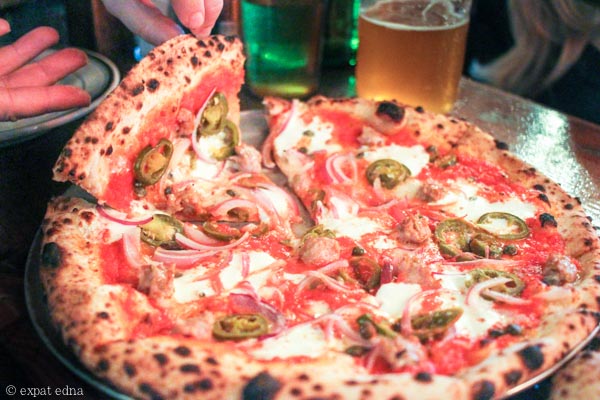 If food offers insight into a city's culture, then Roberta's is the pizza joint to get a crash course in Bushwick. We only went because we were staying just around the corner; despite all the hype I didn't find the pizza very memorable — I think a dollar slice anywhere else would have made me just as happy.
What is spectacular here, though, is seeing Hipster at full throttle. I have rarely experienced culture shock the way I did walking into Roberta's — the way people dressed, talked, and drank beer out of mason jars (so many mason jars) rendered me speechless. "This isn't real, right?" I kept asking Joe. "Are you sure we're not on a movie set made to just look like Brooklyn?" Nope, this is real life, so enjoy your $17 pie and soak it all in.
What are your favorite places to eat in New York City?