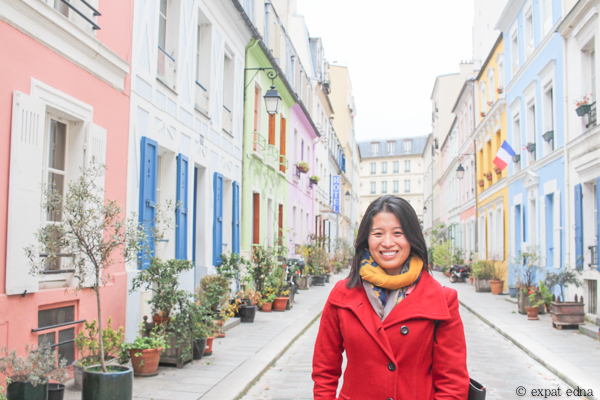 There was once a time when friends would ask me what my upcoming travel plans were, and I'd already have flights booked out for weeks — or happily reply that I had no idea, and would just see what came up.
But for the past few months, anyone who's seen me knows that hasn't been the case. Maybe it's because I'm getting older; maybe after eight years of living and traveling on mostly whims, I'm starting to crave a hint of stability. 
(Oh man, 22-year old Edna would be in shock right now at the state of things.)
Ever since the fall, I've been anxious not knowing where I'd be in 2016. I ran through dozens of scenarios and countries in my head, but nothing was jumping out at me.
Planning my life during an Olympics year is also stressful, as I don't want to take on anything too permanent that would prevent me from going to the Games, should I get a last-minute call (which is exactly what happened four years ago in London — preparing for that exact scenario was a big part of why I took a job in Paris in the first place!).
Now, it looks like I finally have my plan. What you'll notice is that I'm slowing down the crazy travel that has been the norm for the past few years — especially these last nine months of full-time travel, which have expedited my burnout.
I'm reaching the point where the fact that I have a flight next week makes me feel exhausted — instead of elated! — and I never want to be the kind of person who sees frequent travel as a burden.
So I'm taking things slow(er) and this year is shaping up into four defined segments, and likely three new countries:
Winter: Paris
I've spent most of the beginning of this year in Paris, and will continue to be here for the next couple weeks. I have one more trip to Venice coming up, and then on the first of March I fly out to…
Spring: Taiwan
I'm finally going to Taipei! I'm embarrassed to say I've never been to Taiwan, for no good excuses whatsoever. But when the opportunity came up to live with my friends Tom and Matt for three months, everything fell into place perfectly. Roundtrip flights only cost $500(!), cost of living is shockingly low, and I can make decent money as a native English speaker.
Finally, I found a city that felt right.
While I'm hoping to make the most of being in Taipei (I hear great things about those night markets!), I'd also love to make return trips to Vietnam, my old expat home of Singapore, and possibly the Philippines or Japan.
Summer: Paris & Rio
June and July are two of my favorite months to spend in Paris, between Fête de la Musique and Bastille Day and the long summer days spent picnicking along the Seine. Besides, I can't ever stay away too long: this city is home now. (This is also why I'm spending three months in Taipei: to reset my time in the Schengen Area. *shakes fist at not having a European passport*)
Bonus: EURO2016 is being hosted in France this June-July! Even if I don't end up finding a position there, I still love the atmosphere and watching the games in Paris during the Euros.
And then…Rio in August. Hopefully. Fingers and arms and everything else crossed.
Fall: New Zealand?
Ideally, I'd love to move back to Paris in the fall, and have a couple ideas of how to make that work. However, if they fall through (and with French bureaucracy, that's always a concern) then I have a second option: last week, I was approved for a New Zealand Working Holiday Visa.
Going to New Zealand was always something I knew I'd do, and I ran out of excuses to not apply for the visa. If I do end up there, I'm looking at moving to Wellington and continuing my career in comms…but then again, I've always wanted to learn how to bartend.
Every time I've moved to a new country, it's led to a surprising career twist, so who knows what will happen this time?
Either way, whether it's Paris or Wellington or somewhere not even on my radar yet, by the fall I want to be settling down as an expat again.
This is by far the calmest year I've planned out in all my time traveling — but you know what they say about plans (and a quick browse through my archives will show that mine rarely turn out as expected).
By the end of the year all or none of these things could happen; either way, I'm happy to be returning to my slow travel, expat roots. So long, anxiety: I'm finally getting excited about where 2016 will lead me!
Where are you headed this year? Any tips for living in Taipei or New Zealand?