I often claim that the best Thanksgivings are Expat Thanksgivings. 
That's not to say that my parents aren't great cooks, because they're the bomb — but in terms of good ol' American traditions, the one portrayed in Hallmark movies and elementary school pageants?
…Let's just say Chinese food set on a table for four (because all your relatives live entirely on another continent!) doesn't quite deliver the stereotypical Turkey Day.
2015 was my sixth Thanksgiving in a foreign country, and my third in Paris. Here are some of the joys that keep me overseas for the best American dinner of the year:
Thanksgivings abroad combine the best of the best. Everyone has that one dish they're really great at making, right? So at Expat Thanksgiving everyone brings their A-game, and you basically have an entire table full of winning plates: the best stuffing, the best green bean casserole, etc. This year I made deviled eggs and Joe made his grandmother's cranberry sauce, leaving the turkey to this guy:
Omid & Alannah know how to turkey better than I ever could
The Red House Potluck is the place to be in Paris. The first time they hosted their Thanksgiving dinner, I took a 15-hour bus from Italy to be there. This year, we extended our time in Paris to attend this now-annual tradition. With gorgeous birds by Emperor Norton, special holiday cocktails, and tasty contributions and company from our Paris community of friends and foodies, how could we not?
Plus, it's hosted in the back room of the bar, and Joe & Jen don't mind sharing the love when random French bar-goers want to partake in the free food (even if they don't at all understand the holiday behind it).
Regional specialties galore. The USA being a big country and all, there's Thanksgiving food I would have never encountered at home but do abroad. For example, my friend Devon from Kentucky makes an amazing chess pie, and someone Southern usually (thank goodness) brings corn bread.
Also: host country specialties! In Paris this year my friend Olivier brought a ridiculous homemade ratatouille; previous years have seen Chinese & Singaporean dishes make their way onto the dinner table, making my palate super happy. Diversity is the best.
Shared responsibilities FTW. No one has to take full credit for the whole holiday! You can spend an hour on your one dish and then enjoy the rest of that time drinking wine and being not stressed.
Even if you do prepare a whole meal, like I did when I hosted in Singapore and China, people are a lot more forgiving if things aren't perfect, because kitchens are much smaller abroad and your friends know you gotta make do.
Multiple chances to celebrate. Since most people have to work on the actual Thursday, you can get up to four or five Thanksgiving dinners spread throughout the week and weekends! (Though from experience, three is a good number. Any more than that and you start to get the turkey sweats.)
All the food. None of the family drama. That's what I call a win-win.
Globalization is your friend. I'm amazed at how far Paris has come, even in the last three years. Friends who cook often now report being able to find American ingredients far more easily — though cranberry sauce is still something you have to smuggle over from the States in your luggage.
On a related note, apparently there are a few Parisian butchers willing to give you a hand for this gluttonous American holiday. Some friends had their butchers help them acquire the enormous bird — one even got his to cook the birds in the boucherie! Saving much hassle, time, and cleanup.
Appreciation for space. I never appreciate American-sized kitchens, ovens, fridges, and living rooms more than on Thanksgiving. Although at least in Paris, you get a pretty rockin' view to make up for the fact that you're millimeters away from getting an elbow to the face.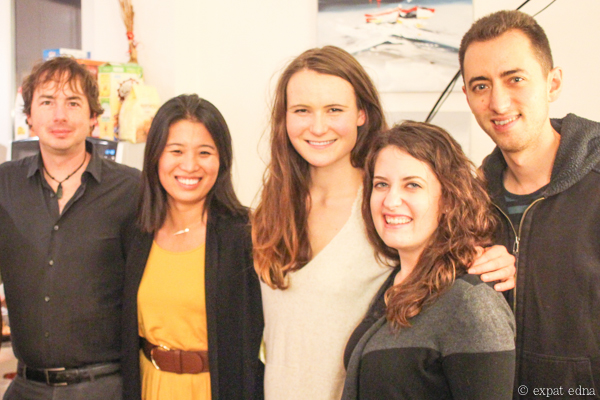 This year's farthest-traveled winner goes to Michael & Sara who flew in from NYC!
And of course, a cheesy line about being with the friends who make up your expat family. Because it's true — after all, friends are just the family you choose.
Do you enjoy spending Thanksgiving overseas or prefer being home for the holidays?