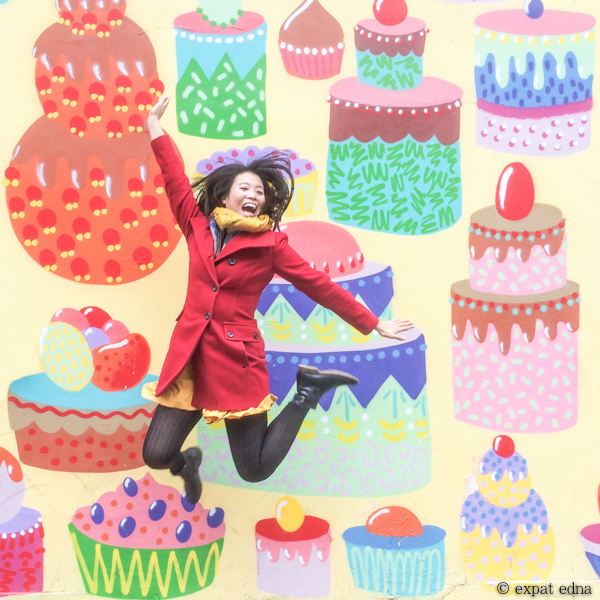 Yesterday, I celebrated a huge milestone: 2000 days since I left home to see the world!
On June 8, 2010, two weeks after my graduation and 21st birthday, I flew out of Pennsylvania with a one-way ticket — and, in retrospect, disturbingly little planned about my future.
The Great Plan was: one week in San Francisco, five weeks in Shanghai, and then a whimsical move to Singapore — a country I knew nothing about! — just to 'see what would happen'.
It's only with age that I can appreciate how much my (very Asian) parents must have trusted me, that they didn't argue or complain once about this harebrained idea.
"How long are you going to be gone?" they'd ask every time I told them of my post-grad plans.
"I'm not sure," I'd reply, while silently thinking, Forever.
I didn't think to take a photo on the day I left, so this is the next best thing: Carmel, California on Day 2 of the Great Adventure.
Well here I am, 2000 days later. Still going.
Babies who were born on the day I left are today sitting in kindergarten, learning basic math skills. And just like their mothers I'm sitting here thinking, "Well THAT flew by fast."
Of course, it hasn't been full-time travel. The past 2000 days have been largely spent working in Singapore, Paris, and Shanghai (plus a few unfortunate months outside Milan). I ran social media for a reality television show, covered two Olympics and FIFA U-17s, and marketed Mustangs in Asia Pacific.
Of course, long-time readers know this story well. If you're new around here, welcome! And you can catch up on the rest here: Five years on: How I moved abroad after college and built a career through travel.
***
I'm not going to make a massive deal about 2000 days because I actually have two important milestones in my expat history — and this is the newer one. This one doesn't include the year and a half I spent in China from 2008-09, which was the first step that changed everything. (Meaning, expect a huge post on that in 2018.)
Instead, I wanted to take this opportunity to acknowledge that the past 2000 days have been extraordinary. They've opened my eyes to the world, to history and culture, to human nature — and to where all of those things intersect, and affect our life today.
Which is why I've decided to take this next step for 2016:
I'm going to write a book.
…But not the book you're thinking of.
I'm going to write my dad's memoir.
Growing up, my dad and I were always at odds. He was the severe Tiger Dad, I was the independent American daughter who didn't understand filial piety and what the hell was so awful about scoring 98 on a test (aka, an Asian F).
Our fights almost always included him telling me how lucky I was to be in the USA, to not have the childhood he did.
It wasn't until I was in my 20s and traveling the world — getting distance, gaining perspective, making sense of his stories in a historical context — that I finally started to understand what he meant.
My dad grew up in Shanghai during the Cultural Revolution, a period in the 1960s and 70s where millions of people died, many of them just for being educated or owning property. (This is obviously greatly simplifying a very complex period of Chinese political history.)
As a result of Mao's policies, my dad lost his father when he was 11, leaving his mom with five children (my grandmother never remarried). He only received a fifth grade education, and often went hungry, eating just scraps to survive.
At the age of 18, my dad was sent to the Communist labor farms, where he stayed until he was 24. Think about that: 18 to 24  — six of the best years of youth. And he spent his on a labor farm.
He still has a deep scar on his left foot from one day where he was so sick, he couldn't work anymore — but they wouldn't let him leave the fields. So he cut into his own foot with a scythe so that the authorities wouldn't punish him for not completing the day's rice-cutting quota.
The awful stories go on and on, and while I grew up listening to them, it wasn't until I was much older that I realized: what my dad went through was not normal, it definitely was not right, and there are few Westerners who know anything about this period of history.
Which is why I want to help him write this book. It's a story that needs to be told. There are a handful of Cultural Revolution memoirs already out there, but when it comes to exposing the crimes of that era, I don't think you can ever have enough people stepping forward and bringing truth to light.
My dad eventually went on to attend university and began learning English at age 24.He now speaks and writes more eloquently than any native speaker I know. (Not an exaggeration; his emails regularly make me cry.)
He then moved to the United States in 1987, earned two masters degrees, became an American citizen in 1999, and received his PhD four years ago. He's basically the American Dream, personified.
For years there was always talk of my dad writing a memoir, which escalated around the time he was finishing his dissertation (which was also on the Cultural Revolution). But ever since he's been focused on turning that dissertation into a book, and I grow increasingly worried the memoir will never come to be.
So it's now my project.
This is my only goal for 2016 (well, besides getting into Rio!): to research, to write, to do whatever it takes to bring another Cultural Revolution story out from the shadows. I find it especially fitting as 2016 is the 50th anniversary since the Cultural Revolution began.
I don't know where this is going to lead me, geographically, but wherever I end up, I'm pretty excited about the next 2000 days ahead.
Serious question, guys: do you enjoy reading memoirs? If you do, which ones? If not, please let me know why in the comments, or what could make you more interested in the genre. (Also, if you've written a book, tips and pointers would be appreciated!)