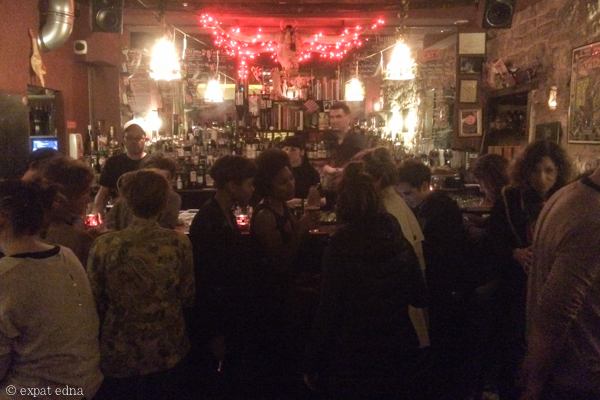 Red House last night, shortly before curfew was announced
"There's been a shooting."
My friend Joe read the news from his phone. We were gathered at his bar, spending a Friday evening as we usually do: at Red House, my favorite bar in Paris, located in the 11eme.
I didn't think much of it. We were supposedly two miles away from the scene, and assumed it was a small isolated incident.
I checked the BBC report — just 5 minutes old — and posted it to Facebook for friends to be aware, and returned to my drink. I didn't expect that what was unfolding would become international headlines for hours to come.
The original headline, when little was known
We weren't even supposed to be out last night, but had made a last-minute decision to bike over to the 11eme for a nightcap. One drink turned into three; it was during that third one we heard the developing news.
"Looks like we're staying here," I quipped. Cars started filing down the usually empty one-way road, along with the information that police had blocked off the surrounding roads.
Cell service went down and we could hear sirens blaring in all directions.
Joe (the bartender, not my boyfriend) threw on a jacket and walked out, trying to figure out what was happening. We were only 480 meters away from La Belle Equipe on rue Charonne.
At the time I didn't know we were so close to the shootings, and in hindsight I'm very glad for that — we were freaked out enough as it was.
A short while later Joe returned, stopping into bars and restaurants along the way back to Red House, informing people of the situation (unless you were on your phone, most people had no idea anything was going on). My boyfriend stood outside, watching from the street.
"Come inside, please," I went out and gently tugged his arm.
"I'm waiting for Joe," he replied with a smile, unworried.
I was so relieved when both Joes walked back through the door.
One of the many messages I received on Snapchat
My phone was blowing up with friends checking in — Facebook, Twitter, Snapchat (so many from Snapchat!) — I messaged each one back, reassuring them I was safe, but my hands were shaking: I was secretly terrified.
What if someone ran into this bar? What if every scary action movie scene I'd ever seen went down in real life? The scenarios ran through my head, too many Liam Neeson movies colliding in my imagination.
"Do me a favor," Joe (my boyfriend, not the bartender) said as he sat down. "If anything happens, get behind the bar." Being ex-military he was calm, collected, and had already mentally planned for 'what-ifs', while also making jokes and keeping the mood light. His sense of humor kept my mind from wandering too far.
Snapchat even got involved with Breaking News filters
The news started rolling in, the original BBC article getting longer with each refresh: one shooting turned into another, turned into a bombing, turned into a hostage situation. I thought of my German friend Kat, who had posted a photo earlier that evening from the stands at Stade de France.
The French were impressively nonchalant. Some girls behind me ordered eight shots of tequila; others began smoking in the bar (usually illegal; smoking has been banned indoors since 2007).
I wasn't sure if I admired their calm or was annoyed at their nonchalance.
The rest of us were on our phones, checking Twitter every ten seconds. The body count was rising and there was so much confusion. We heard people we being shot in the theatre, one by one. We heard people were being released, one by one.
An Irish bartender had a friend texting from inside Bataclan — she said no, no one was being released. He was understandably tense, glued to his phone. "Fuck me. The photographs. Just bodies in the street."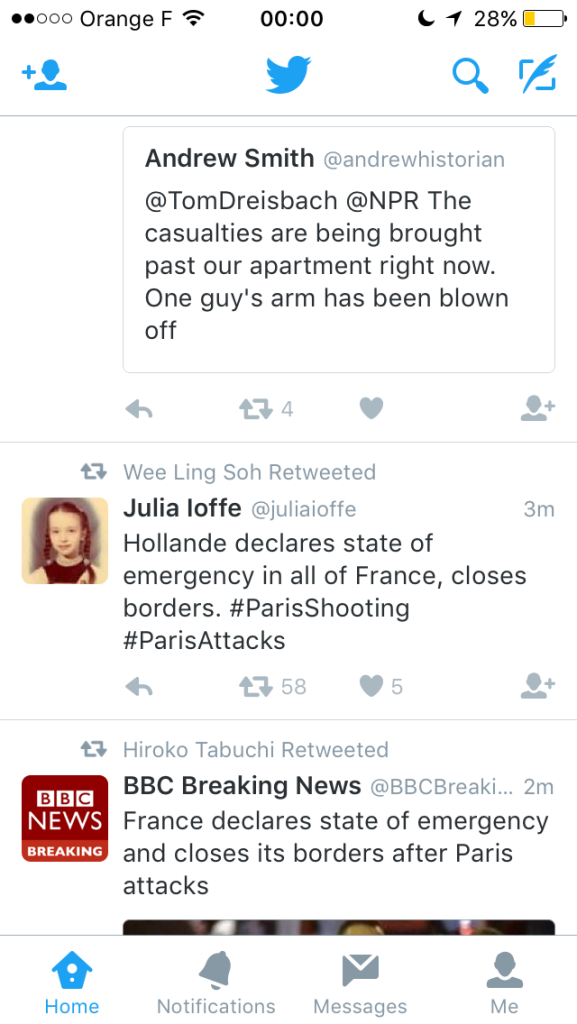 Word came of a curfew at midnight, the first since 1961; the national borders were being closed, the Paris metro shut down. By 1:30 the bar had cleared out; we stuck around till 3 am, staying with the Red House guys as they closed the bar — and partly because I wanted to make sure we were definitely, definitely safe to go home.
My boyfriend was all for riding a Velib back to the apartment, but I was relieved when a green taxi crossed our paths outside the bar. We were finally home just shy of 4 am.
Contrary to Twitter, not all taxi drivers were offering free rides — but 15 euros was worth it for the peace of mind.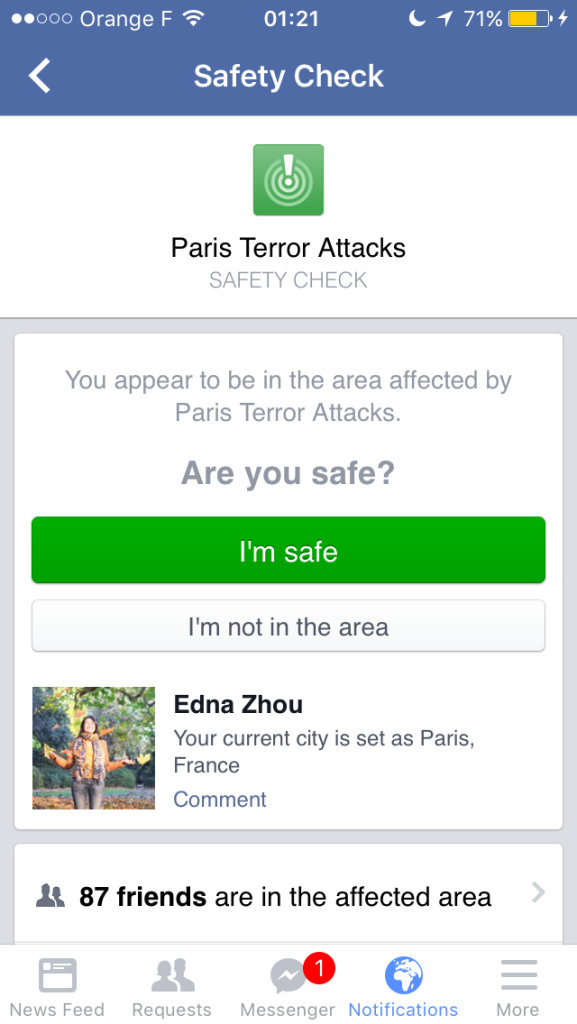 ***
Today has been a day spent mostly in bed. One bar cancelled their anniversary party, with the owners saying they were too sad to celebrate at this time. Our friends at Red House, Pas de Loup, and Glass decided to still open tonight, to offer a place to gather, for community.
This has been very close to home — while I no longer hold a residency permit, I consider Paris home, especially around the 11eme. Joe and I had just walked along that section of rue Charonne the day before, making note of a hot pot place that looked promising. Le Petit Cambodge, another shooting site, is where I took Kate the last time I saw her in Paris.
And of course, we're at Red House at least a couple times a week — I even used the bar and its 75011 zip code as my return address when I was leaving Paris and had to mail belongings back to the US.
Physically, everyone I know is safe. Mentally and emotionally, I can't say the same.
The terrorists behind this didn't target the Eiffel Tower, the Louvre, or the Champs-Elysees (which, last night, was celebrating the official opening of their Christmas market). They attacked those who were eating dinner, drinking on the terrasse, listening to live music, watching their team play.
They attacked daily life in Paris and I wish I could say I was one of those carrying on with my day today, like my friends who still went to yoga, shopped at the market, ran their bars. I stayed indoors, not even venturing outside to see if the marché was open.
The fear I felt last night — the hand-shaking, terrifying fear that comes from uncertainty of situation or safety — was new to me. While it lasted briefly, there are places in the world where this happens frequently, has become a norm.
So as you all change your profile photos to the tricolor, please also think of Beirut and Baghdad, of Syria and the ongoing crises around the world. We in France and the West are lucky that this is not our day-to-day reality.
This image by French comic artist Joann Sfar really resonated with me today. Thank you to everyone who has reached out in concern. Tomorrow I hope to return to the 11eme and celebrate life and Paris with music, with kisses, with Champagne, with joy.
I hope you do the same.