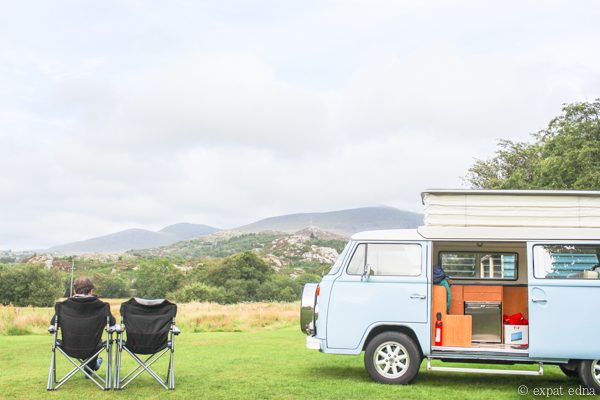 I have no idea how my boyfriend stumbled across this idea.
The rabbit hole of the internet, right? One minute you're looking up things to do in Wales, the next thing you know you're reading about the social structure of 12th-century capuchins. Damn you Wikipedia.
Anyway, somehow in all the noise, he found a rental company in northern Wales that specializes in refurbishing 1970s Volkswagen campervans — for actual use on the road. Not just decoration.
It was decided: his birthday present was going to be a week road tripping around northern Wales in a totally groovy old VW.
I had my reservations going into this (not least because I am not a camper) but turns out, it was kind of awesome.
Having everything you own — and need — fit into one vehicle? Dig it.
Being able to move your entire home wherever you felt like it? Like being a giant blue tortoise.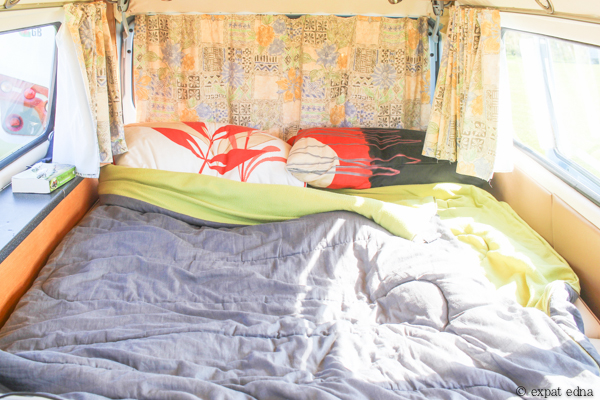 Plus, there's this unspoken rule that all VW campervan drivers have to wave at each other when passing on the road. Every single one, without fail, gave us a friendly wave. It was like being part of a special club.
After seven days in this fly bunny, I was actually a little sad to say goodbye to Emily the VW.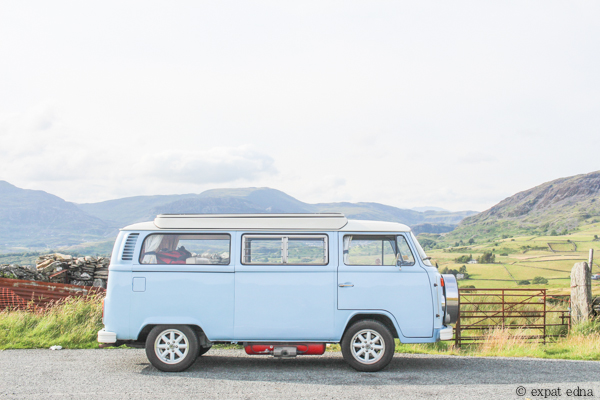 So I thought I'd start off my Wales posts with a tour of our campervan sweet campervan.
I thought it was going to be run down, cramped, and thus miserable. Nope — I had no idea how sweet these things are:
This is the interior of the van, with all the hatches battened down. Doesn't look like much, right? Turns out pretty much everything you see in this photo is storing something.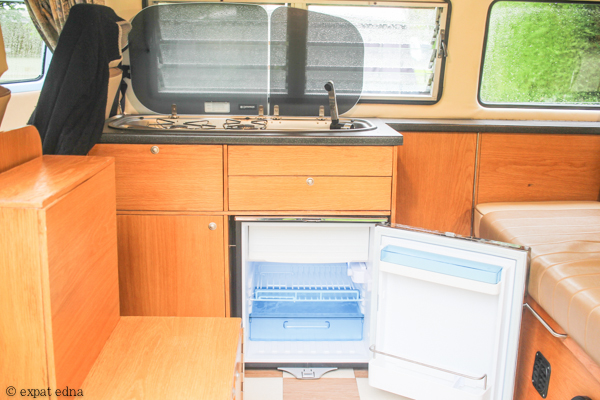 Fridge, stove, sink with running water; pots and pans for cooking; plates and utensils for eating; tea cups and all tea accoutrements — even a fully assemblable table and two (remarkably high-quality) lawn chairs.
All hidden in this tiny space.
Every evening we'd grab our bags from the back, move them up into the front half of the campervan, and pull the couch flat into a bed.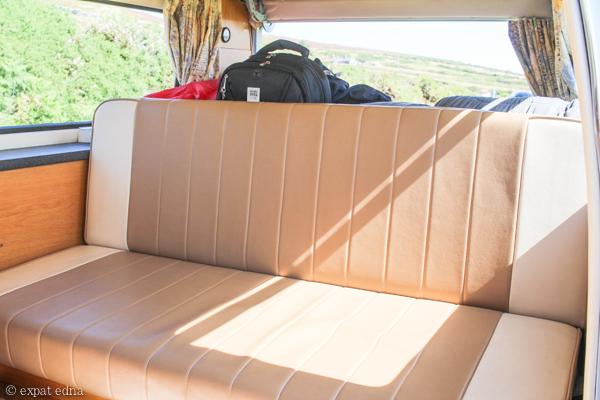 And every morning — after breakfast and tea in bed, of course — we'd fold up the sleeping bag and pillows, and toss it in the back with the rest of our bags.
Just like that, we'd be ready to hit the road again.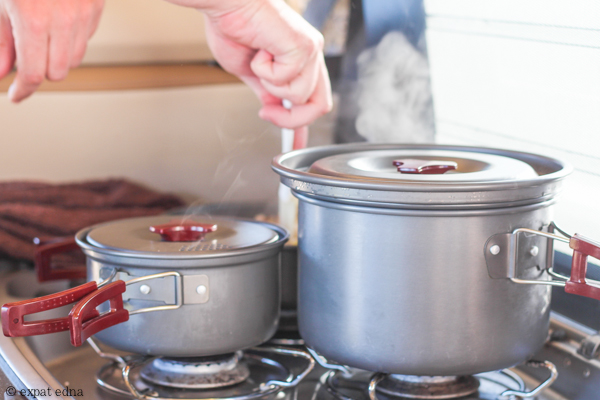 When it came to dining, we bought groceries in local shops and cooked almost every meal on the campervan stove. Your mileage may vary depending on cooking skills, but we made out like bandits — and £15 would buy us enough food for 2-3 days!
Tip if your cooking skills are lacking: butter improves everything.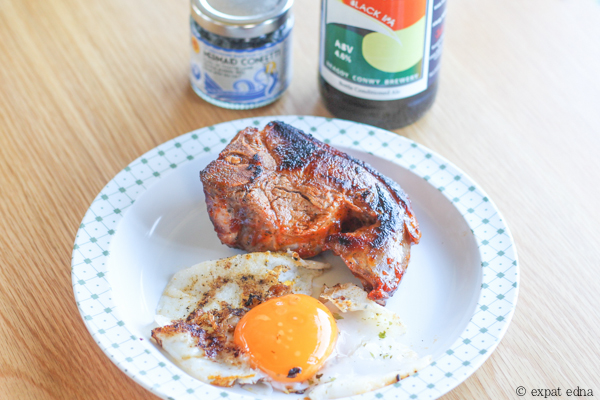 This was one of our fancier meals, using all local ingredients. Lamb chop, fresh duck egg sprinkled with Mermaid Confetti, paired with a Welsh black IPA.
(Mermaid Confetti, that blue container above, is a Welsh product; a blend of toasted seaweed and sea salt. Like butter, it improves almost anything you cook.)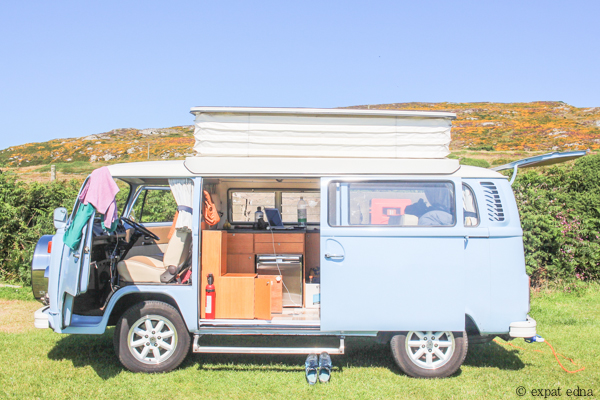 This is Emily in fully-parked, unpacked, and hanging out mode.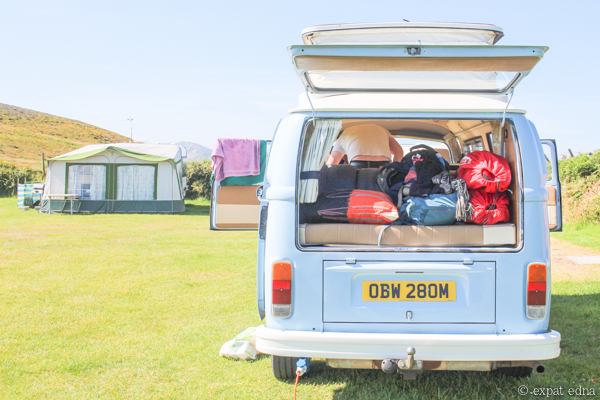 This is the back of the van reassembled with our belongings, the sleeping bag, pillows, and lawn chairs — ready to get going on the day's adventures.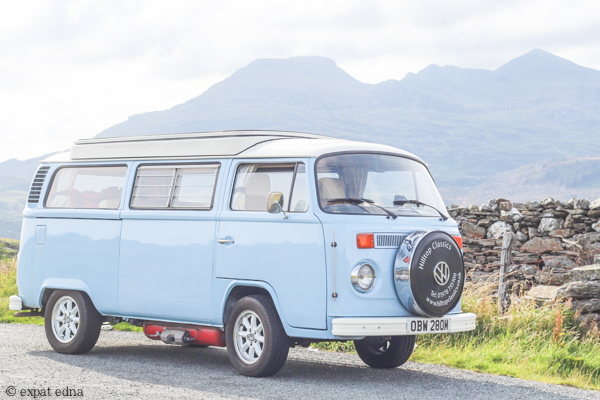 And this is Emily just looking classy against the mountains of Snowdonia. Isn't she a beauty?
Practical info: We rented from Split the Difference / Hilltop Classics (different fleets, but run by the same couple). The cost varies depending on season; during high season we paid £695 for a seven-day rental. Four days or long weekends would have cost £400.
Do you have any questions about our Welsh campervan adventure? Let me know and I'll include it in upcoming posts!