In this series, I round up the five best things I ate in a particular city or country. Click here to read previous 5BTIAs from Paris, Tokyo, and more.
When it comes to dining options, there are very few cities that can compete with the abundance of choice like London. I could eat at a different restaurant for breakfast, lunch, and dinner every day, and still barely make a dent in the dining scene.
That said, I ate so well during my latest six weeks in London that to only write about five meant I would be omitting so many other fantastic restaurants (…it also would've been impossible to choose just five and I didn't want to deal with that kind of decision).
So, I've split up my 5BTIA London posts into categories. First up, my top five picks from the past month:
1. Turkish eggs, Kopapa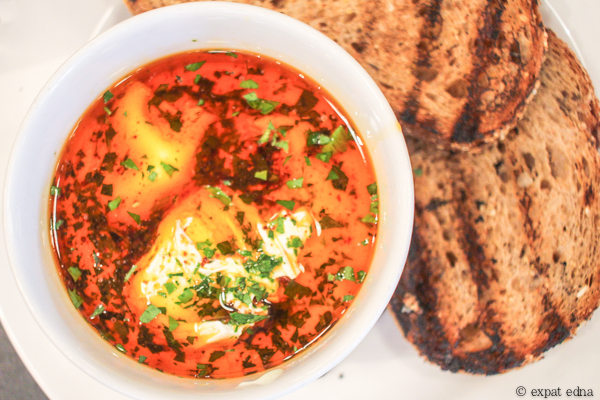 Two words: Turkish eggs. A good friend took me to Kopapa specifically for this dish, which is composed of poached eggs and whipped yogurt, drowned in hot chilli butter and served alongside toasted sourdough for dipping.
It's creamy, spicy, and perfect for your hungover Sunday brunch.
Ignore the rest of the menu; I wasn't impressed by my bacon-wrapped French toast and instead took to trying to "help" my friend finish all of his Turkish eggs instead.
Lesson learned: if someone brings you to a restaurant specifically for one item, don't be thick. Order the damn Turkish eggs.
PS: Kopapa is located in Seven Dials, which is a lovely section of Covent Garden to walk around post-lunch if the weather is nice! 
2. Pig & Butcher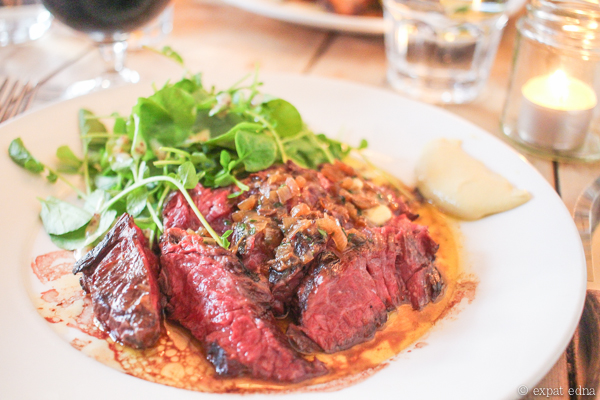 I was originally drawn to this gastropub after hearing they did one of the best Sunday roasts in London. While we only made it out for a weekday dinner, I wouldn't doubt the claim — Pig & Butcher is a meat lover's heaven. Their meat comes in fresh straight from the source, and they even have an in-house butcher and bespoke grill.
Plus when our mains came around they followed up with a mustard board! I've never been so spoilt for mustard choice before.
The ambience is airy and light, and there's a good craft beer selection to accompany your meal. For the herbivores, they do have a couple vegetarian-friendly options.
The menu changes daily, but I'd recommend the homemade sourdough bread and butter to start, and any dish with the double cooked chips as sides.
3. Taiwanese food, Bao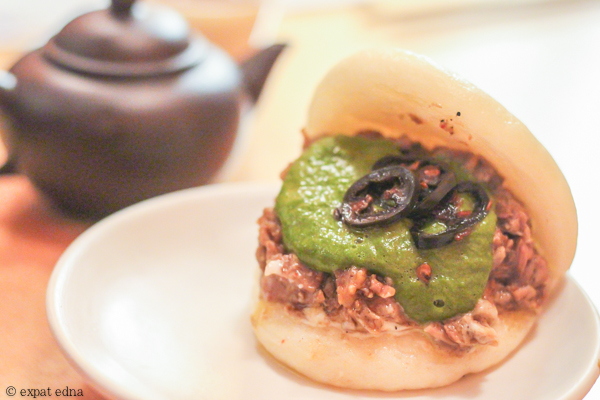 Bao did the street food circuit in London for a while before opening up a brick and mortar shop in April, and man are they killing it. Amy and I arrived shortly after they opened and the line was already down the street, and remained that way the entire lunch service.
The menu is about as small as the restaurant: six baos, nine small plates (xiao chi, for those familiar with dim sum culture). The baos include fried chicken, lamb shoulder, daikon (for the veggies), and even an ice cream bao. But the key to their crack? Steamed milk buns.
The portions look small, and it's pricy for a casual lunch, but we did leave very satisfied with our Taiwanese fix.
4. Portuguese food, Taberna de Mercado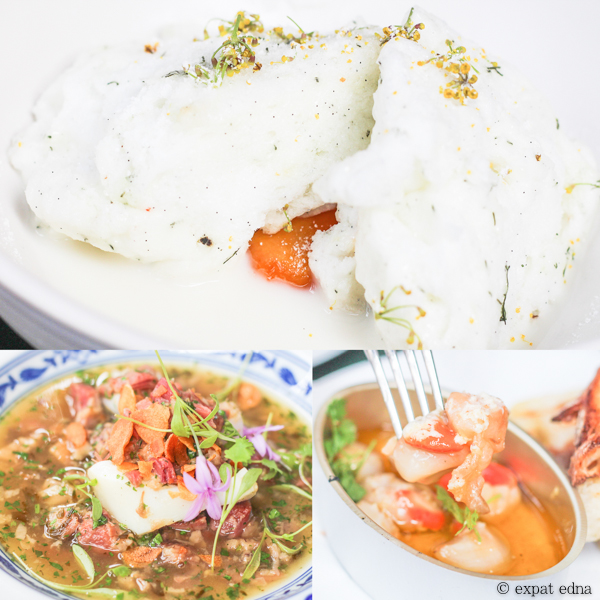 Apparently Taberna de Mercado is the latest venture of some very famous hot chef; just opened in May, this restaurant is all about said Hot Chef going back to his Portuguese roots.
I came here for lunch with Kerry, and we promptly ordered half the menu. Most of it had us interrupting conversation to make "omgthisisdelicious" comments at each other, which is always a good sign. The tuna bone marrow was probably a mistake (it tasted like clear jelly and looked like it could attack us at any second), but the meringue with fennel was like eating a bowl of cloud.
5. Champagne & hot dogs, Bubbledogs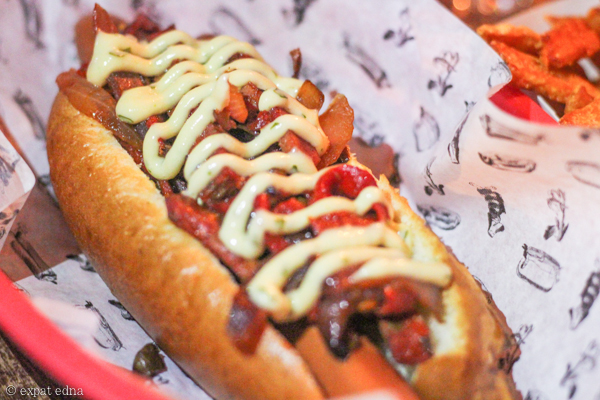 We actually heard about Bubbledogs thanks to my boyfriend's brother — who's been a vegan for the past decade.
Turns out this place is full of surprises: they carry vegan-friendly hot dogs, alongside beef or pork options; their booze list features 56 Champagnes, and they only support smaller Champagne growers (so no Moet with your BLT dog). We noticed a bottle with the brothers' family name on it, so of course we had to order that one.
I didn't find the hot dogs totally filling and had to order a second one (the Buffalo dog with blue cheese, celery, and buffalo sauce) but the service is great, as are the tater tots and novelty factor — hell, it's Champagne and hot dogs.
Bonus: Street Feast Dalston Yard
Props to Drive on the Left for giving me a heads-up on this outdoor street food festival. It's so hipster it hurts, but I couldn't pass up a warehouse full of kimchi burritos, jerk chicken, lobster rolls, nachos and meringue stalls and more. It's basically a giant hawker center for London hipster fusion food.
They were open Fridays and Saturdays from May through September, but have just closed for the winter — if I were in London I'd check out their sister ventures around town, which seem to still be up and running.
Where are your favorite places to eat in London?