As much as I enjoy beer, I never thought I would enjoy Oktoberfest.
I like good alcohol, drank in an appropriate environment with fellow beer enthusiasts. I don't enjoy rowdy parties with bad pilsner and drunk idiots (if I did, I would have gone to more parties in college).
I thought Oktoberfest in Munich would be something similar, based on the debaucherous photos I'd seen off news wires and various blog posts.
But, I was so, so wrong.
This week I'm back for my second time at Oktoberfest. I've been planning my return ever since my first visit, two years ago, and I've extended my trip to ensure I'm here for a full week.
There is so much more to the festival, and you don't have to like beer to have fun at Oktoberfest. Here's why this is one of my favorite celebrations of the year:
ATMOSPHERE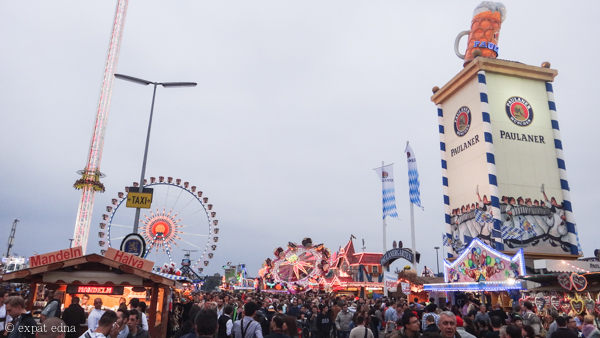 Walking onto the Oktoberfest grounds for the first time, it was not what I'd expected: ferris wheels, cheesy amusement park games, baby strollers.
This was the famous beer festival?
Basically, think of Oktoberfest as a giant state fair. Beer is only a part of the attraction — just like your local state fair isn't just about deep-fried Twinkies or butter sculptures (*oh yes, those are very real things in Pennsylvania).
There's the carnival festivities and families wandering around on the weekday afternoons. But there's also the waking up at 6 am on a Saturday to get into a tent. The dancing on tables and bribing guards to let you in and cheering on strangers who try to down a pint in one go. There's a whole range of experiences here.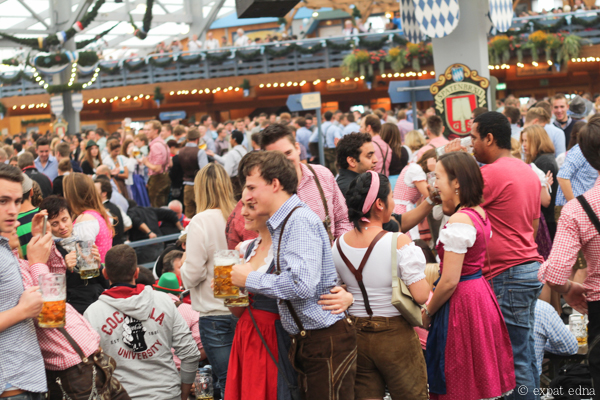 Maybe it's the extrovert in me, but I LOVE being in an environment where I'm surrounded by people having fun and in high spirits (it's part of why I love being at Olympics so much!).
If you're the same, you'll love it here.
CULTURE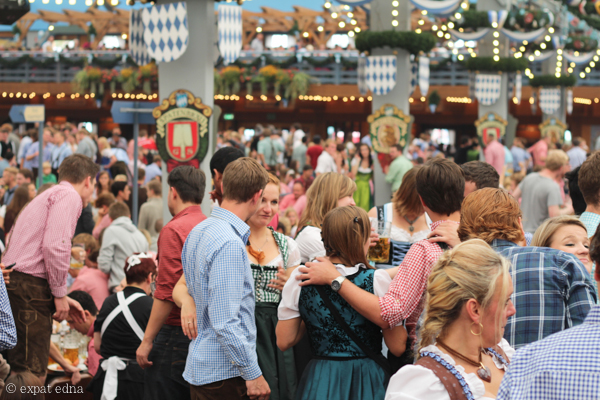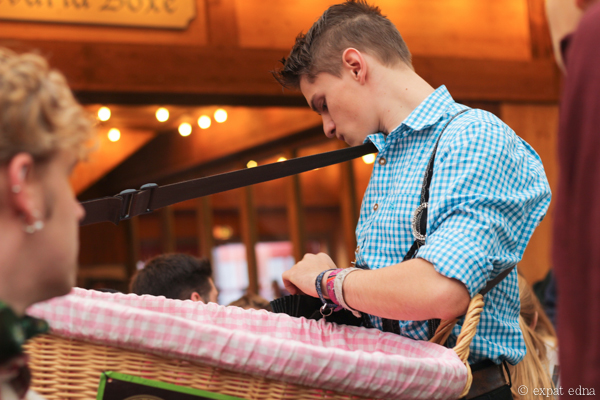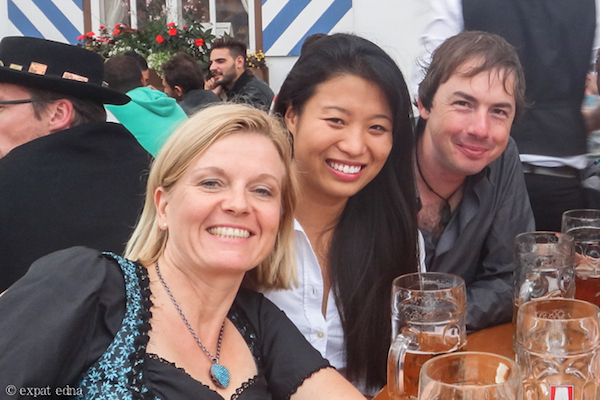 I thought Oktoberfest would be full of rowdy drunk tourists, one of those events that saw locals evacuating the city for three weeks.
In fact, it seemed the opposite: I saw so many people — of all ages, especially in their 50s or 60s! — wearing lederhosen and dirndls. Nice ones too, clearly not cheap imitations bought at a costume shop.
I met so many Germans at the tables around me and ate proper pretzels and warm potato salad; I learned how to speak a little of the language, and gained far more cultural insights than I expected from a beer festival.
CAMARADERIE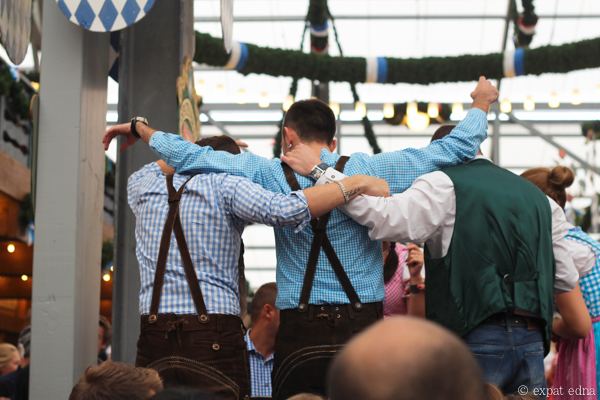 There is so much friend love at Oktoberfest.
In fact, the reason I first came to Munich two years ago? It was to see one of my best friends from my time in Singapore. I hadn't seen Alex in years; and since he lives in California now, I haven't seen him since. If it weren't for Oktoberfest, we may have dropped from each other's radar completely.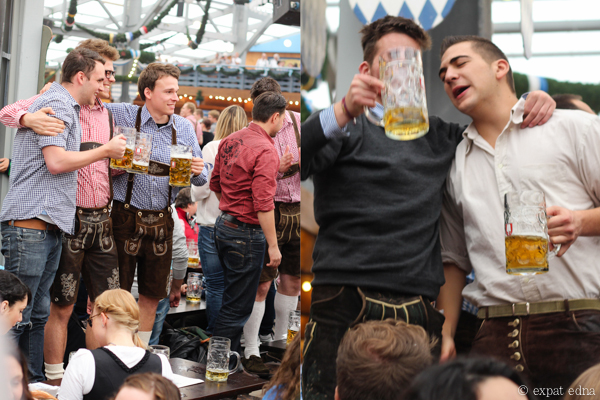 This year, we've got a group of ten coming (ten!). Most are old friends from Paris, including the couple whose wedding we attended in the Philippines earlier this year, and the Madrid crew from two years ago.
Do you know how hard it is to get ten people to go on a holiday together, never mind actually coordinating all the logistics?? But Oktoberfest makes it happen.
Meanwhile, surrounding you will also be other large groups, from stag parties, to graduate students who need a release for the day, to just pals who enjoy drinking beer in each other's company. Everyone is happy to see old friends and make new ones and that kind of spirit is intoxicating.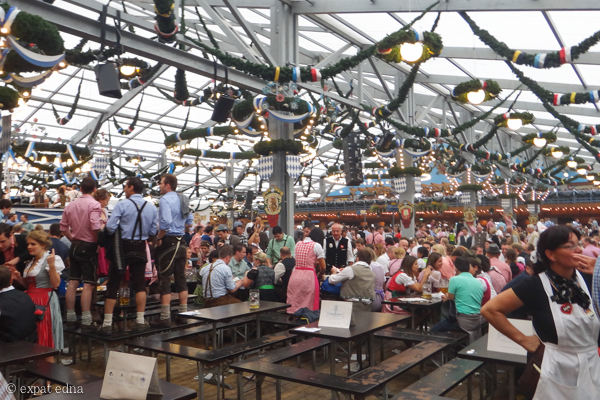 When you're lining up at 7 am to claim empty tables, more company is definitely merrier.
The point is, as much as I adore my boyfriend, Oktoberfest is even more fun when you're with a large group of friends.
(*When I told him this, he feigned shock and hurt feelings. "You know you feel the same way!" I defended.
"Yes — but I wasn't going to say it out loud!"
He's right. Some things are better kept to yourself…and your blog.)
Anyway, there are two reasons more is better:
1. Festivals are a group activity! Drinking! Prost-ing! Table dancing! There's more infectious fun to be spread around in a group.
2. If you're just a couple, chances are you're going to either bore or gross out everyone around you. Trust me on this one. (Those of you who saw my Snapchats from earlier this week know what I'm talking about.)
MUSIC & DANCING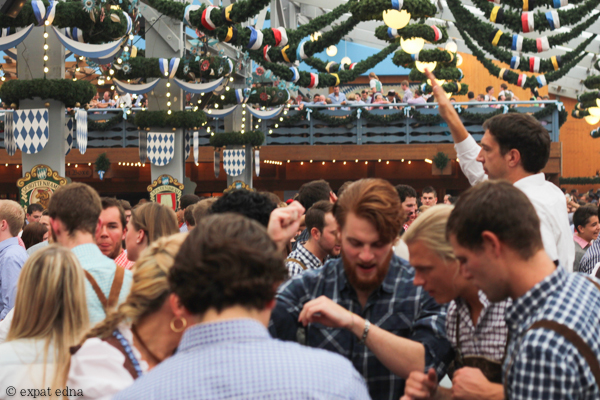 You think you know what oompah bands sound like? Not until you've heard them do renditions of Hey Jude, Que Sera Sera, Take Me Home Country Road, even Gangnam Style. 
Throw in Ein Prosit — a song indicating it's time to cheers and drink — every fifteen minutes, and throngs of people dancing on the wooden tables, and you've got yourself a hell of a fun afternoon.
MUNICH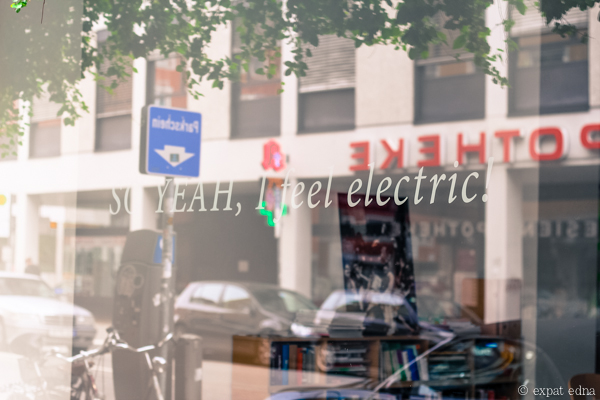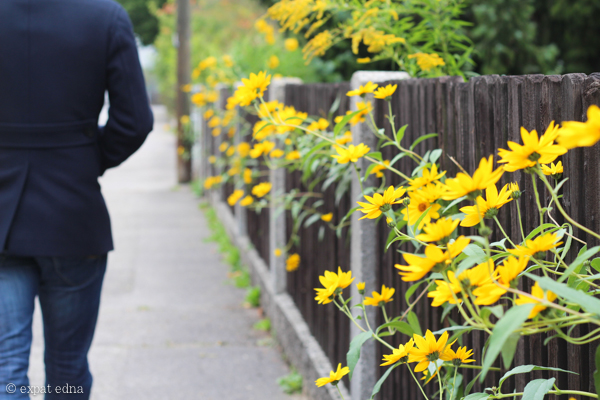 Munich is a wonderful city to explore, and it's so much more than just Oktoberfest — it'd be a mistake to go and not actually see the rest of the city.
Check out the English Garden, have a juicy steak at Theresa, or hang out with some locals if you can! (CouchSurfing or Meetup groups may be a good start for the latter.)

Photos collaged to protect the innocent…but there were crutches, stuffed animals, and 5 am pasta involved
My first trip, I got in touch with an Italian friend from Singapore who was living in the city, and our little trio found ourselves in a German-Italian house party that raged until the metro opened at sunrise. Definitely a local highlight of the trip.
Should you go to Oktoberfest if you don't like beer? Yes!
But if the reasons above aren't enough and you're worried about the drinks themselves, don't fret: you can order radlers (half beer, half lemonade), and some tents even serve wine and champagne. There's also water and soda, if you're teetotaling. Not to mention all the good food!
And if you get to avoid a killer hangover while you're at it, well, that's just icing on der Kuchen.
Have you ever been to Oktoberfest? Would you consider going? 
Follow along with me this weekend on Instagram and Snapchat @expatedna!