In this series, I round up the five best things I ate in a particular city or country. Click here to read previous 5BTIAs from Barcelona, Tokyo, and more.
After two years living in Paris and regular return visits to the city, I still hadn't tried all the "must-eat"s in the city. This summer I finally rectified two of those in Bistrot Paul Bert and Du Pain et Des Idees, while also checking out some of the latest hot openings.
It was hard to narrow down, as always, but here are the five best things I most recently ate in Paris:
1. Italian food, Ober Mamma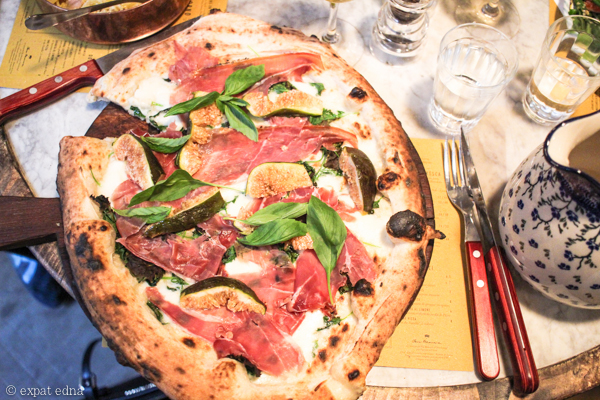 This place is H-O-T hot right now. I'm talking lines out the door before they even open. With thirst-quenching cocktails, a proper meat & cheese aperitivo hour, and the best Italian food and service this side of the Seine, it's not hard to see why. Ober Mamma doesn't take reservations, so make sure to get there by 7 pm if you want a seat in the restaurant. 
2. Set lunch/dinner, Bistrot Paul Bert

Bistrot Paul Bert may be replacing Cafe Constant as my favorite go-to lunch spot (as the latter seems to have fallen to the tourists and its dishes have been increasingly disappointing).
This is one of those places everyone talks about — including Anthony Bourdain — and I'm embarrassed it took this long for me to check it out. I ended up going twice in a week: once for Joe and my anniversary dinner, and another for the set lunch.
Go here if you want something classic, French, with good service, and a baba au rhum that actually is served with…a full bottle of rum.
3. Ceviche, Cevicheria

Cevicheria does seafood and does it well, along with Pisco sours and Peruvian beers. Try a plate of tuna or bar, and definitely don't miss out on the tiradito and tomato ceviche. Go before dark if you can, as the open, rustic space is hipster gorgeous in sunlight.
4. Pastries, Du Pain et Des Idees

Three words: L'escargot pistache chocolat. This was another huge oversight of mine, even greater than Bistrot Paul Bert: this is the boulangerie everyone and their dog goes to in Paris. Not only does Du Pain et Des Idees have this chocolate pistachio beauty, but it's right around the corner from Canal Saint-Martin — making it the perfect pre-picnic stop.

5. Cocktails, Le Syndicat

You could easily pass Le Syndicat and not realize the latest trendy cocktail joint lies in front of these graffitied posters. This addition to the growing Faubourg Saint-Denis neighborhood has a hitch though: they ONLY serve drinks with French liquors. Want to know what French gin or vodka or rum tastes like? Go here and expand your drinking horizons.
Anywhere in Paris you want me to check out? What's the best thing you've eaten recently?