In this biweekly series, I round up the five best things I ate in a particular city or country. Click here to read previous 5BTIAs from Tokyo, Paris, and more.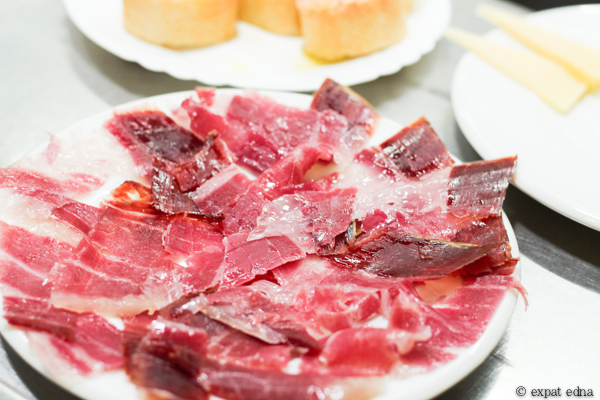 All I did in Barcelona was eat.
That's what it felt like, anyway. By the end of a week there I was teetering on the edge of a tapas coma, and one morning I even received this message from a follower on Snapchat: "How are you two not giants! So much foooood every day haha".
I don't know, jubunator, I really don't know. All I have to say is, praise cheesus for my stash of fat shirts.
This was one of the most difficult 5BTIAs I've had to put together for a while, but I narrowed it down to:
1. Tapas, Bodega d'en Rafael

Bodega d'en Rafael easily comes out on top: for quality, ambience, and price, it wins on all fronts. A small joint in the Poble Sec neighborhood, it was so crowded in the evenings we could only stand at the bar.
We were surrounded by only locals every time we visited — and for good reason. Rafael's has some of the best jamon and by far the best pulpo (octopus, above) I tasted in all of Barcelona. 
Plus, the price point is ridiculously low (we feasted for hours, and the total bill came out to €15 total per person!), and the grandfatherly Rafael himself works behind the counter and is a super sweet guy.
2. Tapas, Quimet & Quimet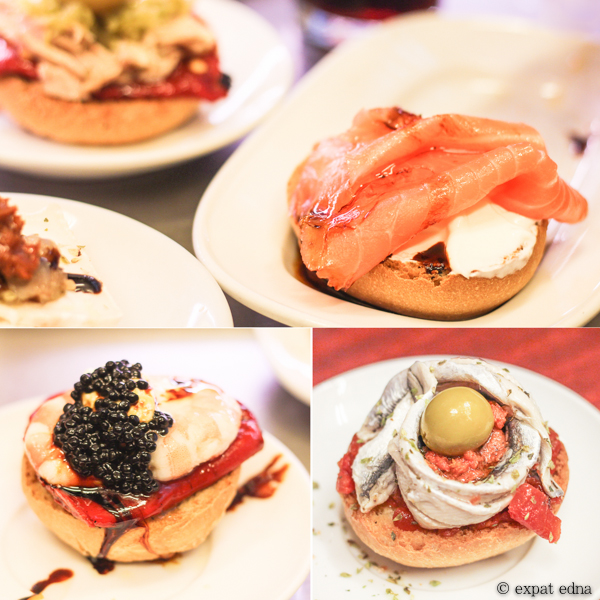 Another tapas joint in Poble Sec, Quimet & Quimet is small on space but big on taste.
It's a surprising place, defying expectations: the food presentation looks expensive, but the bill proves it's not; the space looks hectic but the service is superb and plates are delivered lightning fast.
Tip: Go right when they open, or about half an hour before closing, because Q&Q is standing room only and it gets packed. Oh, and stand by the counter: the people running it look stern but they're quite nice, and you get your plates even quicker.
3. Tapas, El Xampanyet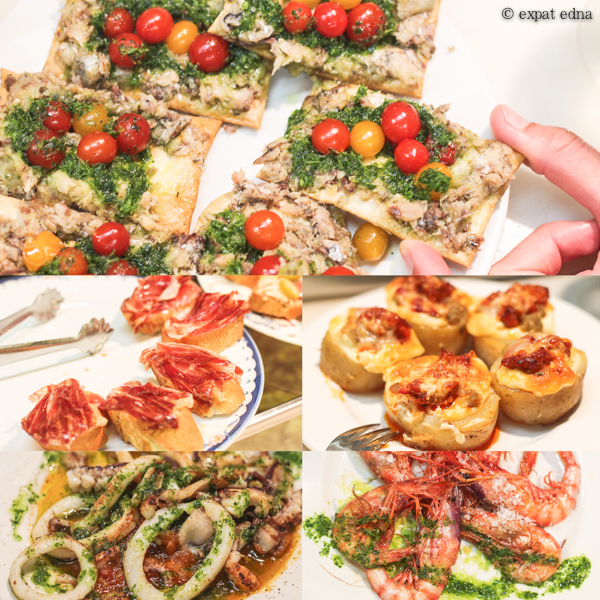 This was the one place everyone told us to go. So we spent our last night in Barcelona here, along with new travel buds Ashley & Alex, who just happened to be regulars at Xampanyet. We stood by the bar (although there is seating as well) and kept the bottles of cava coming while trying everything we could see in sight on the counter, and off.
While the bacon-lard wrapped breadsticks were a bit decadent, the steak with Padrón peppers was the best grilled meat I've had in a while. Definitely recommend this one for a fun evening out with good friends and good food.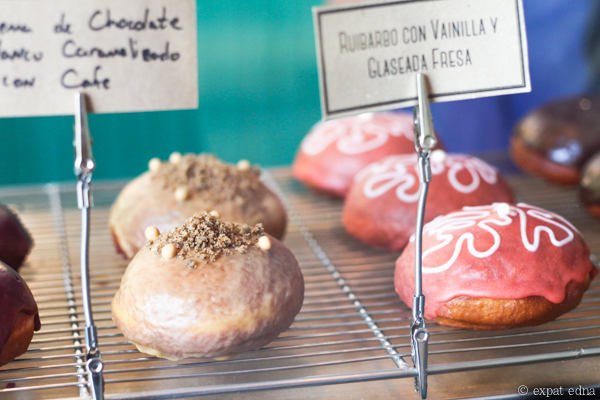 4. Rhubarb & vanilla donut, La Donutería
I'm not usually a donut person, but La Donutería is on a different level from anything I've seen coming out of Dunkin: These are artisan donuts, made from quality ingredients, with a dozen flavors that change daily, including both savory and sweet. I loved my choice of rhubarb & vanilla, but there was also chocolate & matcha, blueberry basil, banana with coffee nibs — and of course, maple bacon.
(PS: on the same corner of Carrer de Viladeomat / Carrer del Parlament were two hip yet chill cafés I'd recommend for a casual coffee, drink, or brunch before heading to La Donutería for dessert: Tarannà and Café Cometa.)
5. Dinner, EatWith 

Based on a recommendation from G&Q, we booked this dinner on EatWith (like AirBnb, but for food). Our hosts were a couple from Venice and Melbourne, and dinner was held in their gorgeous historic apartment in the heart of Gothic quarter.
Dinner focused on sustainable, organic food, and it was delicious to see what two chefs could do with local Spanish ingredients (it was the first time someone got me to willingly eat garlic!).
We also got to meet other expats living in the city, and we went through many bottles of wine and cava getting to know each other. It was like getting to attend a house party we wouldn't have found or been invited to as tourists.
(PS: if you want to try EatWith, use this code to get $10 towards your first meal!)
Bonus: Crema Catalana

While in Barcelona I went on a food tour of the Gracia neighborhood with Devour Barcelona. I generally have mixed reviews about food tours, but this was without a doubt the best one I've been on — I've never seen any food tour so 100% dedicated to locals and only taking you to family-owned establishments.
(But also because the tour guide Lucia was a total doppelganger for one of my closest friends from college — one of those people who exude happiness and sunshine and make you feel like a million bucks — and spending four hours with her, listening to her teach us about Barcelona through food, made my little heart so happy!)
Anyway, this crema catalana was one of my favorites from the tour — like a crème brûlée, but in pastry form, making it possibly even better than its French counterpart.
*
I was torn on how to include this because my tour was comped by Devour Barcelona…but I really loved the crema catalanas…but I also wanted to maintain the integrity of the 5BTIA series. If it hadn't been comped, those cremas would be up there with the donuts!
It's the first time I've included anything comped, and it's only because I wanted to bring attention to something I would truly recommend (if you don't believe me, just check out this report from NPR!). 
If you aren't a fan of this, please let me know for future reference. Your trust means more to me than free food!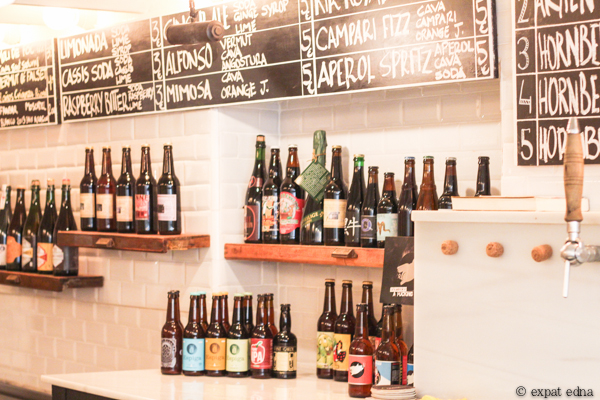 Where to find good beer in Barcelona:
I tried, but I couldn't keep it to just 5 this time. I drank really well in Barcelona too — I didn't expect to find such a good craft beer scene! — so here are my recommendations for those on boozy liquid diets:
La Resistencia — Grungy and unpretentious with a hint of rock. One long bar with a good beer selection and small plates, and chill guys behind the bar.
Black Lab — A craft brewery startup featuring Asian-American fusion food, located a couple blocks from Barceloneta Beach. Good mussels and reubens too.
Kælderkold — This place was sleek, with an excellent selection of craft beer as well as beer cocktails and spritzes. Surprisingly good find, given its location off the touristy Las Ramblas.
What are your favorite places to eat and drink in Barcelona?