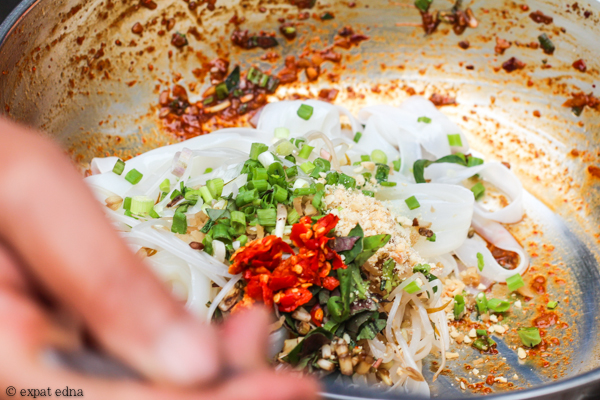 In this biweekly series, I round up the five best things I ate in a particular city or country. Click here to read previous 5BTIAs from Tokyo, Paris, and more.
Sichuan food is notoriously spicy. I have seen five-year-olds from this province easily down bowls so bright red I can barely look at them without choking. But I love it anyway, what little I can handle — especially those numbing Sichuan peppercorns that sneak up on you with a subtle, seductive tingle. Throw in the abundant street food and Chengdu is another foodie heaven in China.
In the past year I've visited twice to catch up with my best friend Feakes, and these are some of my favorite eats from those all-too-brief weekends:
1. Hot pot (火锅)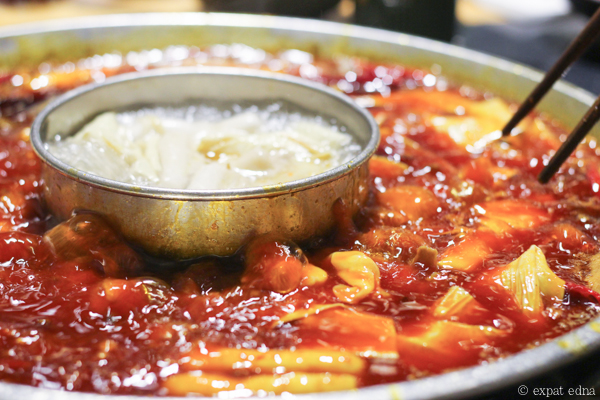 There's hot pot, and then there's Sichuan hot pot. Look at that shade of red. I love hot pot in all cities, but I can't handle the heat in Chengdu — you see that tiny broth oasis in the middle? That's the wimp space, and I occupy it gladly.
But that's the beauty of hot pot: there's something for everyone. Carnivores, vegetarians, spice-lovers or not can all occupy the same shared bowl. Throw in cheap beers, do-it-yourself service, and this is the best way to while away a few leisurely hours with friends. Every time I visit Feakes, this is always our first catch-up meal.
2. Dan dan noodles (但但面)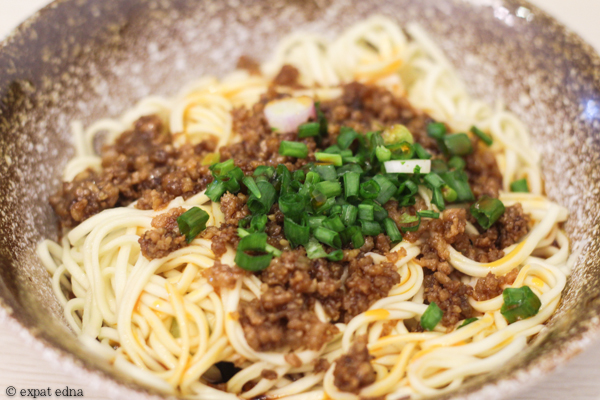 Dan dan noodles are a Chengdu must-try. Once known as "peddler's noodles", they look simple but will surprise you with a kick of spice from the chili-vinegar sauce (which is perfection and also makes them the perfect hangover food, like the noodle version of a Bloody Mary.). And oh, does the spicy tingling from those numbing Sichuan peppercorns become slightly addictive.
They're also cheap: at the hole-in-the-wall near the apartment, a bowl of beef dan dan mian cost 7 rmb (just over $1), while rabbit noodles cost 11 rmb ($1.70).
3. Cold noodles (凉皮)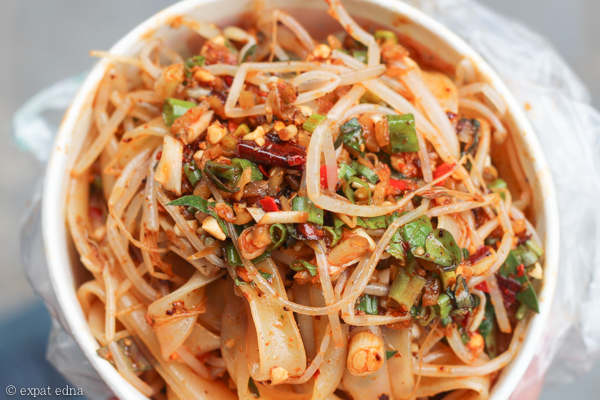 Liang pi technically means "cold skin" — but this dish is as vegetarian as they come. Strips of snow white rice flour noodles (see photo at the top of this post) are tossed with a happy circus of sauces (soy, sesame, vinegar, chili, etc.) and vegetables (cucumbers, onions, bean sprouts, garlic, and more) in a metal bowl and topped with peanuts and cilantro. You have nearly ever flavor profile in here: spicy, sour, salty, with a hint of sweetness, all for 5 kuai ($0.80).
Cold noodles are one of my favorite street foods in China, but in Chengdu they're especially potent due to the spice levels, perfectly countered by the tangy, tart vinegar.
4. "Three Big Cannons" (三大炮)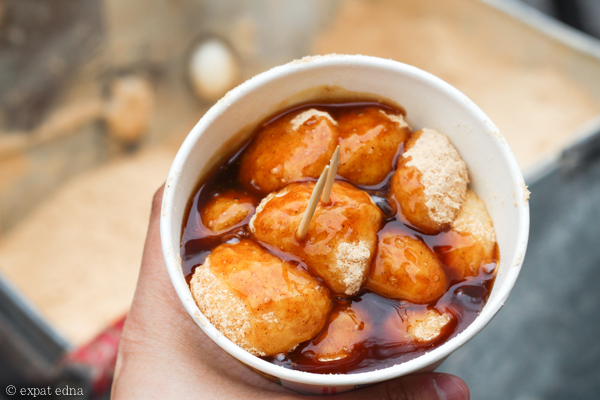 San da pao translates to Three Big Cannons, named after the sound of the glutinous rice balls as they are thrown at a metal tray (imagine the sound of three short gong strikes). They bounce down into a soybean powder and are then covered in a warm sugar syrup. So it's essentially rice and sugar, but it'll warm your insides on a cold day and the neutral rice flavor is a welcome break from all the spice.
Note: usually the san da pao is made in the above fashion, and tourists receive only three pieces. But outside the Wenshu Monastery, I came across a man with a small cart who hand-cranks dough through two coin-sized holes and offers 5x the portion for the same price (and via a much cooler contraption)!
For more on Chengdu street food, this post by my friend Jenny proved extremely useful during our trip.
5. Latin food and cocktails, Rumba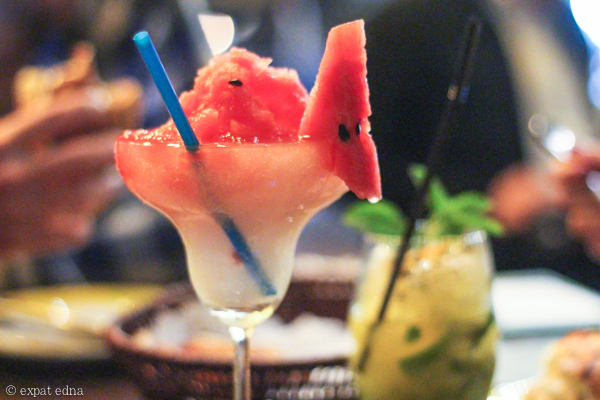 Chengdu is still a growing city in terms of Western influence: while in town, my friends were rejoicing over the recent arrivals of Blue Frog and Element Fresh — restaurants that have been in Shanghai for a decade. However, they still wanted to take us out with their friends, so we ended up at one place I can't find in Shanghai: Rumba, a Latin restaurant and bar favored by Feakes and his Argentine girlfriend, owned by their friend Chris.
Head here to take a break from Sichuanese food, learn salsa, and meet locals (both Chinese and expats). While the margaritas were a bit top-heavy, the peri-peri chicken was done surprisingly well and Rumba seems to be a strong favorite with the Latin community and their friends in Chengdu. (As a related FYI, the Australian community seems to love hanging out, watching footy, and eating steak at Arthouse.)
Have you ever been to Chengdu? What looks most delicious to you?