For the longest time, I've wanted to visit Japan.
And for the longest time, I've told myself to wait.
I did not want to do Japan on a shoestring, I did not want to go as a backpacker; I wanted to wait until I felt it was the "right time" — whenever that was and whatever that meant. Maybe a part of me felt that Japan felt so put together as a country, I didn't want to go as an early 20-something-year-old mess trying to figure out her life. I wanted to hold off until I was more certain of who I was and what I wanted before going into such a trip.
Well, after 26 years, Japan was worth the wait. I've already written about my favorite experience here (Embracing Spontaneity: A Magical Night in Tokyo) but the following rounds up the most memorable highlights from my first — but certainly, definitely not last — trip to Japan:
SPOTTING GEISHAS IN KYOTO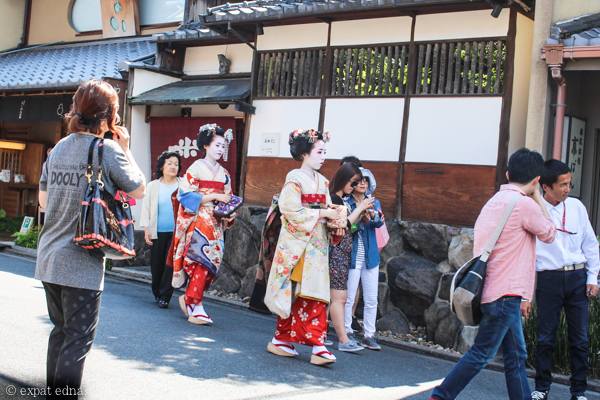 We did not do our research going into Kyoto. After arriving at the train station with zero plans and a few hours before we could check into our airbnb, I did a quick foursquare search and found a nearby neighborhood that looked good for wandering.
That's how we found ourselves in the Gion district an hour later, strolling aimlessly around the Yasaka Pagoda, trying to find green tea parfaits.
There were so many women out in kimonos — I even overheard Chinese tourists in them — that I quickly realized it must be a popular thing to do on a Sunday: get gussied up with your girlfriends and make a day of it.
What I didn't realize, because I'm becoming progressively worse at planning any sort of travel that does not revolve around food, is that Kyoto is known for being geisha central and that your best bet to spot one is probably in the Gion district.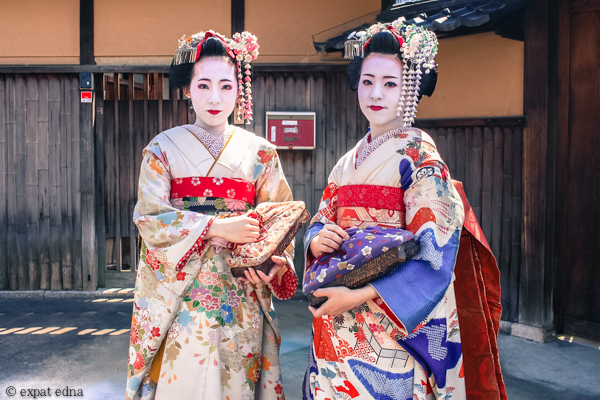 Which is how I ended up walking right next to these two.
(For those keeping score at home, that's one hour in Kyoto, two geishas, zero green tea parfaits.)
I followed them for a few meters, trying to deduce if they were the real deal because I didn't feel like stalking tourists. After watching group after group of Japanese middle-schoolers clamor for photos (and I figured Japanese students would know the difference, right?), I approached them and tried to mime using my camera to ask permission to take a photo.
They looked confused but stood still for me anyway — to call it a "pose" would be overselling it, "awkward obliged candid" would be more accurate. Nonetheless, I was grateful that they had let me take their photo, thanked them profusely, and walked away as another group of Japanese students stepped in to request more photos.
*Also, I looked it up after: I believe these two are maikos, or apprentice geikos (the term for a geisha in Kyoto), based on the way they wear their hair and the elaborate ornamentation, their makeup with bare skin exposed on the back of the neck, the red collars and red makeup on the eyes, their colorfully 'busy' kimonos, and long obis in the back.
LIVING LIKE A LOCAL: NAKAMEGURO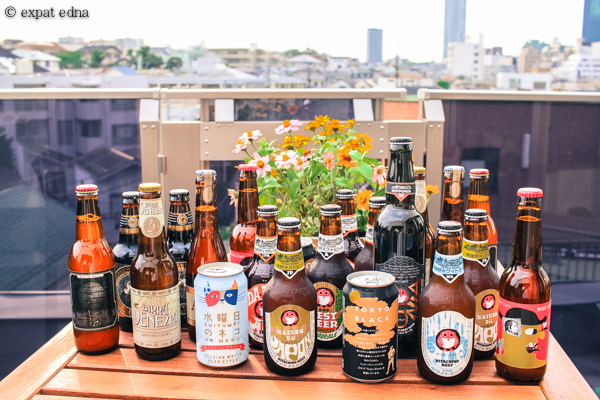 In Tokyo, we stayed with an old friend from Shanghai who now lives in Nakameguro, a stylish and hip residential area. Nakameguro seemed to combine all the best parts of being in the near-suburbs (calm, laid-back) without any of the boring parts.
Culinary discoveries abounded as we walked around, including the Baird Taproom and Higashi-Yama — and of course, our beloved Shinobu. We discovered the shop across from the apartment carried a considerable selection of craft beers (and a few non-Japanese favorites as well, such as Old Rasputin and Mikkeller). Our first night in Tokyo we stocked up, and would end each day with a few beers on the rooftop balcony in the cool evening breeze.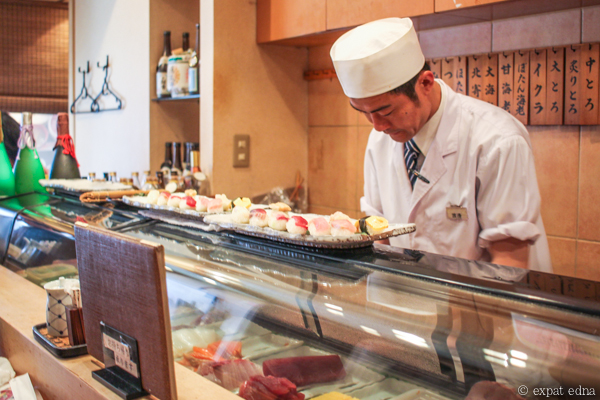 Because we stayed in Nakameguro, our first taste of sushi came not from the famous Tsukiji, but instead from Shuichi Watanabe: also known, I'd later find out, as the Dancing Sushi Chef.
While enjoying our sushi lunch set, the two women next to us struck up a conversation and asked us about our trip; when one of the staff members showed her photos from a recent trip to California, showing off a skimpy bathing suit on the beaches of Los Angeles, they turned and shared it with us as well. From there, Chef Watanabe and Joe connected over their LA ties, discovering one used to live there teaching other sushi chefs, while the other used to live there, eating lots of sushi.
I got the sense that not too many tourists make it out to Nakameguro, as numerous people kept asking if we lived in the area. Being mistaken for locals for the win.
It may not have the chaos of Ginza or Shibuya (which is only four minutes away by train, I might add) — but staying in Nakameguro made our Japanese experience that much richer. I'd highly recommend it if you're looking for a different experience in Tokyo.
LIKE A LOCAL: NEYAGAWA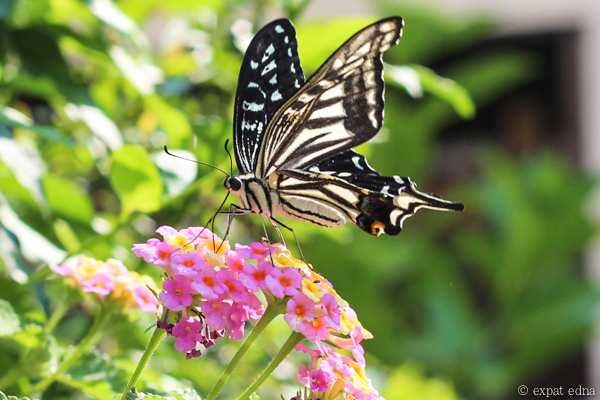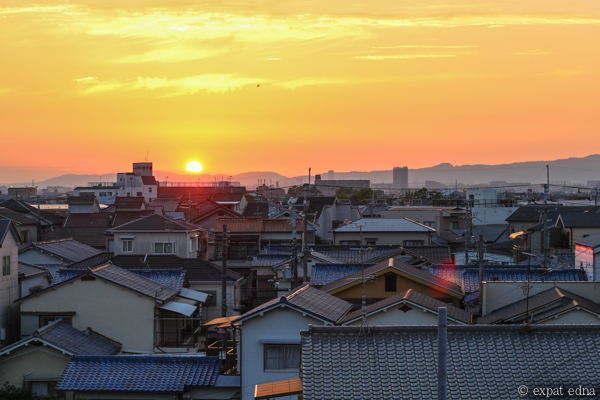 We sandwiched our Tokyo trip with an Osaka + Kyoto filling, yet we stayed in neither city for the three days we were out west. Instead we found a cheap airbnb in Neyagawa, halfway between the two cities. I was sold on the rooftop terrace and low price point, and the gamble paid off: Neyagawa was peaceful, quaint, and full of tiny alleyways that were oodles of fun to bike through — and empty enough that I didn't have to worry about the safety ramifications for its residents, given me on a bicycle.
Plus, the owner had two cats! Do you know how magnificent it is to come home after a day of sightseeing to a glowing sunset, beer, and cats on a rooftop balcony?
Normally I'd rather chain myself to a skyscraper than live in the suburbs, but Japanese towns know how to do it right.
JAPAN #IRL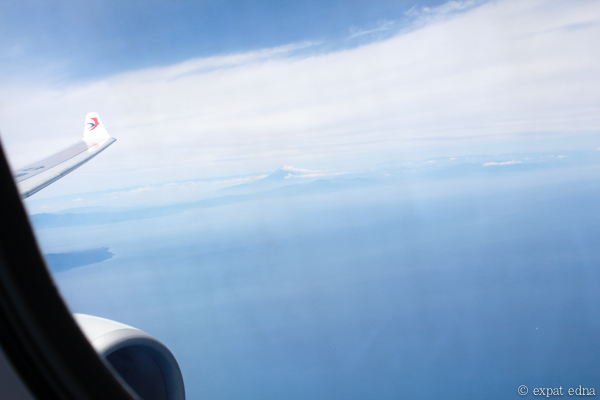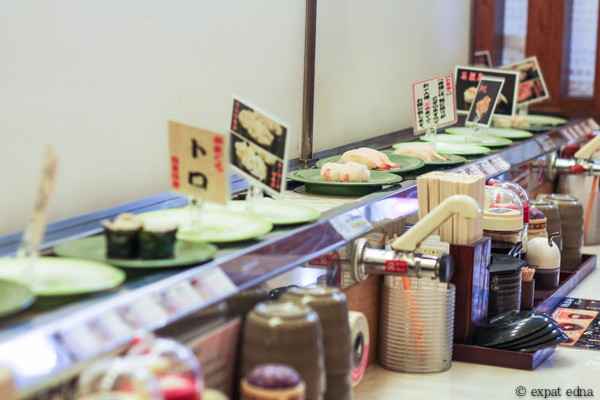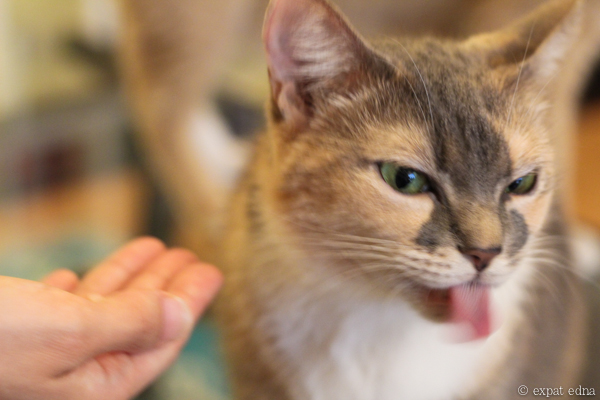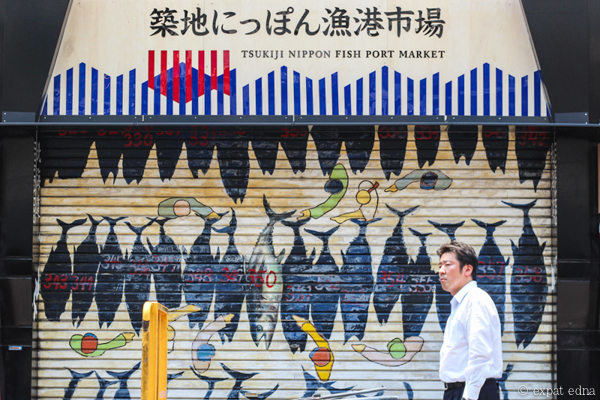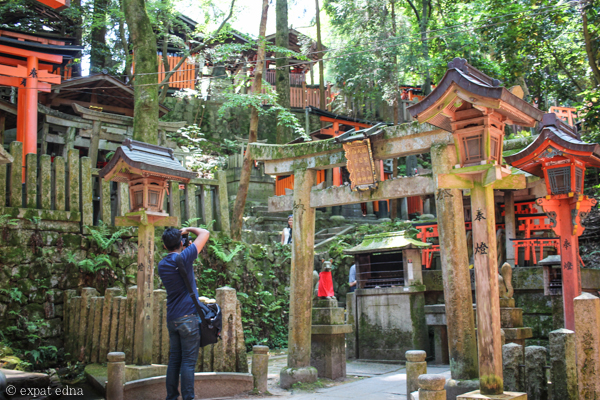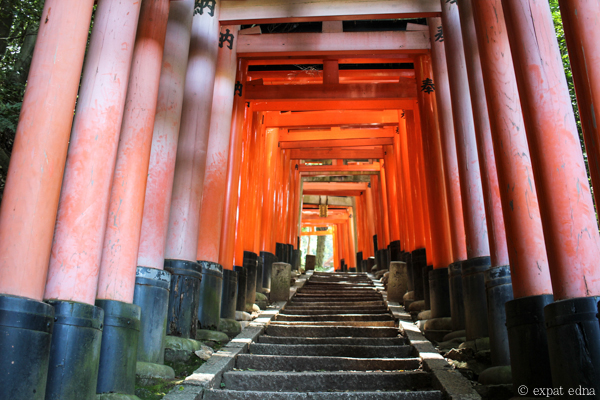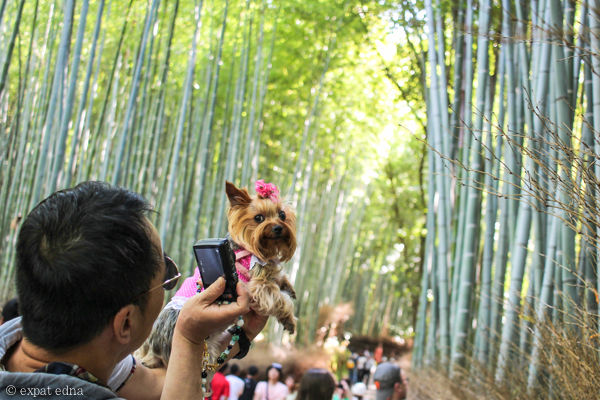 From seeing Mount Fuji from the air to pigging out at a rotating sushi bar; visiting a cat cafe to finally seeing with my own eyes the places that I'd heard about for so long — spinning Japan from a far-away travel dream into a reality was enthralling. Some places disappointed (I'm looking at you, Fushimi Inari and the Bamboo Grove), but other little surprises and delights popped up to take their place (see: a newfound love of vending machines) and the trip was every bit as wonderful as I'd hoped and expected. It was well worth the wait.
What countries have you visited that you found most or least surprising?