On the great booze divide, I'm very much in the beer camp. I'll take a good stout or blanche over a glass of wine any day.
If I'm going to be really honest? I generally can't tell a bottle of $40 wine from a bottle worth $4. I get nervous when waiters ask me to try the bottle first. I can smell if my wine has turned into vinegar, but that is the general extent of my appreciation of vino.
Also, I'm allergic to most red wines.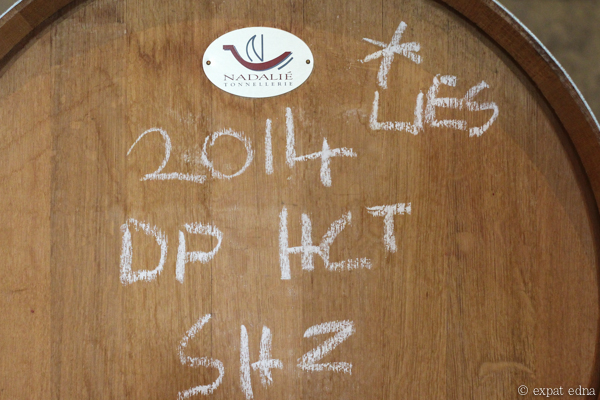 *No, cask of Shiraz, no lie.
So why take a wine tour? Why would I pay good money to spend seven hours drinking glass after glass of something I can barely distinguish from grape juice I left in the fridge too long?
(KIDDING, friends who like wine. I'm not that bad. Please still invite me to your dinners.)
Because wine country is beautiful.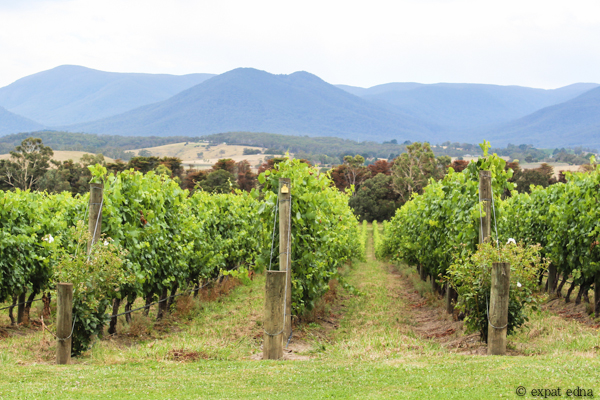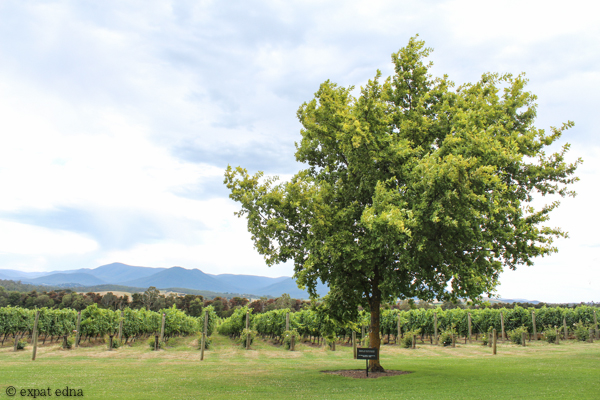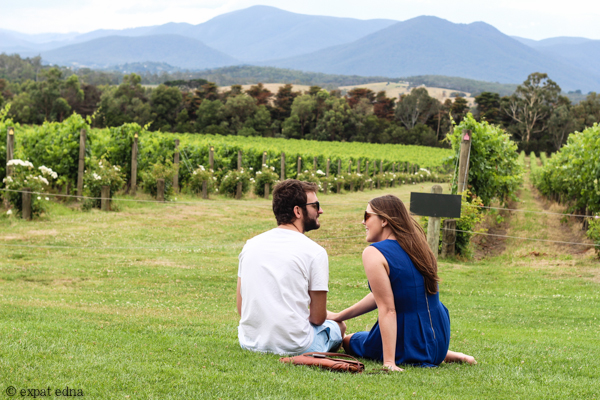 Case in point: Domaine Chandon, the first stop on our Yarra Valley wine tour. (They're the ones with the star on the label — related to but not quite the same as Moët & Chandon.)
Because Melbourne's Yarra Valley produces some great white wines.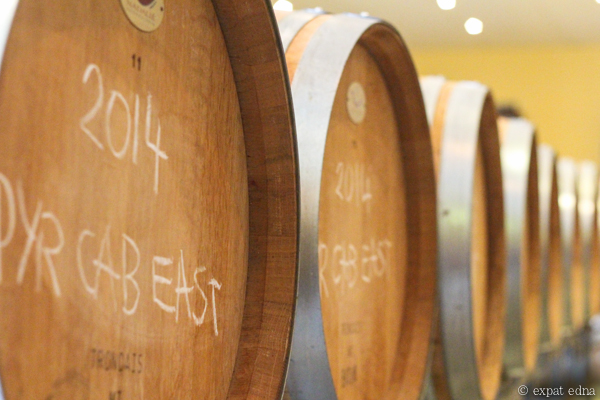 Or at least, I think they do (again, see above on my wine judging qualifications.) Joe said they were tasty so I trust his judgment. I don't trust mine; slap a Sauvignon Blanc label on any bottle of white and I'll probably love it.
Either way: the white wines didn't give me an allergy reaction that made me want to claw my throat out, so +1.
Because you get to try a lot of wine — and learn what you don't like.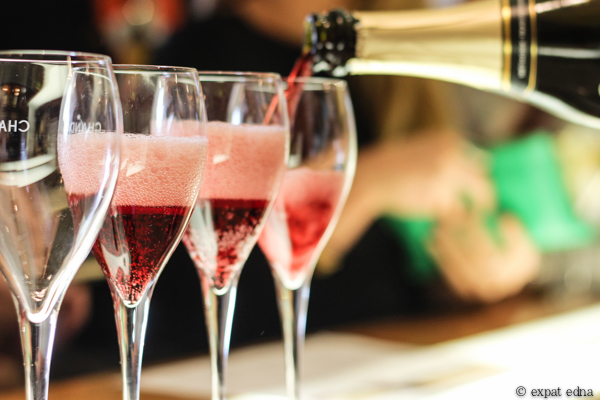 Like the sickly sweet bubbly rosé at Domaine Chandon. Or, really, most of the wines we tried there. Chandon, your grounds are lovely, but I'll stick to the Moët, thanks.
Because you get to discover new ones you do!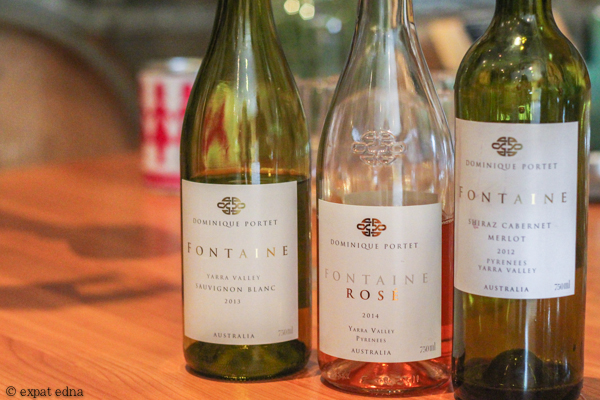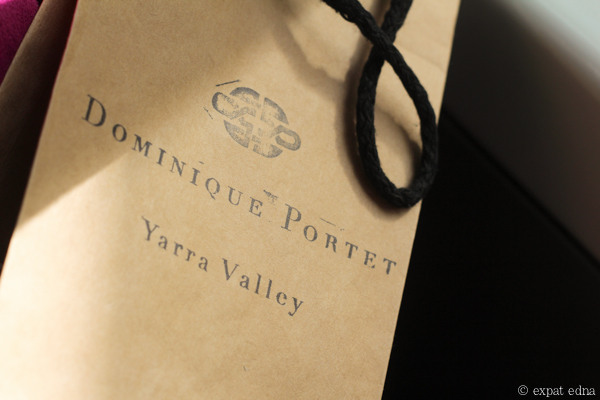 I'm not very adventurous with wine: I find a bottle I like, and stick with it. (Every host of every house party I've ever attended in Paris has received the same bottle of white Burgundy.) But wine tours get you out of that comfort boring zone and suddenly you're allll about the 2014 Yarra Valley rosé.
Plus they make great souvenirs for a friend, or yourself. We've got a bottle from Dominique Portet chilling at home, just waiting for the right oysters to accompany it.
Because it's good to get out of the city.
Even this diehard city girl has to admit, it's good to get out and into nature every once in a while. If only for a day…and if only to remember why you love the city so much. Absence makes the heart grow boozy!
Because, seriously, look how pretty: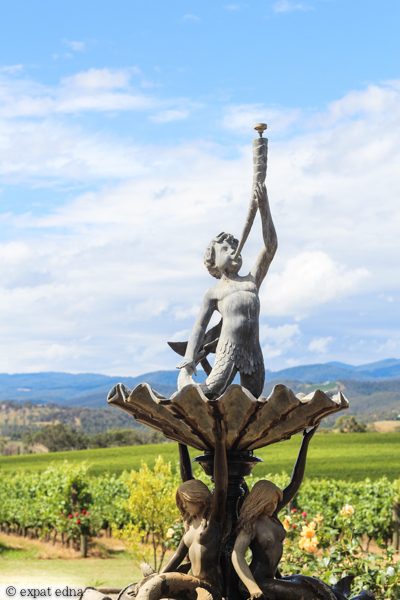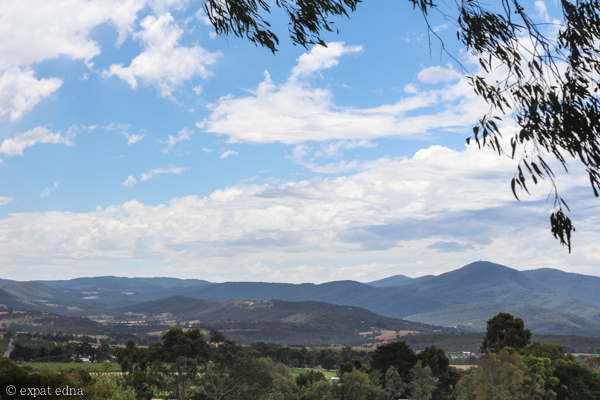 Pictured above: the vineyards of Tokar Estate and Coldstream Hills. Not the worst way to spend a Monday.
Because you like getting boozy with strangers.

Wine tours are a crapshoot in terms of company. I'll admit that at first, I thought the other 20-somethings in our van were loud and obnoxious, and only on the wine tour to get drunk.
BUT, by the end of lunchtime at the fourth vineyard, we had all bonded — and after eight hours together, we still stuck around after the tour and continued on at a bar (with beer!) in Melbourne's CBD. The others even invited us to a bunch of New Year's parties that weekend, and we were kind of bummed to decline since we were off to Sydney the next day.
Long story short: you never know who you're going to meet on these things, but it's hard not to like them after the sixth hour of wine tasting.
Where's your favorite destination to take a wine tour?
***
Practical Info
Yarra Valley is an easy day trip, about an hour's drive from Melbourne. After searching far too many websites, we went with Wine Tours Victoria. It was pleasant, great service, nothing to complain about, but nothing exceptional either. We paid 165 AUD (~130 USD) per person, which included a light tea & breakfast, lunch, and a visit to five wineries:
– Domaine Chandon
– Dominique Portet
– Coldstream Hills
– Tokar Estate (where we also had lunch)
– Punt Road (the guy here was super grumpy and passive aggressive, would not recommend.)