That's me!
In the lineup of a Literature Festival!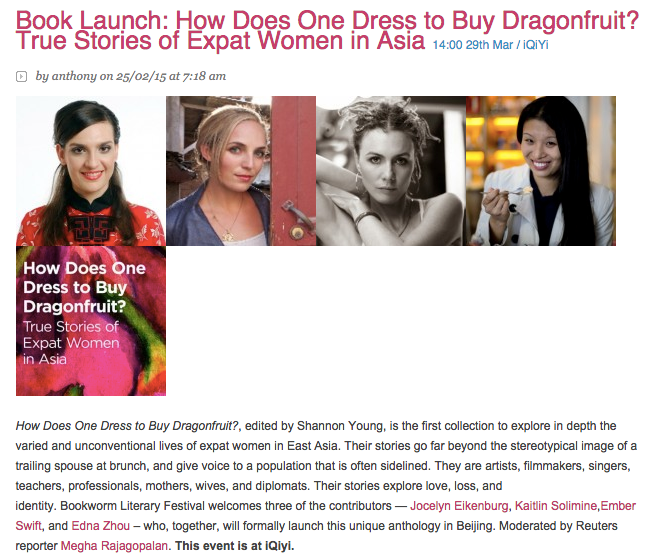 So last year, I was published in this book.
This year, they're launching the book at the annual Bookworm Literature Festival in Beijing.
Meaning this weekend, I get to discuss my essay — which was based on this post — in public.
I'm very self-conscious about both my writing and how I act in front of crowds, so this will either be a.) the coolest or b.) the most embarrassing thing I've signed up for yet.
But there's only one way to find out! So if you happen to be in Beijing this Sunday, stop by: we'll be here.
So spring makes me happy. Like, manically happy. In winter good luck dragging me out of my bed, but come spring, get out of my way because I will drown you in homemade crêpes and demand walks outside. I'm like a puppy with a pancake problem.
And lookit my apartment (above)! That light! The spring sunshine is gorgeous — it's actually turning me into a morning person.
So after a harsh and stressful winter that's really taken a toll, I'm ecstatic for spring!
On top of the Beijing trip, I have exciting plans for the next month:
Chengdu | The first weekend of April is a three-day public holiday, so I'm heading back to Sichuan province to see my Aussie best friend Feakes! But this time with Joe in tow — it's his first trip out west and we are gonna get our HOT POT ON.
Jason Mraz! | Waiting For My Rocket To Come was the soundtrack to many of my fondest memories in high school and college — times that were generally not full of fond memories. So when I randomly learned he was in Shanghai next week, I jumped on getting tickets. I don't go to many concerts, but I am so psyched to finally, finally see him live.
Philippines wedding | Checking off another 'finally' moment: going to the Philippines! A friend from Paris is getting married in Tagaytay in April; living abroad means I'm rarely able to attend friends' weddings so double hooray, a new country and a beach wedding in one trip!
BFF visit | My best friend from elementary school, Helin — we've known each other since the fourth grade! — is coming to visit as soon as I return from the Philippines. Ironically this is our first time in China together, even though our grandparents are from neighboring cities and we both made frequent trips back growing up.
New MacBook | I resisted as long as I could, but a combination of a dying battery + my charger eating it + a friend's employee discount (+ a willing buyer for my current model) means I'm getting one of the new Airs. With an extra memory upgrade! That may be the geekiest indicator I've used to feel like a real adult.
Happy spring! It's gonna be a good one, guys.