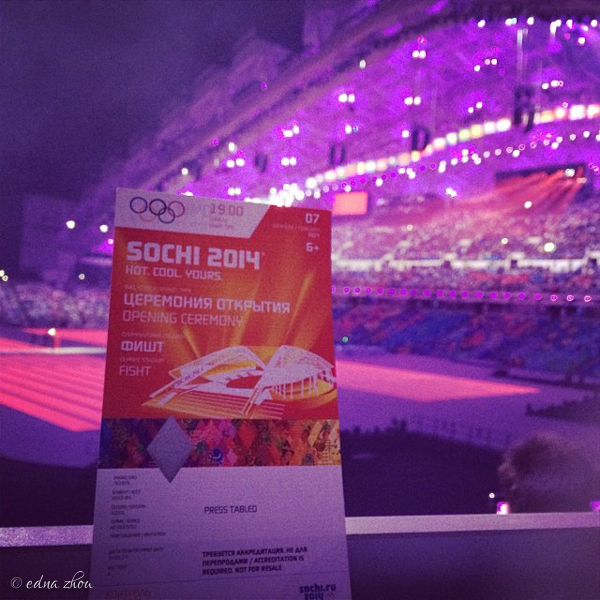 Today marks a year since the 2014 Winter Olympics began in Sochi, Russia. I never got to write about it at the time because, well, I was busy covering an Olympics. You're lucky if you get time to eat or sleep at these things, forget the personal blogging.
It was my second Olympics (the first one being London), and first Winter Games. I loved both for completely different reasons; but if I had to draw a comparison, I'd say my London experience was like Prince William — so good-natured, well-mannered and smooth you couldn't not love it — but Sochi was more like Harry: a little more carefree, a little more rough around the edges, a little more fun. 

The workload and schedule was still about as intense as Summer Games, but it definitely took some edge off to hear snowboarders giving post-race interviews on how "totally stoked" they were about winning.
(Figuring out where all the journos went after-hours helped too — I never went out in London which, really, just…total rookie mistake. SLEEP IS FOR THE WEAK and also that's what coffee and Powerade are for.)
And for the record, in my opinion the media reports of 'Olympic chaos' were greatly exaggerated. It was a solid Games, and I'd do it all again in a heartbeat.
Flying over and admiring the Olympic Park lit up at night, just seconds before landing in Sochi (that airport was super close to the action).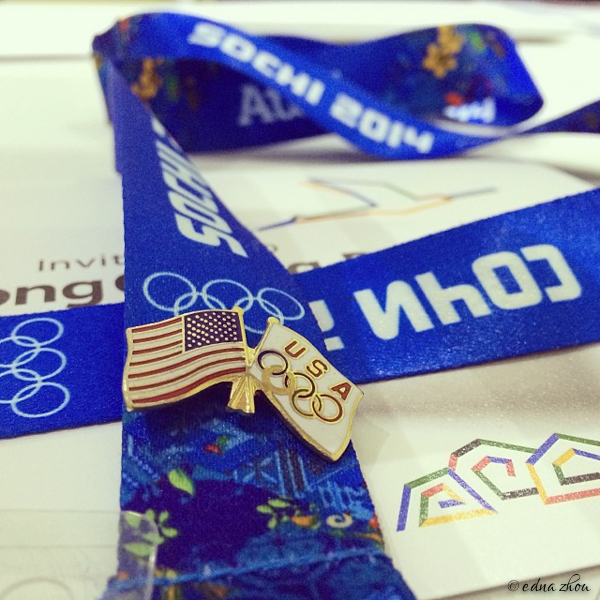 My accreditation with the first pin I happened to receive of the Games. Pretty appropriate.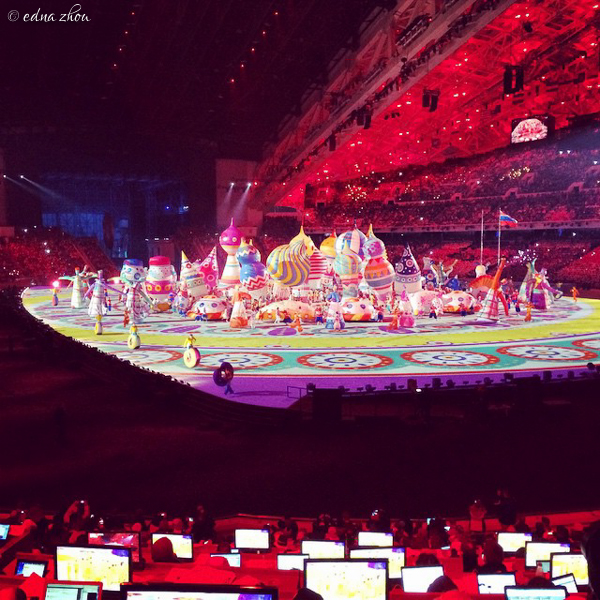 Opening Ceremony. The stadium was open roof, and therefore freezing, but so worth it.
Especially for THESE GUYS.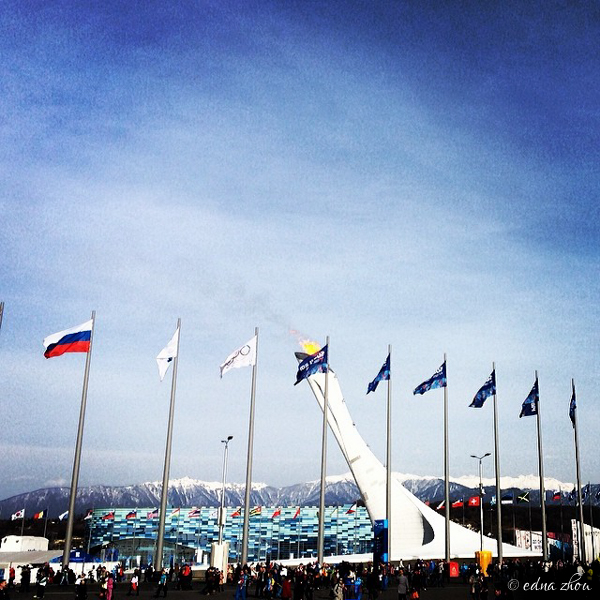 Mountains on the left, sun and sea on the right: having the venues close together was so convenient, and these views made rushing between events that bit more enjoyable.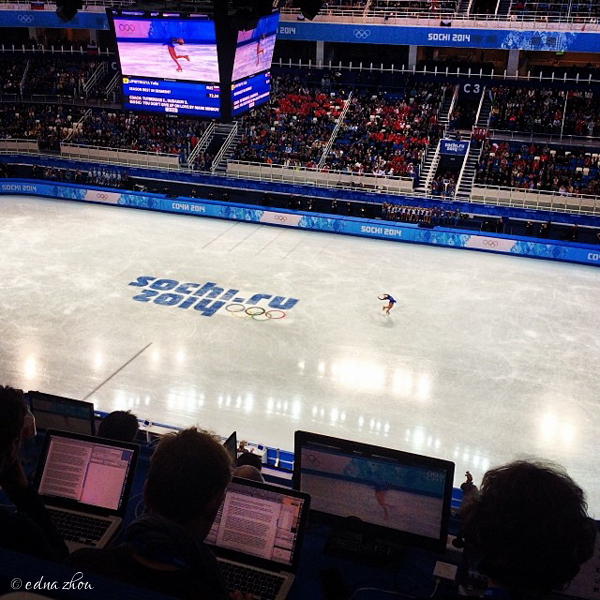 It was figure skating at Nagano 1998 that made me fall in love with the Olympics as a kid. From then on I always had one singular fire deep down that drove me: from high school to college to moving abroad, everything I did, I did to 'one day' get to the Olympics.
To find myself 16 years later actually at my first Winter Games, covering it live, and getting to cover the figure skating event that started it all — was a totally amazing, confounding, unbelievably surreal moment.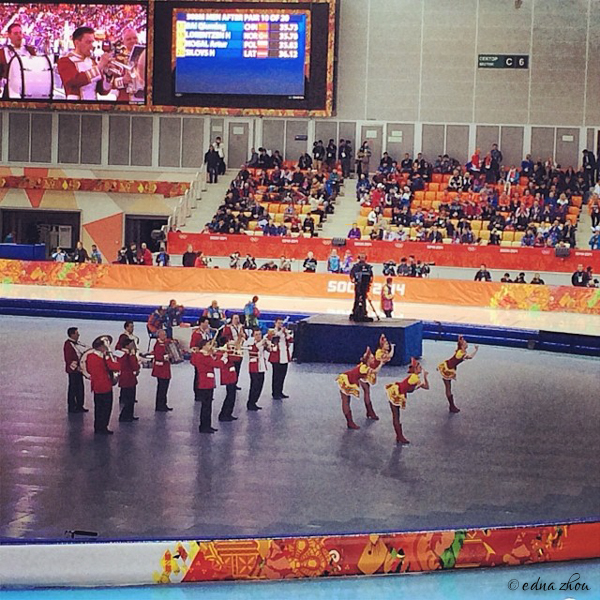 Aaaand then there was the oompah band.
(While unexpected, apparently they are quite the mainstay and have been at Olympic speed skating tracks for decades.)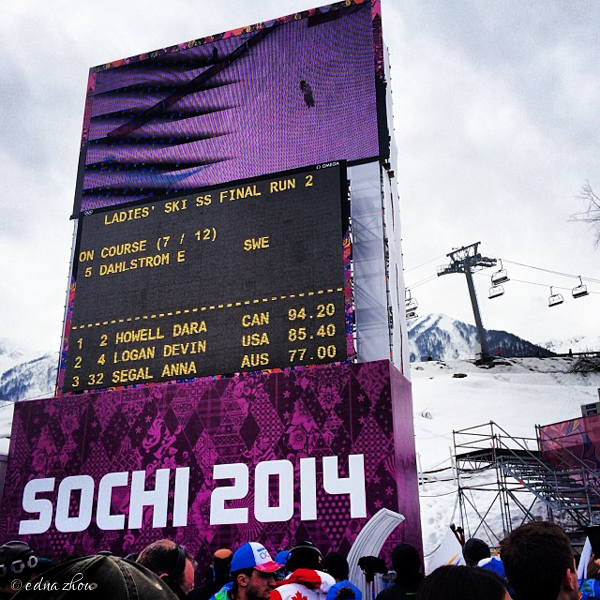 I mostly covered events in the Sea Cluster (figure skating, ice hockey, etc), but I did make it up to the Mountain Cluster to cover two historic events: the inaugural ski slopestyle and first-ever women's ski jump.
Sochi saw the first-ever Olympic women's ski jump, which came about after decades of lobbying for the right to compete and fighting some oft-quoted misconception about women's bodies not being able to physically handle the demands of the sport.
It was pretty satisfying to watch the historic event. I caught this shot of gold and bronze medalists Coline Mattel and Carina Vogt sharing a smile just before their post-win press conference.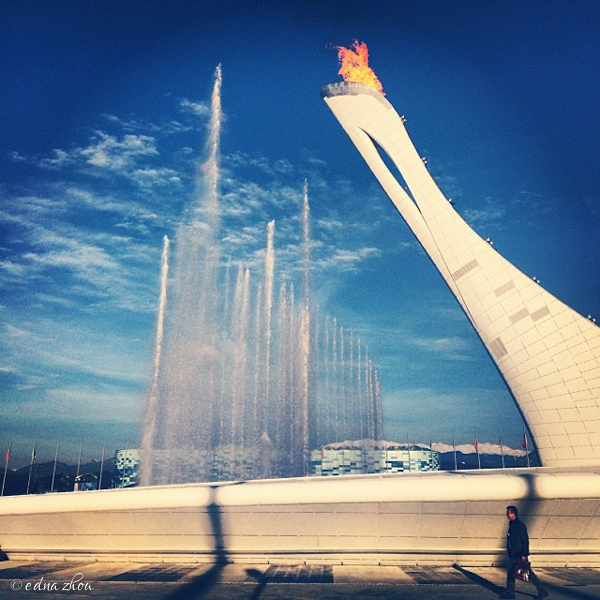 The weather in Sochi was b-e-a-utiful. So many gorgeous, sit on the patio, coats off, sunglasses on kind of days.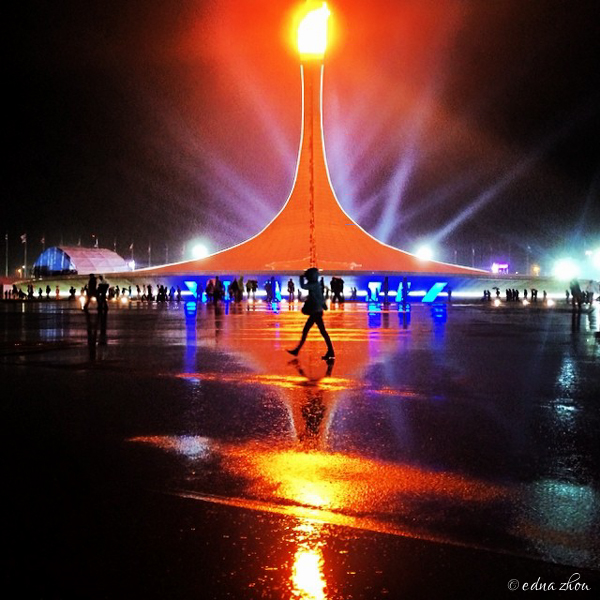 It didn't look so terrible on the rare night or two of rain either — hard to, with an Olympic flame like that.
The rings of the Bolshoy Ice Dome, where I spent most of my last few days in Sochi covering the ice hockey (or, as every Canadian yells at me, "IT'S JUST 'HOCKEY'"), as seen through the rings of the Olympic Park.
I met some pretty cool people here, including an American diplomat sent from the embassy in Moscow, and many curious, kind, and enthusiastically warm Russians.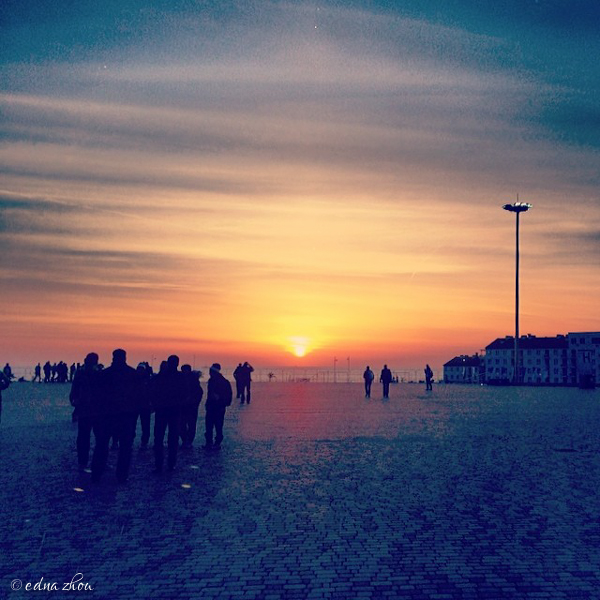 Sunset on the Black Sea on the final day of the Games.
*There are so many photos and memories that never made it onto Instagram (Swiss House! Michelle Kwan! All the Canadians!) — I may put them up in another post, if there's interest. 
Follow me on instagram @expatedna
What's your favorite photo?