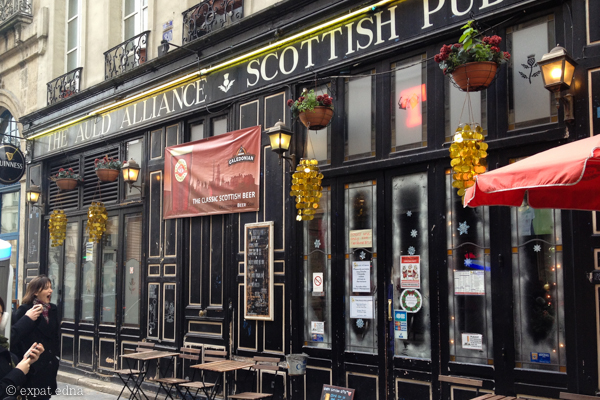 There are few times you can look back in your life and point to an exact moment and say, There. That's when everything changed.
For me, that was … a pub crawl.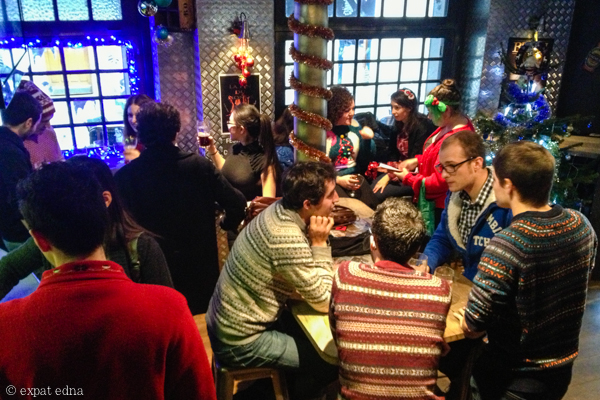 My first year in Paris, as most people know, was solidly blah.
I didn't like the city, I didn't get the city — and had I left at the end of that year (as my original contract stated) I would have done so with a wholly unimpressed, zero-net-gain outlook on Paris.
But two years ago today, I decided to join a pub crawl — on a last-minute invite, hosted by an Irish couple I didn't know, who were relatively new friends of a very new friend.
That day, I was introduced to the people and places that would shape, define, and totally make my second year in Paris. (thank goodness I got that contract extension, hey!)
I didn't know it then, but the hosts' apartment in the Marais — and that view of St Paul — would become like a second home to me; over the next few months it saw numerous impromptu parties (including my not-as-impromptu 24th birthday), Arrested Development marathons, or nights we'd just call in for a cup of tea.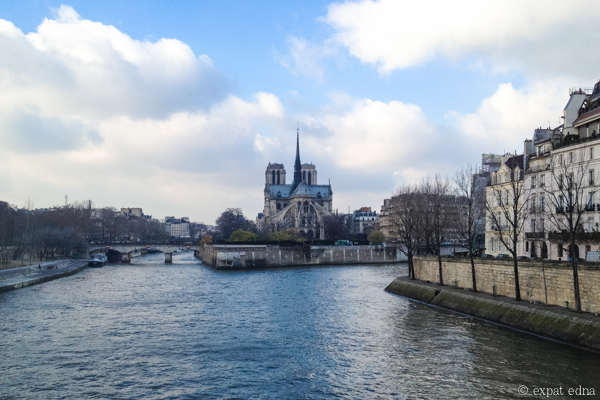 I took this photo on our way to the first bar thinking, "Man what a view!" (Living out in the 16th meant the îles and Notre Dame were a minor commute to reach.) I never would've dreamed that six months later I'd move onto this island: this would be my neighborhood, my daily picnic spot.
By the time I left Paris I had about 3058190 photos of this view.
Andy would become the good friend who always said yes to things like spontaneous roadtrips to Belgium, late-night couch crashing, sanity-saving visits to small-town Italy, beer expeditions — and was the one person who shared my love of terrible, awful, just-the-worst puns.
(What does a nosy pepper do? Gets jalapeño business!)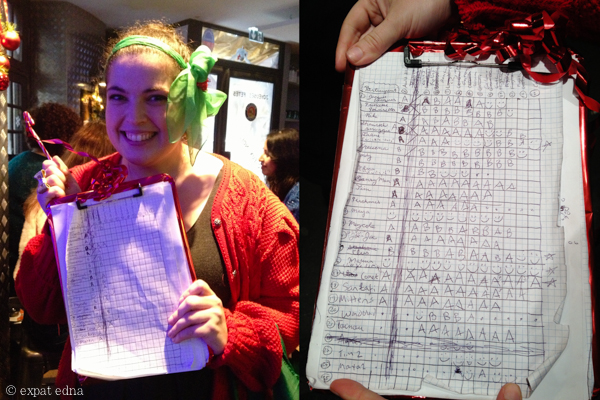 Marina, who was strictly manning the 12 Pubs rules and clipboard that day, would turn into the friend I could always count on for a laugh, some culture (because I have the art knowledge of a bored kindergartener), and the best-decorated parties — which means I can't wait to attend her wedding next summer!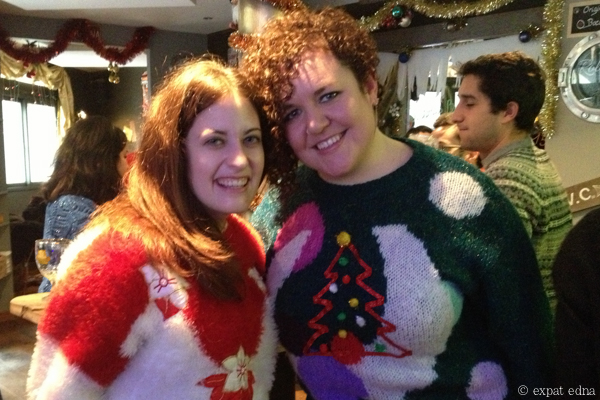 And Sara and Kerri became the friends who were always up for a picnic, always put me up when I needed a place to crash, always there for everyone — even to this day I still email, text, Skype them regularly: these are two of the most supportive people in my life. So it's pretty awesome that I met them wearing these sweaters.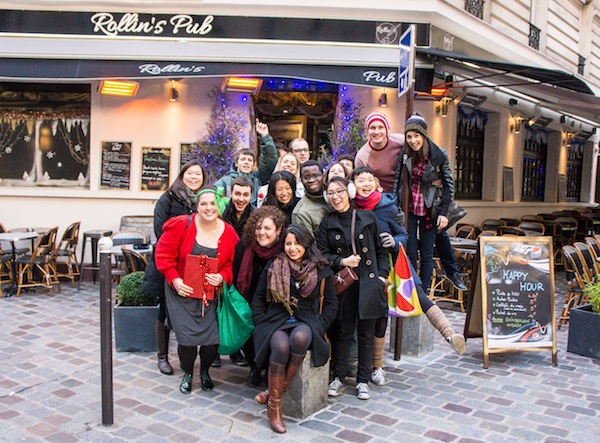 I won't go on, but there are so many I met that day (clearly, look at how many people fit in these photos) that changed the course of my Paris life — the girl who became my roommate, the guy I'd end up traveling the world with for over a year — so that I grew from indifferent to loving the city a disgusting amount, and now talk about it like every other clichéd Paris-obsessive out there.
It all came down to 12 Pubs.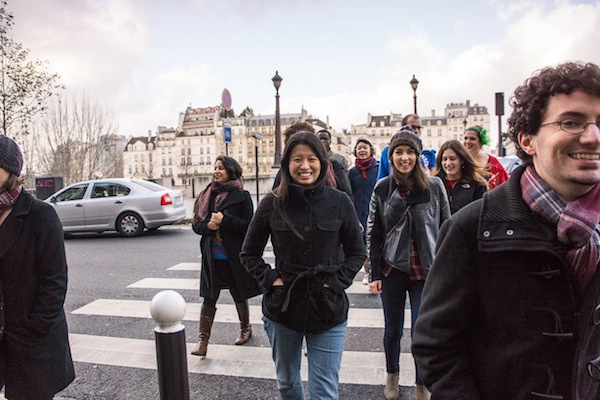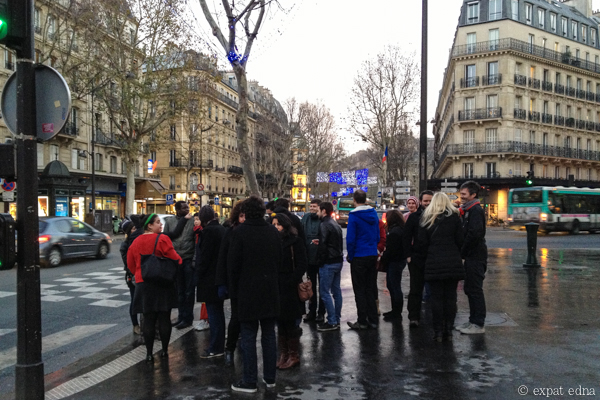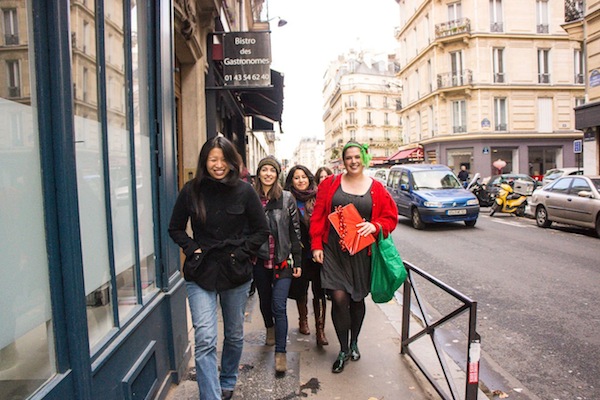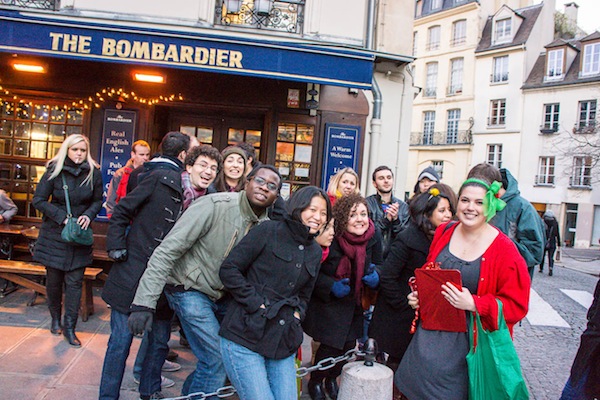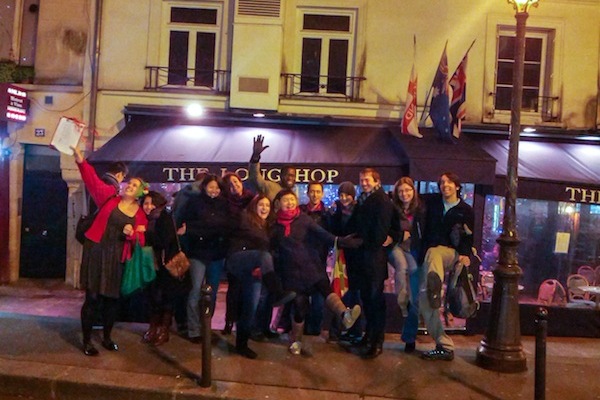 The Long Hop: where two months later I'd get a crazy asthma attack and bonded even more with the group as they gave me helpful pointers on breathing
And that's also why I don't mind writing up this post that isn't relevant to anyone but myself and the people who were there. (by the by, the fun wasn't just due to the 12+ hours we spent at bars — I wasn't even drinking that night and spent all of it sober!) It was the start of what would become an extraordinarily fun and special time in Paris, and so 12 Pubs is dear to our hearts.
Pub Zero
So for the Paris gang, enjoy the photos and the memories. I miss you guys something fierce.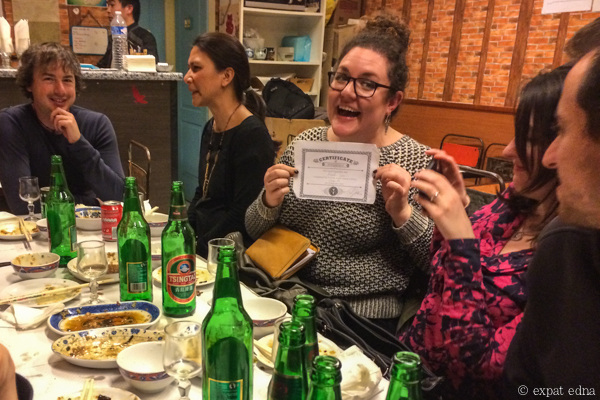 March 2014: fifteen months later, and some of us still find we've kept the pub crawl certificates…
For everyone else, the TL;DR expat lesson is: it's always the people who make the places. 
***
And for those interested ('tis the season!), our 12 Pubs of Christmas à Paris:
The Route (start around noon, approx 50 min each):
The Auld Alliance: Christmas Attire
Rollins Pub: No Names + Fake Accents
(Finnegan's Wake/Connolly's Corner are also options)
The Bombardier: Left Hand Pub
The Long Hop: Swapsies
Le Gentleman: Straws
FOOD BREAK (this is important!)
Corcoran's
Le Galway
The Great Canadian
The Highlander
The Frog & Princess
Coolín
The Guidelines:
Christmas Attire: wear something Christmas-y. Holiday jumpers are the ideal uniform.
No Names: Do not use names, must find alternative means to communicate with fellow participants
Fake Accents: Each person must pick an accent and converse in this way for the duration of the pub
Left Hand Pub: Can only drink while holding with your left hand
Swapsies: Participants must swap an item of clothing with someone else for the duration of the pub
Straws: Participants will be provided with a drinking utensil to aid their consumption
Participants who are found to breach the above guidelines will choose from the forfeit options listed below
The Forfeits/Concessions/Penalties:
– Sing the chorus of Where's Me Jumper (which will get stuck in your head for the next month)
– Drink a shot
– Drink 2-4 fingers' height of your beer
– Do an Irish dance!
non-marked photos via