If you like aqueducts and suckling pigs, boy do I have the day trip for you.
Segovia is a small town outside Madrid, about an hour's drive or thirty minutes away on the fast train. It's one of those towns so old and full of preserved historical goodness it's been deemed a UNESCO World Heritage Site, along with its famous Roman aqueduct (built around AD 50, according to the fine people at UNESCO.)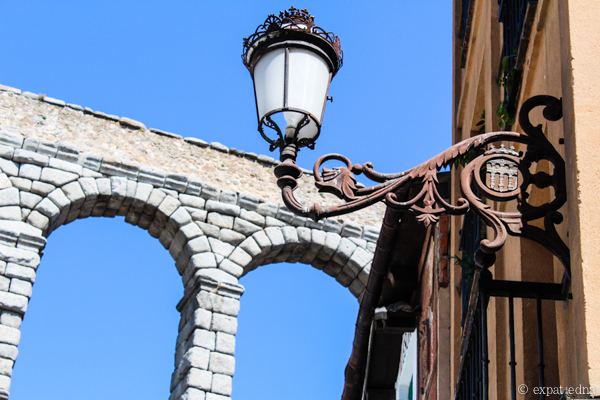 The aqueduct is also the city symbol, as proven by this aqueduct-marked lamp in front of said aqueduct.
So what do you do with a day in Segovia? Here's what worked for our merry band of six:
Walk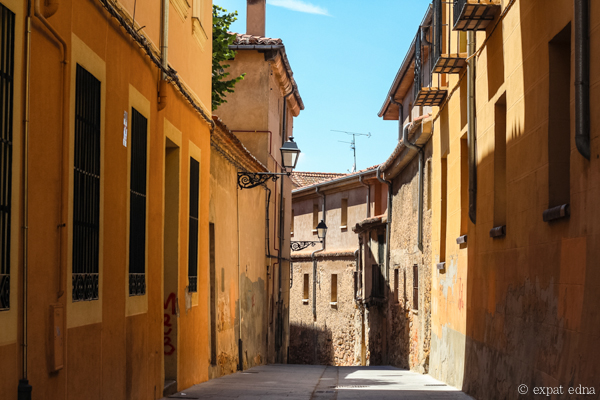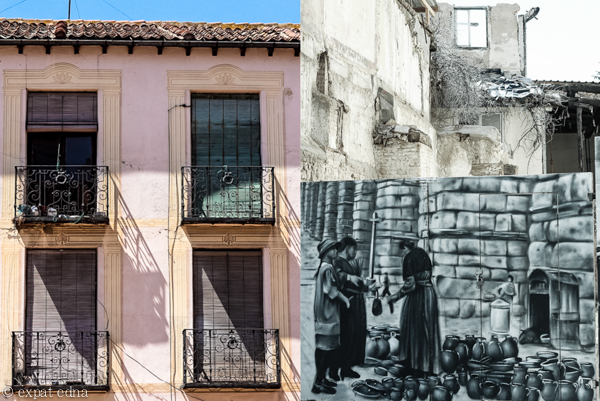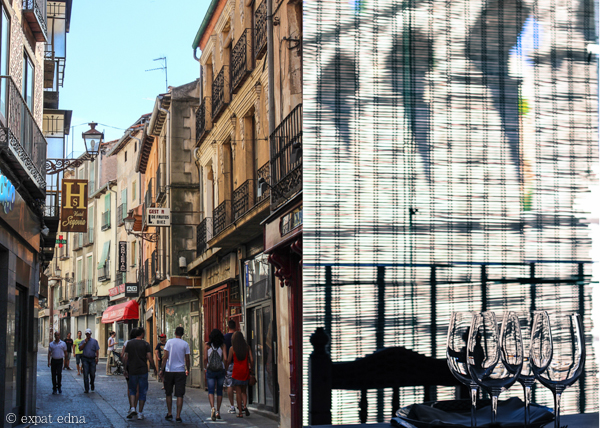 Segovia is colorful and pretty in that classic Spanish way, and small enough that you can let yourself get enjoyably lost without having to worry about suddenly ending up in the next country over. So go ahead and wander the old town a bit.
The steps around the famous aqueduct are also an easy climb, and provide a nice vantage point over the town: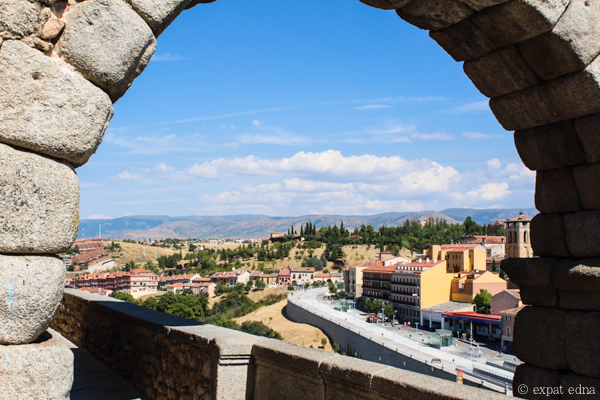 And when you need to nip off for a siesta, look how handy! The aqueduct suddenly becomes your nap-shade savior.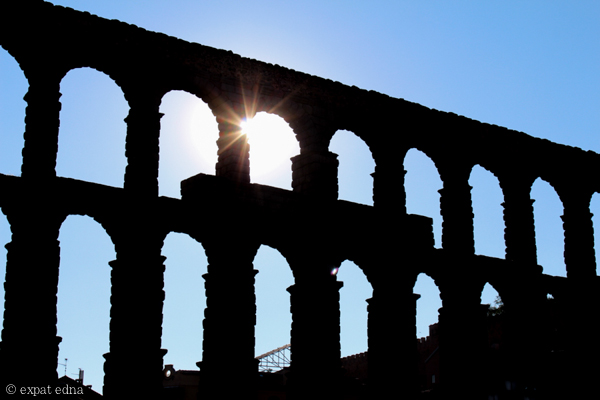 Eat
Sorry vegetarians, but…we mostly came to Segovia for one reason: the suckling pig.
The Segovian piglet (or cochinillo asado) is famously delicious, and carefully regulated: they are only fed with their mother's milk, must weigh between 4.5 and 6.5 kilos, be no older than three weeks, and sold whole with a blue label in one ear.
We made reservations at Méson de Cándido, where the food and service were great, sure — but the most memorable part of the experience was when they actually presented the pig.
It went like this:
Step 1: Elderly man with regal purple medal sash regally announces the history and cultural significance of the Segovian roast suckling pig (throwing in one English sentence with a smile our way for about every thirty Spanish ones).
Step 2: Regal man takes porcelain plate — not to serve the pig — but to our surprise, to VIOLENTLY ATTACK the roasted baby pig in half with it. (We assume this proves how impossibly tender and worthy of our lunch it is.)
Step 3: Still not finished being the master of surprise, the regal man raises the plate high above his head…
Step 4: and — flick of the wrist — mic-drops the plate with such panache it would put Kanye to shame.
(Step 5: Young unregal busboy immediate comes out like a Roomba on autopilot, probably sighing as he sweeps the shards of yet another broken lunch-hour porcelain plate off the floor.)
Explore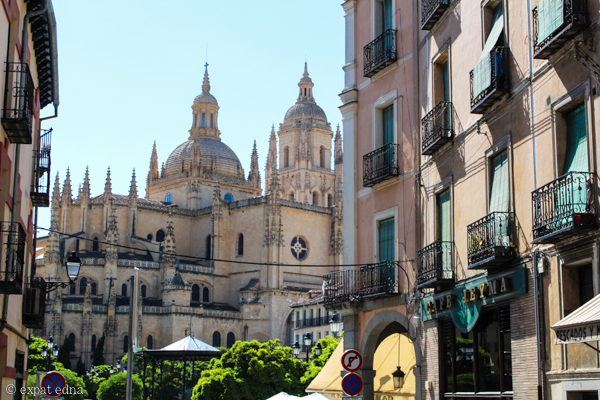 Should you want to actually see things rather than just aimlessly wander, head for the Plaza Mayor — which is also a nice spot to have a post-lunch espresso and beer and people-watch.
There is also a cathedral in this plaza, which is a nice spot to send your more cultured friends to feel cultured while you enjoy your second beer.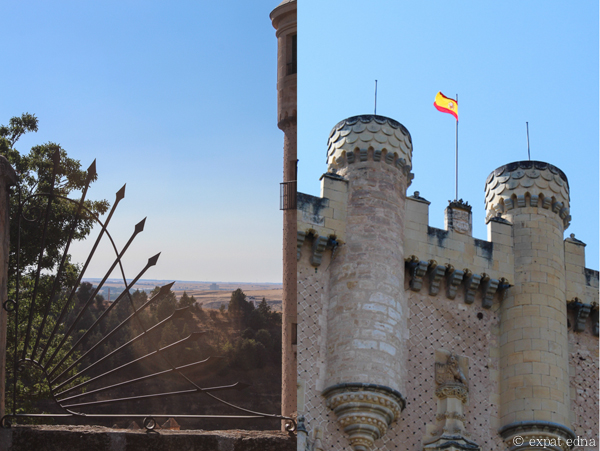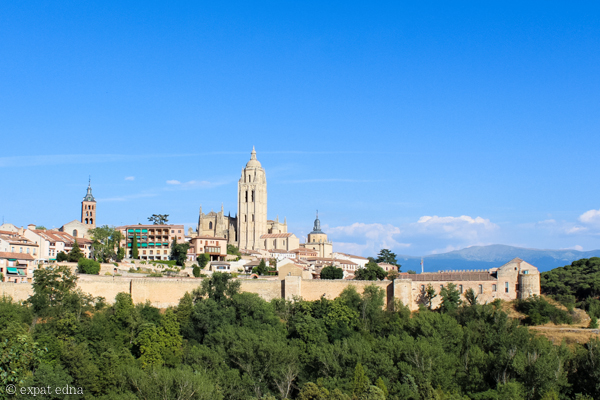 And finally, there is the Alcázar de Segovia, a beautiful medieval castle on a cliff overlooking Segovia and the Spanish countryside (and supposedly, partly inspired the castle at Disneyland). You can climb up the towers for a fee, but I was fatigued from sun and walking and pig, so I happily gazed out into the Spanish countryside for a good long while instead before rejoining my friends for the train back to Madrid.
TIPS
If the fast trains sell out you can take two-hour slow trains, but the cost difference isn't that great and the slow trains are really appropriately named (it takes twice as long as driving would!) — so try to pick up fast train tickets from the station before they sell out.
Make reservations at the conchinillo asado restaurants at least a day ahead because they fill up fast — but also because roasting those things takes time and giving advance notice is just being polite.
Anyone else been and have Segovia advice?
Other bloggers on Segovia:
Segovia: You Eat the Baby Pig WHOLE??