So I've been back in Paris for nearly two weeks.
Before anyone gets too excited! — I'm not staying. I'm only here for one more week, taking a breather before heading to Belgium and Amsterdam.
But remember that last personal post, where I said that after Sochi, I could be anywhere? Well, I chose anywhere to be here.
On some level, things are still as complicated as were nine months ago, when I thought I was leaving Paris; as six months ago, when I actually left and moved to Italy; as three months ago, when I left Italy, backpacked around Europe, and was headed back to Asia.
But on another level, some things have gotten infinitely better.
For one, I left my job. It was a tough choice and — believe me — there is so much I'll miss about it (the travel and the people and the Olympics, for sure). But ultimately, I know it was the right decision.
Which opens up a whole new can of crazy: where do I go from here? should I stay in the industry? can I stay in the industry? should I job search in Europe? or Asia? or try something completely, totally new?
Until I figure that out, I'm simply enjoying being back in Paris, and being free for the moment.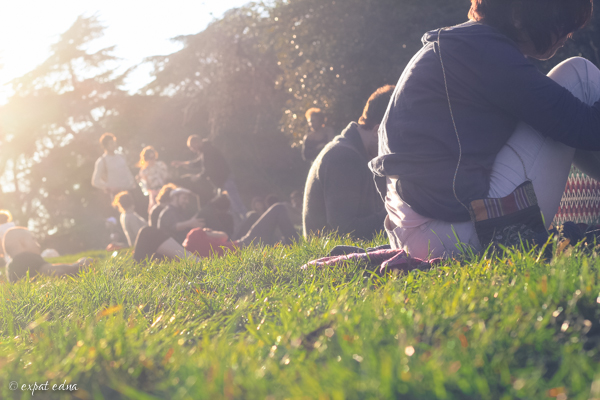 Being back feels natural. Ever since I stepped off the train in Gare de Lyon and dragged my bags down to Express de Lyon for welcome back Belgian stouts, my Paris life has seemed to seamlessly pick up where it left off — the only differences being that this time, I have to pay for metro tickets (ah how I miss my Navigo) and oh my god there is so much sun.
We've been renting a tiny studio in the 3eme — one of those tiny Parisian apartments that makes my old place in the 16eme feel like a mansion — but the location has been gold (for those who know Paris: we're across the street from Merci and Blend, a couple blocks from Pierre Sang and the Marché Bastille, and literally around the corner from Deux Fois Plus de Piment. Right?!).
I still have yet to actually see the Eiffel Tower or Louvre or Montmartre since I've been back, and most days I forget to bring my camera out with me.
My daily routine mostly consists of going to the market, cooking, picnicking, napping, seeing friends, late nights at Red House, and the occasional dim sum brunch / house party / movie and pizza night thrown in for good measure.
And cheese. So much cheese.
Plus, the weather has been nonstop gorgeous — it wasn't even this nice in June last year — so we've been making a point to get out and walk for at least an hour or two every day. I may have developed a throat infection from the current pollution haze, but it's worth it to rediscover Paris on foot.
Is this kind of life wonderful? Absolutely. Is it sustainable? Absolutely not.
I'm well aware how much I need to find a new job, and a new city, and stop being so all over the place already. I mean, I've been living out my suitcase for nearly nine months now.
So in a way, things are just as complicated as they ever were.
But for right now, I'm happy.
PS, can I just say — a HUGE thank you to everyone who recommended music and checked in on me after my last personal post. I can't believe how thoughtful and awesome you guys are.