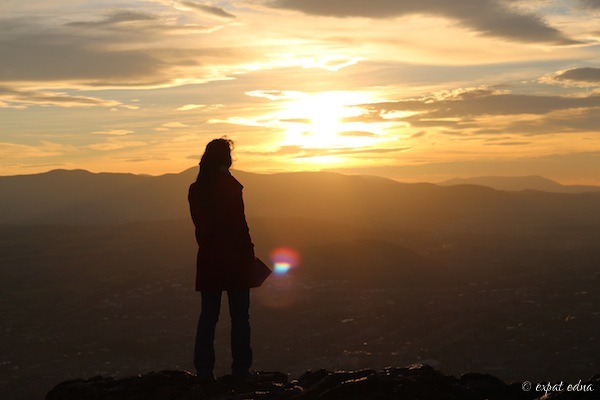 This was me five weeks ago.
It was only a week and a half into our big European backpacking trip (though it felt like we'd already been on the road for so much longer!). We had just climbed Arthur's Seat, were watching the sun set marvelously over Edinburgh, the weather was perfect, and I remembering being so damn happy. The trip, the company; the stouts and scotches — life was so, so good.
Today I didn't leave the apartment.
I've been paralyzed since arriving back in Asia last week. My heart hurts. My head hurts. Everything is in upheaval. (And yes, I realize this is becoming a recurring theme. At some point I'll return to writing about travel.)
If it was just one thing, I could tough it out. But it's multiple difficult situations at once, and I'm struggling to deal with it all in a mature, adult manner (because the current method of hiding under the bed covers is, while comforting, not wholly productive).
One big surprise is how much I miss Paris. For two years in Europe, I would not shut up about Asia and how much I missed it and couldn't wait to get back.
Of course, as soon as I get out here, I discover: Europe changed me a lot more than I realized. (and if one more person tells me 'the grass is always greener' I am going back under the covers.) This just isn't the place for me anymore. Asia was a chapter I closed, and it should have stayed closed.
(I was watching Parks and Recreation this afternoon, and at the end of the episode they unexpectedly cut to scenes in Paris — and I burst into tears. Over Paris! Who would have thought.)
Another big question mark is where I'm going to live this year. ("So where are you living now?" has become impossible to answer. It's even worse than hearing about the location of greener grass.) I'm not sure I can stay in Asia (though I may or may not have to, which may lead to other big decisions), but returning to Europe isn't so simple either. I have things planned out until just after the Olympics, so from the first week of March on, I could be anywhere.
…which would normally be exciting, but at this point I'm so tired of being unsettled. I've been living out of boxes since last June, and living out of a small suitcase since November. I don't regret any of it — the adventure was absolutely worth it — but to face another two, four, possibly seven months of moving from country to country, crashing with various friends and family, every few weeks? It's not me. I'm not a backpacker, I'm an expat at heart. I miss having a long-term base, a home, a community.
I realize all of this makes me sound like a quarter-life crisis cliché, but it's where things are right now and I find writing about it helps. I'm sure (at least I hope) at the end of this year I'll look back on this post and laugh at what a little ball of stress I was, but I've never started a new year off with so much uncertainty. Big decisions and changes are on the horizon.
Finally, one request: all the music I have is tied up in too many memories, and I need new playlists. So help me out: what are some of your favorite bands/albums?
photo of me taken by joe