I had this silly notion in my head that whenever I returned to Paris after I'd 'officially left', I'd run around revisiting the favorite restaurants I missed. After all, my Paris time was now limited to the occasional weekend here and there — did I really want to take a chance on new places that would possibly disappoint? Stick with what you know and all that, right?
Well, I went back four times in October and November, and I don't think I went to a single one of my previous standbys (bars excluded, of course).
The thing about Paris is that you'll never run out of new places to try — and that's probably a good thing. Ruts are boring and Paris just has so darn much to offer.
I may be fond of my old haunts, but I'm pretty happy to have discovered these new ones too:
1. Steak and boudin noir — Le Severo

A tiny corner restaurant that could easily be mistaken for just some locals' joint, Le Severo consistently tops numerous "best steak in Paris" lists. It's the kind of place where the owner doesn't offer you a taste of wine after he opens the bottle, but instead sniffs the cork with a professional flourish and decides himself. It's the kind of place where asking for your steak well-done will get you a shake of the head and an outright, "No." So keep it simple, order the boudin noir to start, the côte de boeuf a point (or for some real respect, saignant), a nice bottle of red, and enjoy.
2. Brunch — Holybelly

A whole crop of new cafés have opened up in Paris this fall, but something about Holybelly just clicked with me from the moment I checked out their facebook page. Maybe it was their quippy chalkboard ("we might have ruined Paris but we brew a mean cup of coffee" was a recent favorite, in response to Hipster-gate) or the delicious-yet-affordable brunches, or the hip banter-ready staff — whatever it was, I wanted to try to whole menu at Holybelly (it took me ten minutes to decide on the pancakes), and it makes me genuinely sad I won't be around for more weekends in Paris to do so.
3. French onion soup — Cafe St Regis

Onions and I, generally, do not get along. I tolerate them sometimes, like the obnoxious girlfriend of a good friend — you know they're going to be around, and sometimes they're even necessary, but given the choice you'd rather not invite them to dinner.
But one day, trapped in the midst of a horrendous sleep-deprivation/hangover combo, I found myself at Cafe St Regis because I didn't have the energy to even make it off the island, and I ordered the soup because I didn't have the strength to chew real food. And that's how I found myself falling head over heels for a soup that changed my worldview on onions — this is a bowl of rich, cheesy happiness (subsequent visits have confirmed it's just as delicious when not a hungover zombie), good until the last drop is mopped up with bread. These onions are welcome in my life at any time, especially during the cold clutches of a Parisian autumn.
4. Seafood — Le Table d'Aligre

Four reasons to visit Le Table d'Aligre, in no particular order:
Fantastic starters. Razor clams, scallops, anchovies — they're so gorgeous, I could eat the whole starters menu as a meal.
Fresh, fresh fish — which the waitress brings out in a large tray to your table, glistening on ice, to inspect and give the a-ok before she hands it off to the chef. (Although the fish itself is just alright; see recommendation above about starters instead.)
Sorbet. Outstanding.
The decor upstairs makes you feel like you're dining in the Abominable Snowman's ski chalet. When reserving, ask for a table on the second floor. It's the best.
5. Syrian food — La Rose de Damas

I wouldn't have given this non-descript restaurant on Boulevard Saint Germain a second thought had it not been recommended by an Egyptian friend who said the Syrian food here was legit. So another evening, when it was too cold and I was too exhausted to walk very far, my friends and I traipsed over the bridge to try this place for ourselves. And while I know nothing about Syrian food, my worldly dining companions said it held up pretty well. Plus, if I can eat raw beef while sick and still enjoy it, that's saying something. Don't miss the lamb on hummus and the rose flan for dessert.
Honorable mention: Le Refuge des Fondus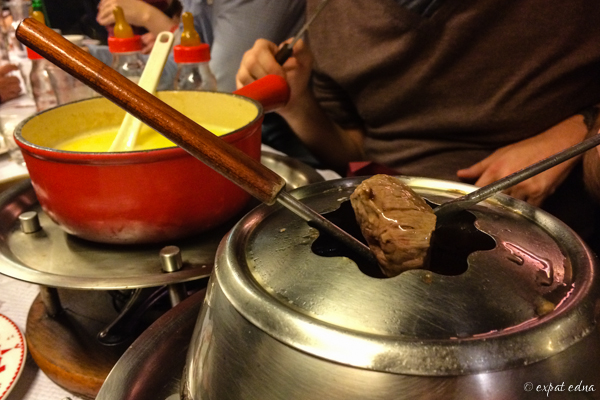 I'll tell you right now, this isn't the best fondue in Paris.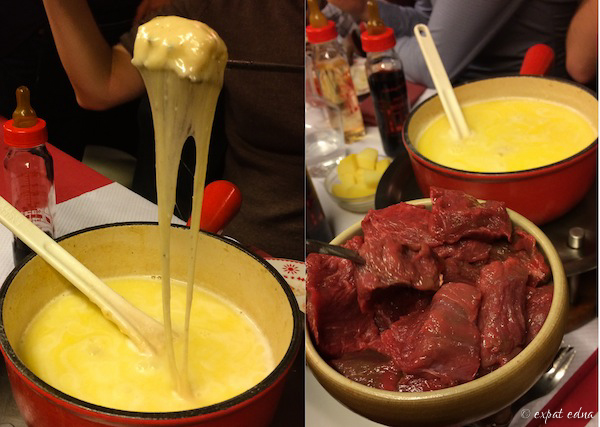 But it is a place where you have to step on the table to get into your seat.
And a crotchety middle-aged French server will make mildly offensive jokes at your expense but somehow still come off as gruffly charming.
And you drink wine from a baby bottle.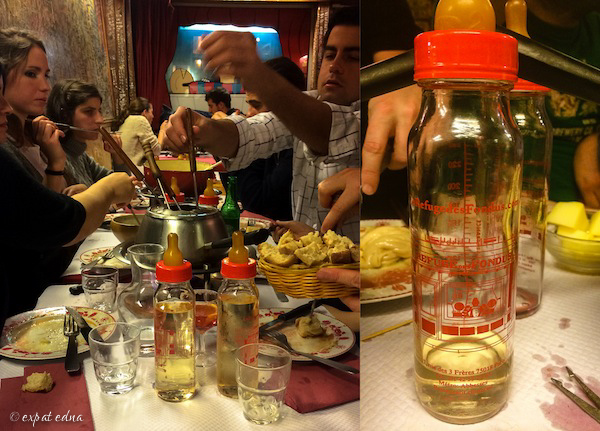 Cheese, bread, meat, wine, Frenchmen — it's the perfect place to let your hair down and kick off one final debaucherous Paris weekend with two of your best friends before you all leave for new adventures.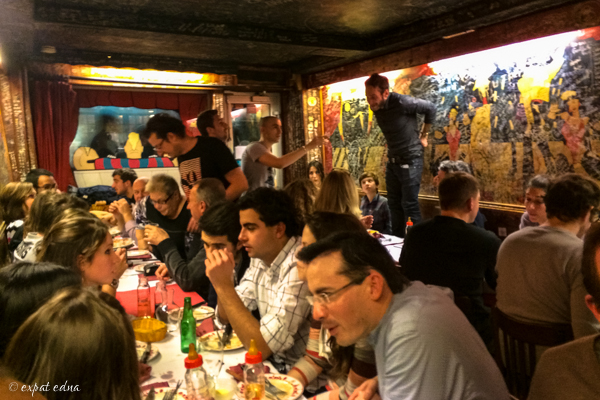 To Joe and Ari, merci for the recommendations and company these last months; to all the dining companions I've had over the past two years, thanks for the good times. Paris wouldn't have been as enjoyable without you.