I found myself facing the most fabulous dilemma this summer: my job in Paris finished at the end of June, but my job in Italy didn't start until September. (Really put the fun in funemployment, if you can imagine.) So how was I to ever pass all that time?
By eating. A lot.
Obviously.
In fact, I did little else but eat and drink for two months (and travel — sleep was a distant fourth). I discovered new favorites in Paris, revisited old ones; rediscovered old places that became new favorites.
So — adding in the fact that I now live in Italy and this will likely be one of the last of the (regular) "5 best things I ate: Paris" postings — I happily present the 5BTIA: Extended Leaving Paris Edition.
1. Cheese, ham, cheese, beer, cheese — 38 Saint Louis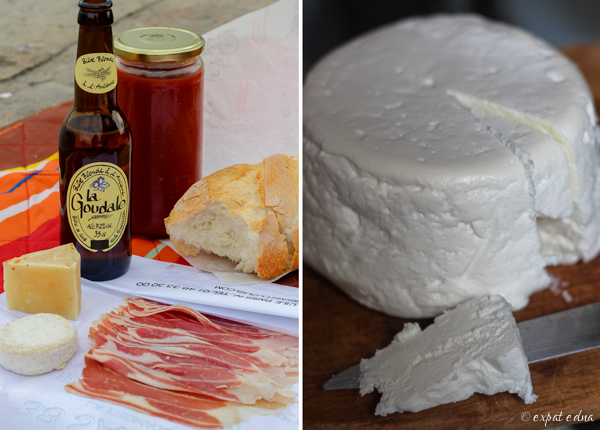 I've always been a sucker for a good picnic, but this summer my habit kicked into overdrive (especially after I moved to Île Saint-Louis, which meant the Seine was less than 150 meters — literally a two-minute walk — from my door).
When I felt blue? Impromptu picnic at Parc de la Villete.
When I felt summery? Brought Belgian whites to Parc Buttes Chaumont.
When I wanted to bask in sunshine and funemployment? Picnic along the river.
When I felt like sitting on the couch drinking beer and listening to Daft Punk? Picnic on the coffee table.
So of course I frequented several shops in the area for picnic supplies, but my favorite of the lot happened to be just around the corner at 38 Saint Louis. We popped in once for chèvre…and ended up walking out with two cheeses, freshly sliced ham, bread, and chilled bottles of Goudale, a tasty blonde from northern France.
More than 'just another fromagerie', 38 Saint Louis quickly became my one-stop picnic shop.  The young entrepreneurs who run this place are passionate about their cheese and only serve product that is ripe and at peak perfection; there's a strong emphasis on quality here, and it shows. Definitely worth a visit, even outside picnic season.
2. Cocktails — Red House
I still remember the first time I walked into Red House. It reminded me of my favorite dive bar in China, but with Tex-American flair, like the longhorn skull hanging above the bar and a slogan proclaiming themselves Home of the ne-goddamn-groni. It's the rare Paris establishment where you can enjoy a classy cocktail while wearing chucks and ripped jeans and still feel totally at home.
It's not obvious from first glance, but this place is quite popular amongst the Paris cocktail crowd for their impressive menu, run by competent bartenders who use fresh ingredients and actually know their stuff (a welcome change from bars with bored staff you hardly trust to open a bottle of Heineken, never mind mix a decent old-fashioned).
I find the more I love a place, the harder it is to describe it. So let me just put it this way: I pretty much lived here for two months. Joe, the owner, and his staff are some crazy cats — sort of like the laid-back, edgy guys in college I always wanted to befriend, but didn't think I was cool enough to hang out with — and I loved heading here for brunch, happy hour, going-away parties, welcome-back parties, pre-dinner drinks, post-dinner drinks, nightcaps, and "it's nearly 2 am let's go close down the bar" drinks.
The cocktail board is always changing slightly, but a popular and solid staple is the Wild West Side (tequila, lime, cucumber and pepper).
3. Brunch — Emperor Norton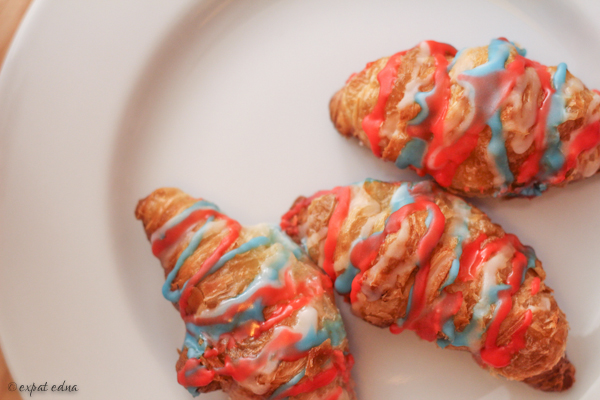 You may have seen Emperor Norton around Paris — run by Californian power duo Omid and Alannah, they're the ones behind your banana bread at Loustic, hot dog buns at Glass, bourbon pecan sticky buns at Telescope, you get the idea. They're all over the city and highly creative (their first brunch I attended featured kale-cannon, a play on the Irish colcannon), something most evident at their monthly brunches.
One of my favorite Emperor Norton creations is pictured above, from a Fourth of July brunch where I was joined by Ashley at Red House for bloody marys and these bastardized cronuts with a whisky cream filling. Because nothing rectifies the monster that is the cronut like a creamy boozy center.
While the brunches used to be held at Red House (because I didn't spend enough time there already), I believe they've changed venues — best to follow them on Facebook or Twitter for updates on upcoming brunch, not to mention pretty pictures of the food they're sending out into the Paris wilderness.
4. Hand-pulled noodles, cold dishes — Pâtes Vivantes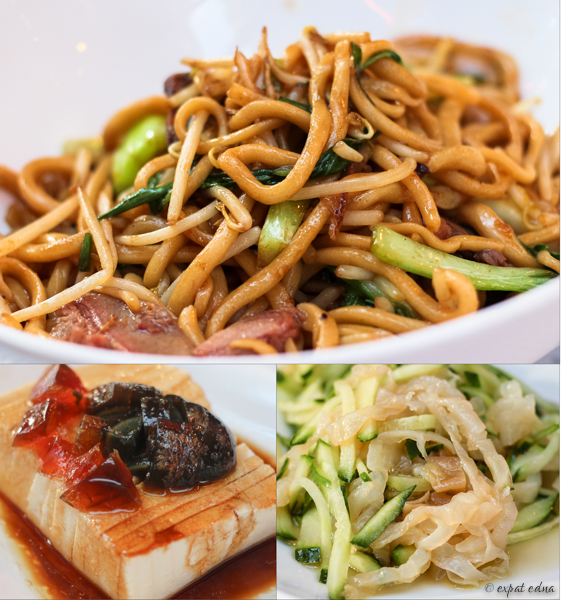 It pains me to think of all the times I walked past this place once I moved to Île St-Louis, all the times I'd searched Paris for decent and cheap Asian food, not knowing the answer sat literally five minutes across the river.
The handpulled noodles, both hot and cold, are pretty standard and run around ten euro — but their tofu with century egg and cucumber with jellyfish almost made me cry. One taste and I felt like I was back in Shanghai again; except you know, without the melamine and fake cooking oil.
Oh, plus ridiculously cheap carafes of decent house wine. Sold.
(Huge thanks to Niki and Jeff for taking me here.)
5. All the coffee — La Caféothèque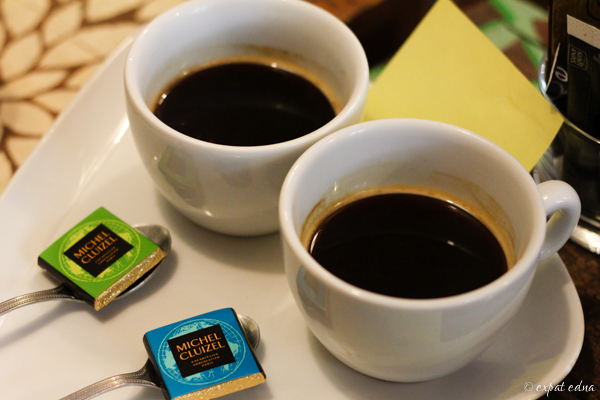 Like Pâtes Vivantes, this one's another 'rediscovery' for which I'm now kicking myself. I'd been to Caféothèque once before but for some reason it didn't strike me as extraordinary — even though yes, I did appreciate that they roast and grind their own beans, and the resulting heavenly smell that wafts through its doors; and yes the décor is pretty sweet, with their four or five sitting rooms decorated so that each has a completely different feel to it.
But then I moved to the island, and decided to give it another try — and by give it another try, I really mean, "have coffee dates with friends there because it was the closest option and I'm lazy."
And that's when I discovered: this place is a godsend for Paris coffee. My mistake the first time around had been to order a latte — forget anything with milk in it, the beans here are so good that the best drinks are black (and especially iced).
I became so enamored with their menu of selections from around the world — especially the roasts from Guatemala — added to the cozy atmosphere perfect for chatting, that this became my go-to whenever someone asked to catch up…and even then I still hoped more friends would call me up so I could pay Caféothèque another visit.
6. Burger — Le Signal
One day my friends Niki and Jeff had a brilliant idea to host a sushi brunch: you gather rice and seaweed plus breakfast foods (scrambled eggs, bacon, avocado, salmon, etc), invite your friends to roll their own sushi creations, then cut them up and serve with wine and mojitos. Next thing you know it's nighttime and the sushi's gone and you're finishing off the whiskey and cognac and suddenly hungry again.
That's when a burger at Le Signal was suggested, and it was the perfect meal for a casual evening out with good friends: flavorful, not too heavy, hitting all the right spots of burger satisfaction with the warm goodness of fried potatoes on top. Perfect with either wine or beer and a glorious find, even when you haven't spent nine hours eating homemade sushi.
7. Ice Cream — Glaces Glazed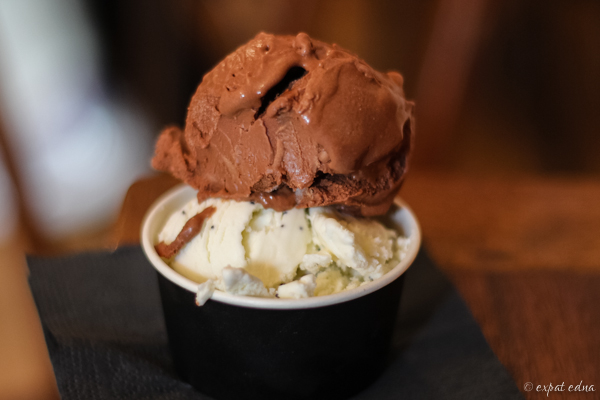 In the gelato world where you've got classic standbys like Pozzetto, Berthillon, Amorino, and Grom, Glaces Glazed are the French rock stars shaking things up, serving scoops out of their ice cream truck in inventive flavors like "Black Sugar Sex Magic" (chocolate, wasabi, ginger), "Pump Up the Volume" (mango and espelette pepper), and "Cococaine" (coconut sorbet and hyuganatsu).
I can't be bothered to chase down food trucks but luckily they came to an event at La Cuisine Paris, where I indulged in the above: Black Sugar Sex Magic and Billie Jean – brousse and graines de pavot, otherwise known as the crazy yet surprisingly good combination of goat cheese and poppy seeds.
8. Reuben — Frenchie To Go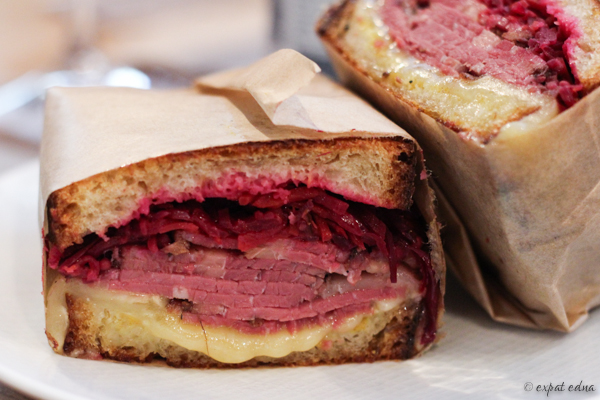 Here's my rundown: Frenchie restaurant? Don't feel like reserving months in advance. Frenchie Bar à Vins? Gets a bit pricey, not to mention crowded (and slightly pretentious, if we're being honest [victim of its own success, possibly?]).
I debated even putting this on the list, because I'm getting tired of reading about rue du Nil all the time, but I have to admit Frenchie To Go is a good solution: quality you'd expect from a Greg Marchand production, but cheaper (€12 for the above reuben) and with a much quicker turnaround time – making it easy to meet someone for breakfast or lunch, or grab takeaway and avoid the Frenchie crowds altogether.
Plus, they carry craft beers, and homemade ginger beer and pickles, which are really all I need for a good ol' Anglo lunch.
FYI, don't be deceived by the reuben — I thought it looked a bit small when it arrived, but I was struggling to finish it by the end. (More on FTG by Sugared & Spiced here.)
Don't worry, this isn't the end of 5BTIA: Paris — I'm headed back next weekend armed with a long list of places I've been wanting to try!