(I'm going to apologize in advance for the long read, but I felt I owed a proper explanation for my disappearance these past few months. I promise future posts will be shorter. And feature more food.)
If there's one thing I've learned this summer, it's that nothing is for certain.
Friendships. Relationships. Opinions. Circumstances.
Doesn't matter how long you've had them, doesn't matter how long they've stayed the same — they are still capable of falling apart and crashing down on you, sometimes all at once, making you feel like your world has turned upside down-ish.
Which is exactly what happened to me this summer.
(I say ish because I don't want to be over-dramatic here. No one died, I'm in good health; in the grand scheme of things, all is well.)
But yes, the past two and a half months were a hell of a ride.
***
Apologies for kind of going…completely AWOL.
I wrote dozens of posts in my head over the past few weeks to explain my absence. But I didn't know where to start, or what to say.
How do you talk about something inconsequential like gelato flavors when offline you're trying to pack up your entire life into a few flimsy cardboard boxes?
How do you list all the reasons you love and will miss Paris when your mind is wrapped up snugly in an all-encompassing state of denial about leaving?
***
In early August I happened to meet up with fellow blogger Mary Anne in London, who was going through a similar situation. I love the way she explained such blog silence:
Sometimes one or two overly personal and private things can derail your ability to write at length about all the millions of notable and weird and interesting things going on concurrently.
Sometimes you don't want to talk about those things just yet, for any number of reasons, but if you don't at least blurt out their existence then nothing else makes sense.
One day in London, I happened to meet another blogger [cough, hi there] who was going through a similar writer's block due to a mountainous change in her personal circumstances that had utterly shifted everything and decontextualized everything she wanted to write about. We had a lovely long talk about just this, happy to finally tell someone out there what was going on and why the radio silence was becoming so embarrassingly lengthy.
So you see, I wanted to tell you about my new apartment! My travels! Photos of EVERYTHING!
But there were some things I simply wasn't ready to talk about, at least not online; and as everything was sort of linked, I couldn't write about those things without oversharing other personal things I wasn't yet ready to reveal to the general internet public.
***
There's another reason I haven't been online much this summer.
Life was happening, man.
Because when I say everything turned upside down, I mean that in all sorts of ways: both negative and positive. Yes there was drama, there was heartache and pain — but in many ways, this was also one of the best summers I've ever had.
And it was hard to write about all the good things I wanted to share — Belgium! Bastille Day! Big announcement things! — when there was so much going on behind the scenes. Situations I didn't want to downplay or ignore by sounding so damn happy.
Because that wouldn't have been accurate either. It wasn't happy-happy-joy-joy all the time; there were afternoons I was unable to do much else but sit on the couch and stare at the ceiling for hours while listening to album after album of Daft Punk, Norah Jones, and the Beatles over and over and over again.
But overall: it's been a fabulously memorable summer. And it pains me that I wasn't able to share any of it — but facing only two months left in Paris, I knew I didn't want to waste a single moment. Frankly, some sacrifices had to be made, so my online life ended up taking a backseat to real life.
***
So here's what happened: I was originally supposed to leave Paris at the end of June.
Had I done so, I would have left a completely different person — probably one with a rosier, more naive optimistic outlook on Paris, people, and life. The Edna who started the summer in Paris was not the same person who left it.
At the end of June, I was on top of the world. I thought I had it all:
I was surrounded by the best of friends.
I lived in Paris, a city I finally loved.
I was engaged to a great guy.
I had a cushy job and work paid for my apartment.
I'd just been offered a full-time position in my dream field, in a country I'd long dreamt of visiting.
By mid-July, I was losing everything.
Nearly all my friends left in this oddly-timed mass exodus, either to go home or onto new adventures.
I was losing Paris.
My career was affecting my relationship.
My Paris contract was up so I had to move in with a friend (whose apartment I actually loved and was a thousand times better than my old studio, but moving and crashing in a home that's not yours, still stressful).
I finally visited said country I always thought I'd love — and was about to move to – and was shocked to find I didn't. Not in the least.
And the rotten cherry on top of it all: right as things were starting to unravel, one of my best friends — someone who'd been by my side nearly 24/7 and played a big role in helping me finally love Paris — suddenly cut me out of her life without any explanation. When I needed a friend most, poof, not only was she gone, but she made it clear I was dead to her. It cut deep, and left a very bitter cloud hanging over what had been six months of joyful Paris memories.
So in two weeks I'd gone through huge changes in friendships, relationships, living situations, and work; plus a move I dreaded loomed on the horizon.
Forget a new chapter in my life; I felt like I was starting a whole new book.
You know how some mornings you wake up expecting a hangover, and you actually feel okay? So you keep busy; you go out and buy groceries and meet friends for lunch and go about your day-to-day.
And you think, Hey, I'm not so bad. I've totally got this.
But as soon as you stop for a moment – just one moment of rest — that's when the world starts spinning, and suddenly all the pain hits you at once. And that's when you realize, maaaaybe I'm not as okay as I thought.
As an extreme extrovert, so long as I'm around people I'm not so bad, I've totally got this. So I made sure to keep busy, developed new friendships, strengthened old ones, went out every night until the wee hours of the morning and was at peak levels of happiness.
But in the afternoons, when I was alone, when I was forced to live beyond the moment and face the reality of what was going on in my life and the changes that were inevitably coming — bam, like the latent but inevitable hangover, world-spinning, paralyzing panic attacks would hit.
***
It's not especially pleasant to feel like you're living a funhouse: everything looks the same, but something still feels off, and you're just know there's a trick floorboard somewhere waiting to do you in.
Externally, I was off-kilter because I was in apartment purgatory.
I kept preparing to leave, then my move date kept getting pushed back — by a few days, then a couple weeks, then a couple months. (Even at my farewell party, people still doubted: "Are you really leaving this time?")
It's like I'd spent all this time psyching myself up to jump off the high-dive, and was right at the edge, about to spring…only to have the lifeguard suddenly pull me back. THREE times. The ping-ponging between leaving and staying was physically and mentally exhausting.
When I wasn't living out of my suitcase in a hotel (work trips in Switzerland and Italy; spontaneous weekends in Madrid and London), I was living out of boxes at a friend's place in Paris. I craved a place to call my own again, where I didn't have to worry about things like making the bed or wearing pants.
***
Internally, it was like I was standing on a rotting piece of wood — you know, it felt solid enough, and if I ignored it I could go about my days like nothing had changed. But if I just looked down for just a second, I'd see the cracks and flaws and panic.
I kept waiting for something else to fall out from beneath my feet. Even when I was ecstatically happy, I'd feel anxious about how long it would last. I became wary of wholly trusting anything or anyone, since the Paris life I'd known for a year and a half had all come undone in a surprisingly short amount of time.
All the facets of my life had been shaken up — so while I waited for the pieces to settle back into place, there was nothing I could do but just be in the moment.
So I simply enjoyed the moment.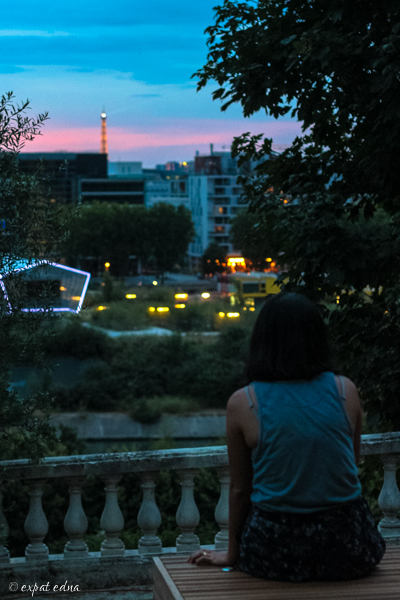 "How are you doing?" became a surprisingly tricky question to answer. I was reluctant to answer it, and hated the question almost as much as I hated people asking when I was leaving Paris.
Because if I was honest, living in the moment, I felt fantastic. Friends would tell me, with puzzled looks on their faces, that I did seem "really happy".
I think people expected me to say I was terrible, that I was despondent, what with all the upheaval and uncertainty. To say I was truly happy in spite of everything, I think to some, seemed callous or cold-hearted.
But why should I have wallowed? What's the point of living if you aren't going to at least try to pursue happiness, if you let dark times keep you down? I made it a point to be surrounded by good friends, both old and new (…mostly new) and enjoy the hell out of all that a Paris summer has to offer.
***
With every ending comes a beginning, and from the ashes of June rose a mind-blowing phoenix of a summer.
I abandoned my label because I had started to feel beholden to what I said I did for a living, instead of actually living. So I stopped thinking of myself as Edna the blogger, or journalist, or even writer. I was only Edna the expat, an American living in Paris, with no responsibilities to anyone but myself, and no job other than to freaking love Paris like I'd never loved it before.
I spent most of the summer offline. The apartment didn't have internet(!), my phone didn't have data; unless I was stealing wifi from McDonalds, I was totally disconnected — and it was so freeing.
For the first time in ever, I turned off my brain and lived for fun — not for a blog post, not for a facebook status — just for me. I didn't watch tv; I have no idea what movies came out this summer, what songs were popular.
I spent my days talking — about nothing, about everything; morning to night. Time became irrelevant; there was one afternoon my roommate and I had a five-hour conversation, just standing in the kitchen, without noticing or caring that he was four hours late for work. I never knew it was possible to spend so much time, so many days on end, just talking. I adored it.
I relaxed my grip on my wallet and went to all my favorite restaurants one, two, three last times, budget be damned. I splurged on chevre and Spanish hams and Belgian beers from the fancy fromager on Île St-Louis.
I had picnics and negronis on a daily and nightly basis. I wandered the banks; went to outdoor film screenings; checked off my Paris bucket list. I invited my sister to come visit for a week, and she actually took me up on the offer. I went to Spain for the first time. I popped over to London for the day.
***
As someone who mostly lives online, I'd forgotten what it was like to not be tied to an email inbox, a facebook notification, a twitter message. I could just live for me — and if no one else knew about it, well, that didn't matter squat. My adventures were still awesome and life was still good.
Sure, I may have ended my time in Paris with a different set of friends, a different routine, a different kind of social life than I'd known or expected, but ultimately I'm happy with how things worked out the way they did, and am grateful for everything that happened this summer.
And when the time came to finally leave Paris (for real), I was ready. I didn't know it in June, but there was still something I'd been missing, and in those last two months I'd finally gotten what I needed from Paris.
***
Things have settled down a bit in the last couple weeks, so hopefully I can start to catch up on posts. I still have so much to cover: Belgium, Paris, Madrid, Paris, London, Paris, Paris, Paris…
Two more important things to note before I leave you with the song of my summer:
1. Three weeks ago I packed up my boxes, hopped in a bright yellow Citroen, and spent three days roadtripping through Paris, Switzerland, and Italy. I live in Italy now.
2. I moved to Italy single.
I've missed you guys. How was your summer??
***
If I had my way I would never leave
Keep building these random memories
Turning our days into melodies
But since I can't stay
I'll just keep playing back
These fragments of time
Everywhere I go
These moments will shine