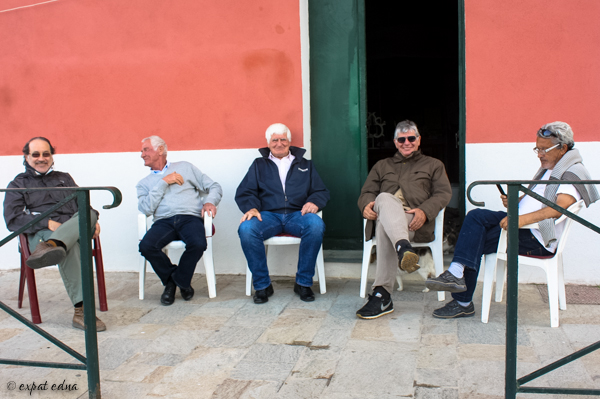 "Did you know Corsica has the highest murder rate per capita in Europe?" I asked my roommate as I read up on Corsica the night before our trip.
"Come on, don't tell me these things," she sighed. I continued reading the BBC article about the mafia and murder rates on the island. Diane looked as if she was ready to murder me herself.
So it's safe to say I didn't know what to expect from our trip.
Turns out, Corsica has some of the kindest people I've met anywhere.
It's one of those islands where strangers on the street will stop to make conversation and laugh with you. Where instead of streetlights, cars just simply stop for you at the crosswalk — and when you wave in thanks, the drivers wave back.
However, there were three encounters during my time in Corsica that really stood out:
Ajaccio
During lunch on our day trip to Napoleon's hometown, Diane was sketching an old church across the street when an elderly man stopped and peered over her shoulder. He complimented Diane on the sketch in French, and told her to make sure to include the church's bell tower.
The man then went about his merry way. We commented on how sweet the man was, and thought that was that.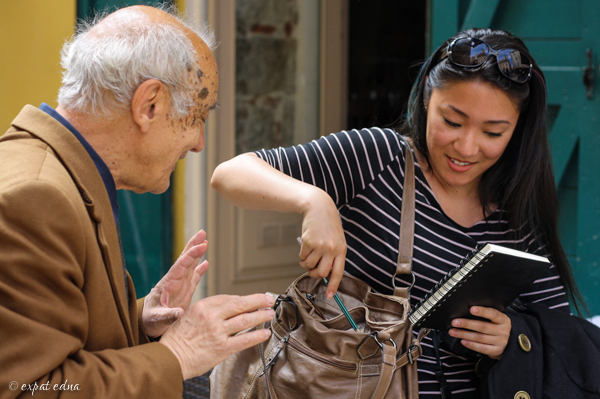 But no — that wasn't the end of that.
As we were about to leave, the man came strolling back through.
"How did your sketch turn out?" he asked Diane. She pulled out her notebook and showed him.
He then motioned for the notepad as if to inquire kindly, Can I have a go?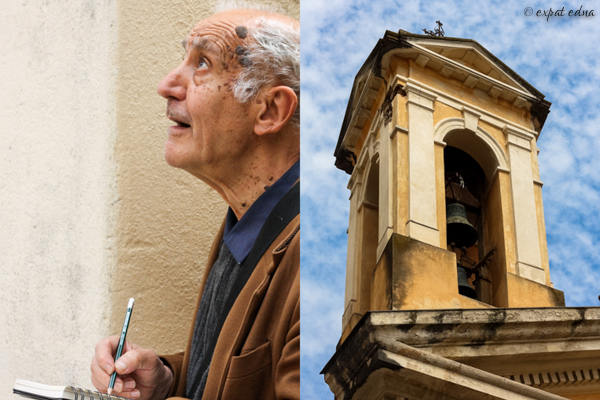 And so for the next five minutes, the man stood silently against the wall, his eyes darting up at the church then back at the notebook while he quietly sketched.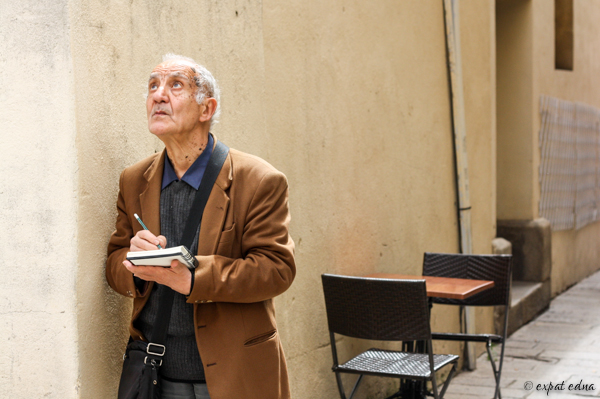 We tried to leave him be so he could concentrate — I snapped a few photos from across the street, Diane peered over his shoulder once or twice — but the girls and I kept looking at each other with mouths open in ecstatic disbelief, our eyes silently screaming Squeeeee!! 
I felt like we'd walked straight into a movie: surely this kind of thing doesn't actually happen in real life?
The man returned his sketch and Diane asked him to sign it, which he obliged. He said he was from Ajaccio, and had lived on the very same street as this church since he was a little boy.
He then smiled, wished us a good vacation, and walked away. And that truly was that.
(Read Diane's version of the story here.)
Bastia
Our first encounter with Corsican friendliness in Bastia was Alexandra, the osteopath whose apartment we were renting. From the first day to the last she was just bursting with kindness — as evidenced on the last day, when I ran into her outside the flat.
"Oh, I'm so glad I found you!" she smiled. "I have something I wanted to give you" — and with that she presented me with a small blue gift bag. Inside was a package of canistrelli, a special Corsican biscuit.
Again, we were renting her place. If this was couchsurfing it would have been normal, but we were paying her to stay there — and yet she still wanted to give us a gift to remember Corsica by.
There is something so kind about the people here, it blows my mind.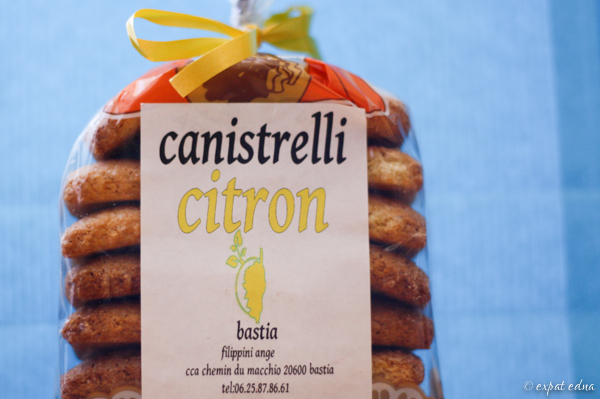 And then there was Marie.
It was my last day in Corsica and I'd woken up painfully early to catch the 6 am sunrise at the pier.
As I walked back through the town, now struggling to stay awake, I saw an older woman in her pajamas and curlers hanging her laundry.
I snapped a shot.
…and then I heard her say, in French:
"Do you want to come up?"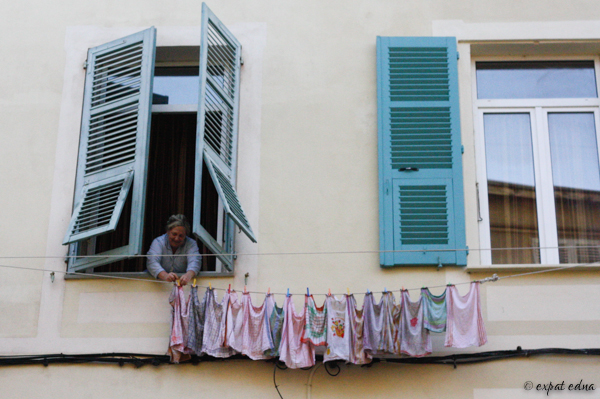 I was confused.
Me? I looked up at her and pointed at myself. I hadn't eaten breakfast — was I hearing things?
"Do you want to come up?" She repeated her offer, adding in broken English to make herself clear.
"Uhh oui, okay," I said.
She shouted her door code at me then added, second floor.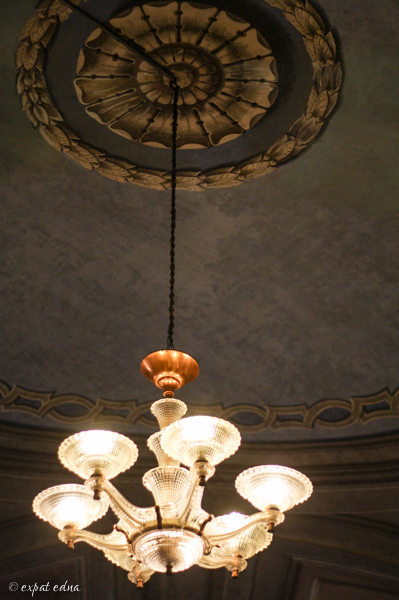 She told me her name was Marie, and she had invited me up because she thought I might like to take photos of her ceiling. Which I did.
We then spoke in French for a bit. She told me she'd lived in Bastia all her life; that her husband had died some years before and her children lived in the countryside so she now lived in this apartment alone.
I told her I had been in Corsica for a week, but was flying out that evening.
"Ah, but you will still be here for lunch?"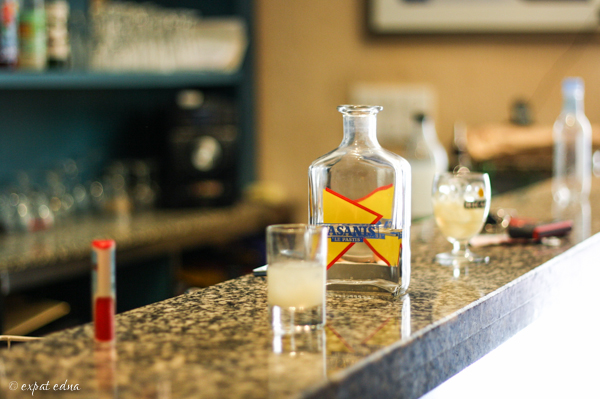 And that's how I found myself at the bar underneath Marie's apartment a few hours later, at 12 o'clock on the dot. I spent the next hour and a half drinking pastis, shooting the breeze (en français!) with a group of gruff, but friendly, Corsican men.
There were no customers in the bar. These men were regulars: this lunchtime meeting was a tradition, a daily ritual. And I was now one of them.
Marie turned out to be pretty badass; not at all what I expected from the pajama lady in curlers. Dressed all in black, she had a sharp tongue and fiery personality. You could tell she suffered no fools and every man in the bar seemed to know and respect her, like a tough older sister.
At one point, after listening to the banter switch into the Corsican language, I made the mistake of asking her, "So Corse is like what — a little French, a little Italian…?"
She immediately cut me off with a sharp look and stern finger: "NO. C'est CORSE."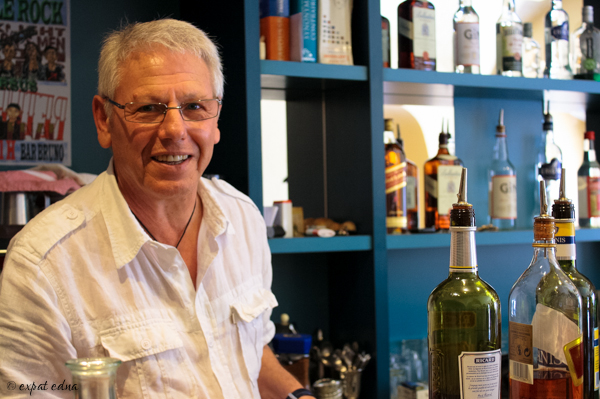 The other men there, Marie's friends, looked a bit rough around the edges — but they took me in without questioning why a small young Asian was suddenly in their bar, fed me drinks, joked with me. I've always been a tomboy so I loved every moment of it, just being one of the guys.
Marie told me that Bruno, the owner (pictured above), took over the bar from his mother, and they'd known each other since they were knee-high. Another man seated further down, I was told, grew up down the street and Marie had known him since he was knee-high.
Marie knew everyone and everyone knew Marie. Corsican towns, it seems, are just like that.
When I was at a loss for words, Hugue, one of the youngest of the lot, would keep the conversation flowing with random facts about French history and the differences between Corsica and Paris. The more I drank, the more quickly my French flowed.
Just when I couldn't take any more pastis and my French was becoming questionable, lunch was finally announced. We all moved from the bar and sat down, family style, at the table in the adjoining room.
Lunch was simple: a giant bowl of mashed potatoes and thin beef patties with gravy; all homemade.
As the guest of honor, everyone waited for me to get up first to serve myself. As the stranger who was also somewhat tipsy, I had no idea what to do so I sat there staring at everyone like an idiot.
Luckily, one of the younger men at the end of the table stood up, took my plate, and kindly served me. The other men teased him good-naturedly: Oooh, look at you, what a gentleman, as I flashed him a grateful, embarrassed smile.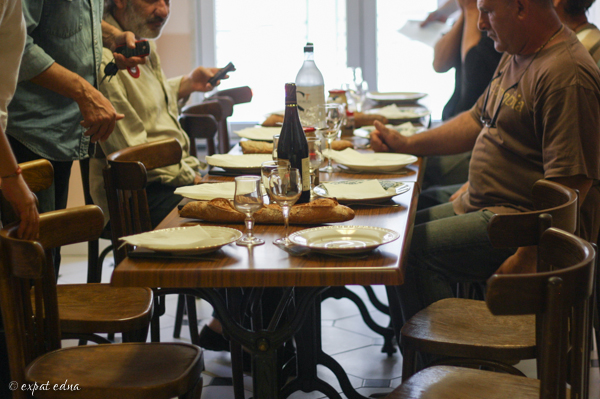 After dessert and the requisite cheese course, we all adjourned back to the bar for post-meal espressos. Then the men swiftly made quiet exits, one by one.
There were no drawn out goodbyes, no loud "au revoir!" to the group. They were simply men going back to their business after lunch — a two and a half hour lunch, but just lunch nonetheless.
They didn't make a big deal of saying goodbye to me either and I appreciated that; somehow it made me feel accepted. They didn't make a grand gesture of nice to meet you, have a safe trip, etc — they weren't being rude or insincere, it was like saying goodbye to a friend you know you're going to see tomorrow.
I still had to run a couple errands before my flight though, so as I was waiting for my espresso I reluctantly told Marie, "I'm afraid I have to go soon, I wanted to buy a bottle of Cap Corse before I leave."
Marie replied, "Oh don't worry about that," then disappeared out the door.
She returned a short while later, in her hands a giant unopened 1-liter bottle of the aperitif, already snug in a colorful postcards-from-Bastia cooler bag.
"Have this," she said. "See, now you don't have to go buy one."
When it came time for Marie to leave, she did the same as the other men: she simply said, "Time for me to take a rest," then started to make her way towards the door.
However, I couldn't let her go like that. I gave her a bear hug and multiple thank yous: for without a doubt, my encounter with Marie made the entire trip for me.
She showed me a kind of generosity I still struggle to comprehend: that Marie would invite a complete STRANGER OFF THE STREET into her apartment — then on top of that treat me to drinks and lunch and introduce me into her friends? Bring me into the fold for an afternoon and make me feel immediately like part of a family?
Unreal.
Unforgettable.
As I left, I said goodbye to Hugue and he made one request:
"When you go back to Paris," he told me, "spread the word: Corsicans are not all serial killers." 
Well, I'm keeping my word: Corsicans, I can most definitely assure you, are not all serial killers.