"How was Russia? How was Russia?" everyone keeps asking.
(Which is a fair question, I don't think I'd be friends with anyone not curious about a trip to Russia.)
Well, Russia was fantastic.
…but I didn't see much outside the hotel.
That's the thing about work trips: you don't sample much of the local food because you're at the hotel buffet for every meal; you can't explore the city because you're busy working from sunrise to midnight every single day.
(While most people would consider that a personal hell, I absolutely enjoyed every moment of it. When you're doing what you love, even the 20-hour workdays are still fun.)
But that's also why I don't have many photos of Sochi, the city itself — and I'm guessing very few of you would be interested in snapshots of my colleagues or the goings-on behind our sports association congress.
So what can I tell you about Sochi?
I can tell you the people are incredibly friendly (much friendlier than the Russians I met in Moscow airport — though that's not exactly the highest threshold to be judged against; a shrub with a hat has more personality than the irate passengers I met at Moscow airport).
I can tell you the city itself — the part gearing up for the Olympics, anyway — looks pretty scrubbed up and sparkly, like the quiet girl getting ready for prom. Flying over the newly-built roads and highways, I was eerily reminded of a child's Hot Wheels racetrack. Work is still ongoing, there's still a good deal of dust and construction on the grounds; I can't wait to see how drastically different the city looks ten months now.
I can tell you the view from the hotel on the Olympic Park grounds is spectacular: one side overlooks the Black Sea; the other faces the mountains and Athletes' Village, the Olympic venues in the distance.
I got the latter, and that view was a brilliant way to start the morning.
(Another sidenote: the staff at the Radisson Blu there are fantastic — one young woman working the front desk was fluent in French, she was a total lifesaver when my language skills weren't up to snuff when speaking with our African delegates. Also, totally put me to shame because she learned all of her French in Russia.)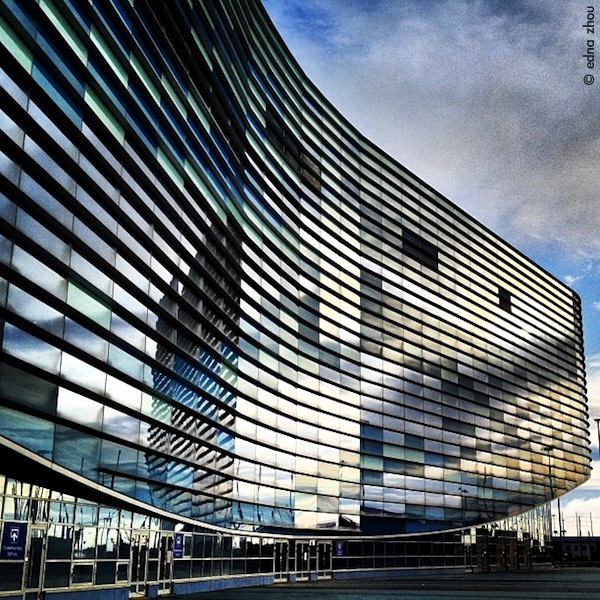 As I was there for a sports press congress, the whole lot of us (nearly 300 journalists) were given a tour of the Olympic venues. We weren't able to see inside the Mountain Cluster venues, but we were given tours of the Sea Cluster venues as construction on those buildings has been completed for a while — in fact, the Bolshoi ice dome (below) was hosting the World Ice Hockey U18 Championships while we were there.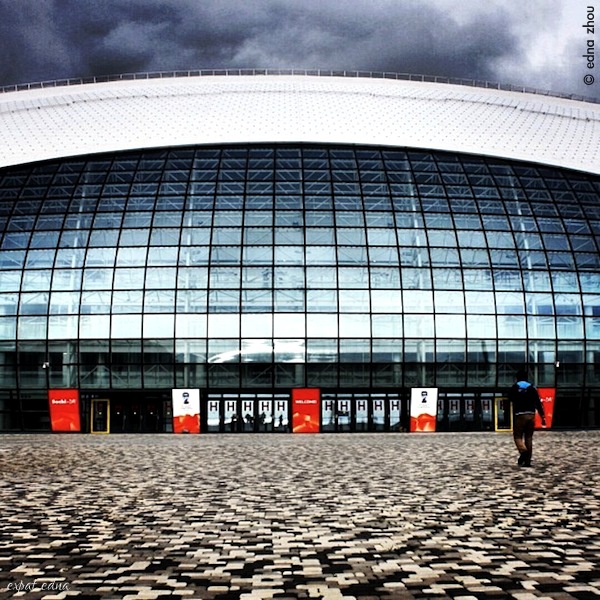 Sochi is nothing like I expected Russia to be, and while I had my reservations about it as an Olympic host city, after my visit I now can certainly understand the appeal. And in case I don't make it to next year's Winter Games, I'm grateful to have experienced at least a tiny bit of the Olympic magic that's already there in the city, with less than a year to go until Sochi 2014.