On my recent flight back from the US, I was seated next to a Texan school teacher visiting Paris for the first time. While discussing her trip I gave some recommendations, and after a while a pattern emerged: most of my favorite places in the city are either related to food or heights.
When the plane cleared for take-off, I suddenly cut our conversation short and turned to the window.
"This is my favorite part of flying," I explained.
"Well, that explains it," she smiled. I felt silly for never putting two and two together — she was right: my love of heights clearly comes 23 years of being glued to the window seat, bearing witness to the stunning panoramas of hundreds of take-offs and touchdowns.
When I moved to Paris, I traded my 44th-floor apartment in Singapore — with a breathtaking view over the southern tip of the island (where on a clear day you could almost see Indonesia) — for a second-floor studio that overlooks some half-dead trees and the downstairs neighbor's tiny yard.
Luckily, Paris has several easily accessible outlook points, so I have a number of options when I start jonesing for a heights fix. Below are the recommendations I gave that teacher from Texas — five of the best places for a birds-eye view of Paris:
5. Arc de Triomphe (northwest Paris)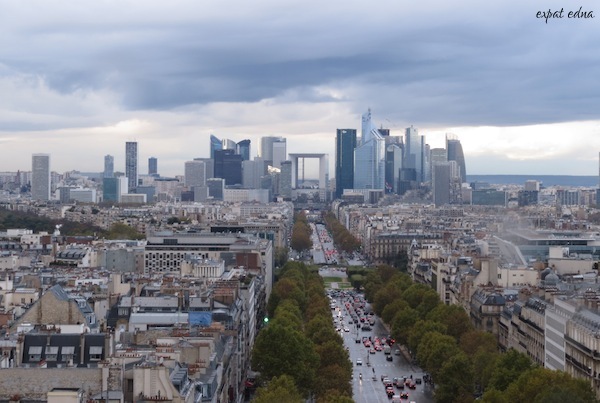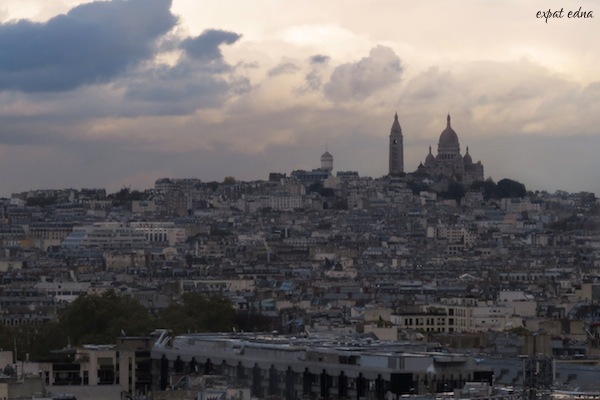 A tourist staple, many people prefer the Arc de Triomphe to the Eiffel Tower because, well, when you're standing on top of the Eiffel Tower obviously the iconic monument is not going to be in your skyline. Besides the tower, from here you also have a clear view to the west of the skyscrapers at La Defense, to the north towards the hills of Montmartre and the Sacre-Coeur, and a straight shot down the Champs-Élysées all the way to Concorde.
However, the Arc isn't my absolute favorite because you have a make a special trip to get there — as in, you have to plan to climb the arch, you can't just happen to be walking around the neighborhood and decide to check out the views — and you can't linger for very long as it gets quite boring: once you've taken in the views and snapped your photos, there's not much else to do up there.
4. Galeries Lafayette (central Paris)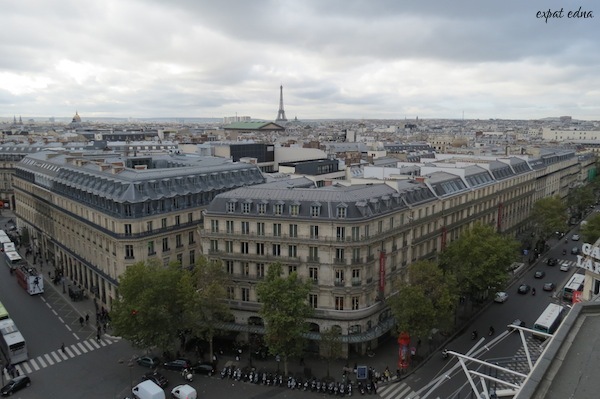 I wonder how many tourists shopping along the Grands Boulevards realize that on top of Galeries Lafayette lies a large rooftop viewing deck with a front-and-center view of the Opera and some very Haussmannian architecture. I love this one because it's convenient to access, not to mention great for taking a break when you're shopping — and best of all, it's free.
3. Sacré-Coeur and Montmartre (northern Paris)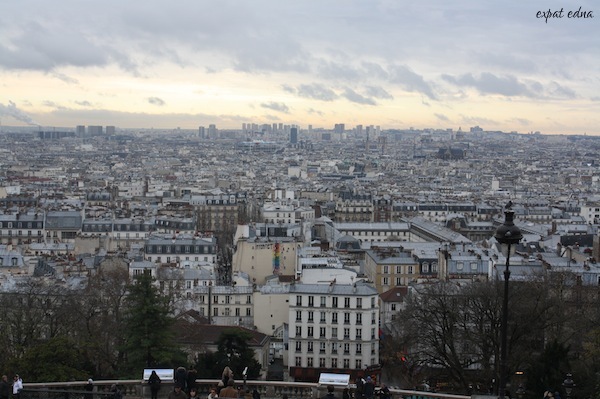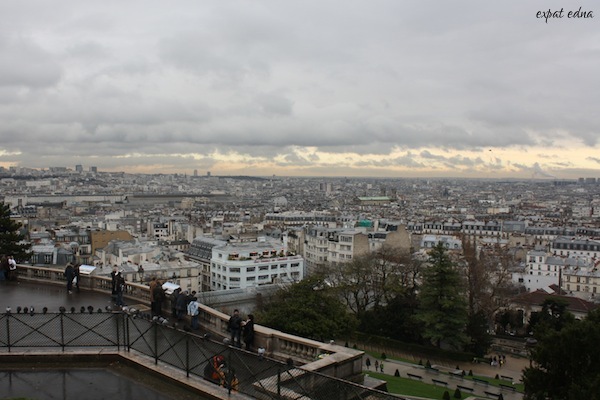 Montmartre is one of my favorite areas of Paris (second only to the Marais), and that's thanks to its hilltop location, which provides some of the best natural, non-manmade views the city. While the view from the steps of Sacré-Coeur is indeed marvelous, I'm just as much a fan of being able to catch heart-stopping peeks of the city spread out below while simply walking through Montmartre's narrow sloped alleyways.
Cons here, however, include being crowded by tourists as well as those sneaky string-on-the-finger scammers, so keep your hands in your pockets and your eyes on your belongings here.
2. Eiffel Tower (western Paris)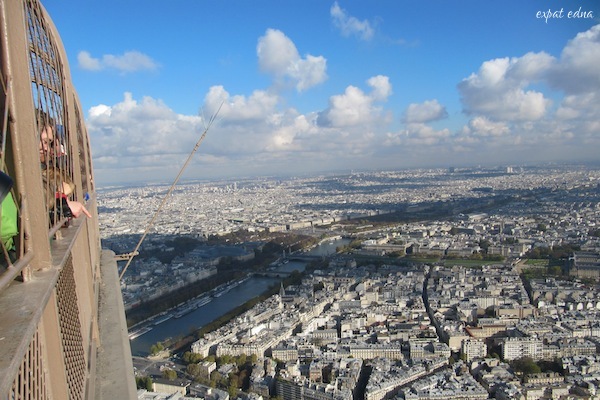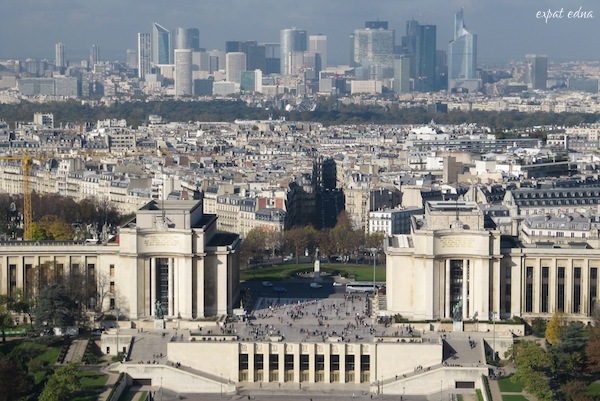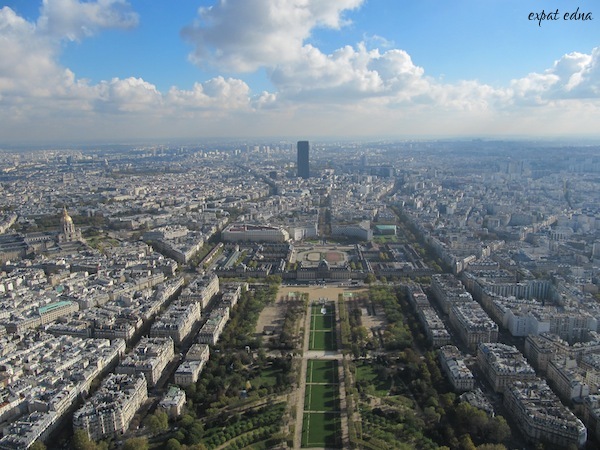 Ah, la Tour Eiffel, la dame de fer. To be honest, I had no intention of going up the Eiffel Tower at all during my time here — I often walk past the long lines at the base of the pillars and just think, no thank you — but when my mom came to visit last November, I couldn't say no to her simple request of going to the top of the Eiffel Tower. I mean, it's a classic.
Was it worth it? Look: touristy attractions are popular for a reason. I could have stayed up there all day, even in the biting wind and cold, snapping photos until my fingers turned blue. The view from the top platform is unbeatable — you get a whole new sense of Paris at 324 meters up in the air.
1. Centre Pompidou (central Paris)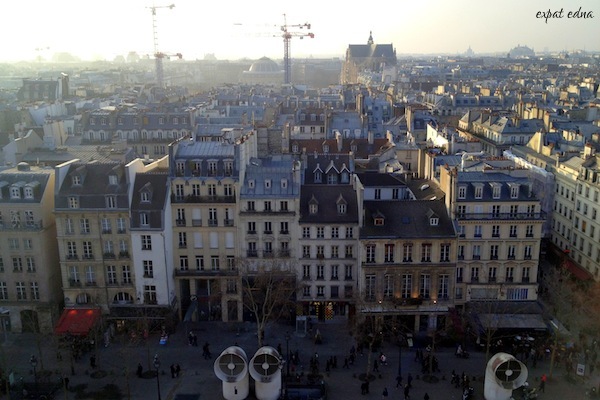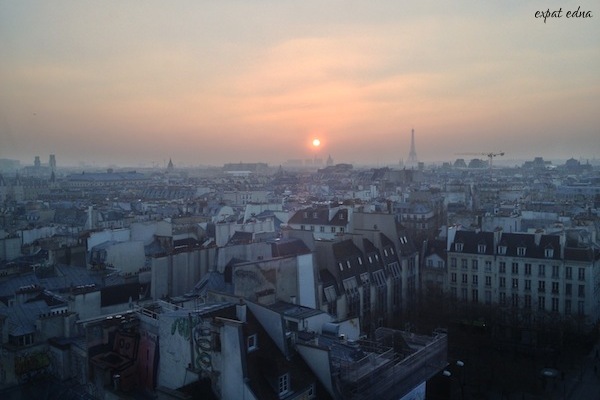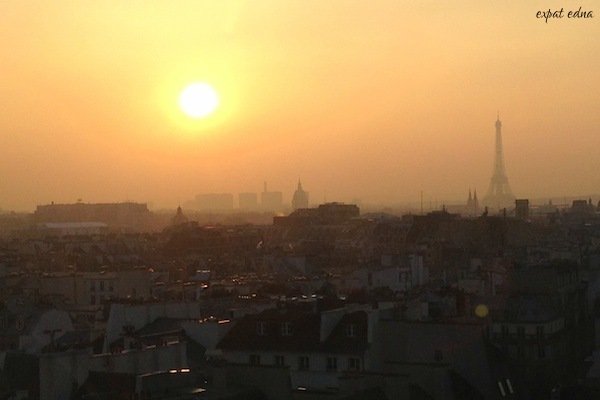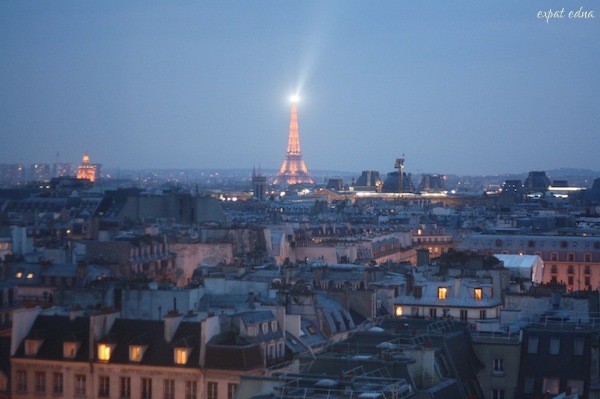 The Pompidou museum is my absolute favorite place to go for a view over Paris, for reasons of cost and convenience (as well as sheer beauty): as an EU resident under 26 I enjoy free entry, meaning I can just pop in for a few minutes if I feel like it — which I often do thanks to the museum's central location in the Marais, the area where I spend most of my time in Paris. I never have to wait in long lines to enter, and I never have to fight with throngs of people to get that perfect aerial shot.
Put it this way: if I can tell there's going to be a gorgeous sunset, I don't have to rush over to the Arc de Triomphe or Eiffel Tower, I don't have to climb stairs or wait in lines. I simply walk right into the Pompidou, take the escalator to the fifth floor, and five minutes later I'm snapping some million-dollar photos. Marvelous.
Anyone else have a favorite view of Paris?