In this monthly series, I'm counting down the top five things I ate in Singapore. For previous posts, check out number 4 and number 5.
#3: Bak Kut Teh — Founder Bak Kut Teh 
I'm always intrigued by the way different cultures interpret certain foods and flavors.
Take bak kut teh. To me, this Singaporean soup is the ideal comfort food: tender pork ribs resting in a light peppery broth full of herbs and spices; this dish is painfully simple yet warming and hearty. This is my Asian substitute for chicken noodle soup; a go-to on sick days.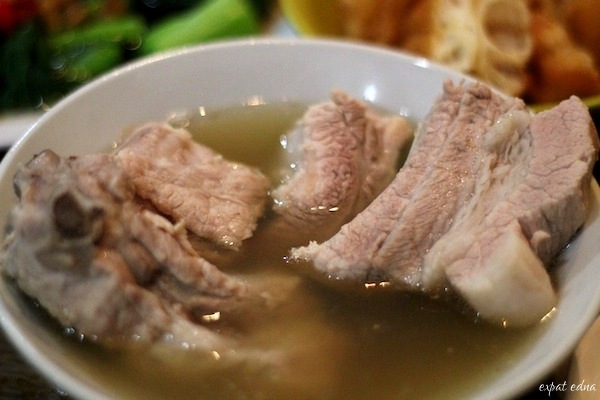 Yet in Singapore, bak kut teh began as a breakfast dish — an herbal tonic for coolies to start their days with enough energy for a full day of hard labor. (Think Redbull for breakfast, in soup form.)
Even today, each morning you'll find the bak kut teh shops bustling with locals who say the meat tastes better when prepared at the start of the day.
However, you'll find most foreigners packing the bak kut teh joints for lunch and dinner. While versions vary from shop to shop — some more saucy, some more herbal  — a favorite amongst my friends and I was Founder Bak Kut Teh located on Balestier Road, an area known for its abundance of hawker shops and has at least five or six bak kut teh vendors lining the street.
Yet few, if any, of those other restaurants have walls plastered from top to bottom with photos of celebrities — so many that newer celebrity shots are pasted on top of older, passé ones — nor the daily lines that Founder does. It's best to get there just when they open or you'll be queueing for ages waiting for a seat in this modestly-sized shop.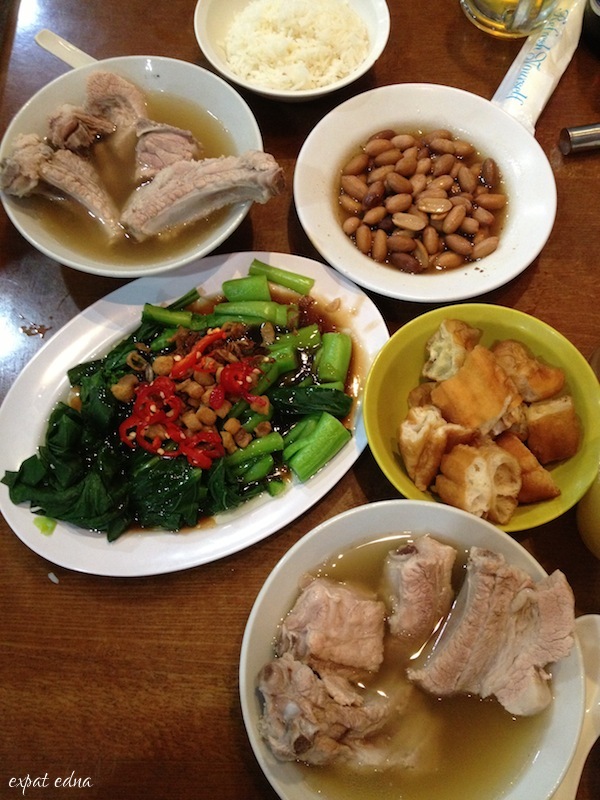 While you can have just the soup and a cup of tea, I find it much more enjoyable to make a feast of it by ordering one bowl of soup for each individual, then plates of veg, boiled peanuts, and you tiao (fried dough for dipping into the soup) to be shared across the table.
The soup is bottomless; even after you've finished the ribs, you can get as many refills as you like of the peppery broth — usually served by a woman who walks around the room, going from table to table with a boiling hot pot of the stuff. (I imagine McDonalds' lawyers would faint in lawsuit fear if they ever saw this scene.)
Add in a couple beers and you have the perfect group dinner: slightly nicer than a hawker center meal, but still far more relaxed and cheaper than a proper restaurant.
Plus, it never gets old trying to see who can pick up the most boiled peanuts with chopsticks.
For further reading on bak kut teh's role in Singaporean history, see here and here.
Founder Bak Kut Teh Restaurant
347 Balestier Road
Singapore 329777