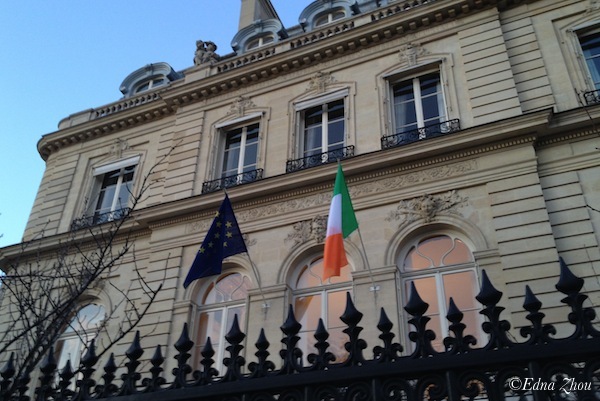 I'm not sure if it comes through on the blog, but I'm a major hibernophile. I played gaelic football, studied Irish literature in college, wear a claddagh, and my speech inevitably becomes accented whenever Irish friends are around (especially those from Wicklow and Dublin). I even tried to teach myself Gaeilge at one point. I'm convinced I must've been Irish in a previous life.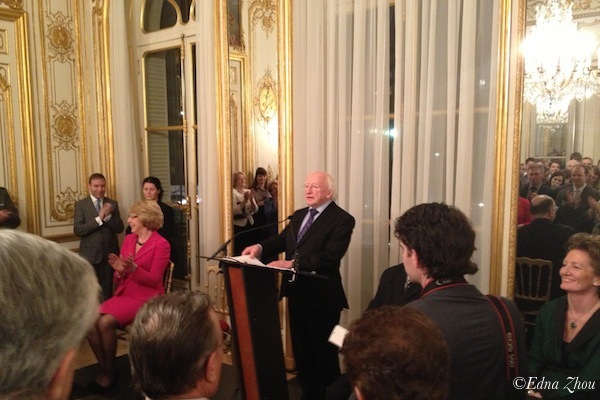 Needless to say I felt fortunate to have recently met the Irish ambassador to France (who actually started his diplomatic career in Beijing, helping set up the Chinese embassy back in 1979) and even more so when he was kind enough to invite me to the Irish embassy last week to attend a reception for Irish president Michael D. Higgins, in the middle of the latter's three-day visit to France.
I've been to one other Irish embassy in my life so far — Beijing's, when I played in the 2008 All-China Gaelic Games — and I loved seeing how very different the two are. The embassy in Paris is located right off the Arc de Triomphe and is incredibly ornate; not surprisingly, most of the details are very, very French. The president, in the opening of his speech, jokingly remarked that "it remains a monument to our hubris and grace."
The president, in his very distinctive, soft yet powerful voice, gave a short speech on Irish-French politics (I had no idea the Irish flag was modeled after the French tricolor!) as well as other political states of affairs. What was most memorable to me was when he said, regarding the current state of world economics and looking towards the future: "It is better to come after your decade of nonsense and say, We are in a better place." 
After the speech the president and his wife, as well as the ambassador and his wife, received everyone in the embassy library. I think I mustered out a sentence or two introducing myself to the president before moving on to shake his wife's hand. (Luckily the ambassador's wife recognized me and made me feel at ease, so at least I didn't feel like a complete bumbling fool.)
The night also answered many questions, like "Are you supposed to be on time or fashionably late for an embassy reception?" (fashionably late) and "Does the Irish president have any Americans on his staff?" (he does) and "How many hors d'oeuvres can you eat before the waiters start giving you looks?" (I don't know, I was too busy eating to notice).
I was happy to see many of my Paris Gaels teammates there as well, as a few of them work for Tourism Ireland, Bord Bia (the Irish Food Board), and other Irish businesses in France. Some folks I hadn't seen in nearly a year and we spent hours catching up, and even after the embassy we continued onto another Irish bar (of course).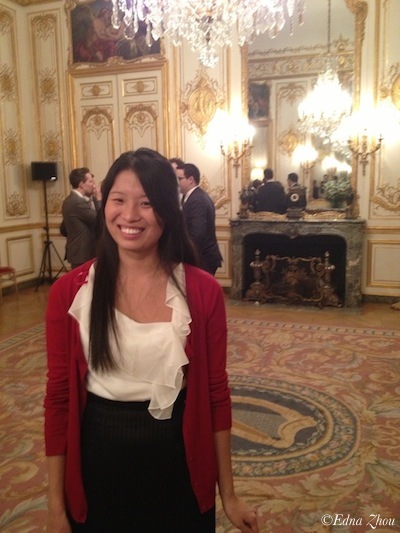 The event was easily one of the highlights of my entire time in Paris. I spent the night surrounded by fantastic Irish company and people with as great an interest in the country as I do, and can now say I have met more Irish politicians and visited more Irish embassies abroad than I have American. Éire Go Brách!
There's a great audio clip online of the Irish president taking down an American Tea Partier. It's an epic exchange, check it out here.