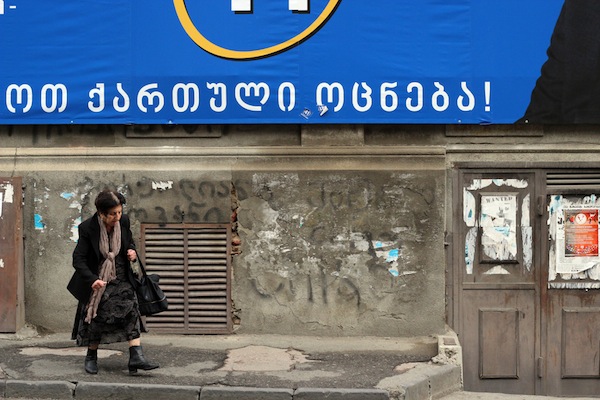 In this series, I ask expats to share the joys of local life they've found in their corner of the world. If you're just joining in now, check out other cities that have been covered so far here.
Today's guest post comes from Naomi, a nomad who's been traveling the world since 2010. I'll always be grateful to Naomi as the blogger who inspired me to visit Macau (thanks to this post — and that was before I read travel blogs, so it really stuck with me!), a trip and destination I ended up loving.
Seems Naomi has a knack for inspiring me to visit smaller, more unusual locations: the following post, written during her month-long stint in Georgia, has also bumped the country high onto my must-see list. (This one's pretty convincing, too.)
Naomi: Why I Love Dinamo Arena
Tbilisi is certainly one of the stranger cities I've found myself in.
There are few foreigners, little international signage, intensely curious stares and the constant question, "Atkuda vi?" (where are you from?). Blocky stone churches tower over dilapidated streets and apartment buildings covered in climbing grape vines, while elderly Orthodox women dressed all in black walk past tiny book cafes and the moody hipsters inside.
I moved here for a month because I thought it would be quiet, not distracting and a good place to get work done. Instead, I found a city so strange, it keeps calling me out to explore. One of my favourite neighborhoods to do so is my own, around Dinamo Arena. It's on the opposite side of the river from the city centre and feels almost purely residential, which gives it a much different vibe than downtown Tbilisi.
The markets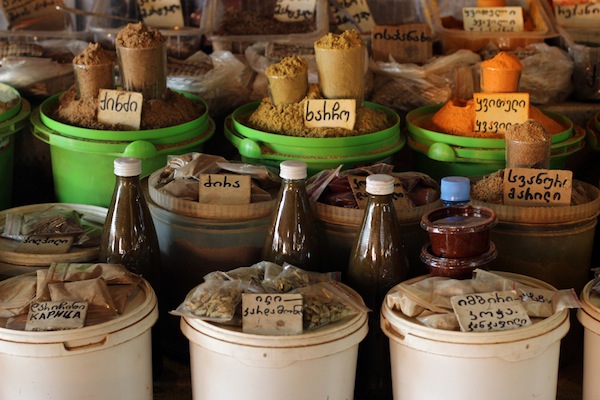 Dinamo Arena lies right at the foot of a massive bazaar network which spreads around the Central Rail Station. Anytime we need something, just 10 minutes from our door are stalls selling fruits, vegetables, cheese, meat, clothing, shoes, furniture, electronics, appliances, housewares and — strangely enough — religious icons. Bartering is easy enough if you smile openly and answer all the curious questions about where you come from, what you're doing here, and how you like Georgia. All the people going about their daily business give this neighborhood a more every-day feel than you find in the Old Town or commercial district, and sometimes it lures me out to walk around the bazaar even when I have nothing to buy.
The local baker
Just outside my apartment door is a dark, tiny, unmarked storefront, that I never would have understood the function of if I hadn't walked past at exactly the right moment one day. A large, low black dome inside of the store is actually an oven in which traditional Georgian tone bread is baked like Indian naan – slapped onto the inside wall. One day, I walked past just as the baker was opening the oven's hatch, and that unbelievable smell of freshly baked bread hit me full in the face. Having fresh bread right outside my apartment is an amazing plus, but add in the price of 40c and the friendliness of the baker, and it's a serious win for the neighborhood.
The decay
There's just something about urban decay that can be so enrapturing. Buildings up and down my street are covered in elegant architectural details — cornices, curving moulds and reliefs — but because they're all made of plaster, the facades have been flaking off for what looks like decades. Walking down these streets makes you wonder what this neighborhood looked like in its heyday…and how it was never torn down to make room for shapeless Soviet apartment blocks.
…but the proximity to elegance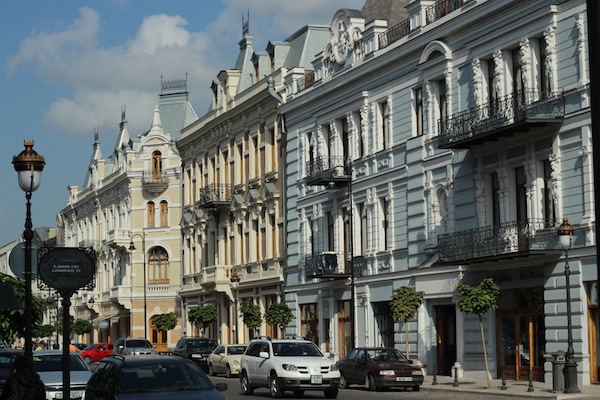 Just one street over from the older neighborhoods, however, is the massive David Agmashenebeli Avenue. A recently reconstructed city street of buildings with soft colours and beautiful details, Agmashenebeli is becoming a new hub for upper-scale clothing stores, restaurants and cafes. It's a nice place to go for a stroll in the evening, especially to see Marjanishvili Square at its end lit up at night and all the theatre goers heading out for the night. You can see how badly the city planners want Tbilisi to look like Paris or London when on Agmashenebeli.
However, there's something even more interesting that gets me about this street — though or because it's so new and lovely, the rents here are way out of many residents' range, and most of the upper storey apartments stand empty. It makes the entire elegance of the street seem like a thin illusion, and gives it a curious, mysterious quality.
The transportation
Dinamo Arena is not only the hub for the two Tbilisi metro lines, which can take you to most sights of the city, but the road just outside our apartment building is a massive thoroughfare for busses, minibuses and marshrutkas. Just 100m from our door, we can get wherever we want in Tbilisi.
The friendliness (and foreign-ness)
To be fair, Tbilisi isn't exactly a touristed city to begin with, but being around Dinamo Arena makes you really feel as though you're somewhere most travelers miss. There are no real sights here to visit, and no churches or museums that are particular tourist draws. Here, you feel very transparently that you're in a residential district, and stand out as a foreigner. Almost anyone you interact with will ask about you and where you're from, and is usually very openly friendly – especially if you make the attempt to say a few Georgian words. It's a rather welcoming part of the city, and one of the nicest for an expat.
———
About the author: Naomi is a 20-something perpetual traveller writing and photographing over at Anywhere But Home. In 2010, she left home permanently to explore the world – and has been racking up the adventures since! Find her on her blog, facebook, and twitter.
All photos courtesy of the author.